NATO Condemns 'Coercive' China and Says No Partner is Closer Than Japan
At the NATO meeting in Lithuania, Prime Minister Fumio Kishida called for closer cooperation between the Self Defense Force and friendly armies.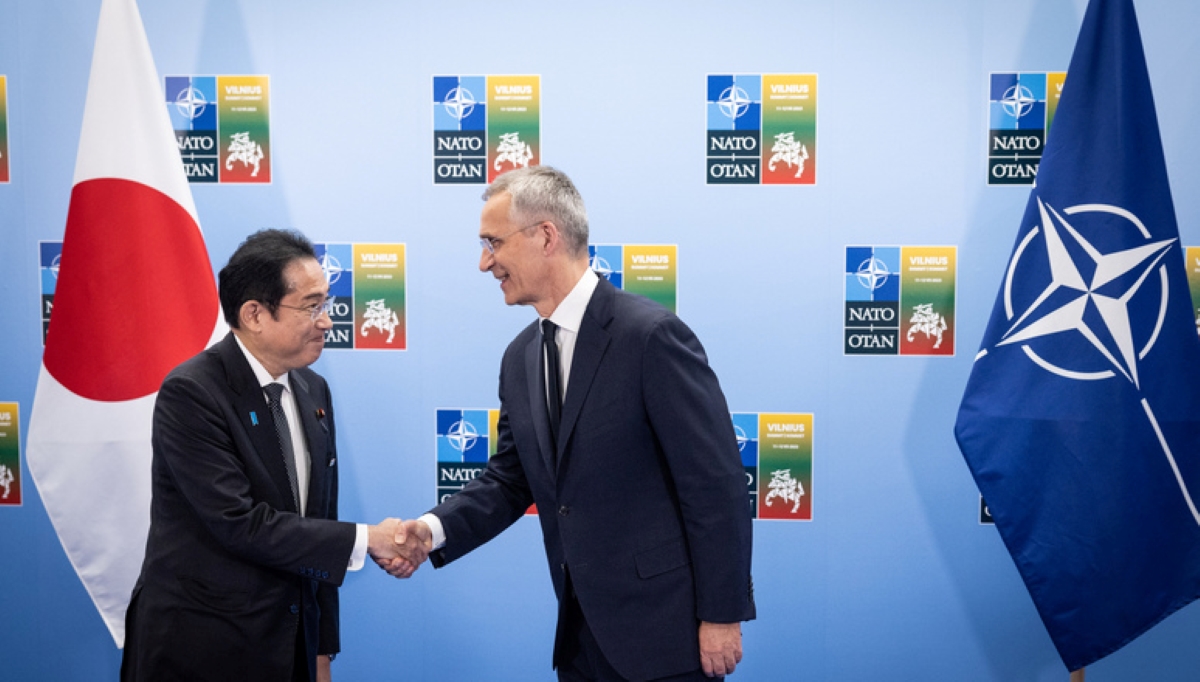 When Japan's Prime Minister, Fumio Kishida attended the North Atlantic Treaty Organization's summit in Vilnius, the capital of Lithuania, he received a warm welcome from NATO Secretary General, Jens Stoltenberg.
At a meeting on the morning of July 12th, Mr Stoltenberg told Mr Kishida that "No partner is closer than Japan."
Underlying the Relationship
Mr Kishida said Japan and NATO share fundamental values and strategic interests. He spoke of improving "interoperability" between the Japanese Self-Defense Force and armies of friendly countries. Particularly those countries which often participate in joint military exercises.
The prime minister also said that Japan intends to enhance further cooperation with NATO in areas such as arms control, advanced technologies, space, supply chains, resilience, and innovation.
In response, Mr Stoltenbeg said: "We highly value the partnership with Japan. No other partner is closer to NATO than Japan."
As the two men smiled and shook hands in front of reporters, the Secretary General continued: "You have stated many times that what happens in Asia matters for Europe and what happens in Europe matters for Asia. That demonstrates that security is not regional; security is global."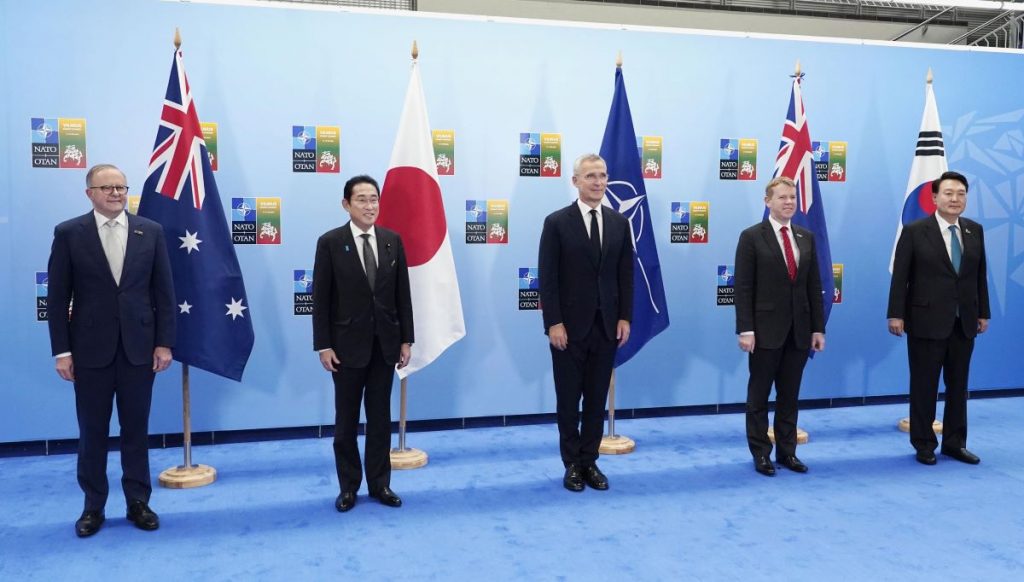 Rising Influence and Concerns in Asia
The invasion of Ukraine by Russia brought a new impetus for an expansion of NATO in Europe and enhanced relationships in Asia.
Japan is not a member of NATO but Mr Kishida was invited to the meeting in Vilnius as an "observer." The President of South Korea, Yoon Suk-Yeol, was also granted observer status.
Mr Stoltenberg told Mr Kishida that NATO is concerned about China's heavy military build-up. It is also concerned about the modernization and expansion of China's nuclear forces.
The communiqué issued during the summit on July 11 stated that China challenges the interests, security and values of NATO countries. It described the People's Republic of China as "coercive."
"The PRC employs a broad range of political, economic, and military tools to increase its global footprint and project power while remaining opaque about its strategy, intentions, and military build-up," the NATO heads of state said in their communiqué.
It continued: "The PRC's malicious hybrid and cyber operations and its confrontational rhetoric and disinformation target allies and harm alliance security."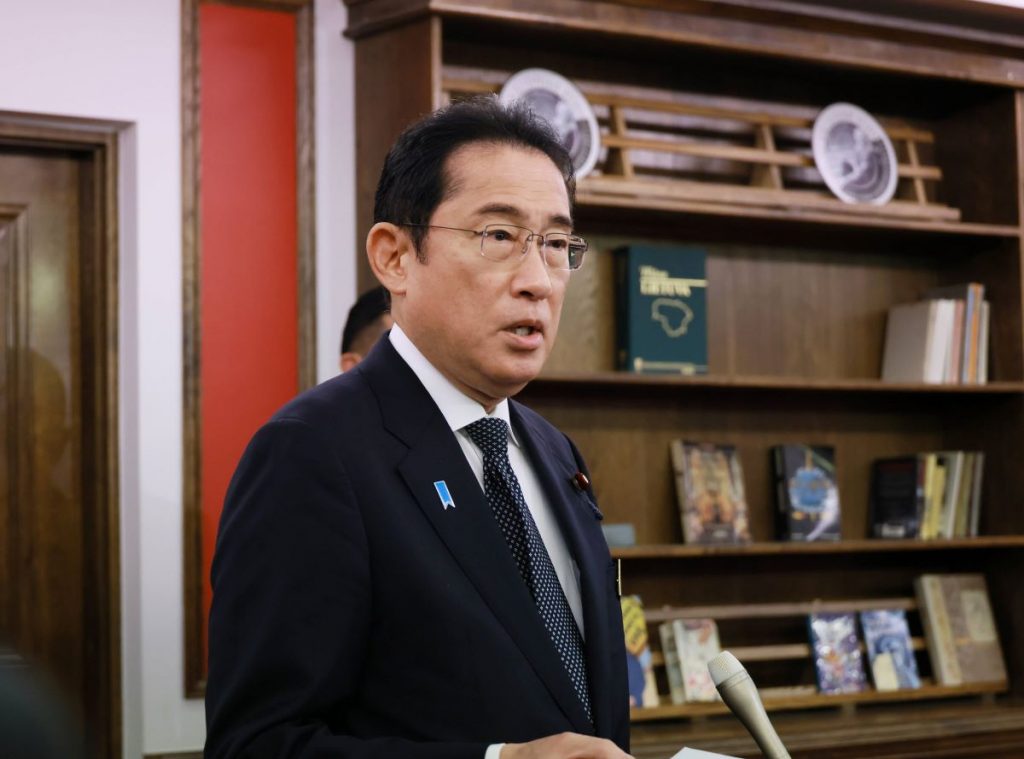 China and North Korea React
Reuters reports that the Chinese mission to the European Union rebutted the claims. It said the communiqué disregarded basic facts, distorted China's position and policies, and deliberately discredited China.
During the summit, North Korea fired a suspected intercontinental ballistic missile near Japan.
Chief Cabinet Secretary Hirokazu Matsuno said that the rocket was in the air for more than 70 minutes. That is the longest-ever flight time for a North Korean missile.
In Vilnius, Mr Stoltenberg said such actions "violate international norms and multiple UN Security Council resolutions."
In public, there was no mention of a proposal to establish a NATO liaison office in Tokyo. President Emmanuel Macron of France has indicated that he opposes the plan. The reason given is that he believes a push into the Indo-Pacific goes beyond NATO's remit as a transatlantic alliance.
China is also strongly opposed to the proposal. However, the United States, the United Kingdom, and many other NATO members support it.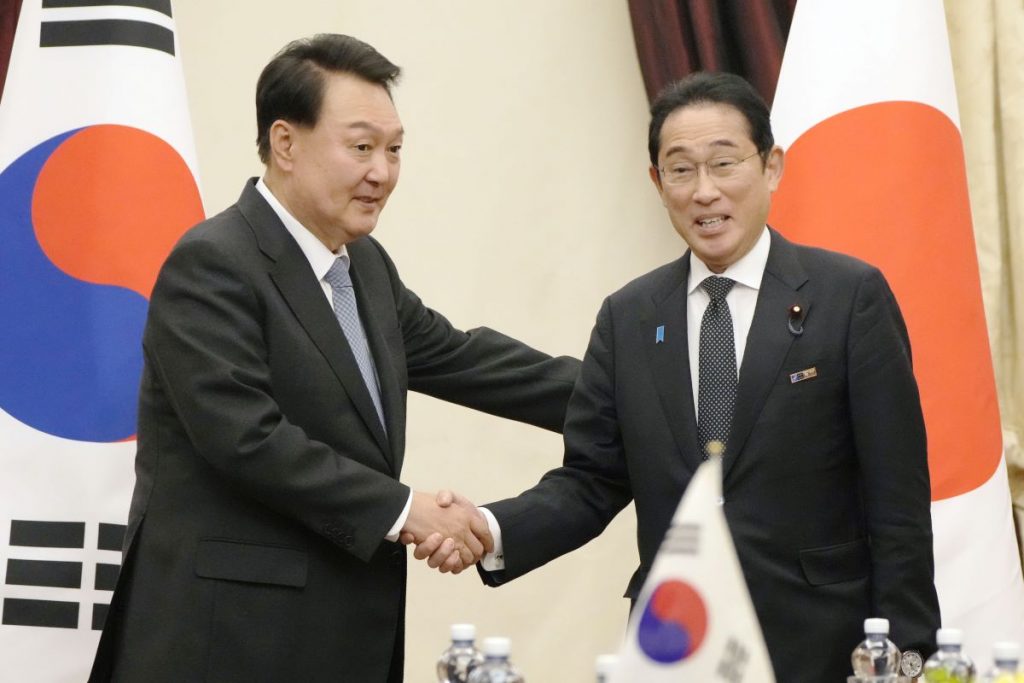 NATO Cooperation in the Indo-Pacific
Elsewhere in Asia, NATO has opened a mission to South Korea. And when Mr Stoltenberg met President Yoon on July 11th, he welcomed the deepening partnership with Seoul. It would further strengthen cooperation, he said, in areas such as cyber defense and counterterrorism.
President Yoon said close cooperation between NATO members and Indo-Pacific countries has "never been more vital." He stressed that the security of the Atlantic, Indian, and Pacific regions are "inseparable from each other."
Relations between Seoul and Tokyo have markedly improved since President Yoon Suk-Yeol took office. Both countries have worked to reduce tension over historical issues and contentious rulings by South Korean judges.
Earlier in the week, Kurt Campbell praised President Yoon for his drive to improve relations with Japan. He is the coordinator for the Indo-Pacific of the government of the United States.
Mr Campbell said that President Joe Biden is "pleased" with the rapprochement. Mr Biden met with President Yoon and Prime Minister Kishida in Vilnius on the afternoon of July 12th.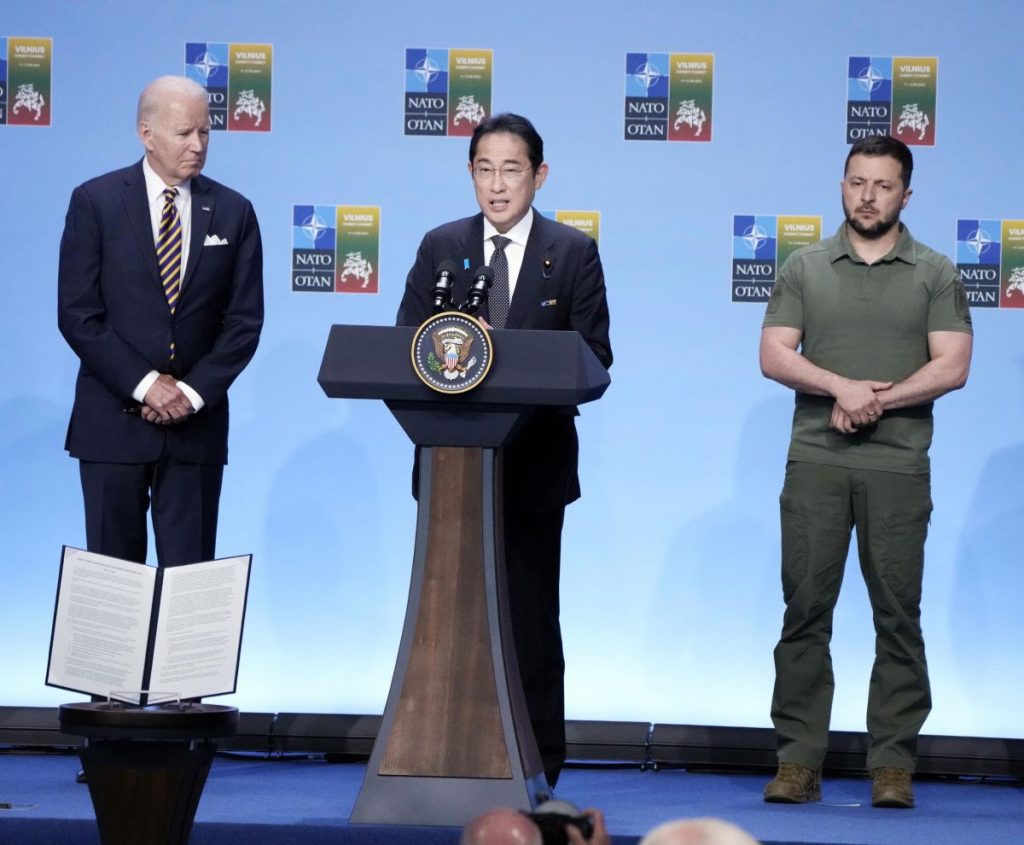 Will Ukriane Join NATO?
All the leaders attending the summit are paying close attention to the debate as to whether Ukraine should be a NATO member. At the same time, observer countries - such as Japan and South Korea - have no direct say in the matter.
Volodymyr Zelenskyy, Ukraine's president, meets NATO leaders on Wednesday, July 12. Japan has offered Ukraine strong diplomatic support. And Mr Zelenskyy has a warm personal relationship with Prime Minister Kishida.
Mr Stotenberg emphasized that the war in Ukraine has global ramifications. He told Mr Kishida, "We are extremely grateful for your strong support to Ukraine, your economic support, and also the fact that you visited Kyiv some months ago."
RELATED:
Author: Duncan Bartlett, Diplomatic Correspondent
Duncan Bartlett is the Diplomatic Correspondent for JAPAN Forward and a Research Associate at the SOAS China Institute. Read his other articles and essays.