[Odds and Evens] B. League Fan Favorite Ira Brown Tells How He 'Kicked the Virus'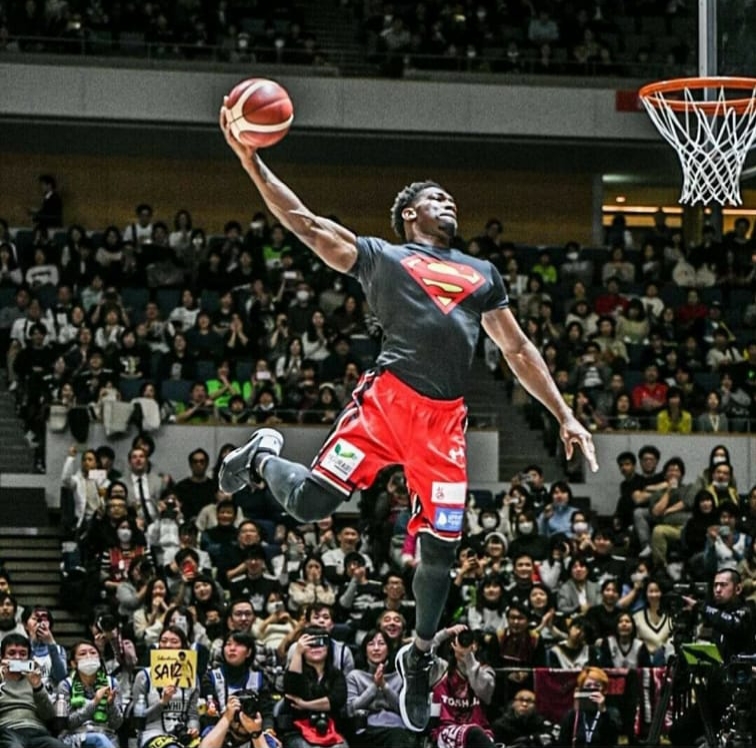 The Osaka Evessa, a B. League first-division team, coped with a scary situation earlier this spring. Thirteen members of the Kansai-based basketball organization, including several players, had contracted the coronavirus.
The health scare occurred as a backdrop to a larger story: the 2019-2020 B. League season was suspended twice before the rest of the 60-game campaign was canceled in late March due to the COVID-19 pandemic. The title game was scheduled to be held in May.
Despite the disappointment of the season's unusual conclusion, there's good news from Osaka: all 13 individuals have recovered from COVID-19. The team made the announcement on April 27 without releasing individual names, citing personal privacy in an earlier Twitter post. However, one of the 13, veteran power forward Ira Brown, recently spoke to JAPAN Forward's "Odds and Evens" in an exclusive interview and recounted his ordeal.
Brown, who turns 38 in August, became a naturalized Japanese citizen in 2016. He competed for the Japan national team at the FIBA Asia Challenge that same summer in Tehran, leading the squad in rebounds, steals, and blocks. He's spent the majority of his pro basketball career in Japan. He previously starred for the Toyama Grouses (2011-2014), Sunrockers Shibuya (2014-2017, though the team was known as the Hitachi Sunrockers until 2016 when the B. League launched), and Ryukyu Golden Kings (2017-2019).
The Evessa announced on their website and social media channels that five players had contracted the virus after sharing a meal with individuals from outside the team on March 24. As reported above, that number increased.
"I just know it was spread among the team," Brown confirmed by phone from Osaka, acknowledging he couldn't give detailed specifics, such as a particular meal or location that might have been the catalyst.
But Brown pointed to March 25 as the approximate date when COVID-19 symptoms became apparent to several people on the team.
"That's when everybody was saying that they felt something a bit different," Brown said before returning to Texas for the off-season.
The 193-cm (6-foot-7) former minor league pitcher, however, didn't notice coronavirus symptoms until April 1.
What happened?
"That's when I started really understanding that I was losing my sense of taste and smell," Brown said.
A day later, he developed a fever and it reached 37 degrees Celsius. But he didn't develop additional COVID-19 symptoms.

Brown said the Evessa followed proper protocol by checking each player's temperatures, recorded every morning and after practice at 4:30 P.M., among other precautionary measures.
"It's just unfortunate that, obviously, it's a disease or a virus which you can't really detect right away, so once they started seeing players having symptoms, then they went about canceling practice and everything...and then the season was actually over. So we weren't able to continue," he said.
Self-quarantine in Osaka
After showing signs of having the coronavirus, Brown realized he needed to be extra careful ー for himself and for others in Kansai.
"I knew that I had to quarantine [for 14 days], because I didn't want to spread it anywhere else," confessed Brown, a two-time B. League Dunk Contest champion (2017, 2018) during All-Star Weekend.
During limited trips outside of his apartment, Brown, who is single, wore a face mask when he went to buy groceries. He cooked for himself while under self-quarantine.
Was it a difficult experience?
No, he insisted.
"The only thing was I slept a lot because I knew that I had to sleep and I was bored sitting around," said Brown, who was named to the bj-league Best Five Team in 2013-2014, when he averaged 16.8 points, 10.0 rebounds, and 3.3 assists. "But obviously my biggest thing was, while I was reading and studying things, was to stay as warm as possible, make sure I bundled up in blankets, took hot baths."
He also used essential oils, purchased a humidifier, and utilized the indoor comfort of a Joov light (red-light therapy). "If I'm not getting sun rays," Brown explained, "I have this machine called Joov to pretty much give me everything equivalent and a little more than what the sun rays give you."
In addition, Brown drank fresh juice every morning to help combat the virus, while also increasing his vitamin intake. He mentioned that vitamins A, C, and D are considered "particularly important" for dealing with the coronavirus. He concocted a garlic-ginger tea with lemon as an additional boost for his health.
Brown maintained a proactive approach in his quest to gain knowledge about COVID-19 and "how to kick this virus in the rear end."
Personal Reflections
I asked Brown how he coped with the virus. I also asked him to explain how people he knew provided emotional support during the first few weeks of April.
The veteran forward didn't reveal to his family in the United States that he had the coronavirus until he was "already over it."
"The only people that knew were obviously our trainers," Brown stated, "and [teammate] Josh Harrellson knew, and pretty much all the teammates knew, because everyone pretty much had it," he said.
Brown's strong Christian faith also helped him deal with it.
"I'm a fairly mentally strong individual. I don't like to worry people, for one," he said. "My thing is, I know with the grace of God I can defeat anything. So stressing out or worrying about a virus was something I never did at all."
Brown believes the media needs to do a better job of educating the public about how to defeat the coronavirus. "They're just constantly pumping in fear in people, and I think that's the incorrect way to do it," he opined.
Looking Back on the Season
In their 41 games this season, the Evessa (26-15) established themselves as a legitimate playoff contender. With a new bench boss, Kensaku Tennichi, in charge, the organizational overhaul was a giant step in the right direction. The wins and losses paint a vivid picture. In 2018-2019, the Evessa went 23-37.
Which is why Brown endorses having Tennichi, who led the Evessa to great heights more than a decade ago, at the helm again.
"I like him as a coach," the Osaka captain, an avid fisherman, said of the three-time bj-league champion, "because he's so easy to talk to."
And how would Brown assess the Evessa's overall performance in the 2019-2020 campaign?
"We were easily one of the top three to four teams in the league, and so I was very pleased at the time...because we were starting to get players back [from injuries]. We were starting to really feel our groove to try to figure out how to move forward with only the players that we have, and so with that I thought we had a really, really good season," he said.
The Evessa finished the shortened season with one less victory than the West champion Golden Kings (27-14).
Brown described it as "unfinished business" because numerous games remained on the schedule.
The muscular frontcourt leader appeared in 40 games (all starts) and averaged 12.5 points, 7.0 rebounds, 3.2 assists, and 1.1 steals.
The Willis (Texas) High School graduate was an eighth-round selection of the Kansas City Royals in the 2001 MLB Amateur Draft. In Rookie, Single-A, and independent leagues, the right-handed pitcher appeared in 84 games (51 starts), winning 16 and losing 18. He struck out 287 batters and walked 199 in 300 2/3 innings before pursuing a different path: becoming a college basketball player.
Brown went to Phoenix College (2005-2007), then attended hoop powerhouse Gonzaga University (2007-2009), where future NBA first-round draft pick Rui Hachimura eventually enrolled, before launching a pro career in his late 20s.
He's accepted a contract offer from the Evessa to return for the 2020-2021 season.
Indeed, unfinished business.
Author: Ed Odeven