[Odds and Evens] Celebrating Hoop Legend Takehiko Orimo's Career, 50th Birthday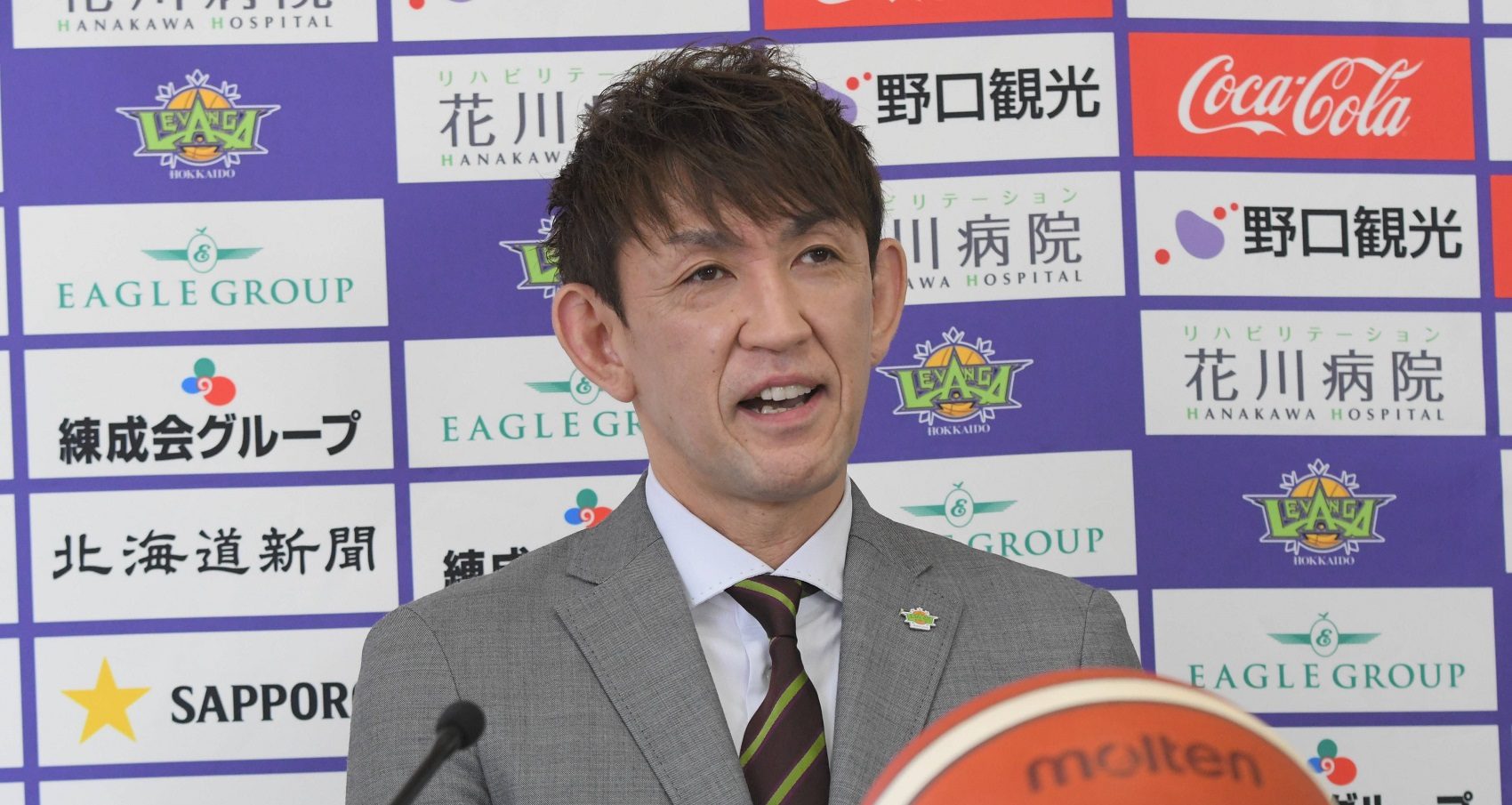 For 27 seasons, Takehiko Orimo's never-wavering commitment to his craft was on display on the basketball court.
For 27 seasons, Orimo possessed an uncanny ability to bury jump shots from far beyond the 3-point arc, and from closer spots.
With magnificent shooting mechanics and a quick release, Orimo, who's the current Levanga Hokkaido president, made his mark as a dominant player, performing with steely determination in the JBL, Super League, NBL and B. League eras. Quietly, his 27-season pro career concluded several weeks ago.
A spirited send-off for the native of Ageo, Saitama Prefecture didn't follow the normal script, though.
The reason?
The 2019-20 B. League season was canceled early due to the COVID-19 pandemic in late March. But tributes from throughout Japan's basketball community have helped put the nine-time All-Star MVP's career in focus.
Orimo turns 50 on Thursday. The iconic shooting guard played his final game on March 15 against the host Kawasaki Brave Thunders, finishing with five points, including 1-for-2 from 3-point range, in 15-plus minutes in a blowout loss. After announcing before the season began that he would retire this spring, Orimo saw limited action in his final sayonara season. He averaged 1.5 points in 19 games.
"It was a difficult season," Orimo admitted on May 3 during a news conference streamed online, noting the impact of the COVID-19 pandemic, which caused B. League Chairman Masaaki Okawa to suspend the season twice before canceling it early in late March.
Reflecting on his unprecedented career and countless special memories, Orimo succinctly summed it up like this: "Well, it's been a good basketball life."
In 2018-19, Orimo scored 6.4 points-per-game in 59 games (two starts), including a pair of 19-point efforts, and 7.9 in 2017-18 while appearing in all 60 games (three starts). In the B. League's inaugural 2016-17 season, he averaged 8.9 points in 60 games (12 starts).
Earlier this century, the 190-cm veteran averaged 17.3 points in the 2010-11 for Hokkaido and 16.3 the next season. During his heyday, first for the Toyota Motors Pacers (who changed their team nickname to Alvark in 2000), Orimo was a consistent, accomplished scorer in the JBL, starting with a 19.3 ppg average as a rookie in 1993-94. He averaged 20 or more points six times, including a career-best 22.6 in 2003-04. What's more, he finished with 19.9 ppg in two additional seasons.
Special Award
During the B. League Award Show, which was held over three nights online last weekend, Orimo was honored as the first recipient of the league's Lifetime Achievement Award.
Appearing on video, Orimo spoke about the honor with sincere gratitude.
"I have received such an honorable award," he commented. "I played for 27 years, which is such a long time. But I feel like it's paid off with this award."
Elite-Level Talent
Former Cleveland Cavaliers forward Jawad Williams, who played alongside future Basketball Hall of Famer LeBron James in Cleveland (2008-10), said in an exclusive interview that Orimo had a commanding persona on the court.
"Orimo always played with calm demeanor," said Williams, who competed with Orimo on the Rera Kamuy Hokkaido (2007-08), told JAPAN Forward's Odds and Evens. "He never got too high or too low, that's tough to do."
More than a decade later, Williams watched Orimo competeー and produceー against players half his age.
"Orimo's legacy is his longevity and his part in contributing to basketball in Japan," noted Williams, who helped the Alvark Tokyo win back-to-back B. League titles in 2017-18 and 2018-19 before joining the Utsunomiya Brex this season.
"His ability to catch and shoot remained top notch," Williams observed. "Especially those pin-down jump shots."
Asked if Orimo had the skills in his younger years to challenge for a spot on an NBA roster, Williams responded by saying, "Possibly. There is always room for a shooter."
The University of North Carolina alum, who played on the school's 2005 national championship squad, continued by noting that Orimo reminded him most of former NBA standout Richard "Rip" Hamilton.
Career Milestones
Orimo sank the 1,000th 3-pointer of his long career on November 4, 2017, in Ginowan, Okinawa Prefecture, in a game against the Ryukyu Golden Kings.
On Jan. 5, 2019, Orimo reached the 10,000-point career plateau against the SeaHorses Mikawa in Kariya, Aichi Prefecture. He became the first Japanese player to accomplish the 6.. (Earlier, he scored his 7,000th point in 2011, then passed the 8,000-point plateau in 2013, and topped 9,000 points in 2016.)
In the middle of Japan's Golden Week holiday week at the end of April-beginning of May, Orimo looked back on his career and reflected on the way it ended.
"In the end, I couldn't play in front of the fans and it was a regrettable season, but I did my best," Orimo said.
In the 1995-96 campaign, Orimo was selected to the JBL's Best Five Team for the first time. He was honored again the next year. It was a sign of things to come in a highly decorated career.
What's more, in those early years he had already exhibited the impressive long-rang shooting skills that would be a trademark for nearly three decades. In 1994-95, Orimo led the JBL in 3-point shooting accuracy (42.6%). The next year, he repeated, raising the standard to 50.0%. In 1996-97, he again finished No. 1 (45.2%). He shot 40% or better from 3-point range in 16 seasons.
In the next decade, Orimo played a starring role on the Alvark's title-winning squads in the 2000-01, 2004-05 and 2005-06 seasons in the Japan Basketball Association's rebranded Super League. (The circuit reverted back to the JBL name in 2007, then became the NBL in 2013.)
The Saitama Sakae High School and Nihon University's best often topped the chart.
He sank 1,091 of 2,828 3-pointers (38.6%) in his pro career. He averaged 12.8 points in 799 career games, but his prolific scoring (and overall average) plummeted in the twilight of his career, coupled with dozens more games per year in the B. League than in the JBL days.
Orimo admitted he was never fully satisfied with his on-court performance, while also noting he wanted to compete in the Olympics.
"There are so many things I feel I could've done better," he admitted in the online news conference, "but overall I think I had a good basketball career."
Insights From Orimo's Former Coaches
Former Japan men's national team head coach Zeljko Pavlicevic was hired in 2003 to build the national team in the run-up to the 2006 FIBA World Basketball Championship. Pavlicevic remembered his first impressions of the then-Toyota Motors superstar.
"He was a great shooter. He was a legend," said Pavlicevic, a two-time FIBA European Championship Cup (Cibona, 1985-85 and Pop 84, 1990-91; it's the forerunner to the present-day EuroLeague) who later guided teams in the bj-league, NBL and B. League eras.
Everyone knew he is the best shooter in the history of Japanese basketball. ... He is also the best player in Japanese basketball history.
After calling up Orimo to the national team in 2004, the Croatian coach issued instructions to him before the team's practice.
"On the first day, I told him, 'Orimo, it is not easy to practice (without rest). If you need to, you can stop,' " the coach recalled.
Orimo, however, wanted to lead by example. "If they, the other players, can do it, I can, too," Pavlicevic remembered Orimo telling him.
Looking back at the experience of leading the national team for four years, including at the aforementioned FIBA World Championship, Pavlicevic insists that old No. 9 was the quintessential leader "because always his behavior on the court was perfect."
A few years ago, Pavlicevic recalled, Orimo mentioned him as one of the three most influential people in his basketball career. "I have to thank him for saying that," Pavlicevic told Odds and Evens.
After years of distinction in a Toyota Motors uniform (1993-2007), Orimo joined the JBL's Rera Kamuy Hokkaido and spent the rest of his career playing in the northernmost prefecture. After the Rera Kamuy folded in 2011 due to financial problems, Orimo and other associates formed a new management group in 2011 and launched a new Sapporo-based club, the Levanga Hokkaido. As owner, Orimo was also the club's most visible player. He's served as team president for several seasons while also handling his player duties.
Former Rera Kamuy Hokkaido head coach Tomoya Higashino guided Orimo's club from 2007-10 and developed a true appreciation for his talents and personality.
"He truly is a one-of-a-kind player," Higashino said in an exclusive interview. "He has a keen ability to observe and has willingness as to where he will never lie to your face. As a man, I envy his way of living."
What was Higashino's first impression of Orimo?
"He was a long, lanky player with a lot of talent in high school and his shooting was, and still is, at the world standard," Higashino declared.
In the years that followed, Higashino saw that Orimo's values were indispensable for the Rera Kamuy.
"When you decide to do something, no matter the results, the belief of persevering through it will help the team," Higashino said of Orimo's ideals.
He went on: "This game of basketball cannot be won without making shots. He showed me with his plays that if you make shots, you win."
In the 2000-01 JBL season, Higashino, aka "Coach Crusher," worked as a Toyota Motors assistant and enjoyed the championship journey. During that season, they were playing mahjong together one day when they discussed the idea of producing a basketball DVD together. Years later, they teamed up to make "Shoot at Any Cost."
Higashino, Pavlicevic's assistant on the Japan national team (2004-06), holds Orimo in high esteem.
Just ask him.
"Although I knew that this day would come," Higashino said of Orimo's retirement, "I cannot imagine myself not cheering for 'Tetsujin' Orimo. I still think there is more. And his All Star MVP (awards) in a top professional league, isn't that a Guinness World Record?!"
In a message directed to Orimo, Higashino concluded by saying: "I'm really happy that he will retire holding everyone's heart, and while being missed. Stay forever young, especially your mind and soul, and please stay being competitive even after you retire. Please continue to invigorate the basketball world."
Dwane Casey's Perspective
Detroit Pistons sideline supervisor Dwane Casey, who piloted the JBL's Sekisui Chemical (1989-92) and Isuzu Motors (1992-94) clubs, witnessed the early days of Orimo's pro career before he departed from Japan in 1994 to resume his coaching career in the NBA. Since then, Casey has maintained close ties with the Japanese basketball scene and returned as a national team assistant coach for the 1998 FIBA World Championship in Athens.
"The Orimo I remember loved to play and was a great scorer," Casey told Odds and Evens. "That's what I remember about him. He was very, very dependable. Calm and no mood swings. He knew who he was.
"He knew his role .... he was a big part of Japan basketball," added the 2017-18 NBA Coach of the Year.
All-Star Game Heroics
As his fame increased, he was a regular fixture in the annual JBL All-Star Game (and its later iterations). Orimo received All-Star MVP accolades in the 1997-98, 1998-99, 2002-03, 2004-05, 2005-06, 2006-07, 2009-10 and 2012-13.
Then there was one more shining day in the spotlight this season.
In the winter of his career on January 18, Orimo scored 14 points in B. Black's 123-117 victory over B. White in the fourth annual B. League All-Star Game before the home crowd in Sapporo. He was named All-Star Game MVP for the eighth time.
Afterward, he enjoyed a traditional doage (victory toss), much to the delight of the 5,000-plus fans in attendance and his smiling teammates. MVP balloting, done by fans, rewarded him with 79% of the votes.
Indeed, many of his records will never be broken.
But he gleaned just as must satisfaction from the personal relationships formed from a lifetime in the game.
"Truly ... playing together with other players, we developed friendships (over the years)," Orimo said in his retirement news conference.
The Levanga recently announced they plan to hold a special preseason contest in Orimo's honor in September. The match will give him a chance to play in front of the home fans one last time. Originally, it was planned for June, but called off due to the coronavirus outbreak.
Additional Career Highlights
At the 1998 FIBA World Basketball Championship (now known as the FIBA World Cup) in Athens, Japan went 1-4 in the 16-nation tournament. Orimo scored 44 total points and canned 9 of 13 3-pointers in five games. His tournament-high totals were 16 points (against Nigeria) and 4-for-4 from 3-point range in the same game in 18 solid minutes. (You can find Japan's game-by-game statistics from the 1998 tourney at this link.)
The 2006 FIBA World Basketball Championship, a 24-nation event, featured first-round games in Hiroshima, Hamamatsu, Sendai and Sapporo. Japan faced, in succession, Germany, Angola Panama, New Zealand and Spain in Group B in Hiroshima.
Orimo, the team's oldest player, scored in double digits in every game. He tallied a team-best 12.2 points-per game. He nailed 13 of 30 3-pointers. In the final three games of group play, Orimo scored 13, 14 and 13 points against Panama, New Zealand and Spain, respectively.
In between the 1998 and 2006 global showcase events, Orimo suited up for Japan in an exhibition match against the powerful U.S. squad at Saitama Super Arena on September 6, 2000. The Americans blasted the hosts 105-49 in a tuneup match before their trip to the Sydney Olympics. (Japan failed to qualify.)
In a game punctuated by Team USA highlights, there were glimpses of Orimo's talents. TNT's NBA premier broadcast team (Marv Albert, Hubie Brown and Craig Sager) called the action.
Around the 24:26 mark, Orimo unleashes one of his trademark jumpers from near the baseline. Picture-perfect form. Nothing but net. Swish.
Paying Tribute
Utsunomiya Brex players Yuta Tabuse, Kosuke Takeuchi and Williams and head coach Ryuzo Anzai paid tribute to Orimo in a video posted on the team's YouTube channel last week (See their tribute HERE).
It's a sign of respect for a basketball luminary who's meant so much to the sport for multiple generations.
Further evidence is readily available by conversing with any number of intelligent hoop observers in Japan.
For example, in a recent interview, Kyoto Hannaryz assistant coach Tetsuya Takahashi related a story from Osaka Evessa bench boss Kensaku Tennichi to illustrate how respected Orimo was during his prime.
"Orimo was the most difficult (Japanese) player to guard," Takahashi recalled Tennichi saying.
Author: Ed Odeven