[ODDS and EVENS] Japan Lacrosse Squad Aiming for Strong Results at World Championship
Led by head coach Naofumi Suzuki and captain Dai Sato, Japan is making its eighth consecutive appearance in the quadrennial international lacrosse tournament.
Read the full story on SportsLook - [ODDS and EVENS] Japan Lacrosse Squad Aiming for Strong Results at World Championship
In the past three editions of the World Lacrosse Men's Championship, the Japan national team has finished fourth, eighth and sixth overall.
Those results were achieved in 2010 (in Manchester, England), in 2014 (in Denver, Colorado) and 2018 (in Netanya, Israel), respectively. Twenty-nine, 38 and 46 nations competed in those three global tournaments.
In other words, Japan has had consistently solid results on the global stage against differing pools of talent during the competitions.
Which brings us to the 2023 World Lacrosse Men's Championship (June 21-July1) in San Diego, California. It was originally set to be held in 2022, but was postponed to this summer due to the global pandemic.
This year's tournament is considerably smaller than the 2018 edition in Israel. Thirty teams are divided into six five-team groups.
And it's a tournament with the following key storyline for Japan: How good is the current Japan national squad?
Based on the results of the 2018 tourney, Japan is sixth in the world rankings entering the 2023 event.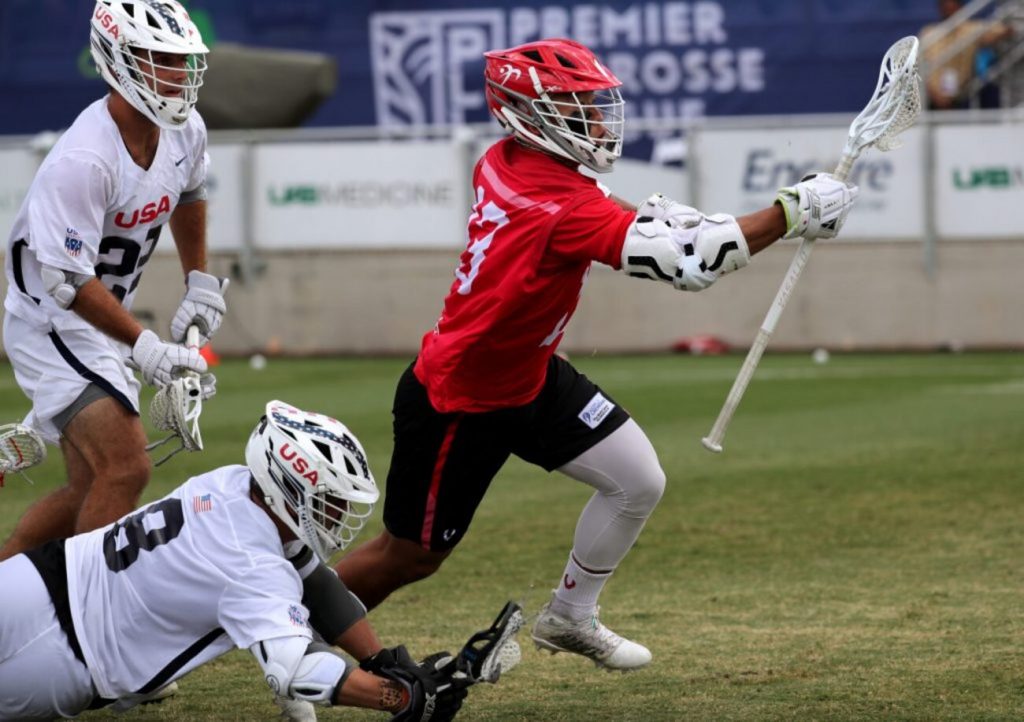 Tournament Schedule Info
Japan, guided by head coach Naofumi Suzuki and bolstered by captain Dai Sato's leadership, will face 33rd-ranked France, 40th-ranked Uganda, 14th-ranked Wales and 34th-ranked Denmark in Pool B play over four consecutive days, Thursday, June 22 through Sunday, June 25.
(In order, the matches kick off at 5 AM, 2 AM, 5 AM and 8 AM JST a day later than the listed dates.)
The top two finishers in Pool A, which includes the reigning world champion and traditional powerhouse United States, 2018 runner-up Canada, third-place finisher Haudenosaunee (previously known as the Iroquois Nations team) and fourth-place finisher Australia, will advance directly to the quarterfinals. (Check out the full schedule on the World Lacrosse website.)
Additional spots for the quarterfinals will be up for grabs, with Pool A's three other teams and the top nine teams from Pools B-F booking spots in the first round of the playoffs on June 27. The quarterfinals begin the next day.
Three players are back from Japan's 2018 squad: midfielders Hiroki Kanaya and Tomoki Umehara and defenseman Dan Kanayama.
Kanaya, Umehara, Saito and attack/midfield Junichi Suzuki are expected to play pivotal roles on offense. Five years ago, Kanaya was a formidable presence, contributing six goals and an assist at worlds.
Continue reading the full story on SportsLook.
Author: Ed Odeven
Find Ed on JAPAN Forward's dedicated website, SportsLook. Follow his [Japan Sports Notebook] on Sundays, [Odds and Evens] during the week, and Twitter @ed_odeven.