[ODDS and EVENS] Roki Sasaki's Perfect Game Provided Exciting Display Of His Pitching Prowess
The Chiba Lotte Marines starter struck out an NPB record-tying 19 batters, including 13 in a row, in an unforgettable performance that raises expectations of great things to come.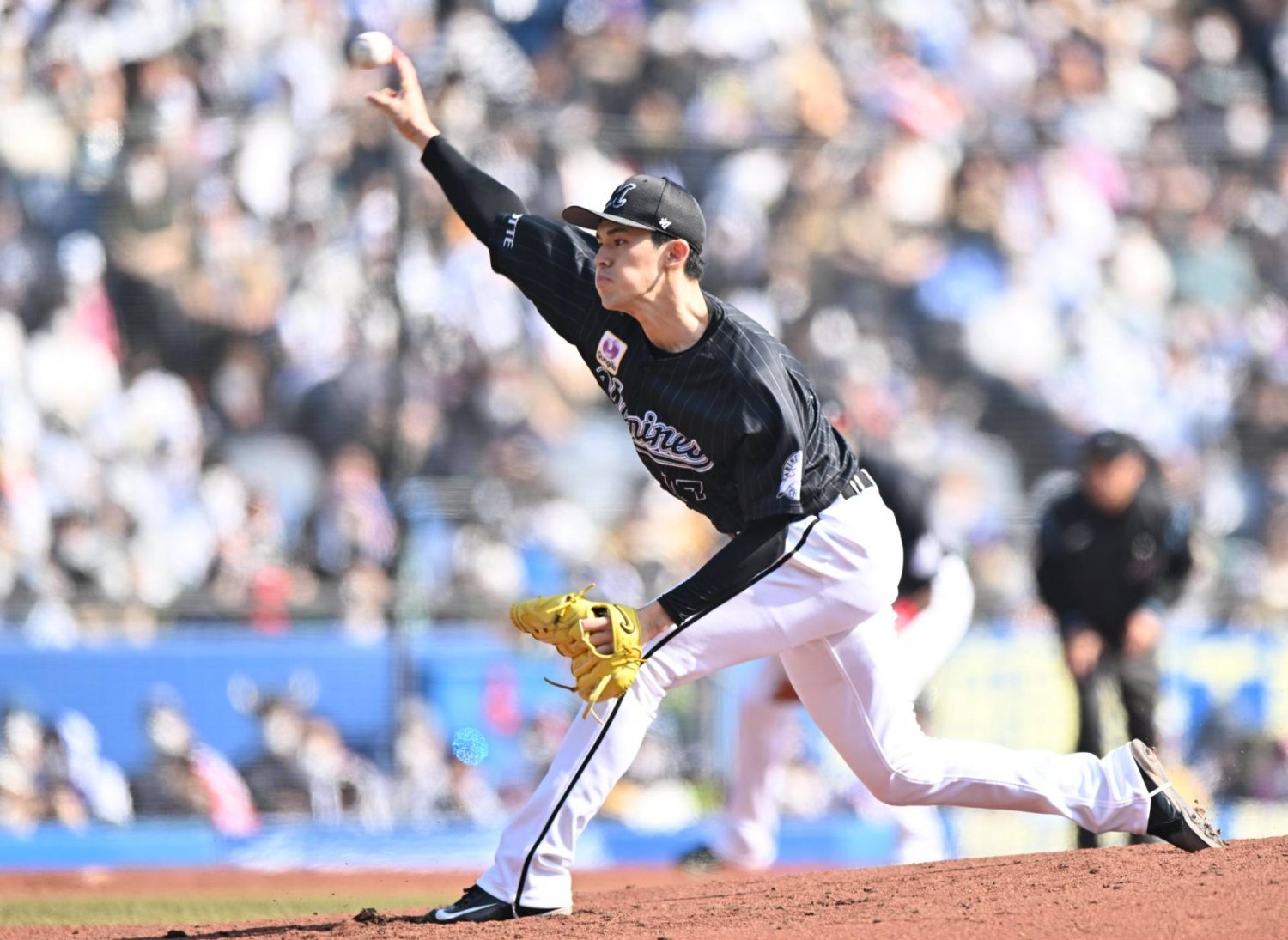 Iconic achievements in sports define an era, featuring games and moments that are etched in our collective memories as, well, the best of the best.

Roki Sasaki's perfect game on Sunday, April 10 is a vivid example.

In my view, it's the greatest single-game professional pitching feat of the 21st century on either side of the Pacific Ocean.

Think about that for a moment.
There have already been thousands of games played in MLB and NPB since the turn of the century.
The Chiba Lotte Marines fireballing right-hander surprised nobody by throwing overpowering fastballs from the get-go against the Orix Buffaloes. His fastball reached 102 mph (164.1 kph) and his singular domination of the game was not unlike a great painter's rendering on canvas.

In complete control from start to finish, Sasaki faced 27 batters and recorded 19 strikeouts en route to NPB's 16th overall perfect game and first since May 18, 1994 (Hiromi Makihara of the Yomiuri Giants). It was only his 14th career game. (He made 11 starts as a rookie in 2021.) Sasaki's strikeout total equaled the NPB mark set by Koji Noda of the Orix BlueWave on April 21, 1995.

Dubbed "The Monster of the Reiwa," a nickname that assigns him a starring role in the era of current Emperor Naruhito, Sasaki achieved his pitching masterpiece at Zozo Marine Stadium in Chiba by getting the final out in every inning via a strikeout.
On this bright spring afternoon, Sasaki rewrote the record for most strikeouts in a perfect game, too.
In 1968, Yoshiro Sotokoba of the Hiroshima Carp had 16 Ks while tossing his perfecto.

In 1965, Los Angeles Dodgers great Sandy Koufax set the MLB record of 14 strikeouts in a perfect game. In 2012, San Francisco Giants hurler Matt Cain matched Koufax's mark in his perfect game, which was the 22nd in MLB history.

In addition, Sasaki established an NPB record for consecutive strikeouts in a game (13). It began when he fanned Masataka Yoshida, the two-time reigning Pacific League batting champion, to end the first inning, and ended with the final out of the fifth.
Fittingly, Sasaki completed his perfect game by striking out Buffaloes slugger Yutaro Sugimoto. It was a devastating forkball, an 0-2 offering, on Sasaki's 105th pitch.

ROKI SASAKI IS PEFECT!

9 IP 19 K 0 H 0 BB

The 20 year old has thrown the greatest game in NPB history

Tying the record for most strikeouts in a single game and becoming the youngest to throw a perfect game in league history!
pic.twitter.com/deHgD2hQfa— Tom Mussa v2 (@tom_mussa_v2) April 10, 2022
Remarkably, the velocity on Sasaki's heater was nearly triple digits for the entire game. He averaged 99.5 mph on his fastball, CBS Sports reported.
The heart of the Buffaloes batting lineup ― 3-4-5 hitters Yoshida, Rangel Ravelo and Shuhei Fukuda ― struck out three times apiece.

Jubilation for Marines fans; frustration for Buffaloes supporters.

And it was a glimpse of Sasaki's potential, which he exhibited in the biggest way possible on Sunday.

Or as Marines skipper Tadahito Iguchi told reporters after the game: "He's doing well, but having a game like this at such an early stage of his career is remarkable. I don't think there is anyone who had any doubts about him, and today not even walking a batter, that's just added emphasis."

Sasaki has now recorded at least one strikeout in 34 straight innings, dating back to last season. Fukuoka SoftBank Hawks closer Dennis Sarfate set the NPB record of 42 consecutive innings in 2015.

Working Together as One
There was magical synergy, a great rapport, between Sasaki and Marines catcher Ko Matsukawa, who at age 18 was also involved in the biggest baseball game of his life.

"This is the greatest," Sasaki was quoted as saying by Kyodo News on Sunday afternoon. "Honestly, I wasn't thinking about the possibility [of a perfect game]. I figured it would be OK if I gave up a hit, so I just pitched and put my trust in Matsukawa right until the end."
Iguchi paid tribute to Sasaki and Matsukawa after the game.
"I have to give credit to Matsukawa for calling such a great game and doing a solid job with the bat as well," the manager said, according to Kyodo News. "The two of them are quite a battery."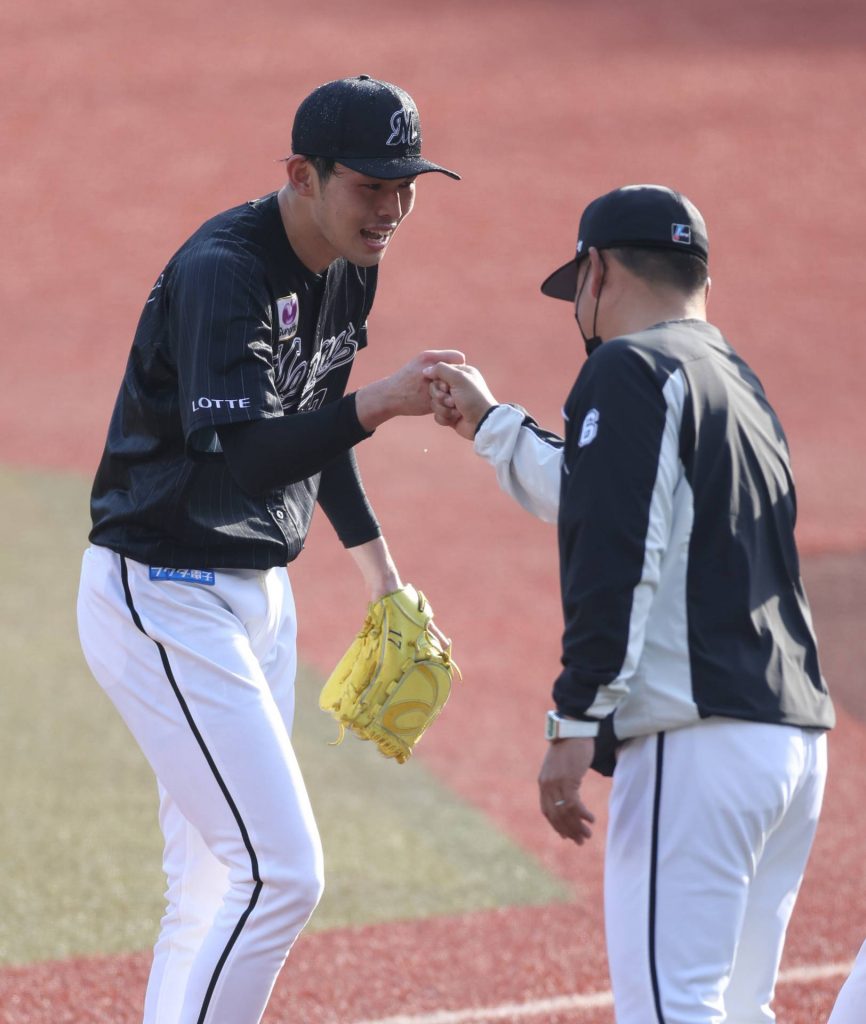 In Sasaki's view, there was no secret to why he had a successful outing. Actually, it was quite simple, according to the rising star.

"The big thing today was getting ahead in counts, being able to throw strikes," Sasaki declared in his post-game hero interview. "Now, I want to do my best to pitch well next time."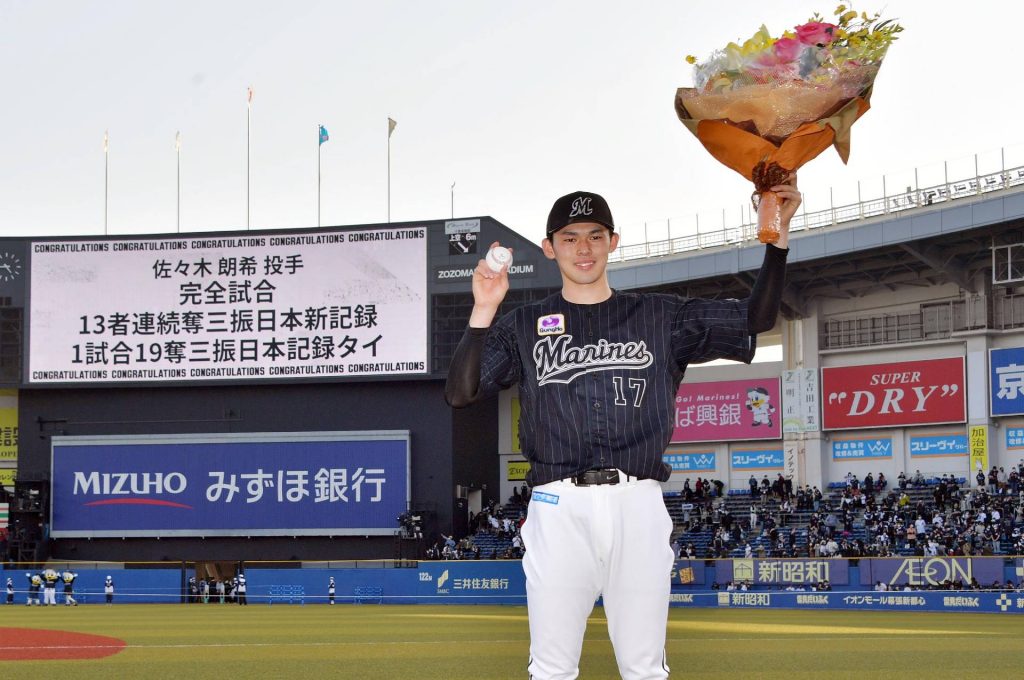 Grateful for Everything
Sasaki, born in Rikuzentakata, Iwate Prefecture, experienced tragedy at a young age. As an elementary school third-grader in 2011, his family's house was destroyed in the tsunami that followed the Great East Japan Earthquake and his father and grandparents died.

He lived as an evacuee at a nursing home before moving in 2012 with his family to Ofunato, Iwate Prefecture, where he would become a household name at Ofunato High School, throwing a 101-mph (163-kph) fastball to surpass Shohei Ohtani's Japanese high school record.

Sasaki, whose pitching talents attracted the attention of MLB scouts before he graduated from high school, was the first overall pick in NPB's 2019 draft.

In 2021, he showed flashes of brilliance in his rookie season, which ended with a 3-2 record and 68 strikeouts in 63⅓ innings.

He reflected on this defining time of his youth on the 11th anniversary of 3.11.

"It's been 11 years but I cannot easily erase the agony and sadness I felt at the time," Sasaki was quoted as saying by Kyodo News at the Marines' home ballpark last month. "I've been able to dedicate myself to baseball thanks to the support I've had. I only have a sense of gratitude to those who supported me."


A month later, Sasaki pitched the greatest game of his life, a game that Marines fans will never forget.
And they'll be forever grateful to him for what he accomplished on April 10, 2022.

Sasaki was delighted to give Lotte's fans something to cheer about while maintaining his focus ― pitch after pitch, batter after batter, inning after inning.

"While pitching, I felt the fans' expectations, but I didn't get carried away," Sasaki said, according to The Yomiuri Shimbun. "I didn't especially aim to get strikeouts, as I pitched believing in the defense behind me."
The 19 strikeouts were a defining characteristic of the perfect game, a giant reminder of what Roki Sasaki is capable of doing every time he walks to the pitching mound to start a game.

The bar has been raised. Great expectations will follow.

Author: Ed Odeven
Follow Ed on JAPAN Forward's [Japan Sports Notebook] here on Sundays, in [Odds and Evens] here during the week, and Twitter @ed_odeven and find him on JAPAN Forward's dedicated sports website, SportsLook.