OLYMPIC DIGEST | Japan Men Finish Fifth in Team Ski Jumping Final
Gold medalist Austria saves its best for last in the final round, with Slovenia and Germany placing second and third, respectively.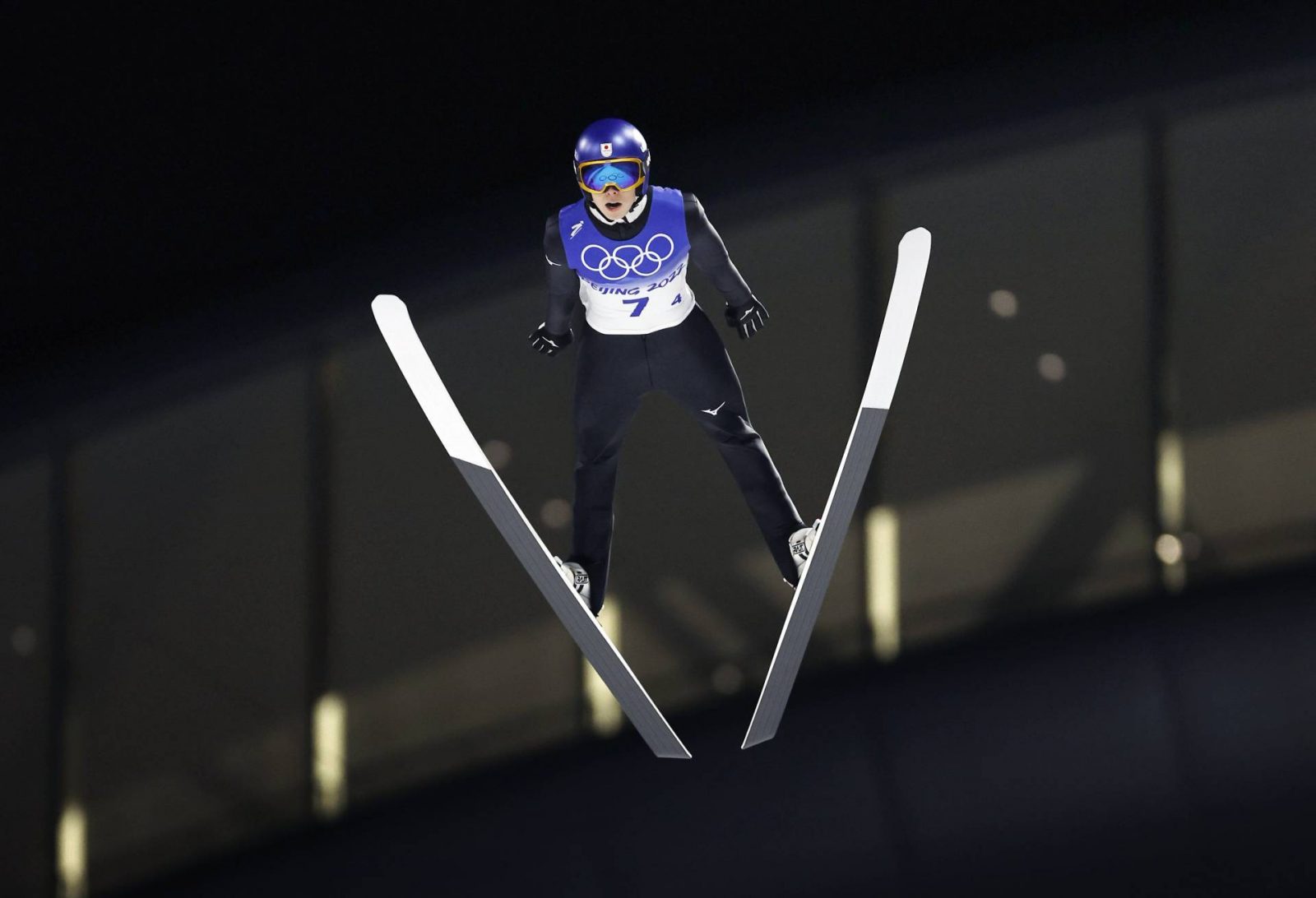 ~~
Ryoyu Kobayashi came up short in his quest for a third ski jumping medal at the Beijing Olympics on Monday night, February 14.
Kobayashi, the anchor of the men's team, had to settle for fifth in the eight-team final at Zhangjiakou National Ski Jumping Centre.

Austria secured the gold with consistency and high scores from Stefan Kraft, Daniel Huber, Jan Hoerl and Manuel Fettner. The quartet combined for a final-round best 484.3 points, which pushed Austria to the top with 942.7 points.

Kraft, a three-time world champion, set the tone for Austria with a 119.7-point effort, tops among the first group of jumpers.
Slovenia, the leader after the first round, collected the silver (934.4) and Germany moved up from fourth to third in the final round (922.9). Norway dropped from third in the opening round to fourth in the final standings (922.1).
"I didn't receive the medal [this time], but … I learned a lot like in the previous [Olympics]," Ryoyu Kobayashi told NHK.
"I was very happy to get the medals [earlier in the Olympics], and I'm looking forward to four years from now," he added.
Japan's Yukiya Sato soared 124.0 meters through the air on his jump in the final round and received 114.9 points, a combination of distance points, wind points and judges' points.
Teammate Naoki Nakamura, who jumped next for Japan, traveled 122 meters and amassed 97.8 points.
Junshiro Kobayashi, the Hinomaru's third jumper, covered 120 meters on his jump and collected 99 points.

Austria took a 5.3-point advantage over Slovenia into the last phase of the event, which featured the fourth and final jumper for each nation.
Ryoyu Kobayashi, winner of the men's normal hill individual event on February 6 and runner-up in the large hill event on February 12, had Japan's final jump of the night. The 25-year-old from Iwate Prefecture flew 132.5 meters and had a score of 132.6 points, but it wasn't enough to carry Japan into medal contention.

In the final round, Japan had the sixth-best team score (444.3 points).
"As a team, the result was very frustrating. But I think it's a good thing that everyone is feeling it," Ryoyu Kobayashi was quoted as saying by Kyodo News. "I want to share this frustration with everyone and bring our level up together."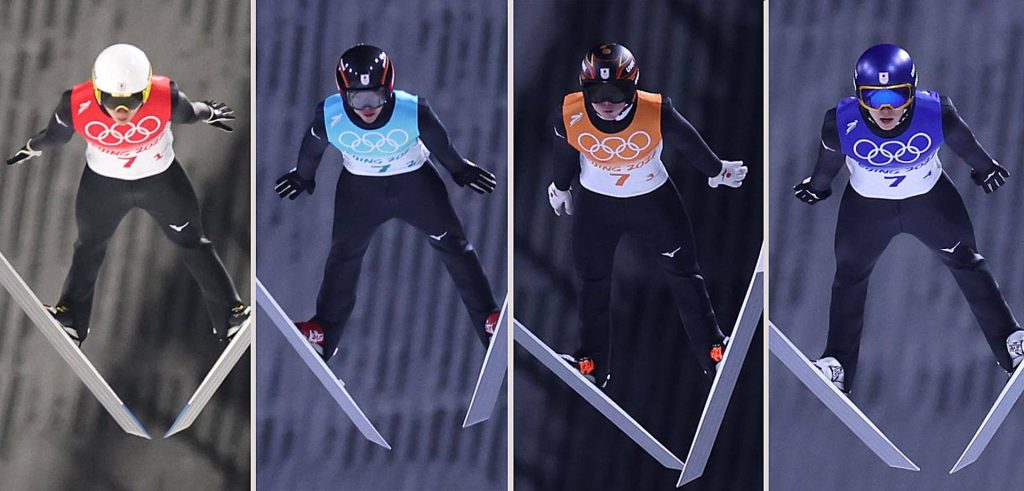 Japan advanced to the eight-team final round on Monday night by placing fifth among 11 teams earlier in the day.
Slovenia led after the first round with 467.4 points, followed by Austria (458.4), Norway (456.5), Germany (446.5) and Japan (438.5).
At the 2018 Pyeongchang Games, Taku Takeuchi, Ryoyu Kobayashi, Daiki Ito and Hiraoki Kasai competed for Japan in the men's team final. Japan placed sixth overall.
RELATED: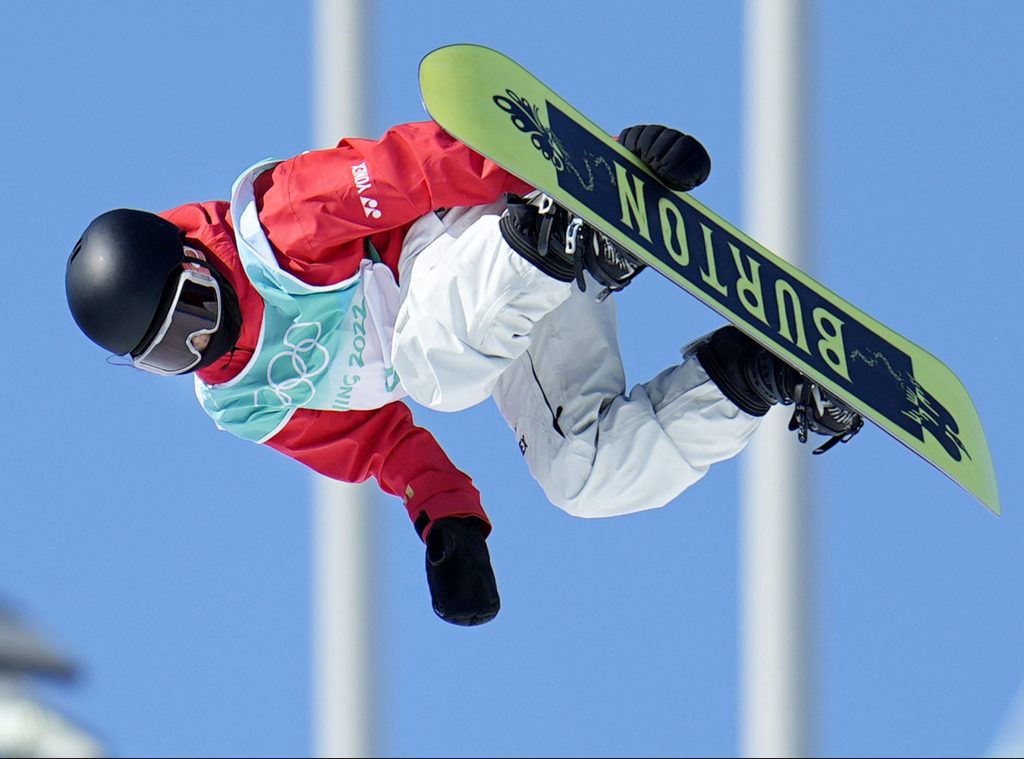 Snowboard
Thrills for Japan As Women's Trio and Men's Duo Slide to the Final in Big Air
February 14 was a day of successes for Team Japan in the qualifying rounds of the snowboard big air competition, both for men and women, where athletes performed tricks after jumping off a large ramp.
Kicking off the day at the Big Air Shougang venue in the women's category, all three of Japan's team members qualified for the final.
Kokomo Murase, Reira Iwabuchi and Miyabi Onitsuka all landed in the first five spots in the ranking, coming in second, third and fifth, respectively.
Murase, a 17-year-old Gifu native in her Olympic debut, had her highlight with her third jump, where she achieved a frontside 1080 with a melon grab. She stacked up a score of 86.0 in the jump, with a 171.0-point total score.
"I had the feeling that I had gotten the right rhythm after my first run," reflected Murase after the competition to NHK.
However, the competition favorite, New Zealand's Zoi Sadowski Synnott was hot on her tail.
She landed a perfect frontside double cork 1080 on her third run, achieving the top score in qualifying at 91.0 points. Stacking up a best score of 176.5 points, the New Zealander comfortably topped the ranking table.
Sadowski Synnott will be aiming for her second gold medal, after winning the women's snowboard slopestyle competition.
Big air and slopestyle competitions differ as the former has a single ramp, whereas the latter features rails and slopes for multiple jumps.
The men followed with their qualifying round in the big air, and two Japanese athletes also slid their way to the final.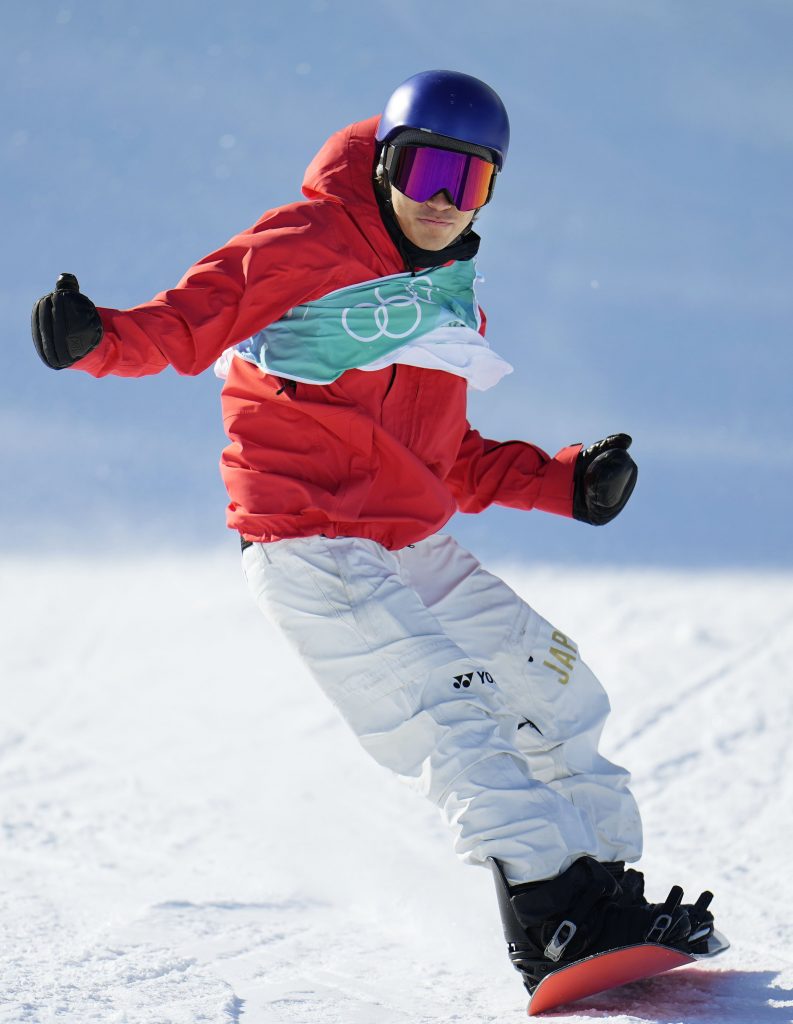 Particularly noteworthy was Takeru Otsuka, who on his third jump seemed to be suspended in air for an infinity of time as he achieved a stunning cab triple cork 1800, receiving the second-highest score of the day at 91.50, for a total score of 160.00.
Otsuka came behind Canada's Max Parrot, the gold medalist in the men's snowboard slopestyle, who achieved a total score of 164.75.
"I was finally satisfied with the third run," the Kanagawa Prefecture native who was crowned world champion in Modena, Italy, in 2018 told NHK. "With a jump that was so high, I was really happy that I managed to land properly."
Hiroaki Kunitake placed fourth with 158.25, after landing backside 1620s on his first and third jumps. He will be looking for another shot at a medal after finishing 33rd in the event at the Pyeongchang Winter Games in 2018.
Athletes in both categories will be competing in their sport's finals on Tuesday.
Freestyle Skiing
Estonia's Sildaru Steals Gu's Thunder in Slopestyle Qualifier
In the freeski, Japan had no representatives competing, yet there was plenty of excitement provided in the women's freestyle skiing slopestyle qualifiers on Monday, a competition that was postponed 24 hours due to weather conditions.
The round at the Genting Snow Park H & S Stadium was dominated by a rising star, Estonia's Kelly Sildaru, who achieved 86.15 on her second run. Sildar was the Youth Olympic champion in slopestyle in Lausanne in 2020.
Another athlete that has been gathering attention also participated in the qualifier: Ailing Eileen Gu, the San Francisco-born skier representing China. Just 18, Gu has already scored a gold medal in the women's freestyle skiing big air competition on February 8.
Gu started off Monday's competition a bit wobbly, making small mistakes at different points of the first run and scoring 57.28. On her second run she picked up the pace and got 79.38 points, placing her third in the qualifier.
The freestyle skiing slopestyle final is set for Tuesday.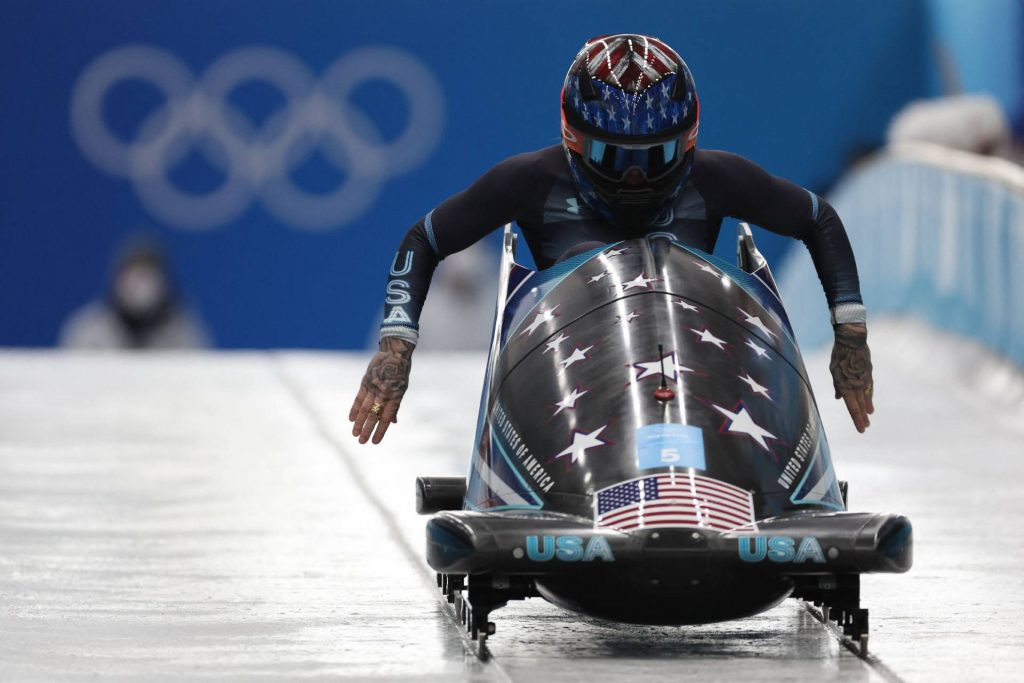 Bobsleigh
American Humphries Triumphs in Monobob's Olympic Debut
North American Olympians went 1-2-3 in the final standings in the first-ever women's monobob competition at the Winter Olympics, which wrapped up on Monday night at the Yanqing National Sliding Centre.

Americans Kaillie Humphries and Elana Meyers Taylor claimed the first two spots, finishing their four runs down the speedy course with times of 4 minutes, 19.27 seconds and 4:20.81, respectively.

Canada's Christine de Bruin placed third at 4:20.03. The competition, which features a bobsleigh slightly smaller than the ones used in the two- and four-person events, began on Sunday.

Humphries had the fastest times in each of the first three heats (1:04.44, 1:04.66 and 1:04.97), putting herself in a good position to capture the gold. She was a longtime bobsleigh star competing for her native Canada before becoming an American citizen. She represented Canada at the 2010, 2014 and 2018 Winter Games in the two-woman bobsleigh.

"As I age, I've learned life is very unpredictable and we don't always know our path forward and what the future holds," Humphries said, according to The Associated Press after winning her third Olympic gold medal. "We do the best we can with each and every obstacle or path change that gets thrown at us. What's important is to fight for ourselves."
Follow the 2022 Winter Olympics in greater detail on JAPAN Forward's dedicated sports website, SportsLook.


Authors: Ed Odeven, Arielle Busetto