On The Roof of Hokkaido, Japan's First Autumn Colors
When fall comes and cold temperatures set in, a patchwork of brilliant colors is slowly moving from the peak into the valley.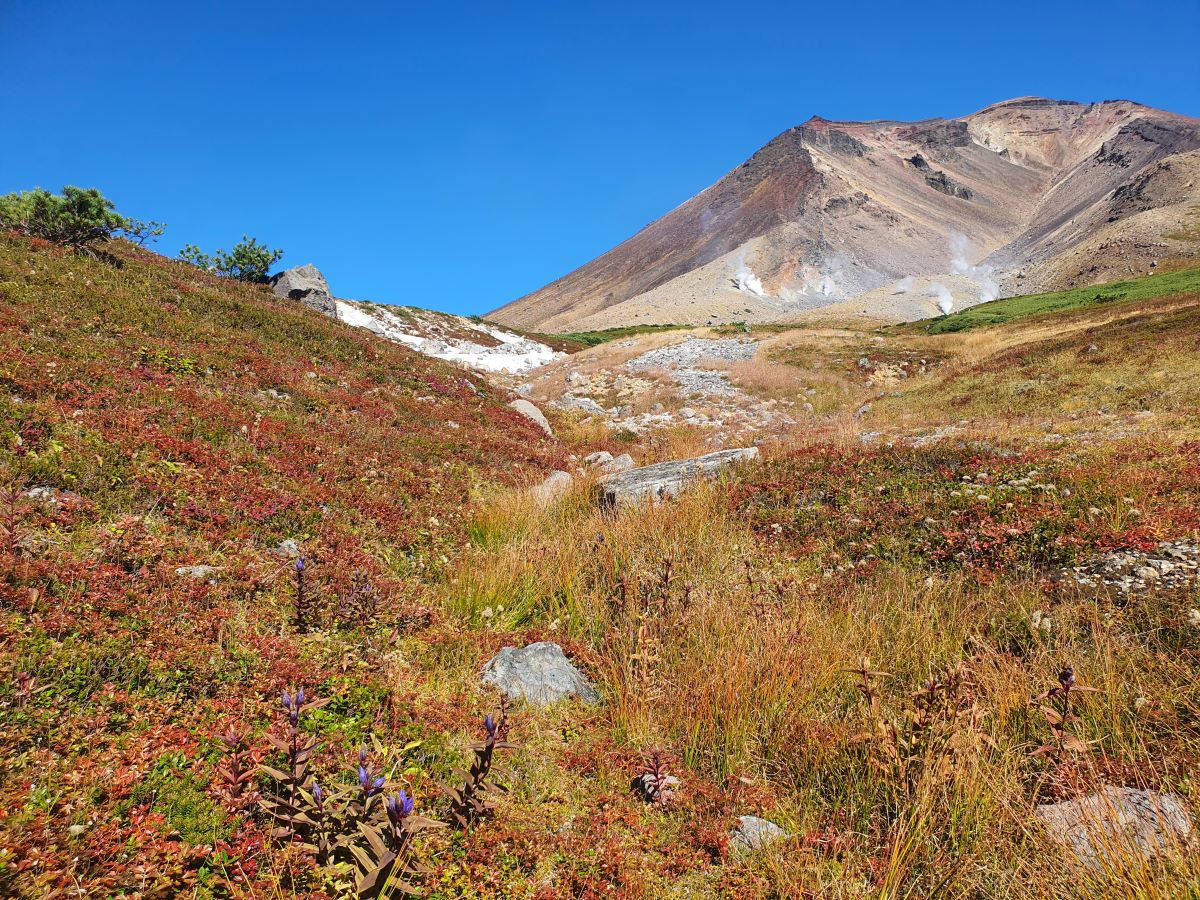 Asahidake, Hokkaido's highest mountain, is usually the first place to see fresh snowfall in the autumn season and also the first place where Japan's famous fall foliage appears.
Situated in a national park with bears, alpine flowers, and active volcanoes, it puts up a good show all year round. But autumn is particularly impressive.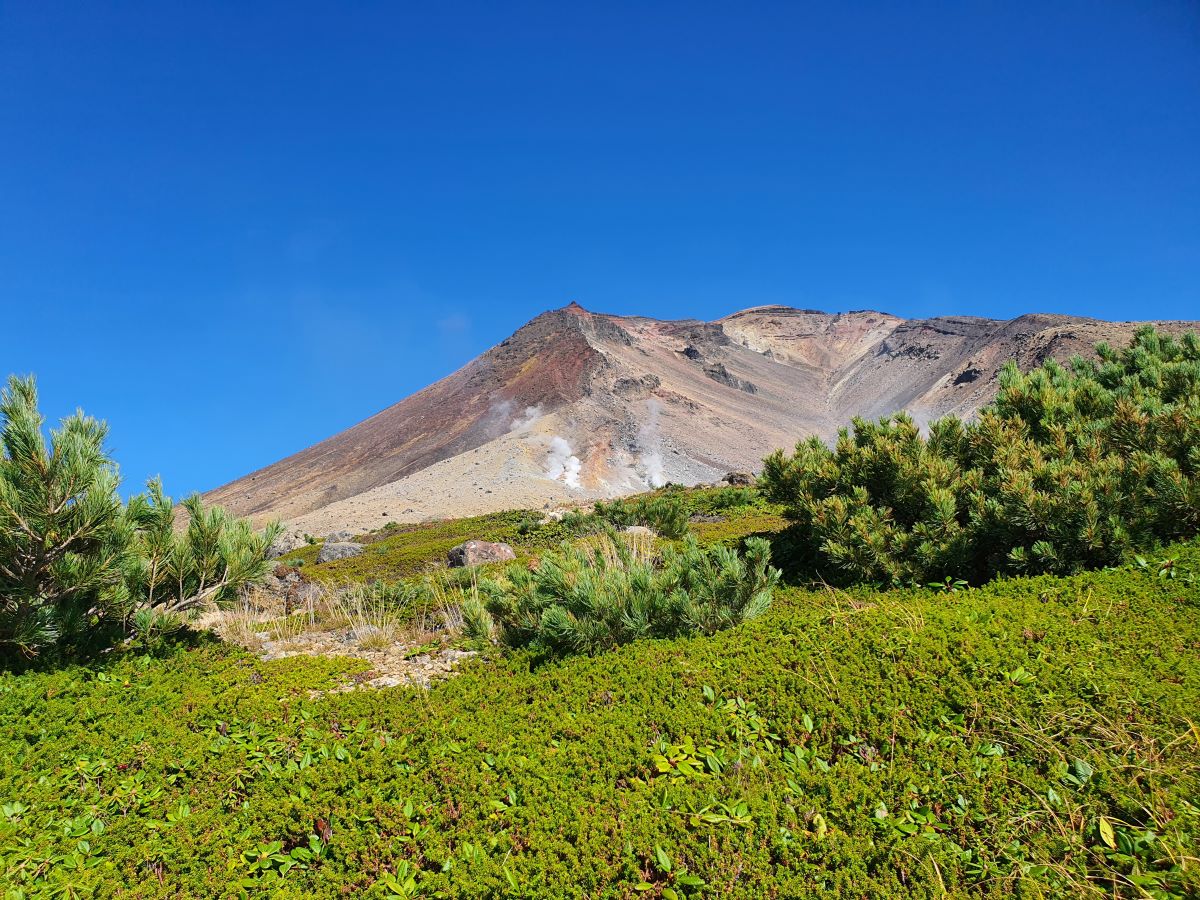 Asahidake's Coat of Brilliant Colors
"Please make more noise", a hiker in rubber boots suggests. Shaking his bear bell vigorously he demonstrates how he thinks bears could be deterred. However, the trail into the wetlands and up Asahidake mountain stays bearless.
That day, the only bear encounters consist of stuffed animals at Asahidake Visitors Center and a map that shows the potential dangers waiting for visitors of Japan's biggest national park. It is full of stickers warning of swelling rivers, slippery slopes and, of course, brown bears that have been sighted.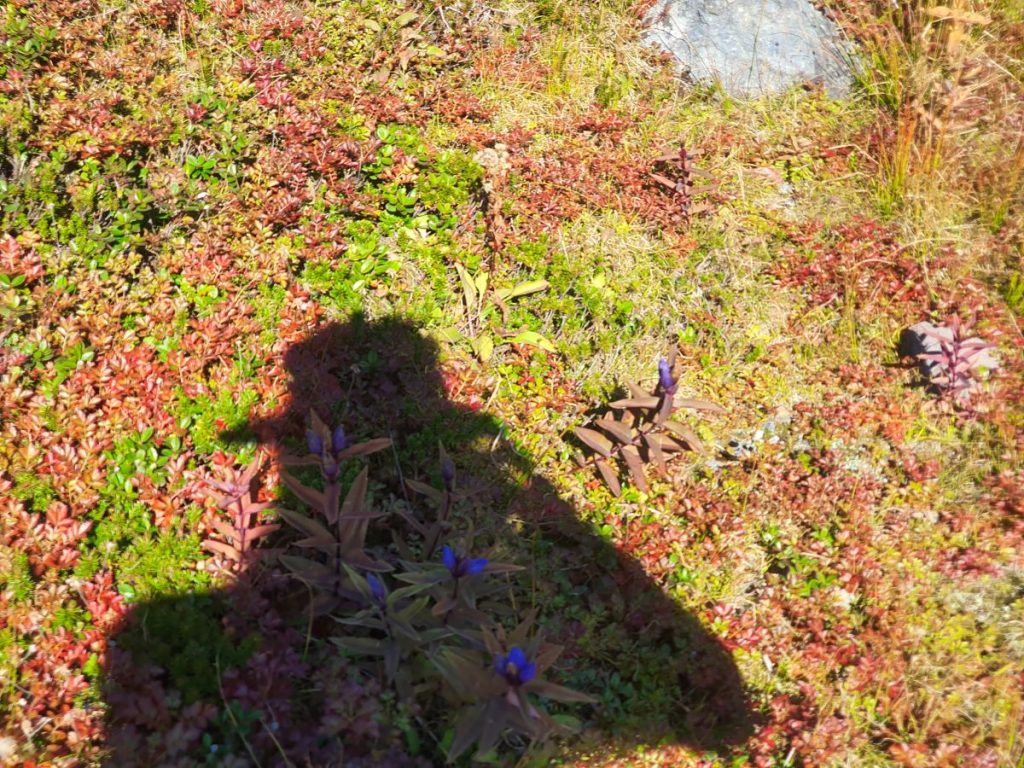 With a land area of 2,267.64 square kilometers, Daisetsuzan National Park is about as large as Kanagawa Prefecture. Situated in the center of Hokkaido, Japan's most Northern Island, it consists of three volcanic mountain groups.
The highest peak is Asahidake. It is the first place to get snow in late September ー and the first place where the autumn foliage appears in late August.
When fall comes and cold temperatures set in, the mountain changes from luscious green to red, yellow and orange. A patchwork of brilliant colors is slowly moving from the peak into the valley.
Leaves from mountain ash trees turn yellow, orange and reddish purple. Birch trees change from green to golden yellow. Blueberry shrubs form crimson carpets, and butterfly maple trees shine in gold and russet.
In mid September Asahidake reaches peak color while the Yezo spruce, Sakhalin fur and dwarf pines provide a green backdrop to the spectacle.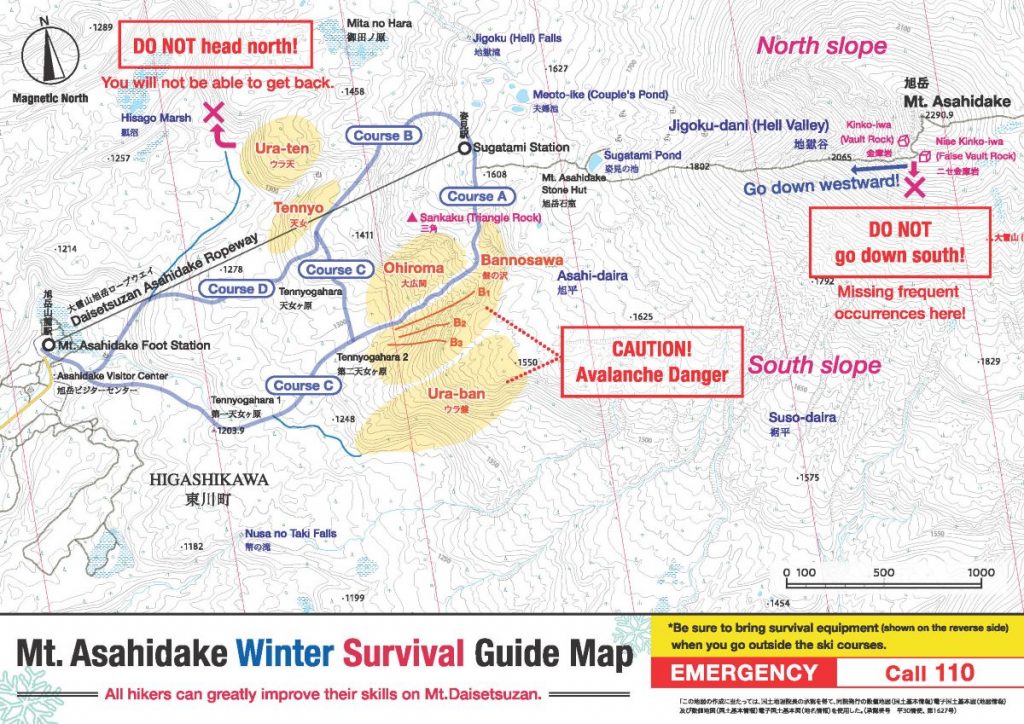 Challenges and Mysteries
Some alpinists might not even consider a mountain that measures only 2,291 meters to be a mountain. But Asahidake, an active volcano in the center of Hokkaido, is not to be taken lightly.
Weather can suddenly change leaving hikers in thick fog with very low visibility, exposed to wind, heavy snowfall or rain that makes the terrain treacherous. Night temperatures can drop to zero in September. Without the right gear, hikers can get disoriented and risk hypothermia.
In October 2017 four missing climbers were rescued by helicopter after surviving the night on the mountain at minus 6 degrees in 12 centimeters of fresh snow. The four had lost their way while descending from the peak.
Before smartphones and GPS tracking were common, the fate of lost climbers was more uncertain. In 1989, two lost mountaineers were only located after a rescue helicopter spotted a large SOS sign made by birch logs.
However, the hikers did not have any knowledge of the message and, adding to the mystery, it is still unclear who created the SOS letters. Police suspect it might have been a different person who went missing on Asahidake in July 1984, but this has never been confirmed with certainty.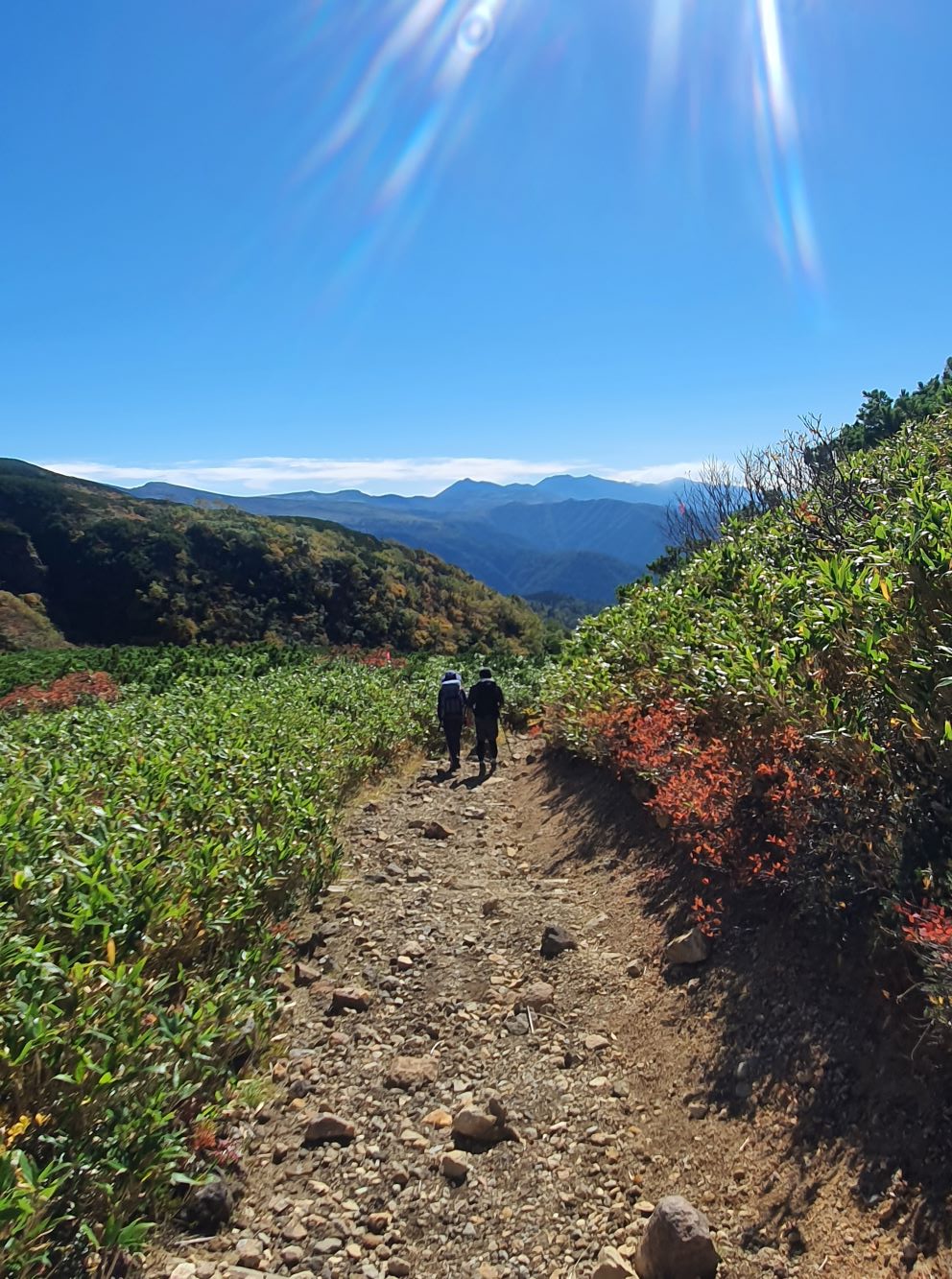 Short Climbing Season
The main season for summer hiking on Asahidake is very short, running from July to August. Before and after this interval climbers need to be prepared and equipped for snow if they want to ascend the highest point in Hokkaido.
The volcano has not erupted since 1739 and is not expected to do so in the near future. But from its many fumaroles the volcano is sending white plumes of sulfurous gas into the air with an angry hissing sound. Rocks and deposits around the steamy vents give the area an extraterrestrial, otherworldly look.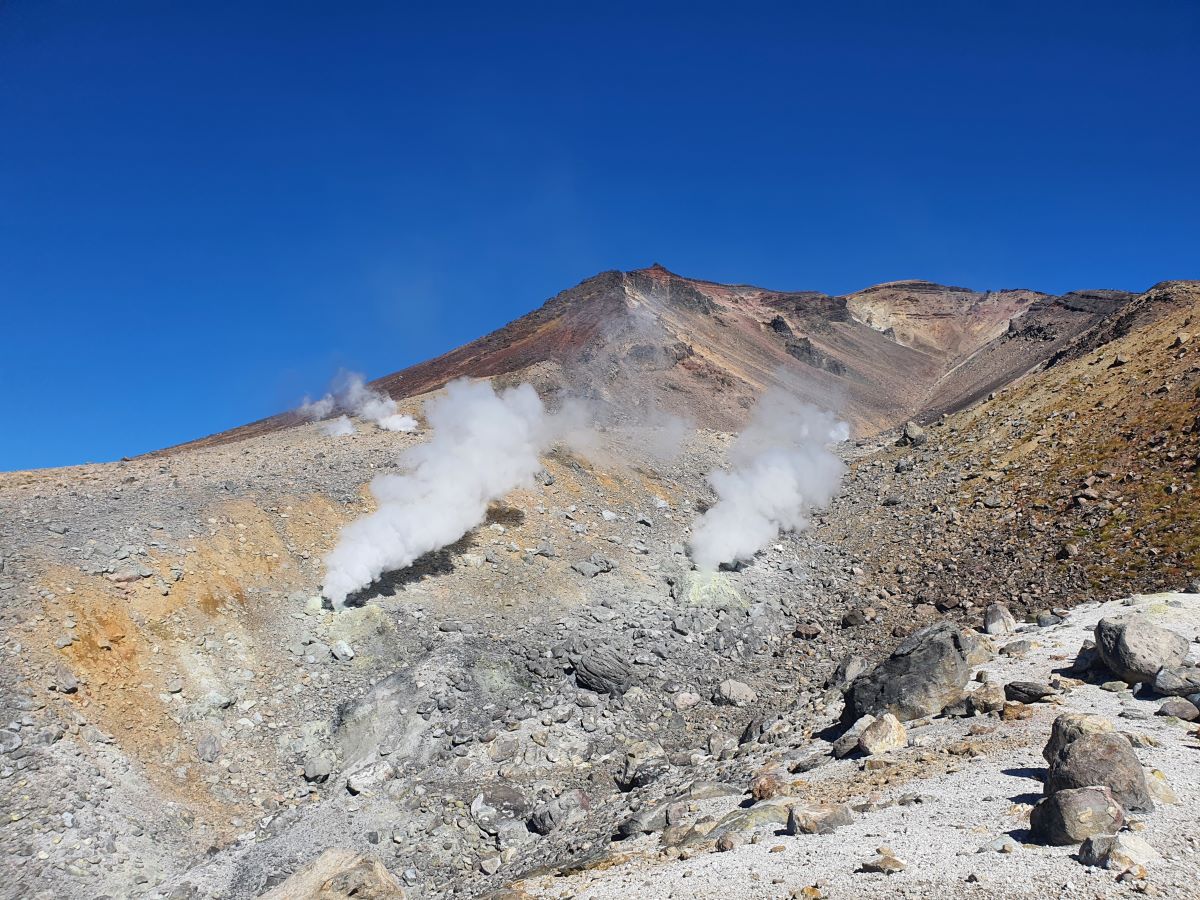 The trail climbs up from Asahidake visitor center to the top of Asahidake Ropeway station and on to Sugatami Pond. It passes the lowest fumaroles and then carries on to the peak over rocks and barren terrain.
Apart from the Asahidake, Daisetsuzan National Park features plenty of hiking trails and at least two ropeways that cater to visitors valuing comfort over physical exercise.
There are also a number of hot spring onsens that can help ease muscle pain and exhaustion after a day of hiking in the wilderness of Hokkaido.


RELATED:
Author: Agnes Tandler (Reporting from Daisetsuzan National Park)
Since the start of the pandemic in 2020, Agnes Tandler has been based in Japan, where her reporting covers COVID-19 for a daily healthcare newsletter in Germany. Find her other essays and reports for JAPAN Forward here.