Organize A New Year's Party in Japan And Feed 30 People With This Gargantuan Osechi Platter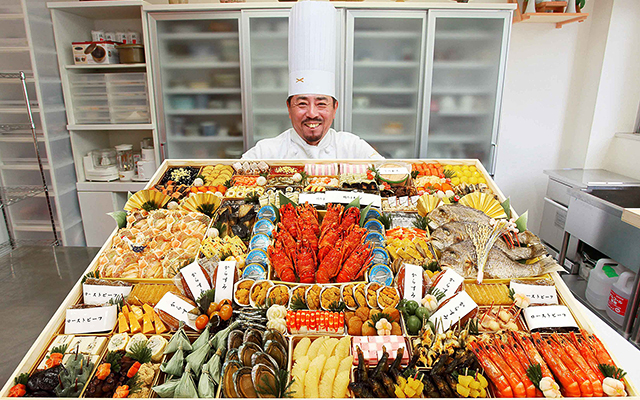 If you happen to be in Japan over this New Year's holiday season, one of the things you may be interested in trying is traditional Osechi ryori お節料理 (Osechi cuisine).
These are special dishes, usually served in a square box, often a lacquered jubako tray, which are intended to celebrate the New Year.
These dishes are either made with luxury ingredients (top-tier seafood items such as shrimp, crab or lobster) or are considered auspicious because they symbolize long life, family happiness and bountiful harvest.
Unless you are fortunate enough to spend New Year's Day with a Japanese family, the only way to try Osechi cuisine as a foreign visitor is either to order it through a convenience store or department store, or to order it online in advance.
You can order big platters which may feed 3 or 4 people, but if you want to feed a large group, you'll need to place several orders, which may be complicated and take time.
The Perfect Solution For a Luxurious New Year's Party
Do you live in Japan or plan on visiting with a large group over the New Year's period? If you're not on a shoestring budget, here's something new to try:
You can organize a very special and fancy party centered on Osechi cuisine for a group of 20 to 30 people with just one step, through Amazon.co.jp.
Introducing the "Super Ultra Extra Large Osechi Platter supervised by Chef Hiroto Hayashi from the Smiling Dinner Table" 笑顔の食卓 匠 林裕人監修 スーパー超特大おせち
That's a mouthful (and it really does say "super ultra extra large," or the closest equivalent thereof), but not even close to the gigantic proportion of the platter you'll be receiving. At nearly 4 feet wide and 2.5 feet long, this tray is overflowing with a whopping 84 luxury dishes and items.
Six packages of karasumi (salted mullet roe), 13 whole lobsters, 10 tins of caviar and 10 shells filled with uni (sea urchin roe), 12 shrimps, 12 pieces of kazunoko (herring roe lightly marinated in soy sauce and dashi), 12 abalones in their shells, 3 extra large sea breams. Order here.
The rest of the article can be viewed on our partner's website, grape Japan at "Organize A New Year's Party in Japan And Feed 30 People With This Gargantuan Osechi Platter."