"Pink" the Cat Graduates from Being Soba Restaurant's Attraction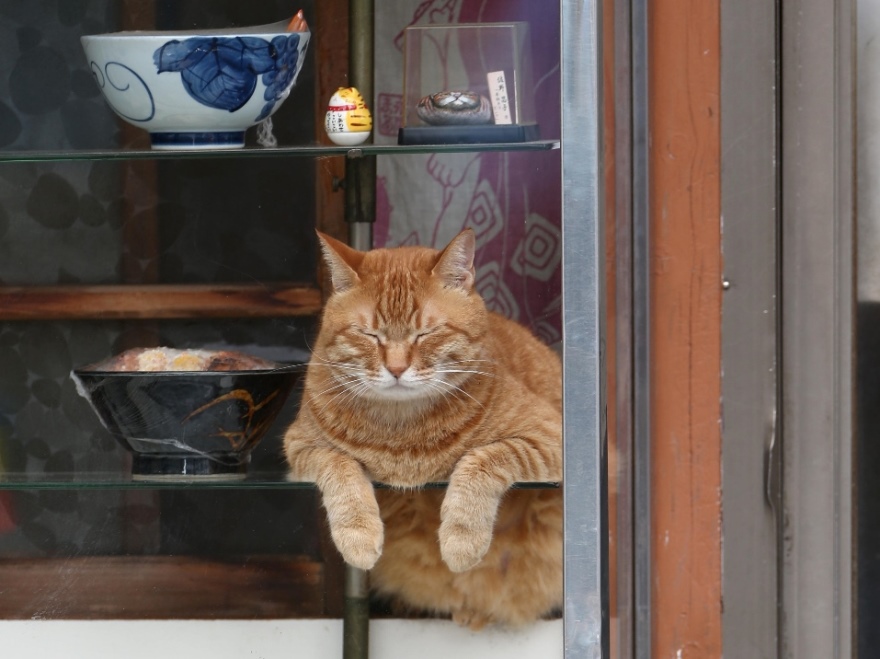 By the end of March, just as the cherry trees started to bloom, a popular cat known as the face of the local shopping district in Machiya, Arakawa district Tokyo "graduated" from being the poster idol of a soba restaurant.
"Pink" worked at Yabu, a soba restaurant I wrote about in one of my columns in September 2015. The restaurant – run by Keiichi Nohira, his wife Kazuko, and his brother Hitoshi – was popular among the locals. Founded in May 1963 by Keiichi's father, it stood in the same place for 54 years until the family decided this year to relocate. The building was getting too old.
The family originally wanted Pink to be at the restaurant like he always had, even after the relocation. However, due to contractual problems with the tenant, Pink wouldn't be allowed to sit in the restaurant. So for now, he will be at home and guarding her house on his "home-police" duty.
Being the face of the restaurant, Pink would sit inside the restaurant's showcase. He has been loved not only by the local residents but also by fans from all over the country, even from across the globe. One of the reasons he became so popular was a chance encounter with a freelance photographer who goes by the name of Kenya Doi.
When Mr. Doi, who lives in Arakawa district, saw Pink sitting inside the restaurant's showcase window one day 6 years ago, he thought, "Wow, that's it!" and ran back home to grab his professional camera.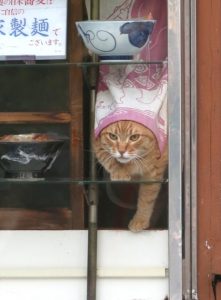 Ever since Doi started taking photographs of Pink, the store began attracting the attention of TV and magazine crews. The column I previously wrote, "Nikukyu-mania ni sasagu" (Dear Cat-lovers), is an example.
However, since it was an animal Doi was dealing with, it was not easy to get the photographs he wanted. Pink was generally calm and quiet, but making the pose for the camera against his will was not going to make a good photograph. Doi visited Pink countless times before he was able to get a photograph he liked. When he succeeded in getting the shot he wanted, he felt like he was no longer just a "passer-by" to Pink, and that Pink had become something very precious to Doi himself.
As media exposure increased, so did the number of fans. They travelled miles to this locally-loved soba restaurant just to get a glimpse of the unique cat. Word spread on social media, and Pink's popularity even crossed borders.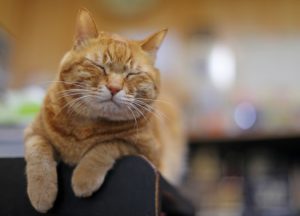 When I was informed of Pink's graduation in an email from the restaurant, I felt a slight sadness. But after giving it some thought, it felt like giving him this long break was the right thing to do. After all, the relocation would have been a burden on Pink, who was turning 11 years old. Changes in his environment should be minimized.
On 25th and 26th of March, the last two days before the relocation, the family turned down all delivery orders. They instead interacted with regular customers and fans who had gathered to see Pink's last days on duty at the restaurant.
During its last two days, the store was always filled with people, among them a woman who made her husband take a day-off from work, and customers who stayed at the shop from the opening till the closing hours. The Nohira family was surprised to realize just how popular Pink had become.
They plan to finish the move by mid-April and aim to reopen Yabu in just few meters away from the original restaurant at the beginning of May. "We haven't really thought about it in detail, but we are trying to come up with ways for people to 'feel' Pink's presence," said Hitoshi. "Maybe we'll put up some pictures of Pink that our customers had taken."
Pink may be "graduating," but the tradition that has endeared the restaurant to the locals will remain.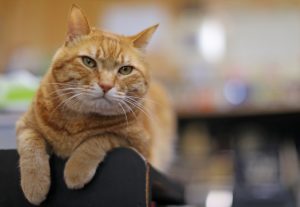 As for the menu, "teuchi-soba" (hand-made soba) would be an obvious choice, but I would also recommend trying "don-mono," which is unique to soba restaurants. Why not visit Machiya for something to eat as well as dropping in on Pink to see how he is doing?
Pink connected people and formed bonds that I believe would last forever. I cannot wait for May.
(Photo Press Shuji Ozaki)
(Click here to read the original article in Japanese)