2017 Cherry Blossom Season Is Officially Here!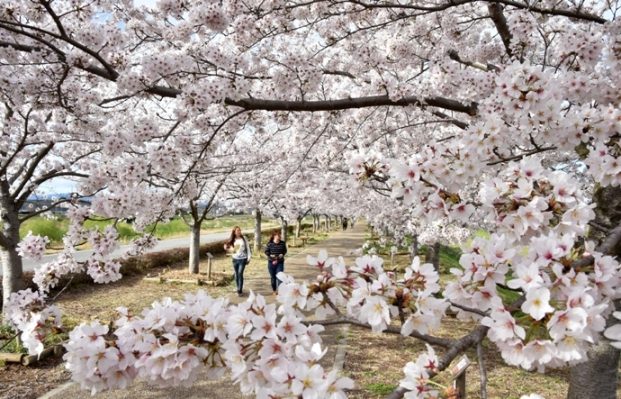 As winter drags on, it begins to seem that the dark and cold days will never end. But in Japan, when the plum trees blossom, it is an early promise of warmer weather ahead. This promise is fulfilled when the cherry trees—sakura—burst into flower. People head outdoors to enjoy the breathtaking sight of entire stretches of road and expanses of park and riverside dyed pink and white. The blossoms reach their peak and then just as quickly flutter to earth, creating a swirling rain of springtime color and ushering in the warmth of spring.

In Tokyo, which announced the sakura season open as of March 22, some of the best places for cherry blossom viewing—hanami, in Japanese—are in Ueno Park (although this tends to be crowded), at Chidori-ga-fuchi, in Sumida Park (as shown in the above video, showing scenes from last year's cherry blossom season), and near Edogawa Park just down the hill from St. Mary Cathedral in Bunkyo Ward. Some people also enjoy visiting the Somei Cemetery, which lies just beside the place where the popular Somei Yoshino variety of cherry trees was first developed.
But other places in Japan are famous for cherry blossoms, too. Yoshino, near Nara, has been immortalized by poets for a thousand years. Many of the poems of Saigyo sing of the beauty of Yoshino's cherry blossoms. Yoshino is so famous that it is now a UNESCO World Heritage Site. Matsuyama, on Shikoku Island, is also a good cherry blossom-viewing city, as is Sendai in the Tohoku Region and Sapporo on the northern island of Hokkaido.
To view the cherry blossoms is not just to undertake an aesthetic or botanic investigation. Indeed, the very fleetingness of the cherry blossom season has often been associated by the Japanese people with the fragility of happiness and of life itself. There is a poignant sadness in the beauty of the cherry blossoms falling. Why not welcome the arrival of spring in grand fashion and learn more about life in Japan by joining some Japanese friends under the boughs of a cherry tree?