Rugby World Cup 2019: Here's Where You Go for Ramen Around the 12 Venues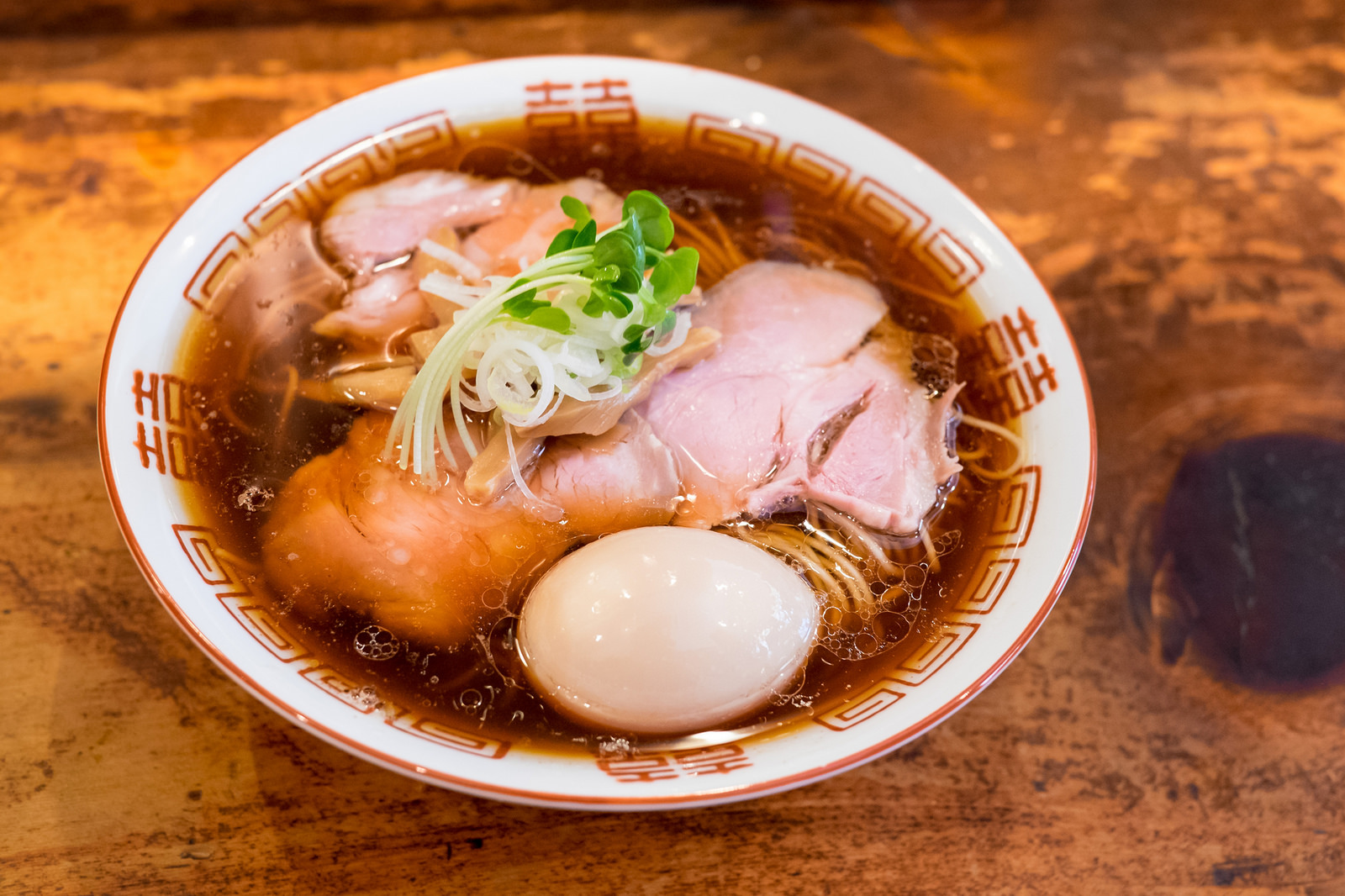 Japan's plan to host the 2019 Rugby World Cup means sports fans from around the world will be visiting, presenting an opportunity to train the spotlight on the country's other interesting tourist spots.
While Tokyo, Kyoto, and Osaka are top destinations for the average sightseer, rugby stadiums from lesser-traveled parts of Japan will suddenly be full of spectators.
Most likely, a good number of these people will want great bowls of ramen. These great shops near the 12 participating venues are sure to hit the spot.
Sapporo Dome
Sapporo is most famous for its miso ramen, and the most famous miso ramen shop in town is Menya Saimi (麺屋 彩未). Luckily for rugby fans, Saimi is next to Misono Station, only two stops from Sapporo Dome. Saimi serves quintessential Hokkaido miso, curly yellow noodles in a rich miso broth. A touch of ginger mellows out the strong miso taste.
Check out Menya Saimi here to learn more.
Kamaishi Recovery Memorial Stadium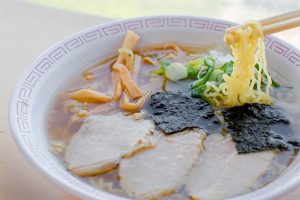 Kamaishi lies along the coast, about halfway between Sendai and Morioka. This stretch of coast was badly damaged during the March 2011 tsunami disaster in Japan, and recovery continues to this day.
While Kamaishi isn't known for its ramen, it has one novel shop called Bus Ramen (かわしまバスラーメン). The bench seats were removed from a bus to make a ramen counter, and the shop serves up a ¥500 JPY bowl of classic shoyu ramen. They also offer a bowl topped with the shop's original horumon (offal) mix, a throwback to the owner's previous job as a butcher.
More about Bus Ramen can be found here.
Kumagaya Rugby Stadium, Saitama
Rugby fans have a reputation for being tough and rowdy. The toughest, rowdiest ramen in Japan is aptly named junk-style. Created by the shop Junk Garage (ジャンクガレッジ), this is soupless ramen topped with, as you would guess, junk. Typical junk toppings include fatty pork belly, cheese, spicy mayonnaise, fried garlic, raw egg, mounds of pork back fat, and as much freshly minced garlic as you can handle. It is a pure mass of carbs and fat, with legions of fans.
There are Junk Garage branches scattered around Saitama. The branch in Kumagaya isn't too far from the Kumagaya Rugby Stadium and is open until 11:00 every night.
You can find the shops through this link and the chain's own website.
Tokyo Stadium
Fun fact: the Tokyo Stadium is known by many as the Ajinomoto Stadium. Fans of ramen know this ingredient very well — Ajinomoto is the artificial MSG added to most bowls of ramen in the world.
A few stops away from this stadium out on the west side of Tokyo is Shibata (中華そば しば田). Shibata is known for an ultra-refined bowl of chukasoba. The stock is made with chicken and duck. It looks simple, but fans are blown away by the deep underlying flavors and intense umami.
Fittingly enough, they don't use any added MSG in their ramen.
Learn out more about Shibata here.
International Stadium Yokohama
The International Stadium in Yokohama is only a few minutes walk from the Shin-Yokohama Ramen Museum, where you can choose from eight different curated ramen shops from around the world. It's an obvious choice for a ramen fan in the area.
Check it out the ramen museum here.
Shizuoka Stadium Ecopa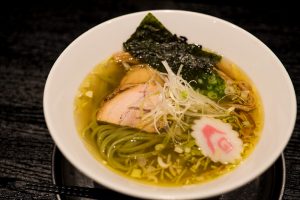 Ecopa Stadium is along the vast swath of developed land between Nagoya and Tokyo. Much of this swath is home to factories and factory works and not much in the way of famous restaurants. Shizuoka City, however, is quite a gourmet destination. Fresh fish, local matcha, and a hearty citrus crop are well-known Shizuoka products.
One ramen shop that incorporates local ingredients is Idaten (伊駄天). If you are lucky, they might have the Teppen ramen on offer. It uses local matcha in the homemade noodles and seasons the pork with local mikan. If that limited bowl isn't around, the simple yuzu shio ramen is the way to go.
Either way, save room and head over to one of Shizuoka City's many oden bars. The local style uses a darker dashi broth than what you will find in Tokyo.
You can find out more about Idaten here.
City of Toyota Stadium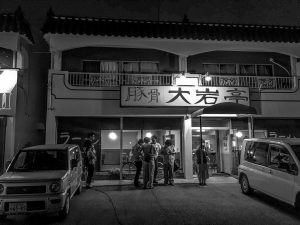 The most intense pork broth ramen in Japan is about an hour south of Toyota City, and hardcore pig fans might want to consider the journey for a bowl at Oiwatei (大岩亭). The master cooks pork bones for hours before blending the soup into a gravy-thick liquid. Gravy isn't even the right word, it is much thicker than that. This one is so thick that you can stand your spoon upright without it falling over, an act every customer will be doing for their Instagram photos. The taste is what you would expect from the sight of this bowl, a bit unrefined but full of pork flavor.
More information about Oiwatei can be found at this link.
Hanazono Rugby Stadium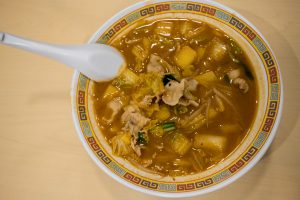 Osaka has almost the diversity of Tokyo when it comes to ramen shops, so choosing one for rugby fans can be a challenge. Luckily, there is an outpost of Tenri Stamina Ramen (天理スタミナラーメン) just a few minutes walk south of the Hanazono Rugby Stadium.
In Japan, stamina food is high in protein, garlic, and spice. Tenri Stamina, called Tensta for short, adds in cabbage, carrot, and nira to make their ramen more of a hearty stew than a simple bowl of ramen.
(no post, photo attached)
Kobe Misaki Stadium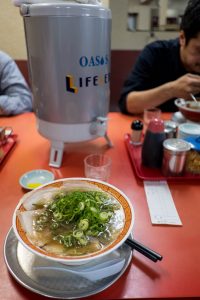 The obvious choice for rugby eats in Kobe is a nice steak, courtesy of one of the town's many wagyu restaurants.
For someone who blew their budget on tickets for the matches, local ramen shop Mokkosu (もっこす) has tonkotsu ramen brimming with fresh green onions and thinly-sliced pork. The shop is loud, and many of the patrons are under the influence of alcohol — something that will feel like home to sports fans looking for an after-match slurp.
You can find out about the shop Mokkosu at this link.
Fukuoka Hakatanomori Stadium
Fukuoka City in Kyushu is the home of tonkotsu ramen. While incredible shops like Genki Ippai and Shinshin are winners, first-time visitors to the city should head to the lineup of yatai carts in Nakasu.
Food carts are rolled out each evening to serve a variety of dishes, with ramen being a standard at a few. Pick any yatai with a crowd, order ramen, beer, and snacks, and don't forget an extra order of kaedama noodles if you still have some soup left in your bowl.
(no post, photo attached)
Kumamoto Stadium
Kumamoto-style ramen differs from its tonkotsu cousin in the north. You still have thick noodles in a heavy pork broth, but Kumamoto drizzles on mayu, a kind of burnt garlic oil, and often offers various garlic condiments as well.
Tengaiten (天外天 本店) adds fried garlic powder and lets you put on as much marinated garlic slices in as you like. It's a fun bowl that leaves you stinking until the next day.
You can find out more about Tengaiten here.
Oita Stadium
Oita Prefecture is known for onsen hot springs and fresh fish, not so much for ramen. If you find yourself staying in the city, go for a ¥500 JPY bowl of old school tonkotsu ramen in the run-down but still popular Seiyoken (清陽軒竹町支店). It is the local's favorite shop since 1952. And it has friendly staff and the cheapest bowl of stinky tonkotsu in the area.
Check out more information about Seiyoken here.
Author: Brian MacDuckston