Seeking a resolution through information influx into North Korea-The battle of the Shiokaze radio broadcasts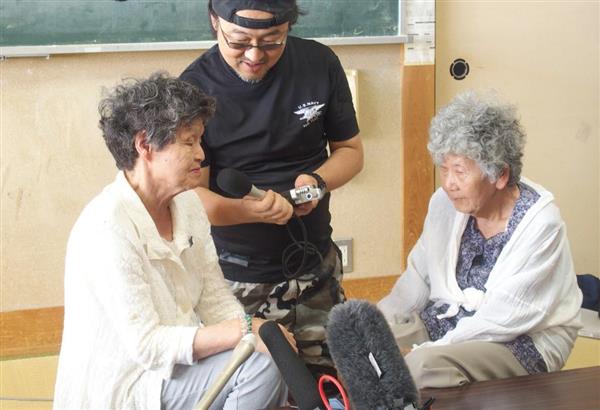 "We aim for the liberation of all abductees, and of all North Korean citizens suffering under a dictatorial regime."
There is a radio broadcast known as Shiokaze, or sea breeze. Shiokaze's target listeners are abductees in North Korea, as well as average North Korean citizens. In North Korea, information from outside the country is restricted by the authorities. Shiokaze sends information into North Korea in the hopes of achieving the following objectives. First, Shiokaze is meant to allow abductees to understand that rescue efforts are underway in Japan, and that they shouldn't give up hope of returning home. Second, Shiokaze tells average North Koreans to provide information to the outside world that will be helpful in solving the abduction issue, because such a solution would be to the advantage of those living in North Korea. North Korea has attempted a variety of measures to block the Shiokaze broadcasts. The "radio wave war" between Shiokaze and North Korea continues.
Shiokaze is operated by COMJAN (Investigation Commission on Missing Japanese Probably Related to North Korea), which investigates the abduction issue in Japan.
COMJAN began Shiokaze broadcasts in October of 2005. At first, the broadcasts were only shortwave, but it plans medium-wave broadcasts as well. Tatsuru Murao, who is in charge of Shiokaze at COMJAN, explains Shiokaze's objective as follows: "We aim for the liberation of all abductees, and of all North Korean citizens suffering under a dictatorial regime."
Shiokaze broadcasts every day for two and a half hours in shortwave. The programming includes news pertaining to North Korea delivered in both Korean and Japanese, the reading out of names, in both Korean and Japanese, of Japanese abductees identified by the Government of Japan and missing persons for whom the possibility of abduction by North Korea cannot be ruled out, and messages from family members of abductees and missing persons possibly in North Korea.
In April of 2006, half a year after the Shiokaze broadcasts began, it was confirmed that jamming signals were being transmitted as countermeasures to Shiokaze. An investigation conducted by the Japanese government revealed that the jamming signals were being transmitted from Pyongyang, in North Korea. These jamming signals continue to be transmitted even to this day. COMJAN speculates that "North Korea must not want Pyongyang to hear Shiokaze broadcasts. There may be abductees living in the Pyongyang area."
There is also speculation that the status of the jamming signals being transmitted from North Korea is related to the North Korean domestic situation. For example, after it was revealed that North Korean supreme leader Kim Jong-un's uncle and probable guardian, Jang Sung-taek, was purged, there were no jamming signals for two weeks. It is possible that there was some kind of confusion in the chain of North Korean command due to the absence of Jang, who had been second only to Kim in leadership rank.
Conversely, immediately after Kim Jong-un became the supreme leader, the type of jamming signal changed to one that, compared with the signal used earlier, made voices more difficult to hear. It is thought that this may have been for the purpose of shoring up the new regime by blocking the influx of information from outside.
In order to counter the North Korean jamming, Shiokaze has secured several different frequencies, and evades jamming signals by changing the frequencies it uses for its broadcasts. It has also adopted the countermeasure of increasing its signal strength, thus allowing its voice to be heard even if attempts are made to jam it.
The reason why medium wave broadcasts is important, is that there was information that there were approximately three million radio receivers in North Korea of the type common there, of which two thirds are thought to be capable of receiving medium-wave broadcasts.
When COMJAN interviewed those who had fled North Korea, it found that North Koreans often listen to medium-wave broadcasts from South Korea. For this reason, the investigation committee had been considering implementing medium-wave broadcasts. However, COMJAN was unable to realize this plan, as it was unable to obtain permission to use transmitting facilities inside of Japan.
Thereafter, the investigation committee decided to outsource broadcasts to overseas broadcasting companies. Broadcasting is due to start from facilities in the Mongolian city of Choibalsan, some 1,350 kilometers (about 840miles) from Pyongyang.
However, it costs approximately ¥1 million (about $9700) per month in broadcasting expenses to broadcast in shortwave for two and a half hours per day, but the thirty-minute medium-wave broadcast costs around ¥1.35 million (about $13000) per month. Because COMJAN does not have enough funds, it will have to fundraise in order to begin its medium-wave broadcasts.
Furthermore, COMJAN will henceforth work on the Japanese government in the hopes of broadcasting from within Japan. The "radio wave war" between Shiokaze and North Korea has entered a new phase.