Shinrin Koen in Saitama Provides an Escape from the Urban Jungle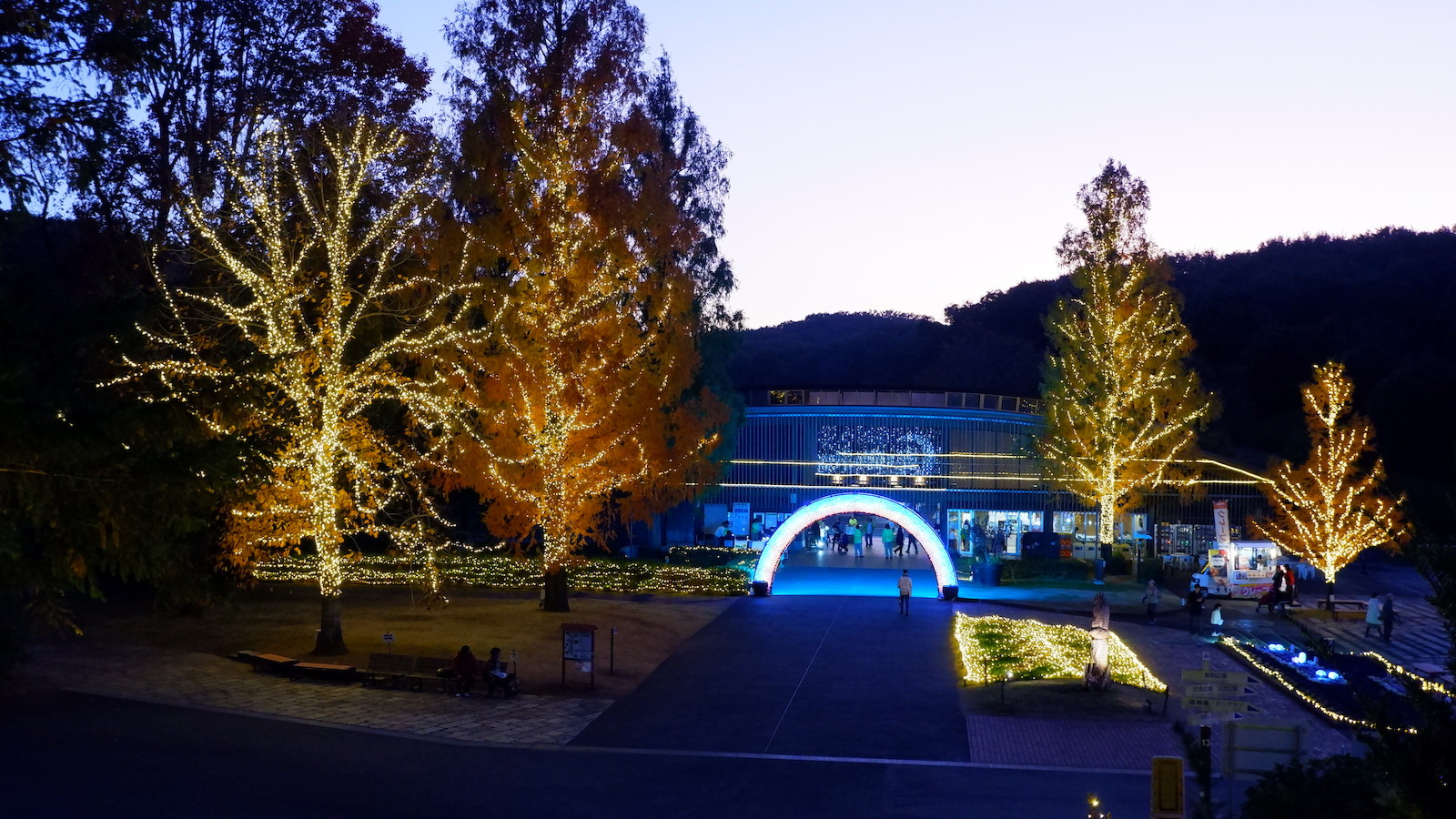 Shinrin Koen — "Forest and Woods Park" — is unusual among the many parks in Japan in that it is directly operated by the national government. While this might suggest a rather bureaucratic approach, I have never felt such. If anything, the management seems rather more imaginative than that of parks run by local governments.
For me, the whimsical wooden sculptures found in and around the entrances to the park symbolize the creative management of Shinrin Koen.
For Kids — and Adults
One main attraction of the park is several large grassy areas where kids (and adults) can run around freely without the constraints typical of much smaller urban parks. Small tents are allowed. Indeed, a common sight in the park is parents lounging or snoozing in a small tent while their children enjoy the freedom to run about with no traffic worries.
Ponpoko Mountain is an inflated outdoor trampoline. At 1,000 square meters, it is said to be the largest in Japan. When I visited, it seemed to be almost as popular with adults as with children.
Another feature, Musashi Kid's Dome, has 50 pieces of kit assembled for kids to climb on, in, over, and under.
On a very hot day, nothing attracts young children like water. The day I visited for most of the photos used here was very hot, and the greatest concentration of children was at the 2,500 square meters of wading pools near the Musashi Kid's Dome. There are also several large ponds, offering a chance to see waterfowl and to take pictures in which the foliage reflect from the pond surface, producing images somewhat like 19th-century impressionist paintings.
Shops and Restaurants
There are small shops located near the attractions for children, selling soft ice cream cones, snacks, and beverages. There are also alcoves for nursing mothers and for diaper changing. One café caters to seniors.
In addition, there are several self-service cafeteria-style restaurants in the park: you purchase tickets from a machine and bus your dishes and trays. Aside from curry rice and other cafeteria staples, the restaurants also offer seasonal dishes using local and regional ingredients. I would rate the food as tasty and good value for money.
One of the restaurants has a barbecue area and a shop that sells meat and vegetables to barbecue.
For Pets
Pets on leash are allowed in the park, although you need to sign a statement of good behavior when you enter. There are several dog runs, and even designated dog potty places.
Seasonal Variation
The park has been planted with a variety of trees and plants that bloom at different times of the year. On my visit last summer, feather cockscomb was in bloom in vivid yellow and red. On my subsequent visit in the fall, the numerous maple trees had just started to put on a vivid display of yellow and red leaves, attracting amateur photographers and artists.
In the late winter, camellia and plum blossoms signal the transition from winter to spring. And then, of course, the cherry trees come into bloom. There are special plantings of both plum (500 trees, 120 varieties) and cherry trees (20 varieties).
Less seasonal, but no less attractive, are the large herb garden and somewhat oddly named Urban Arboretum. There is also a botanical shop at the arboretum. For those interested in wild plants, there is a walking course with numerous small signs identifying plants both by their Japanese and Latin names.
"Harvesting" anything in the park is, of course, prohibited, and, in the case of wild mushrooms, dangerous. In some places there are signs warning of wasp nests in the vicinity. Take these seriously. The wasps are most definitely there and can be very aggressive and dangerous.
Depending on the time of year and the weather, mosquito repellent is good to have. Similarly, when cycling, eye protection is desirable. This is a nature park and that means bugs during the summer.
Seasonal Attractions
As this article is being published, Shinrin Koen has just ended one of its larger seasonal events, the Autumn Leaves Light Up, which ran until December 1. Because the weather has been relatively warm, the best colors may come after the light-up closes, so take a chance and visit if you can. I visited the park on November 21 to take the photographs in this essay.
Admission Charges
General admission is ¥450 JPY for adults, no charge for children in junior high school age or younger. Seniors are charged ¥210 JPY. An annual passport is also available: ¥4,500 JPY for a general pass, and ¥2,100 JPY for seniors.
Transportation to the Park
The nearest station to the park is the Shinrin Koen station on the Tobu Tojo line that runs northwest from Ikebukuro through Kawagoe. Some trains on this line go as far as the Minato Mirai station in Yokohama via the Fukutoshin subway line. The fastest trains take about an hour to travel from Ikebukuro to Shinrin Koen. The fare is ¥720 JPY. Because travel to and from the park is opposite to the commuter flow, seating is not a problem.
A protected cycling and pedestrian path connects the station to the south entrance of the park. Cycle rental is available at the station, but I would suggest taking a bus to the park and renting a cycle there.
Two companies offer bus service between the station and the park. The most convenient is offered by Kawagoe Kanko Kotsu. Their park entrance stop is only a few tens of meters from the south park ticket booth and wicket. Unfortunately, the buses operate only on weekends and holidays.
Tobu Bus operates a year-round daily schedule, but its buses follow an alternating schedule. Some stop near the south park entrance while others stop near the west park entrance. The Tobu Bus stop for the south entrance is not well-suited to wheelchairs.
The price for both bus services is the same: ¥220 JPY. SUICA is accepted.
The park also has a number of large parking lots. The charge is ¥1,650 JPY for full size and ¥620 JPY for compact cars. Surrounding businesses and farms also offer parking at variable rates, generally much less than the park charges. Keep in mind that on extended weekends and holidays, it may be hard to find parking close to an entrance.
It is also possible to cycle from Tokyo to the park using the cycle paths along the Arakawa River and a protected branch path that runs from the river to the park itself. In my case, the 56-km trip takes about four hours.
Moving Around Inside the Park
Shinrin Koen is quite large. Distances between facilities are measured in kilometers, not tens or hundreds of meters, as is the case for many municipal parks.
While there is limited bus service within the park, it is much more convenient to rent a bicycle. This can be done from "cycle centers" at each of the park entrances. These cycle centers have bikes for children and adults in various sizes and configurations, including electrically-assisted bicycles. Charges for bicycles are ¥410 JPY for three hours (adults), ¥260 JPY for children. Day rentals are available at a slightly higher charge. Helmets for children are available without charge. Helmets for adults are not available.
Cycling and pedestrian paths are separate. The routes have English signage but it is easy to miss a turn and end up making a five- or even 10-kilometer detour. Cycling is very pleasant on the shaded courses when there are few people in the park but can be somewhat nerve racking on days when there are many young children on the cycle paths. They, and sometimes their parents, weave from one side to another and sometimes stop abruptly. Extreme caution is advised when young children are on the courses.
Segway tours are also available, but in my many trips to the park, I've never seen anyone actually using these devices.
Wheelchair Access
Because the park has been designed for families using strollers, there is slope access to almost everything in the park. Wheelchairs can also be borrowed at park entrances.
The main issue with wheelchair access in the park is the distance between different facilities. There are numerous toilets with wheelchair access.
For More Information
An English translation of the basic park brochure and map is available here as a PDF download.
Conclusion
When I began studying Japan, one of the factoids I was taught was that, compared to Paris, London, or New York City, Tokyo has relatively little park space. However, in Tokyo, shrine and temple grounds and even cemeteries function as parks. The Yasukuni Shrine is a prime example of this pattern. If one is willing to spend 30-60 minutes on a commuter train, there are even more options.
The overflow areas of the Arakawa, the Tamagawa, and other rivers function as highly accessible parks and recreation areas when the rivers are not performing their flood control function.
Shinrin Koen is one of the most congenial and attractive parks in the area, with season variation that calls for repeat visits throughout the year. Anyone with drawing, painting, or photography as a hobby, or anyone with children who would benefit from a chance to burn off their excess energy in a very green environment, will find it a worthwhile place to visit. Even on peak summer weekends when the park becomes quite crowded, it is still possible to find quiet, secluded areas to explore.
Author: Dr. Earl H. Kinmonth