'Short Shorts Film Festival & Asia' Begins With New Theme for 2020: (New) Borderless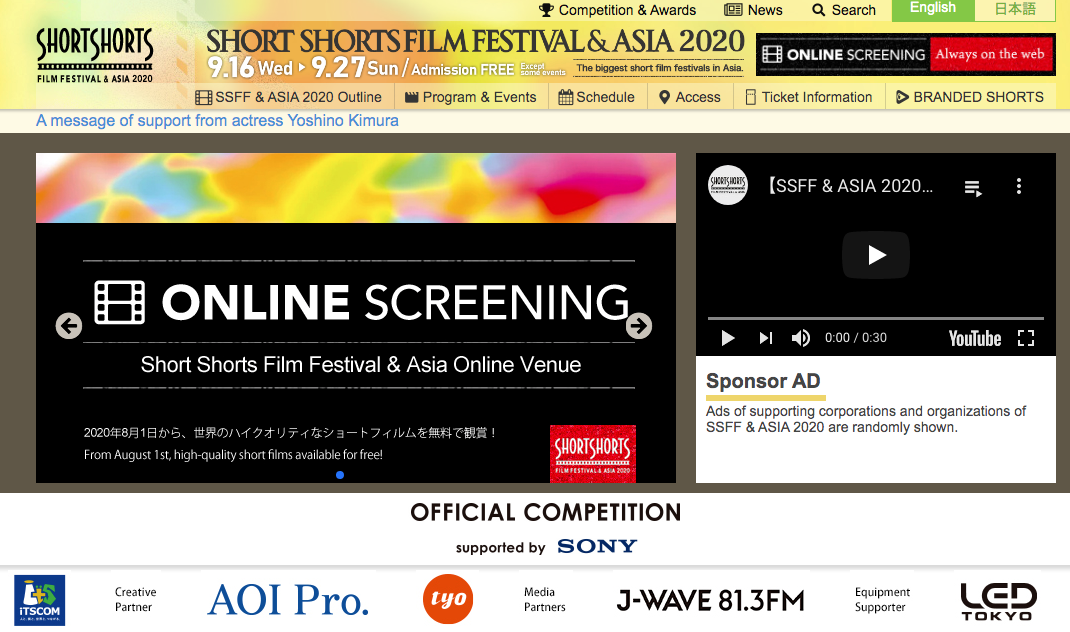 What does the coronavirus mean for film festivals?
World-class film festivals gathered together on May 20 to launch " We Are One: A Global Film Festival," offering a 10-day online film festival in keeping with the special circumstances presented by the pandemic this year.
One such film festival stepping forward with optimism is the much-awaited Short Shorts Film Festival & Asia, also known as SSFF & ASIA. It was originally scheduled for June, but after much reconsideration, it is newly set to begin from September 16-27.
SSFF & ASIA is a Tokyo based film festival founded in 1999 by actor Tetsuya Bessho. As an Academy Awards accredited festival, winners from the Official Competition and the Non-Fiction Category are eligible for nomination to the Academy Awards. With entries from both budding and established filmmakers, the aim of the festival has been to introduce Japanese audiences of all ages to the art of short films.
Short films chosen for screening at SSFF & ASIA are cinematic works that are shorter than 25 minutes, displaying an array of genres and themes from drama, animation, documentary, and more.
Innovation on Display
This year, too, SSFF & ASIA changed the festival's initial theme from "borderless" to "(new)borderless." The theme encourages viewers to ask what borders are present amid the pandemic and how new forms of cinematic expression can transcend those borders.
In this way, the festival has opened up the far-reaching possibilities of online film accessibility and enjoyment.
The wide availability offers viewers an exploration of short films chosen from 5,000 entries from over 100 countries and regions around the world, including Japan. For both seasoned film festival goers and novice explorers, this year's SSFF & ASIA is a rare occasion to get a glimpse of current trends and works within the short film genre.
Films Showcasing the Independent Voice
The majority of filmmakers whose works were chosen for this year's festival did not have the pandemic in mind when creating their films (besides films chosen from the award-winning films of the Corona Short Film Festival 2020). However, as we view the films ranging from the CG Animation Program, the Non-Fiction Program, and the Cinematic Tokyo Program among others, it is now possible to reflect and reevaluate our modes of understanding and absorbing film.
A number of films tug on the value of time ("Okaeri Taro" from U-25 Project), family ("Between a Rock and a Hard Place" from Shibuya Diversity Program), cultural identity ("Future is MINE-AINU MY VOICE" from Non-fiction Program 2), and memory ("Touch" from Asia International & Japan 5).
How to See the Films
The majority of films chosen for screening, about 150 out of the 200 films in the festival, will be available to view online. The remaining 50 films will be screened at venues in Omotesando, Shibuya, and Futako-Tamagawa.
The previous years' short films have been available for viewing online since August 1, while this year's lineup will be gradually added to the website.
What is most attractive is that the majority of these films are free to watch including the Tokyo screenings, which do require reserving advance tickets online.
Furthermore, SSFF & ASIA has taken this year's situation to offer online events for film lovers and aspiring filmmakers in their Online Talk Session Series. These involve discussions hosted by SSFF & ASIA with prominent individuals in the film festival community in Japan and overseas, aiming to further engage in the topic of independent filmmaking amid a pandemic.
Festivals Challenge Traditional Borders
One of the Online Talk Sessions offered by SSFF & ASIA titled, "vol. 1: What is the new normal for film festivals?," particularly shed light on the unique challenges that the pandemic has brought, alongside the new opportunities.
A number of evident challenges are practical issues related to the financial burdens of executing an online film festival with no proceeds from anticipated theater guests.
However, there are also a number of theoretical challenges that question the initial function and meaning of film festivals.
One of the primary functions of film festivals, particularly for filmmakers, is that they showcase a new work's premiere on the big screen. They are invaluable opportunities for their works to gain greater exposure and thus build networks with fellow filmmakers.
For viewers that attend film festivals, the physical gathering creates a special opportunity to discover new films and directors that one never would have expected to encounter and enjoy. This was certainly the case for me as an annual attendee of my hometown's Sundance Film Festival in Utah, the largest independent film festival in the U.S.
The act of physically going to the festival's venue and viewing a premiere among other festival-goers creates a distinct opportunity to uncover new fields of interest. This creates a sense of excitement centered on the physical, tangible theater, which is perhaps at the core of film festivals.
Despite the disadvantages and advantages of a film festival that offers online screenings, there is no doubt that this year's SSFF & ASIA proactively encourages viewers to engage in these questions. As film festivals around the world grapple with the year's proceedings, SSFF & ASIA will offer one method and model in flexibly approaching the situation while attempting to discover the hidden opportunities to transcend borders.
Transitioning Film Festivals of 2020
"Festivals" of every sort, from traditional summer matsuri to firework shows, music festivals, food festivals, and seasonal flower festivals across Japan have been unavoidably cancelled, minimized, or postponed with the hope of a more stable near future amid the coronavirus pandemic.
As with other events, the large crowds film festivals inevitably draw have raised concerns about how to comply with the "three C's".
Major film festivals around the world including Cannes, Telluride, and Tribeca, among others were canceled or postponed, while the Venice Film Festival took place under strict virus-prevention measures. A number of other festivals such as Sundance and the Tokyo Film Festival are moving forward, while expansively re-planning the possibilities.
Within the unstable times, challenges specific to the film industry are arising, while innovative discussions and new approaches are simultaneously shedding rays of hopeful light for both filmmakers and film festival enthusiasts.
As the world gradually settles within this season of constant experimentation, why not use this opportunity to explore the world of short films at the SSFF & ASIA 2020? Viewing short films within this frame will not only lead to the recognition of new, challenging borders surrounding the arts but also the diverse and innovative methods of transcending those new borders.
You can join in on watching SSFF & ASIA 2020 short films here, after a quick and free registration:
https://shortshorts2020.vhx.tv/browse
Here is the official SSFF & ASIA 2020 website where you can find more information about the festival:
https://www.shortshorts.org/2020/index-en.php
For the most up to date information about online SSFF & ASIA events, check out the Facebook page:
https://www.facebook.com/shortshortsfilmfestivalasia?ref=hl
Author: Mariko Azuma