SOCCER | Strong Japanese Influence at the Heart of Celtic's Domestic Revival
Former Yokohama F. Marinos boss Ange Postecoglou's club looks to build off its success last season with another title in the new campaign.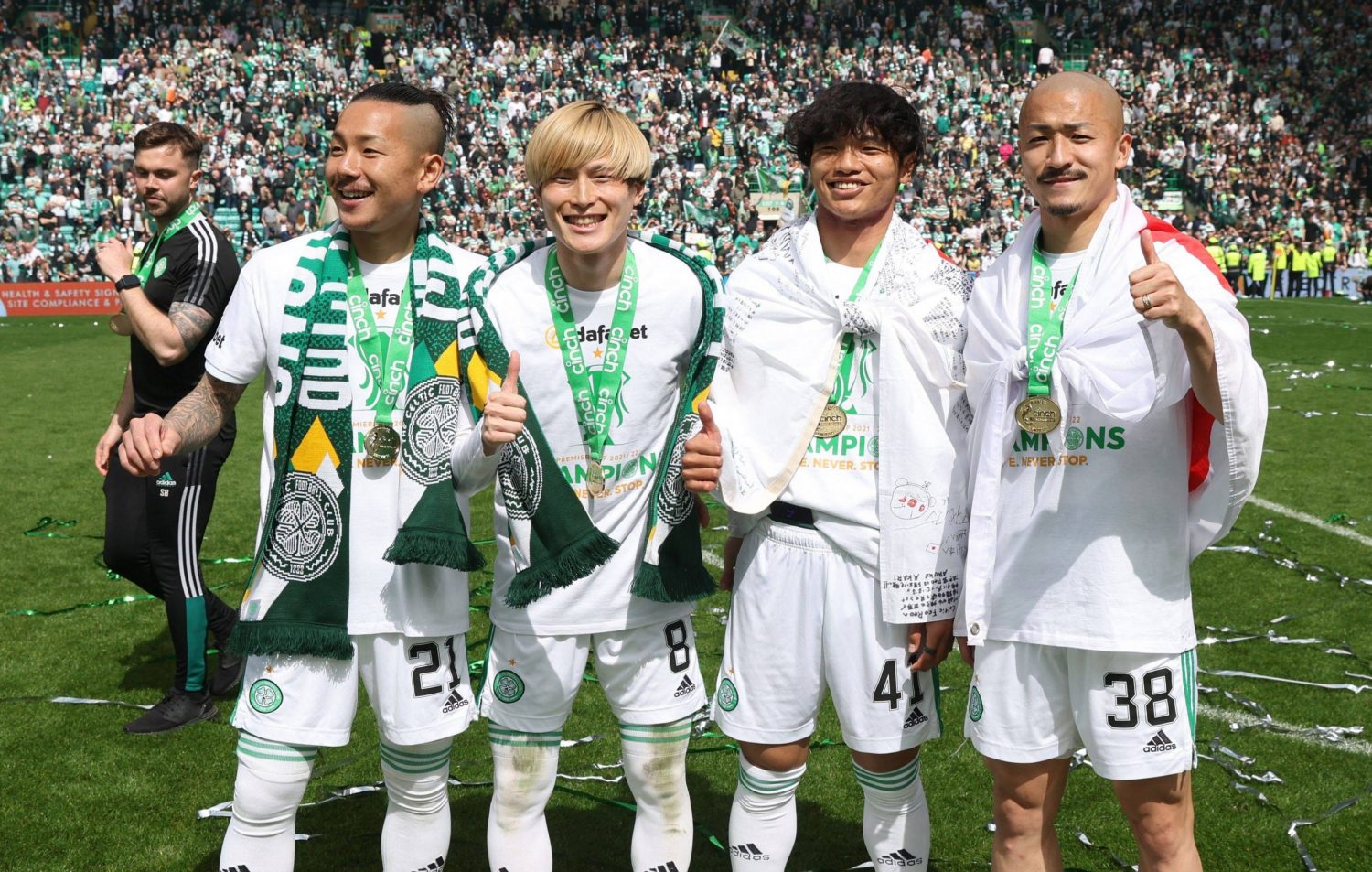 GLASGOW ― It is always interesting to see how a big soccer club responds to a season that didn't live up to expectations.
For Celtic FC, one of two massive clubs playing in the Scottish Premiership, the 2020-21 campaign turned into an unpleasant one for everyone associated with the club.
Their fanbase watched on in dismay as bitter rivals from across the city of Glasgow, Rangers, the other massive Scottish Premiership club, cruised to the league title. The 25-point gap between the two clubs at the conclusion of the season underlined how far off the pace Celtic had been.
Within the Scottish soccer landscape, Celtic and Rangers are the only two clubs capable of winning the Premiership title. Their resources dwarf those of the other 10 clubs in Scotland's top league. It means the league is not as competitive as many around the globe. The flip side to this coin is Celtic and Rangers being under extreme pressure to win every game ― even drawn matches are, at times, met with panic.
For players and coaches joining either club, these are the demands.
The task for Celtic after the 2020-21 season was a rebuilding one. The playing squad required an upgrade. A new head coach was also needed to freshen up the footballing ideology.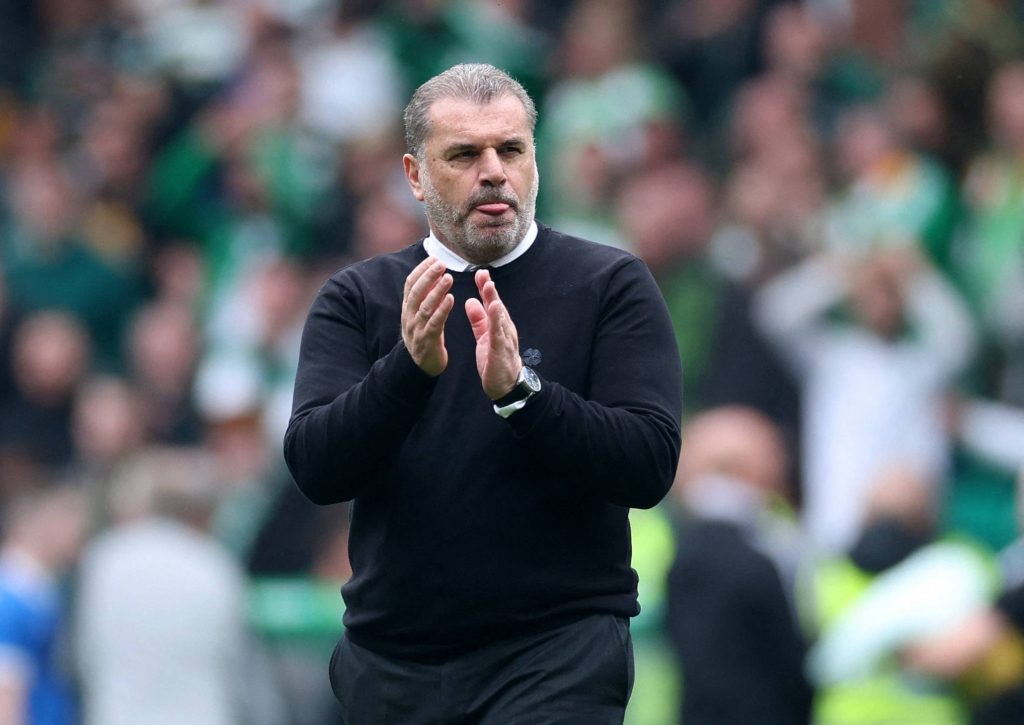 Postecoglou Revamped the Roster
The decision makers at Celtic Park eventually appointed a man known to most readers of JAPAN Forward. Ange Postecoglou, following a successful three-year spell at J.League club Yokohama F. Marinos, was recruited. His remit ― improve results and performances, sign quality players within the budget and ultimately wrestle the Premiership title back from Rangers.
To help with this, Postecoglou used his knowledge of Japanese soccer to bring in four players he thought would be able to handle the challenge in Glasgow.
Kyogo Furuhashi arrived in July 2021. He was joined during the January transfer window by Yosuke Ideguchi, Daizen Maeda and Reo Hatate.
Ideguchi suffered an injury which sidelined him for a month not long after arriving in Scotland. Once he recovered, Celtic was performing so well, he couldn't break into the team. In total Ideguchi has only played just over two hours of soccer in a Celtic shirt. The club and its fans hope to see more from the 25-year-old in 2022-23.
The £4.8 million GBP (¥794 million JPY, or $5.75 million USD) paid to Vissel Kobe to secure the signature of Furuhashi looks to have been money well spent. While Celtic are giants within Scotland, they are minnows financially when it comes to competing with clubs from the larger European leagues. By Scottish standards, the transfer fee paid was considered a significant outlay at the time.
Now it looks like a shrewd investment. The 27-year-old Furuhashi adjusted to the more physical, less technical style of the Scottish Premiership quickly. His clever movement saw him lose markers and when the chances arrived his finishing was of the highest order.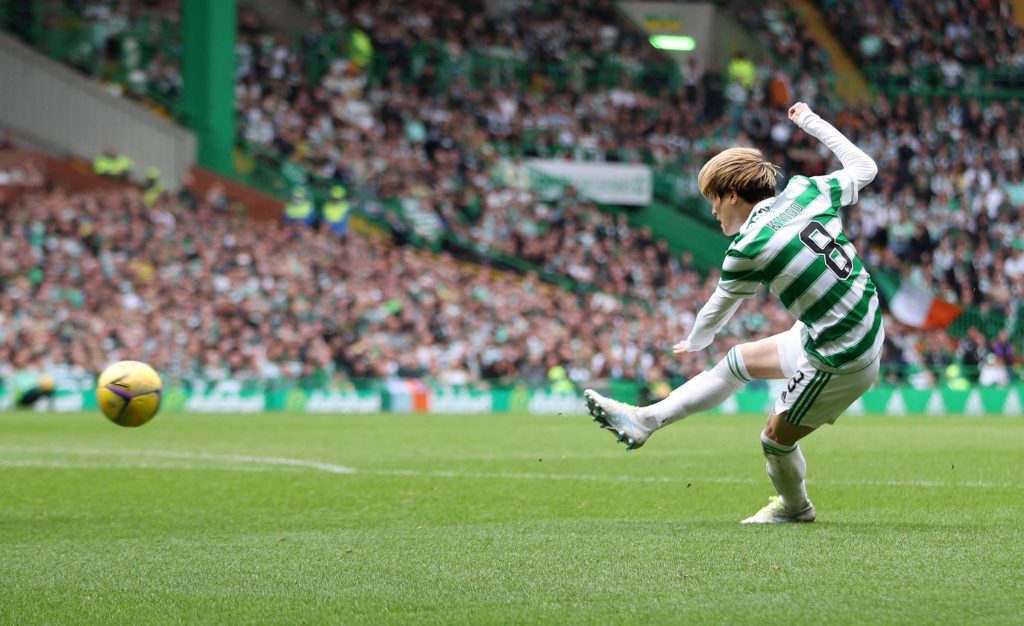 Making Good on the Investment
The forward announced his arrival on Scottish shores with a hat trick in the second game of the season against Dundee on August 8, 2021.
Furuhashi's eight goals in 15 appearances before Christmas contributed massively to Celtic getting itself into position to challenge for the title after the winter break.
This fast start to his Celtic career prompted ex-Celtic player, now TV/newspaper pundit, Chris Sutton to write this in his Daily Record column in November: "Kyogo already looks [like] a bargain. For me the Japanese striker is the best player in the country right now ― by a mile. He was unplayable again in midweek. His movement is just incredible.
"Kyogo can drop deep, play on the shoulder or spin in down the sides. His composure in the box is pretty rare and if he can keep up this form then he'll be a shoo-in for the Player of the Year awards."
Hamstring Injury Took Toll on Furuhashi
Furuhashi was prevented from making Sutton's words a reality by a hamstring injury. He was unavailable from mid-December until early April. On his return to the team, Furuhashi plundered another four goals in the final five fixtures of the season as Celtic slammed the door on Rangers' challenge ― regaining the title with a four-point margin.
Furuhashi's all-around play and ability should see him become a star within Scottish soccer. His main issue may be staying free of injury. If that happens, a transfer to a wealthier European club could be a possibility.


Maeda Makes an Impact with Hard Work
Maeda arrived at Celtic on January 1, 2022, initially on loan from Postecoglou's previous employer. The 24-year-old forward made 16 appearances during the second half of the season, scoring six goals.
Maeda's stand-out feature is his work rate. He shows a willingness to close down opposition defenders, allowing them no time on the ball. The Japanese forward also works tirelessly running the channels to make space for himself and teammates when Celtic attack.
Despite this, Maeda has been criticized in the Scottish media for his chances-to-goals ratio. While he doesn't have the finishing ability of Furuhashi, he offers an alternative. His desire to do the less glamorous parts of forward play is certainly appreciated by his manager.
"People look for different things, but I know what I get from Daizen and why I brought him to this club. A lot of people don't see the work he does," Postecoglou said in defense of Maeda. "Every player has a role. Sometimes you don't get all the headlines, but within the four walls at Celtic Park, he gets his due recognition."
This recognition was underlined when Maeda's loan move became a permanent transfer on July 1. Celtic paid Yokohama £1.4 million GBP (¥232 million JPY, or $1,675,000 USD) to secure the player on a four-year contract.


Hatate Provides Solid Contributions
Reo Hatate also joined Postecoglou's Celtic project in January. The midfielder was signed for £1.3 million (¥215 million JPY, or $1.5 million USD) from Kawasaki Frontale. During his 17 Premiership appearances, Hatate scored four goals and assisted three others.
Hatate has shown himself to be a long-range shooting expert since arriving in Scotland. Given a little space and time he can dispatch the ball beyond opposition goalkeepers from well outside the penalty area. He demonstrated this in a crucial 3-0 derby win over Rangers in February ― scoring two spectacular goals from distance.

Media's Impression of Japanese Quartet
On the whole, the Scottish media have been positive about Celtic's Japanese players. Furuhashi is very highly regarded here by most journalists and commentators. Maeda and Hatate are respected with the feeling being they will show better consistency having now had a summer break.
At times the mainstream media in Scotland can get a bit lazy. For example, after the three January arrivals from Japan, some articles were written questioning Postecoglou's signing policy.
They were wrong to label Maeda, Hatate and Ideguchi as extensions of Furuhashi. They were also wrong to infer that with Furuhashi injured, Postecoglou was blindly rolling the dice on three imports, hoping one of them would replicate Furuhashi's quick success in Scotland.
Postecoglou addressed this issue at his press conference prior to a fixture against Hibernian in January.
"We have to be careful about just saying 'four Japanese players.' These are four individuals; they are totally different people," the Celtic boss said.
'I have brought in four quality players, players who I think can add to what I am doing here. They all offer something different to the club. Don't just assume we have brought in four Japanese players, we have brought in four quality players, all very different, who can all contribute.'
Ange Postecoglou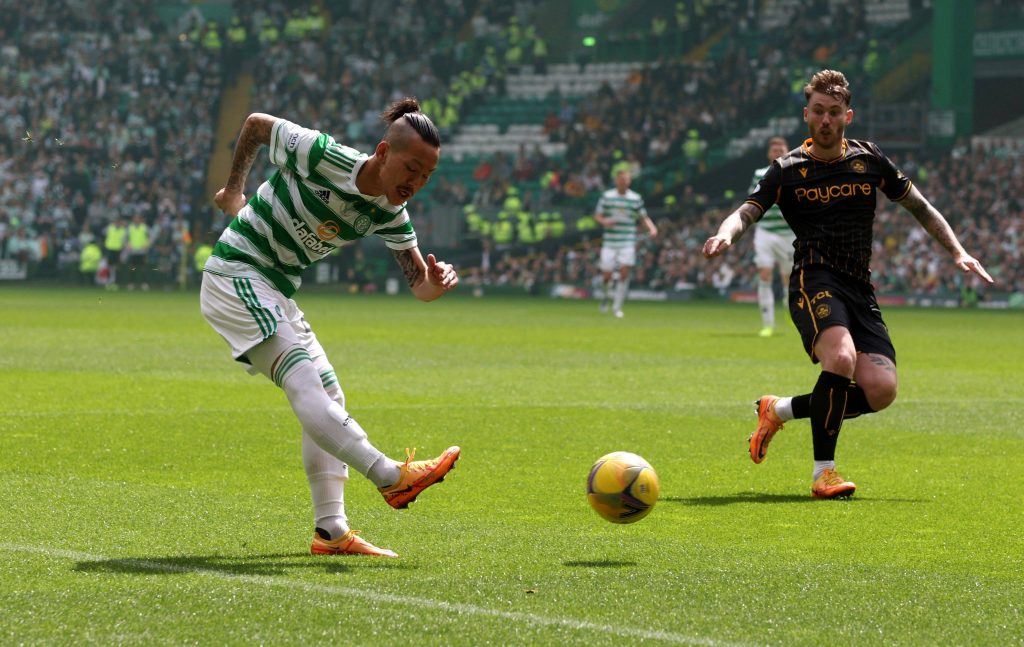 Keen Insights from a Celtic Supporter
Away from the media perspective I am also keen to offer JAPAN Forward readers the opinion of someone who watches Celtic on a weekly basis. I checked in with Darren Masson, who is a season-ticket holder at Celtic Park. Darren was happy to share his thoughts on Furuhashi, Maeda and Hatate.
On Furuhashi: "Kyogo has been a sensation. He was thrown straight into a disjointed team and hit the ground running. His technical ability is up there with the best I have seen over the last 10 years at Celtic. He has to play centrally up front where he is deadly and causes all sorts of problems for opponents."
On Maeda: "What an engine he has. I've never seen a player work as hard as Maeda. He is relentless for 90 minutes and is one of the quickest players I have seen in a Celtic shirt. He is a defender's nightmare. Constantly pressing and hassling defenders and goalkeepers into mistakes. I am excited to see him this coming season, he's the ultimate professional."
On Hatate: "A very technical and hard-working midfielder. He played 17 times for Celtic and is most remembered for his two goals in that midweek match against Rangers. He scored two great goals that night and has been very good in the central midfield position. He didn't get a rest and looked jaded later in the season, so I assume we will see him play even better this season with a rest and full preseason."


Season Outlook
With the 2022-23 Scottish Premiership season starting on Saturday, July 30, the preseason preparations are drawing to a close. Celtic will be boosted by having Furuhashi injury-free and, as Masson alluded to, Maeda and Hatate should be fresher, finally getting a break after 18 months of constant play between Japan and Scotland.
Rangers will present a formidable challenge domestically. Celtic will also compete in the UEFA Champions League, meaning they will be facing some of the best club teams in Europe.
It will be demanding, with important games every three to four days. With the World Cup also around the corner, Celtic's Japanese contingent will want to be playing regularly and performing well to remain in the thoughts of Samurai Blue head coach Hajime Moriyasu.
If Celtic are to retain the Premiership title in 2022-23, it's fair to assume that their four Japanese stars, all at or approaching their prime, will, in their own individual ways, play a large part in any success achieved.
RELATED:

Author: Colin Morrison

Morrison is a freelance sportswriter. Writing since 2016, his byline appears on boxing website NYFights.com and multi-sports platform Spitballingpod.com. His main areas of interest are boxing, soccer, golf and rugby union. Morrison is from Scotland and can be found on Twitter @Morrie1981.