[SOCIAL WIRE] Ryuichi Sakamoto, Award-Winning Musician and Member of YMO, Passes Away
Ryuichi Sakamoto left an indelible mark on the music industry with his eclectic and innovative style blending Japanese music with modern electronic sounds.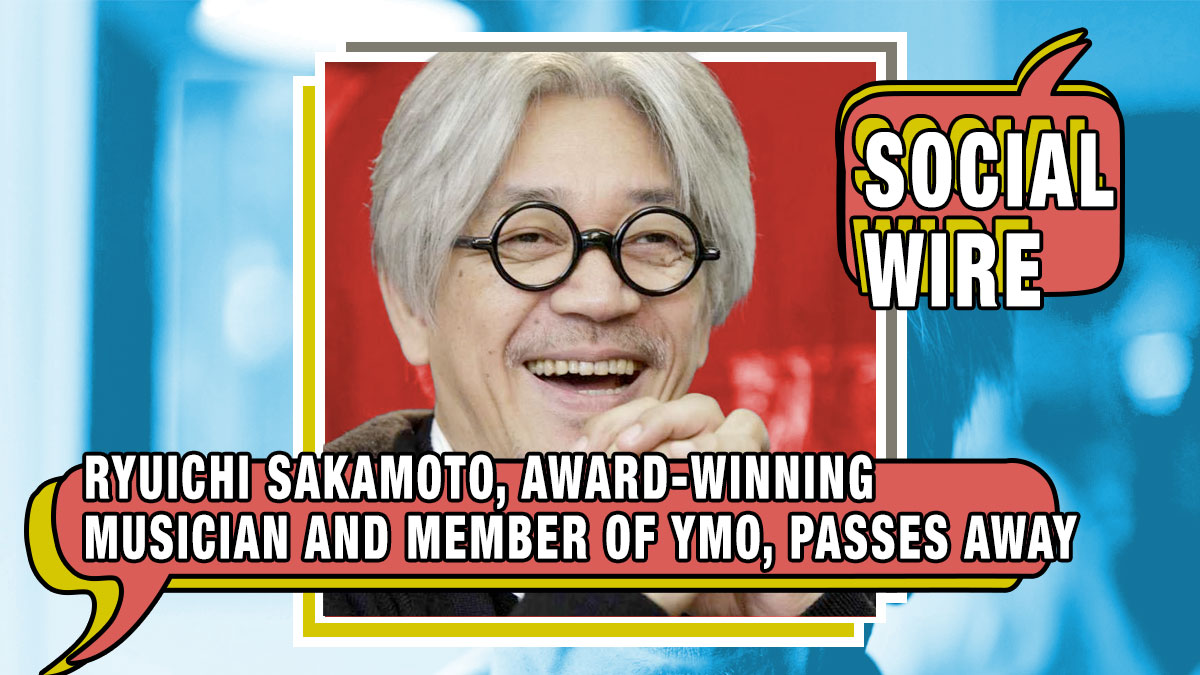 Ryuichi Sakamoto, the legendary composer, musician, and actor, passed away on March 28, 2023, as reported by his office. He was 71.
In June 2022, Sakamoto disclosed that he had been fighting stage IV cancer. The Tokyo-born artist was also recognized for his acting role in the 1983 war film "Merry Christmas, Mr. Lawrence," and won both an Oscar and a Grammy for his score for the 1987 movie "The Last Emperor."
Most remember Sakamoto as the keyboardist for the Yellow Magic Orchestra (YMO), an electronic music group formed in Tokyo in 1978 by himself, Haruomi Hosono, and Yukihiro Takahashi. The trio's pioneering music blended elements of Japanese traditional music, pop, and electronic music, creating a unique sound that was ahead of its time.
He won numerous awards and accolades for his contributions to the arts, including an Academy Award, a Grammy Award, and a Golden Globe Award. Sakamoto's legacy will live on through his timeless music, which has touched the hearts and souls of people around the world.
On Twitter, we look at the reactions of artists, and the music industry to the news of Sakamoto's passing.
My memory of Professor Sakamoto is when we made this song together. The song was made while chatting with remote production, which was rare at the time. I asked the professor to send me a voice that spoke one word at a time, I had him play a synthesizer, and I had him send me sounds from the streets of New York. What he said at that time was very unique like a professor.
After asking Professor Sakamoto to record the sounds of the city, he said, 'The sounds of the city are not just sounds, but the lives, emotions, and energy of various people.' When I was told that, it made me think that the sounds of the city aren't just unpleasant noises.
I really learned that people who can find something out of things that are taken for granted in their lives can create works that are simple but have great power. It was such a precious time.
As a child, I longed for YMO as the music adults listened to. Even as an adult, it touched me many times. Thank you for your wonderful trajectory and musical legacy.
Oh no, too young...
I really hate cancer
Another great person has passed away
Ryuichi Sakamoto,
We sincerely pray for the repose of the soul.
Thank you Ryuichi Sakamoto for all the wonderful music.
Please rest in peace.
Ryuichi Sakamoto passed away on March 28th.
At the Japan Academy Prize, he won the Excellent Music Award for the 7th 'Merry Christmas, Mr Lawrence' and the 10th 'The Adventures Of Chatran'. In 1988, he won the 60th Academy Award for Best Original Score for 'The Last Emperor.'
We sincerely pray for the repose of the soul.
Ryuichi Sakamoto-san,
Back in the day as an elementary school student, another music hero I admired for the first time in my life passed away.
Rest in peace.
Ryuichi Sakamoto was a truly wonderful musician, thinker, and activist. Even after his passing, I hope that I can continue to think and act as a musician, inheriting his thoughts.
We offer our heartfelt condolences and cherish the music we created together.
Ryuichi Sakamoto-san
I never had a personal relationship with him, but I really respected him. The first cassette tape I bought with a Walkman was YMO. That album was the first time I listened to music. I look forward to you creating new music with Yukihiro Takahashi in heaven. Rest in paradise
Ryuichi Sakamoto-san,
I don't think there is no other Japanese musician who has had such an impact on musicians around the world such as you.
The world view is the universe.
I also, had the privilege to speak with you at a music event at Hibiya Park.
Please rest in peace.