[Speaking Out] Russia's Information Warfare over Japan's Northern Territories
The Putin administration, using its toughened media controls, has Russian media broadcasting stories to increase bias against Japan in the Northern Territories dispute.
As the United States and Russia are waging a fierce information warfare over Ukraine, Russia is carrying out similar warfare over the Japanese Northern Territories that are an integral part of Japan but occupied by Russia.
On February 7, designated by Japan as Northern Territories Day, the Russian independent television NTV broadcast a program demonstrating Japan as taking advantage of visa-free visits to the Northern Islands by former Japanese residents to enhance intelligence operations.


An SD Card Found in Bread
The program showed a Japanese female interpreter accompanying visitors to Shikotan Island being detained by Russian Federal Security Service (FSB) agents. The agents said she had received "secret information" on the development of the island, and that an SD card for recording digital camera data was found in a chunk of brown bread while she was being interrogated.
The program also showed a self-proclaimed Russian resident on Kunashiri Island testifying that a Japanese Public Security Intelligence Agency official who used a fake name to disguise himself as a scholar asked the Russian resident to provide documents on barracks construction.
Surface-to-ship missiles have been deployed on Kunashiri. On this, the program also included a scene where a Japanese journalist was detained by FSB agents on a street after interviewing a self-proclaimed Russian military expert at a restaurant in Vladivostok.
These scenes looked as if the incidents had occurred very recently. But visa-free visits by former island residents have been suspended for two years ー since 2020 ー due to the COVID-19 pandemic. The footage played on NTV seems to have shown what had happened during a 2019 visit to Shikotan.
It is utterly unbelievable that the Japanese interpreter inserted an SD card into a chunk of bread. She might have been trapped by the FSB. The woman was released later and reportedly returned to Nemuro Port in Hokkaido along with other visitors.
The Japanese journalist might have been a Kyodo News reporter who was seized in December 2019. After the reporter was released, Kyodo News said that it believed the reporter had been engaged in normal news gathering activities.
The program apparently intended to stir up a sense of crisis in Russia by broadcasting old footage disguised as recent events.
At the same time, the TV program might have been designed to warn Japan, which is considering imposing economic and financial sanctions on Russia together with Western countries, in the event of Russia's invasion into Ukraine.
The program may also be suggesting that Russia would flatly cancel the suspended visa-free visits to the Northern Islands if Japan decides to impose sanctions on Russia.


Russia's Illegal Occupation of the Northern Territories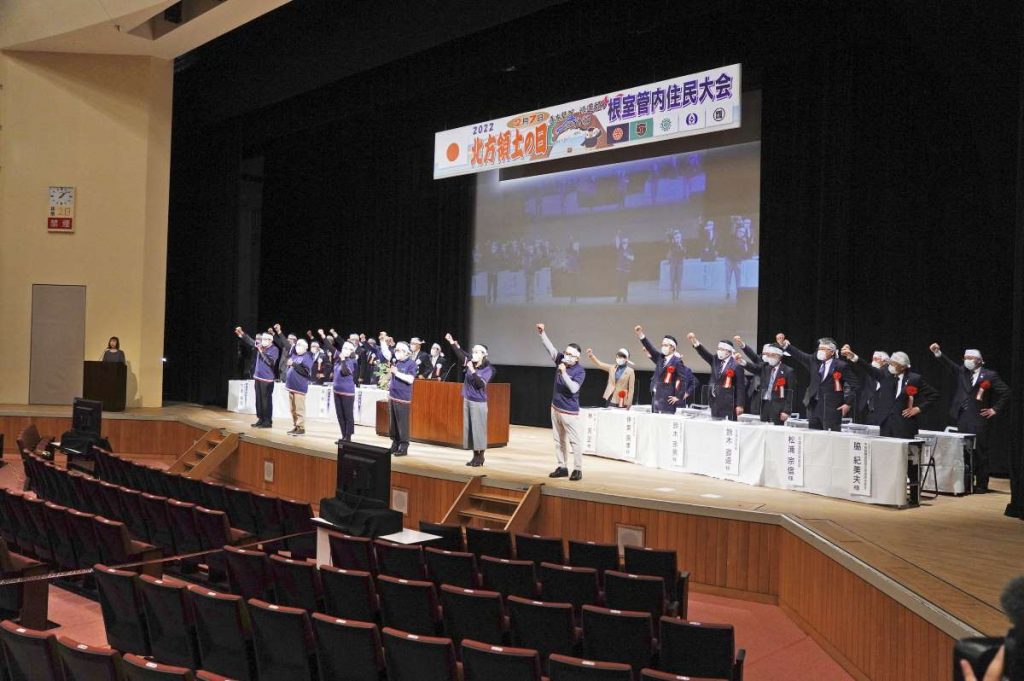 The Putin administration has toughened controls on media. Independent Russian broadcaster NTV had been given high ratings for its coverage of the Chechen war, but had come under control of the state-run Gazprom following the seizure of the NTV owner for alleged embezzlement. Video data for the Japanese interpreter and other scenes might have been provided by the FSB to NTV, indicating cooperation between the two.
A national rally calling for the return of the Northern Territories on February 7 appealed for resolution of Russia's intolerable illegal occupation of the islands over the past 76 years. The Japanese government must persuade the international community that Russia has illegally occupied the islands. At the same time, it should be made clear again that Japan will never conclude a peace treaty with Russia without resolving the Northern Territories issue.


(A version of this article was first published by the Japan Institute for National Fundamentals, Speaking Out #889 in English on February 24, 2022, and in Japanese on February 21, 2022.)


Author: Takashi Arimoto
Takashi Arimoto is a Planning Committee member at the Japan Institute for National Fundamentals and publisher of Monthly Magazine SEIRON at the Sankei Shimbun newspaper.