Joining Hands to Improve North Korea's Human Rights Situation and Bring Home the Abductees
Joining Hands to Improve North Korea's Human Rights Situation and Bring Home the Abductees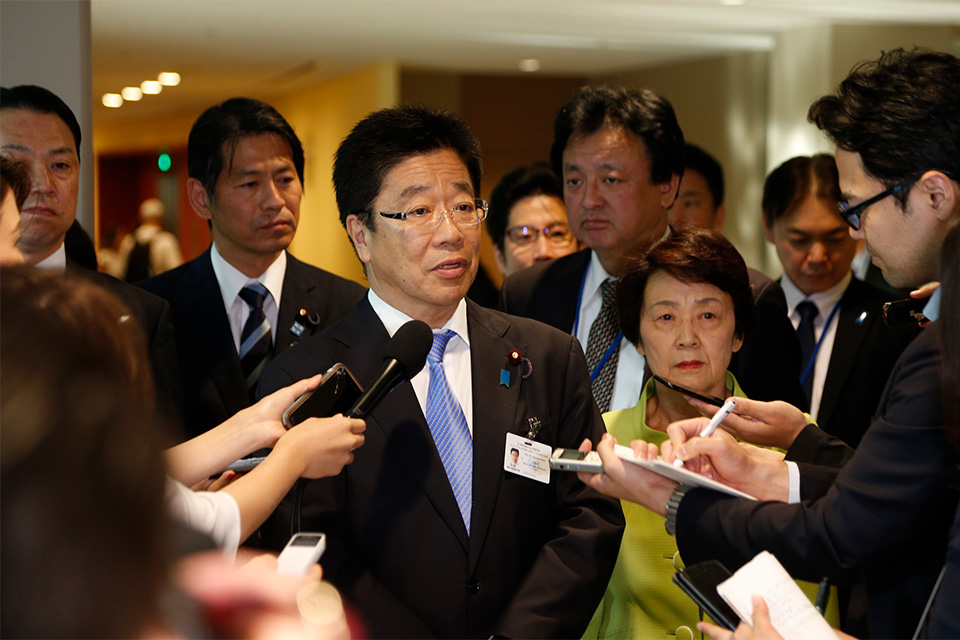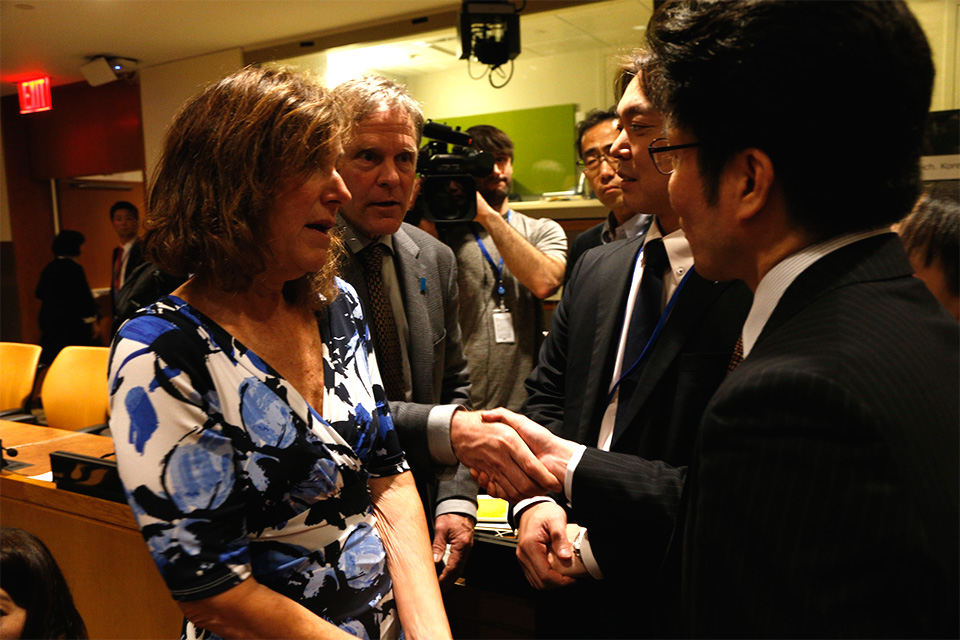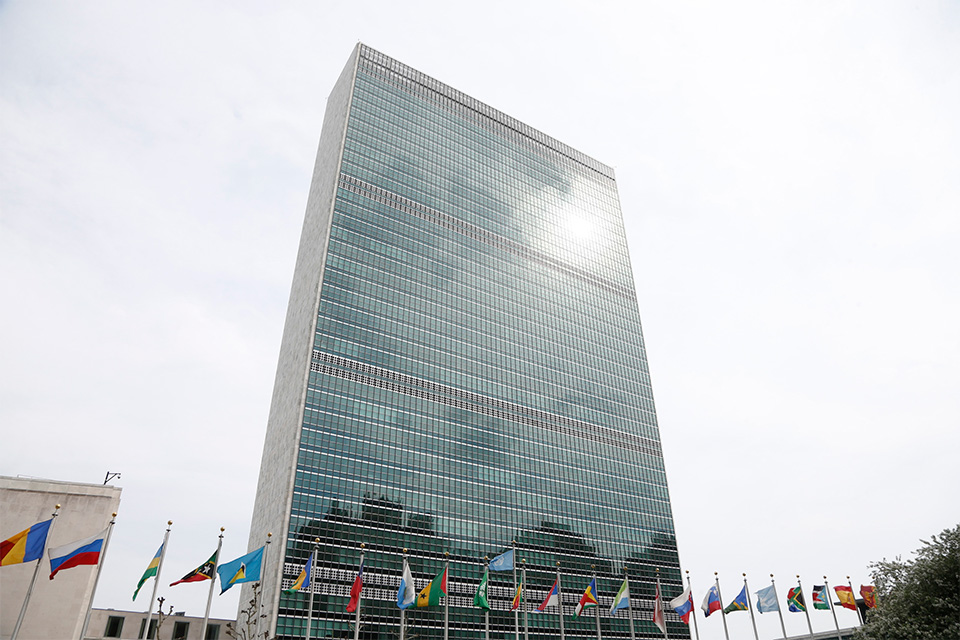 Just two weeks after the April 17-18 Mar-a-Lago summit meeting between Prime Minister Shinzo Abe and President Donald J. Trump, the Government of Japan dispatched two of its top ministers and other high level officials to the United States in a high-stakes, coordinated diplomatic push on North Korea. The focus of the official visit was on seeking further understanding and cooperation of the U.S. to make progress on the issue of the abductions of Japanese nationals as well as exchanging various views aimed at accomplishing the complete, verifiable, and irreversible dismantlement of all WMDs and ballistic missiles of all ranges of North Korea.
Japanese Foreign Minister Taro Kono flew to Amman, Jordan and met with newly confirmed U.S. Secretary of State Mike Pompeo on April 30. Their consultations covered bilateral coordination of North Korea, including the critical issues of human rights and the abduction of foreigners by North Korea.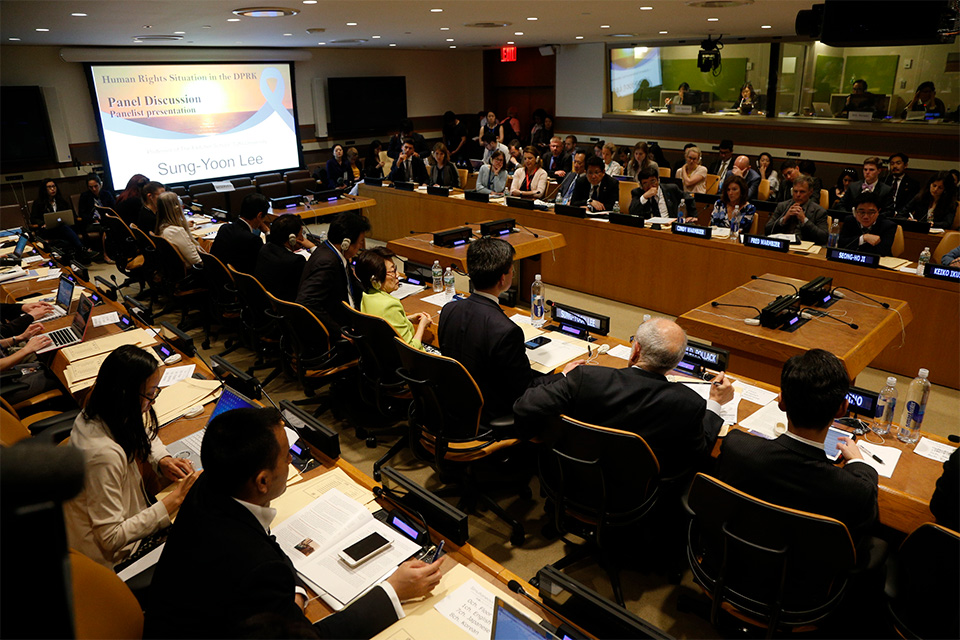 On May 3, 2018, just two weeks after the mid-April Abe-Trump summit, Mr. Katsunobu Kato, Minister in Charge of the Abduction Issue, visited New York to host an international symposium on why it is essential to comprehensively resolve the human rights violations by North Korea including the abductions issue. He then headed to Washington, DC to meet with high-rank US officials.
As Minister in Charge of the Abduction Issue, Minister Kato aimed to have the New York symposium and the Washington meetings put a human face on the cruelty of continuing human rights violations by North Korea. He led a fully united Japanese delegation, including representatives of abductees' families and a bipartisan delegation of Diet members who regularly set aside politics to show Japan is united on the abductions issues.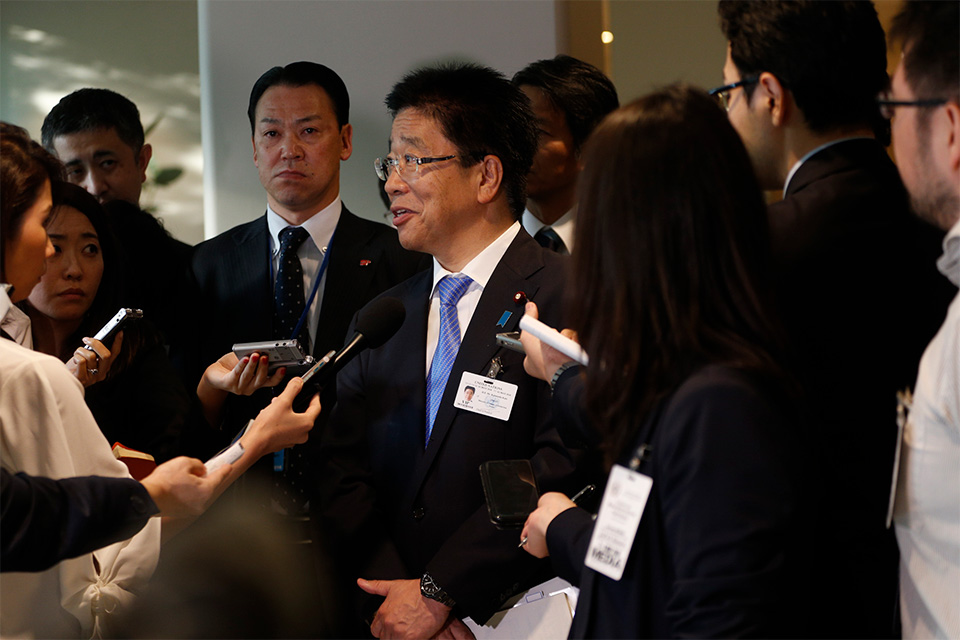 This time in New York, the family of another victim by North Korea– Messrs. Fred and Cindy Warmbier, the parents of Mr. Otto Warmbier, and his younger brother, Mr. Austin Warmbier – were also present. Mr. Otto Warmbier was taken hostage in North Korea in January 2016. In June of 2017, the North Korean government released Otto to his family, but he had been so savagely beaten that he had lost many of his teeth and was in a coma caused by severe brain damage. Just six days after returning home, Otto Warmbier passed away.
Mr. and Mrs. Warmbier shared their views, grief and hopes with Minister Kato and the family representatives of Japanese abductees before and during the symposium. The point of North Korea's cruelty, Mr. Fred Warmbier said, was to cow him, the other victims' families, and the rest of the world into silence. He added "North Korea wants us to lock ourselves in a room and do nothing."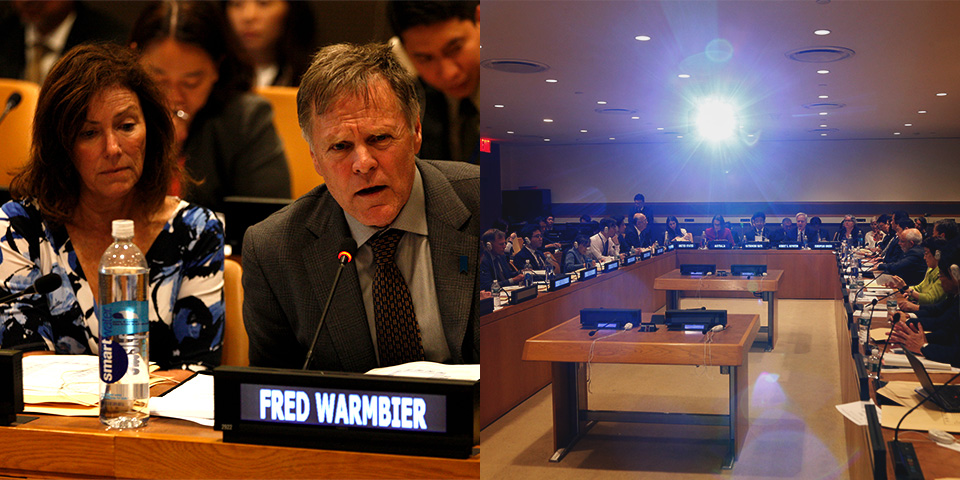 Mr. and Mrs. Warmbier's painful experience echoes that of Japan. North Korea's brutal treatment of their son awakened Mr. and Mrs. Warmbier—and millions of Americans along with them, including U.S. President Donald Trump and Vice President Mike Pence—to the depth of the ongoing egregious human rights abuses perpetrated by North Korea, affecting not only Asia, but countries throughout the world.
"Hostage-taking, torture, extrajudicial killing—we realized that these are the methods they have been using for the last thirty or forty years," Mr. Fred Warmbier said. "North Korea hasn't changed."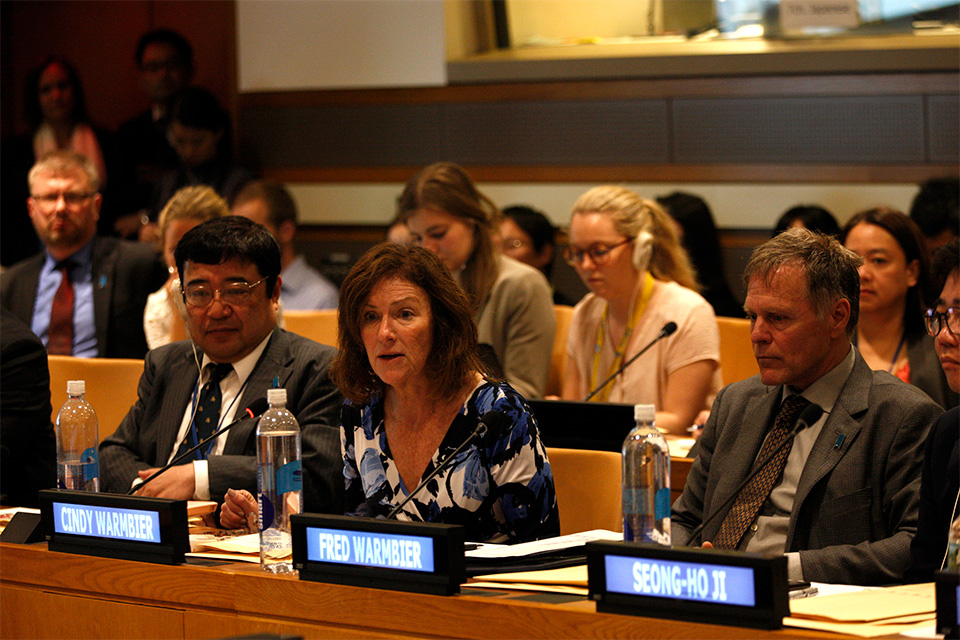 These remarks, born from intense personal pain, also echo the position long espoused by the Japanese government. Japan has sent Minister Kato, Foreign Minister Kono and their predecessors abroad successively to alert other countries to the depth of North Korea's human rights violations and the need to fully enforce United Nations sanctions in what Minister Kato calls, "sustained, intense pressure" on the North until all abductees are returned home.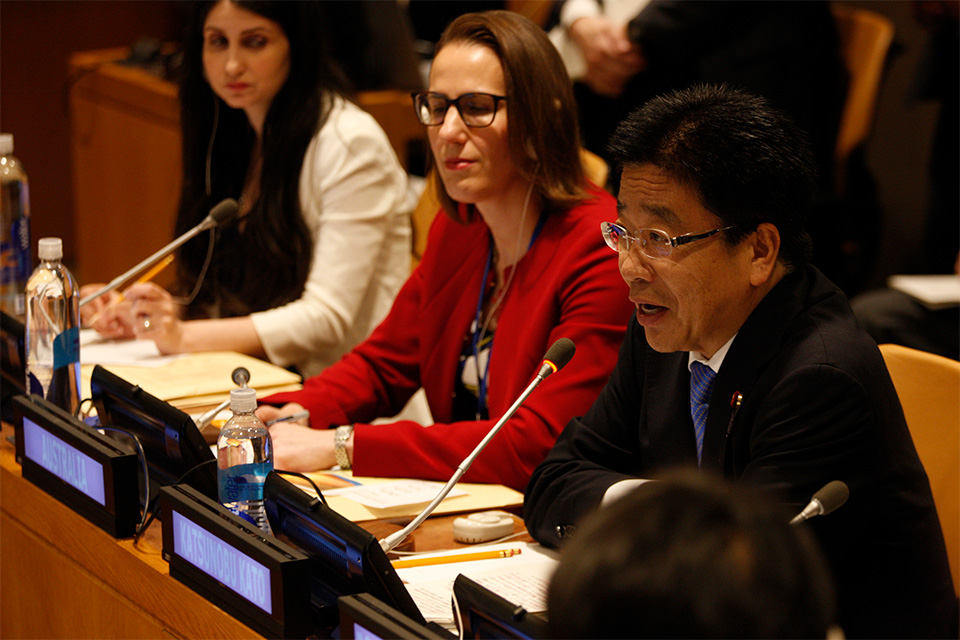 The passionate and articulate duo of Mr. Takuya Yokota— the brother of Megumi Yokota, who was abducted as a young girl of thirteen from her home in Niigata Japan in 1977, and Mr. Koichiro Iizuka—the son of Ms. Yaeko Taguchi who left behind then-one-year-old Koichiro and his sister, also a toddler, when she was abducted from Tokyo in 1978, represented the families of Japanese abductees. They were joined in New York by Ms. Keiko Ikushima, representing the families of missing Japanese probably related to North Korea.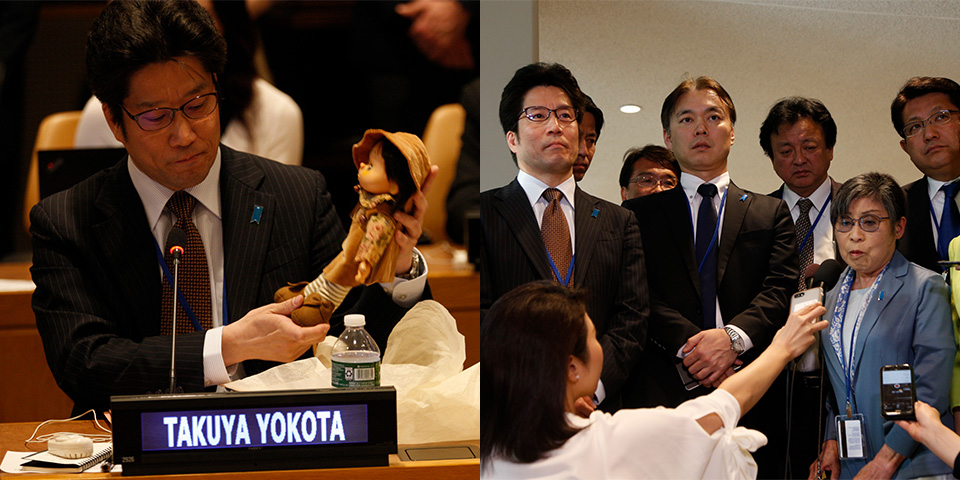 Those with experience with the North Korea, as well as government officials, all caution against believing that North Korea has really changed. Reaching agreement to resolve decades of malicious behavior on the part of North Korea cannot be easy.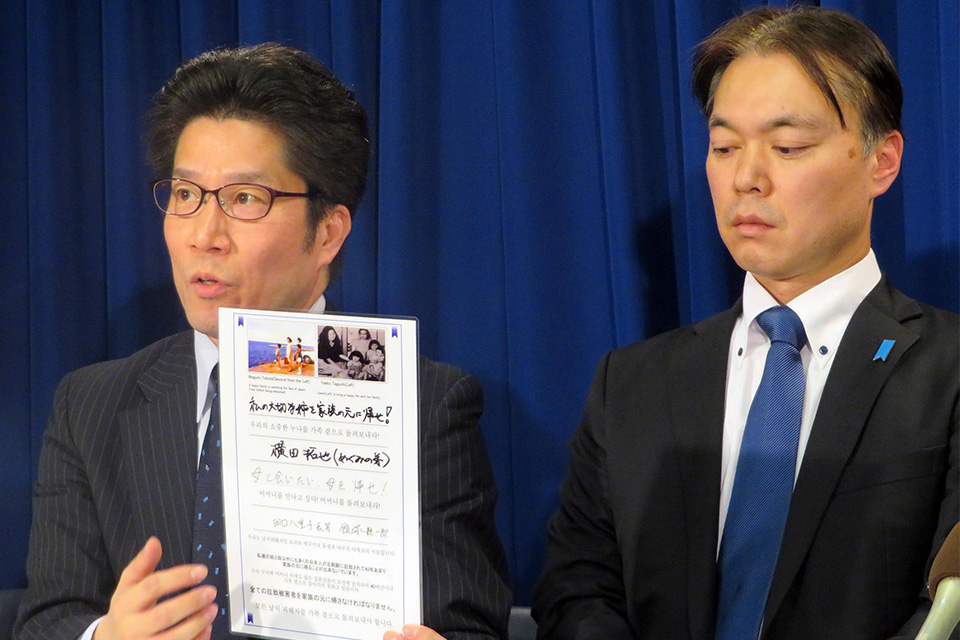 At the same time, on the Japanese side there is little time left for many abductees and their family members. Like many of the parents of abductees, Mrs. Sakie Yokota (82) and Mr. Shigeru Yokota (85), the parents of Ms. Megumi Yokota, are aging and struggling with health issues. Ms. Keiko Ikushima, whose sister Ms. Takako Ikushima is a missing Japanese probably related to North Korea, says sadly that their mother died thirteen years ago and now all Ms. Keiko Ikushima can do is give Ms. Takako Ikushima – if she ever sees her – diamonds made from their mother's ashes and remains.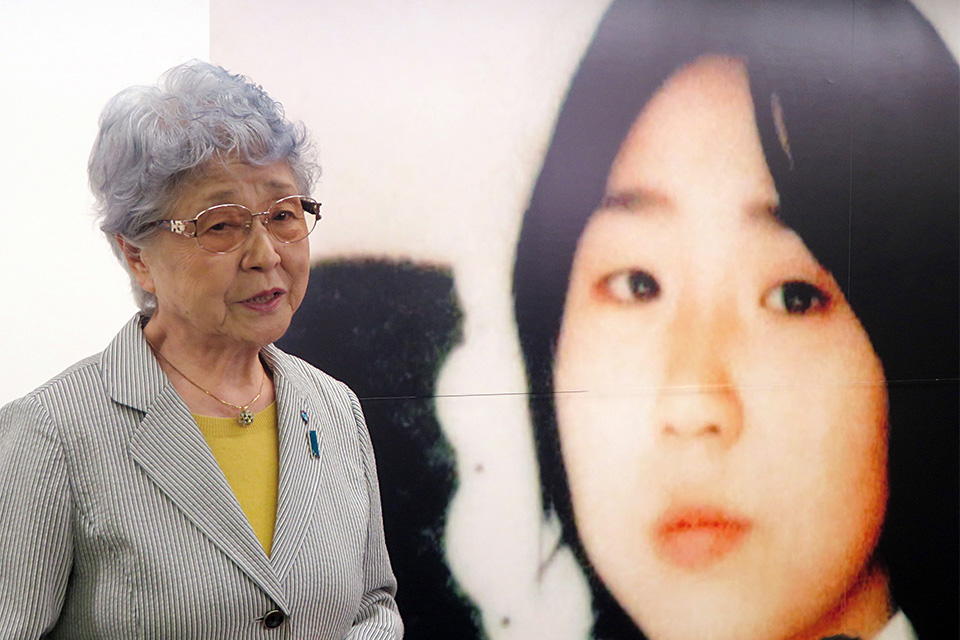 For many observers, the North Korean people are all hostages. Professor Tsutomu Nishioka of Reitaku University and chairman of the National Association for the Rescue of Japanese Kidnapped by North Korea (NARKN), for example, says that if we do not fight against terrorism, it leads to another act of terrorism, such that today all of North Korea, and even the whole world is being held hostage by North Korea.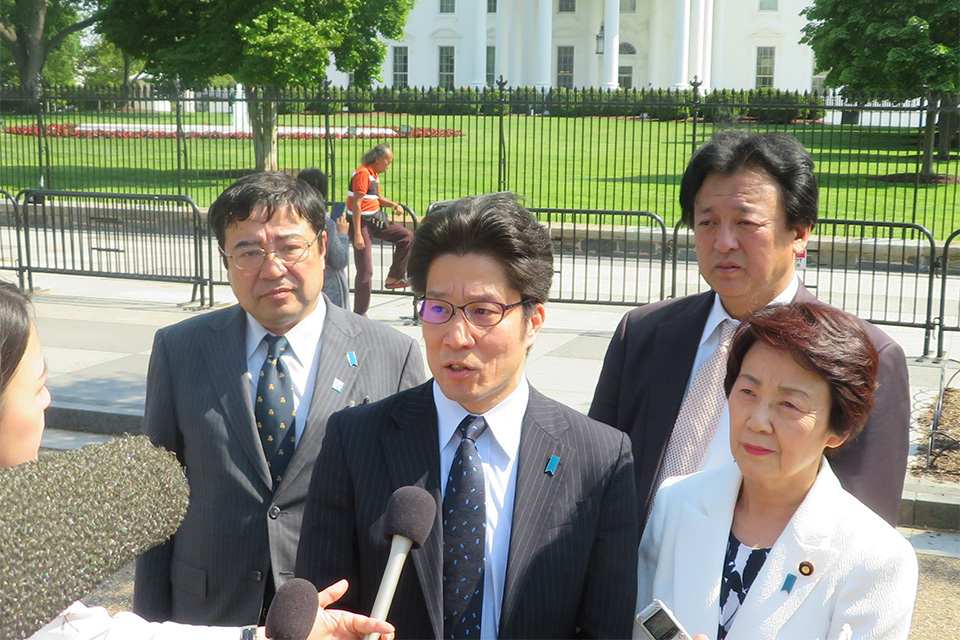 Because of the extremely pressing nature of this issue, the administration of Prime Minister Shinzo Abe has made the immediate return of all Japanese abductees a top priority of the Japanese government. The Abe administration is pressing for the comprehensive resolution of all pending issues, including the immediate return of the abductees, after which relations between Japan and North Korea could be normalized and then economic cooperation could be provided for North Korea.
End

All Official titles cited in the text are as of May 2018