SUMO | Surprise Leader Takayasu Maintains One-Win Lead at Halfway Point of Spring Basho
New ozeki Mitakeumi keeps pace along with sekiwake Wakatakakage and rank-and-filer Kotonowaka.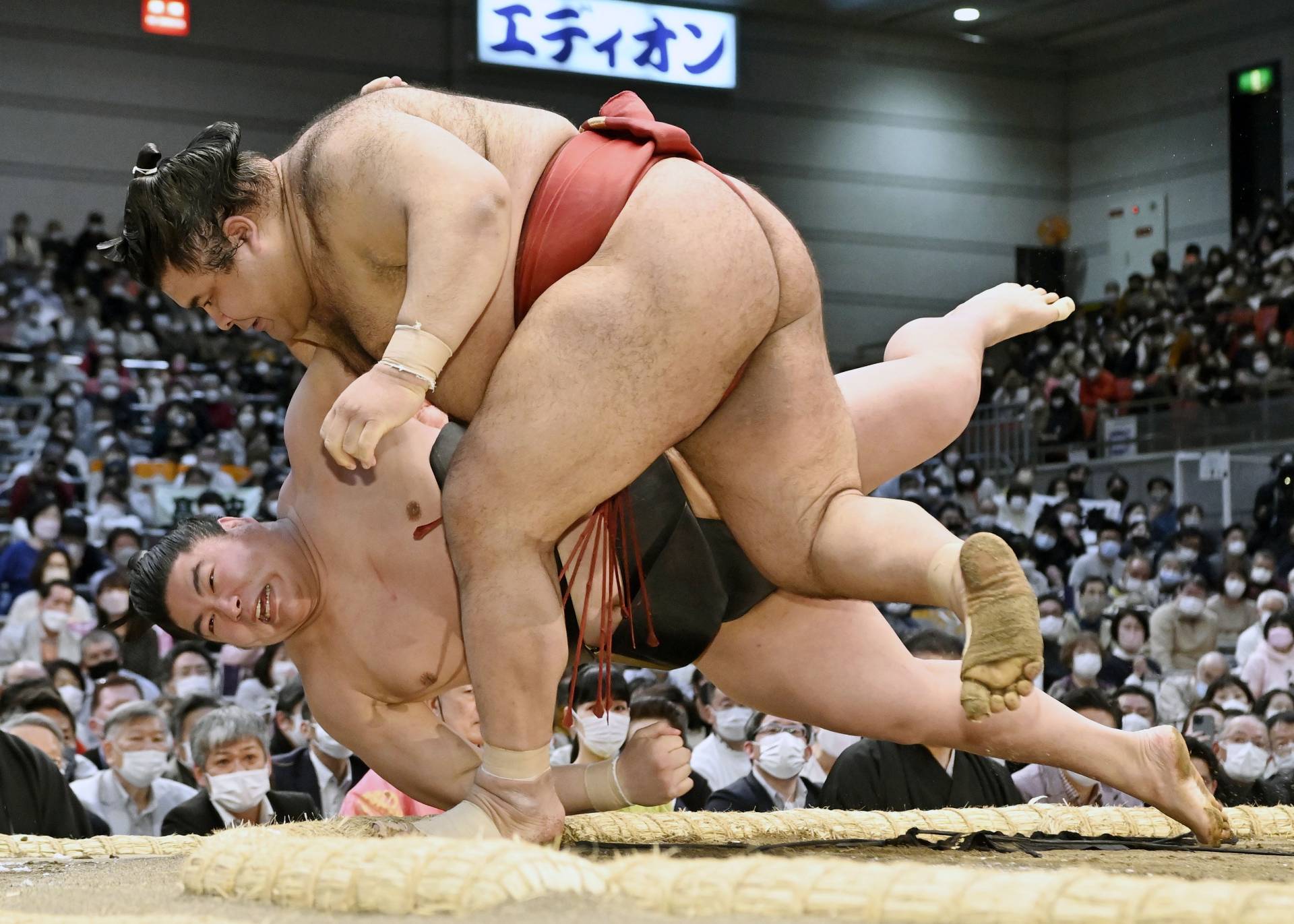 ~~
Former ozeki Takayasu posted a hard-fought win over Wakamotoharu on Sunday, March 20 to remain undefeated and in sole possession of the lead at the midway point of the Spring Grand Sumo Tournament.
Surprise leader Takayasu faced his sternest challenge yet in a bout with ninth-ranked maegashira Wakamotoharu, who entered Day 8 of the 15-day basho on a three-bout winning streak.
Wakamotoharu (5-3) got a strong left-hand grip on the belt of Takayasu shortly after the face-off, but the seventh-ranked maegashira overpowered his opponent with an arm throw at the edge to improve to 8-0 and wrap up a winning record for the Spring Basho.
"I just tried to concentrate and move forward," said Takayasu, who is bidding for his first championship. "I was able to prepare well for this tournament and will try to concentrate on my sumo and win every day."
Takayasu missed the entire New Year meet in January after a member of his Tagonoura stable got infected with COVID-19. The rest seems to have served him well and few would have predicted he would be the sole lead at the halfway point.
Takayasu will face No. 10 maegashira Aoiyama on Day 9. Bulgarian Aoiyama lost to No. 8 Chiyoshoma on Sunday, a result that gave both grapplers a 3-5 record.
Mitakeumi, Kotonowaka and Wakatakakage are all one win off the pace.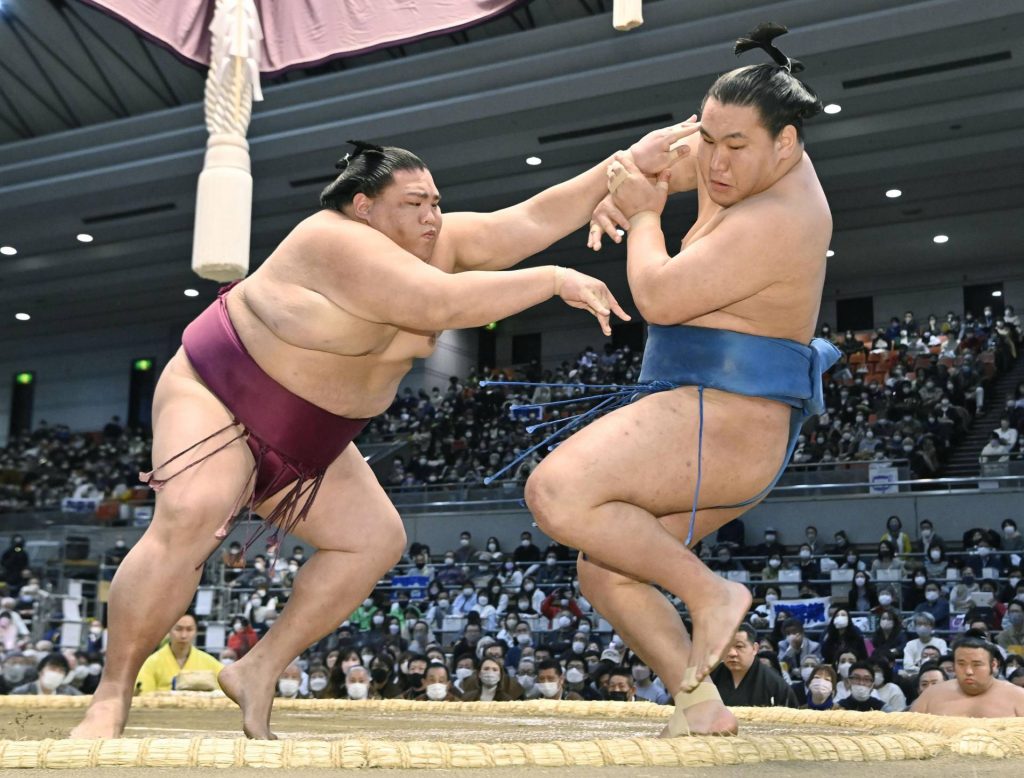 New ozeki Mitakeumi turned in a powerful display of sumo at Osaka Prefectural Gymnasium when he used a frontal push-down victory over Hoshoryu to improve to 7-1.
Mongolian komusubi Hoshoryu toppled off the dohyo to his fourth loss against four wins.
Mitakeumi, who won the New Year Basho in January, is fighting his first tournament at sumo's second-highest rank and will face No. 2 maegashira Tamawashi (4-4) on Monday.
Kotonowaka also kept pace when he got a right hand inside on Endo after the face-off and used a push out win to improve to 7-1.
Fourth-ranked maegashira Endo dropped to 4-3.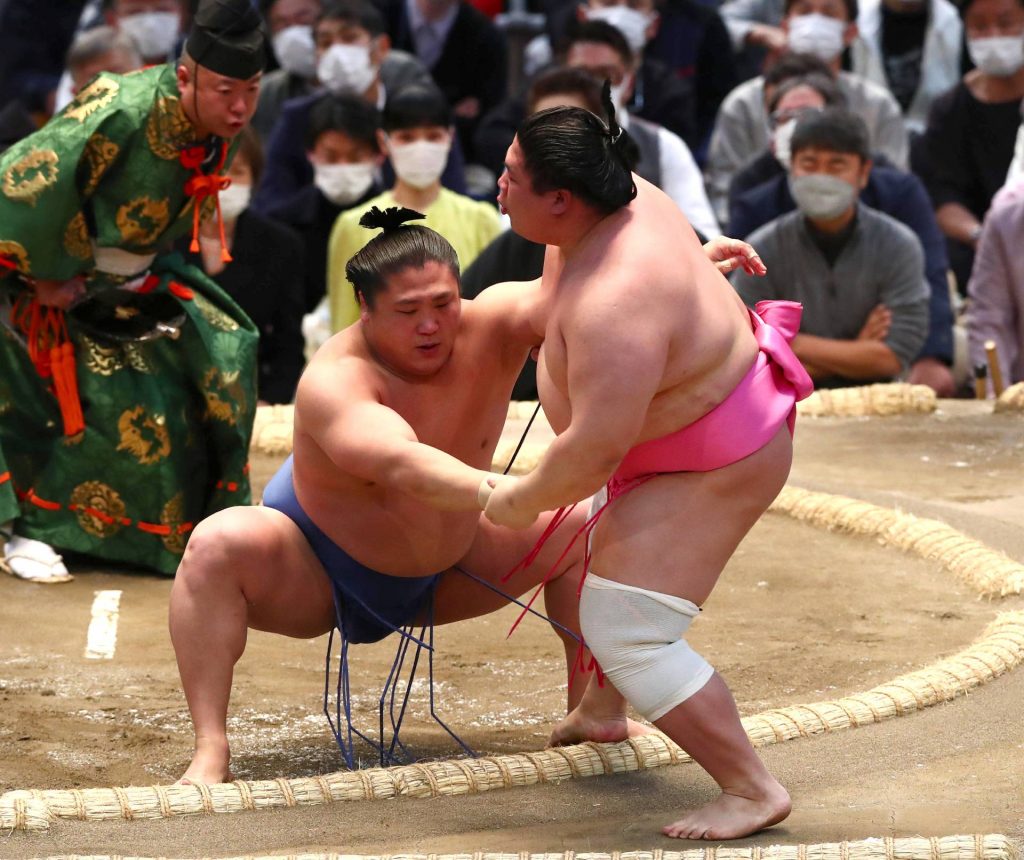 New sekiwake Wakatakakage, the younger brother of Wakamotoharu, also stayed in the thick of the title chase after he used a frontal force-out to send top maegashira Ura over the edge to improve to 7-1.
Osaka native Ura has struggled as a top maegashira and saw his record fall to 1-7.
Abi, also a newly promoted sekiwake, stood Daieisho up with a powerful arm thrust to the neck at the face-off and then dodged to his side and forced the top maegashira out to pick up his sixth win against two losses. Daieisho fell to 4-4.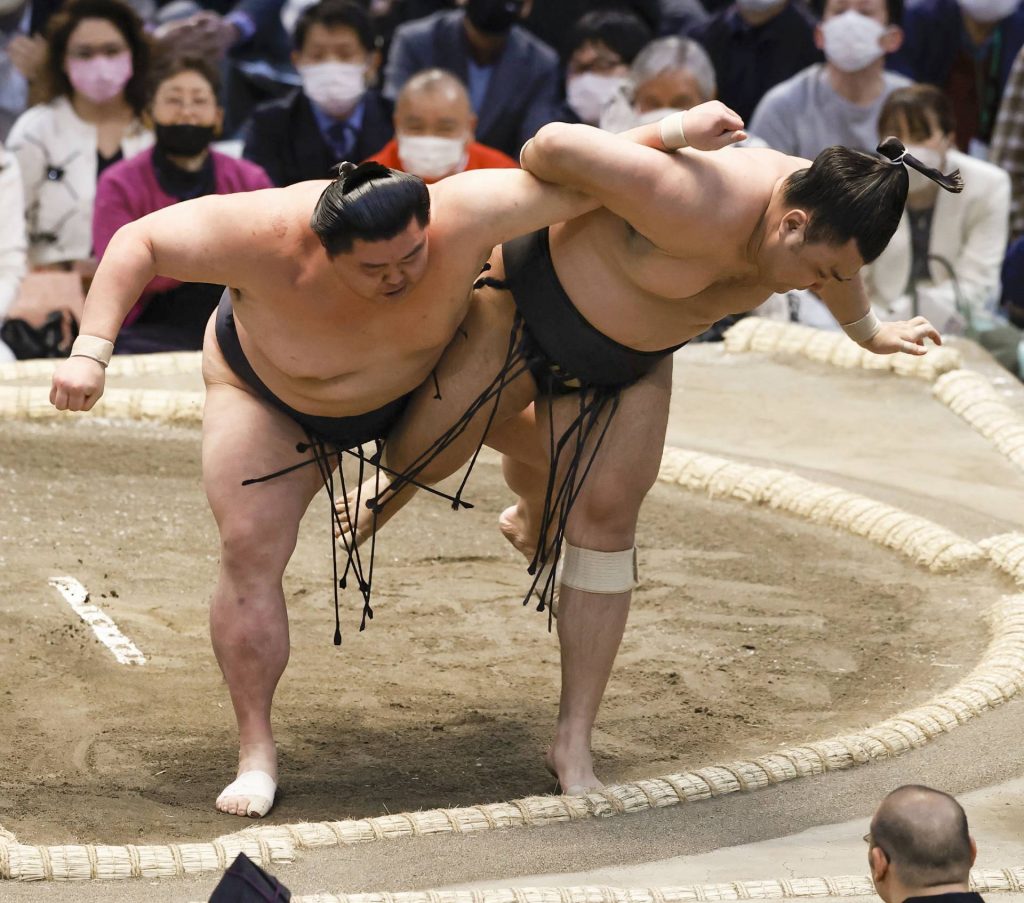 Facing potential demotion for the next tournament, ozeki Shodai fought off a frontal grip on the belt and overpowered Kiribayama to improve to 3-5.
Shodai, who started off the tournament with four straight losses, needs five wins over the remaining seven days to maintain his ozeki status.
That's a big ask considering he will have stiffer competition but if he fights like he did against the fourth-ranked maegashira Kiribayama (5-3), he just may pull it off.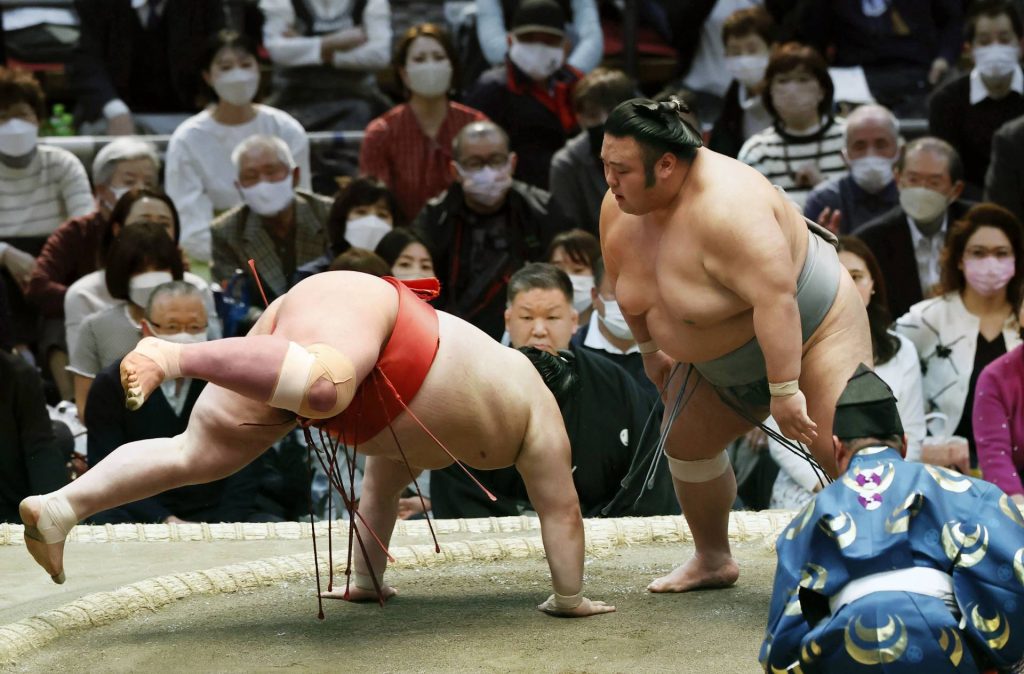 With his fifth straight win, Takakeisho is well on his way to securing the winning record he needs to keep his ozeki rank.
The Tokiwayama stable wrestler used a thrust-down technique to defeat No. 3 maegashira Onosho and improve to 6-2. Onosho fell to 3-5.
Yokozuna Terunofuji pulled out with injury on Day 6 leaving the tournament wide open.
Follow Jim's daily reports on the sumo Spring Basho here and find him on JAPAN Forward's dedicated sports website, SportsLook.

Author: Jim Armstrong