SUMO | Terunofuji Moves Into Share of the Lead with Controversial Win at Nagoya Basho
The grand champion was halted mid-bout, then came back to beat Wakamotoharu in a highly unusual display of sumo.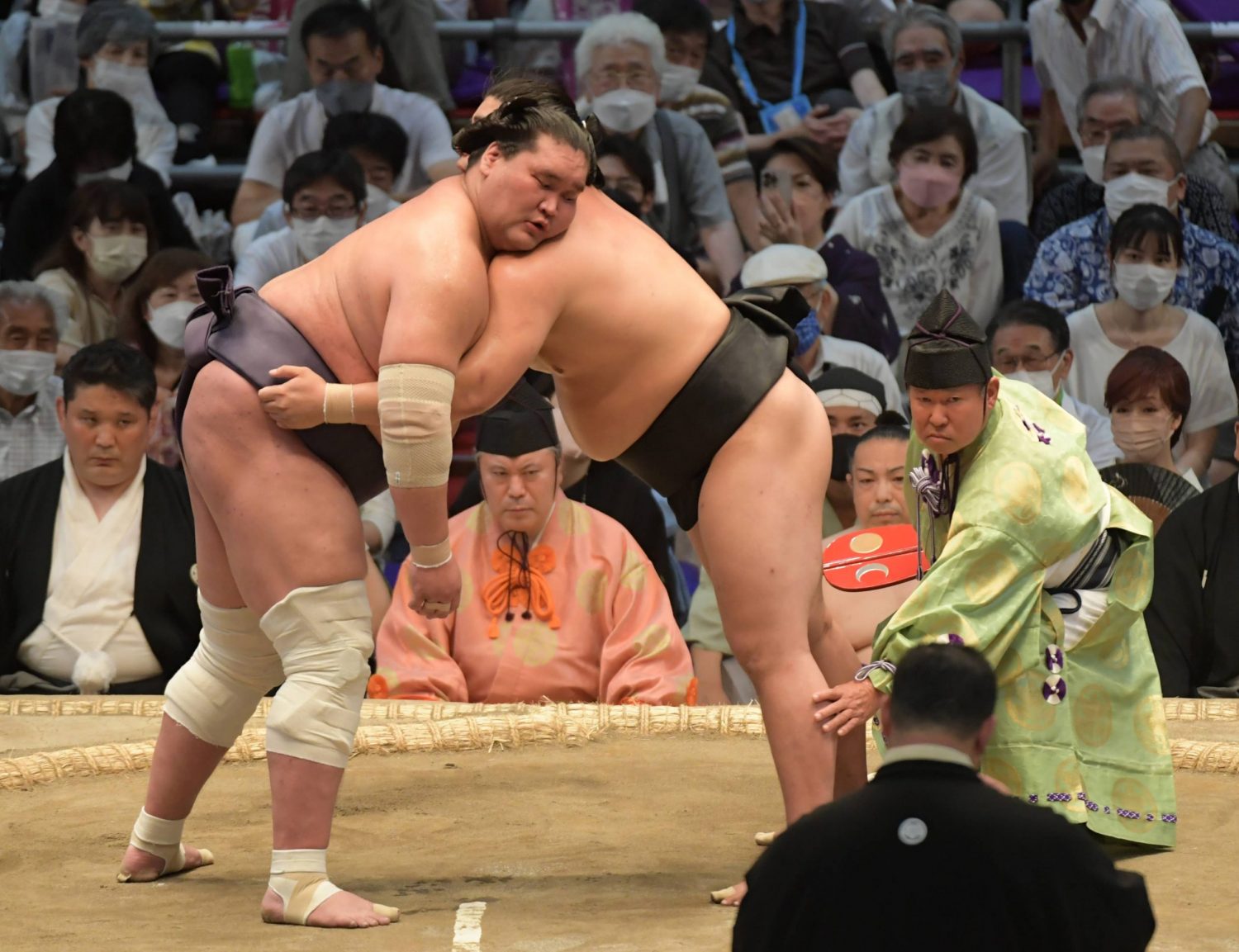 Lone grand champion Terunofuji defeated Wakamotoharu in controversial fashion on Sunday, July 17 to move into a tie for the lead at the midway point at the Nagoya Grand Sumo Tournament.
Terunofuji and Wakamotoharu were nearing the end of a marathon two-minute tussle when the referee suddenly reached in, indicating the bout should be stopped because of Wakamotoharu's loose mawashi.
Terunofuji appeared to let up following the referee's instructions and was then forced out by the No. 4 maegashira, who didn't seem to realize the referee had called for a stop in the action.
After being shoved out, Terunofuji looked stunned and pointed to the referee as if to say "he told us to stop."
The ringside judges then huddled in the dohyo and called for a do-over. After much deliberation over positioning that resulted in jeers from the fans, the two wrestlers then resumed their bout in the place they were before being stopped by the referee.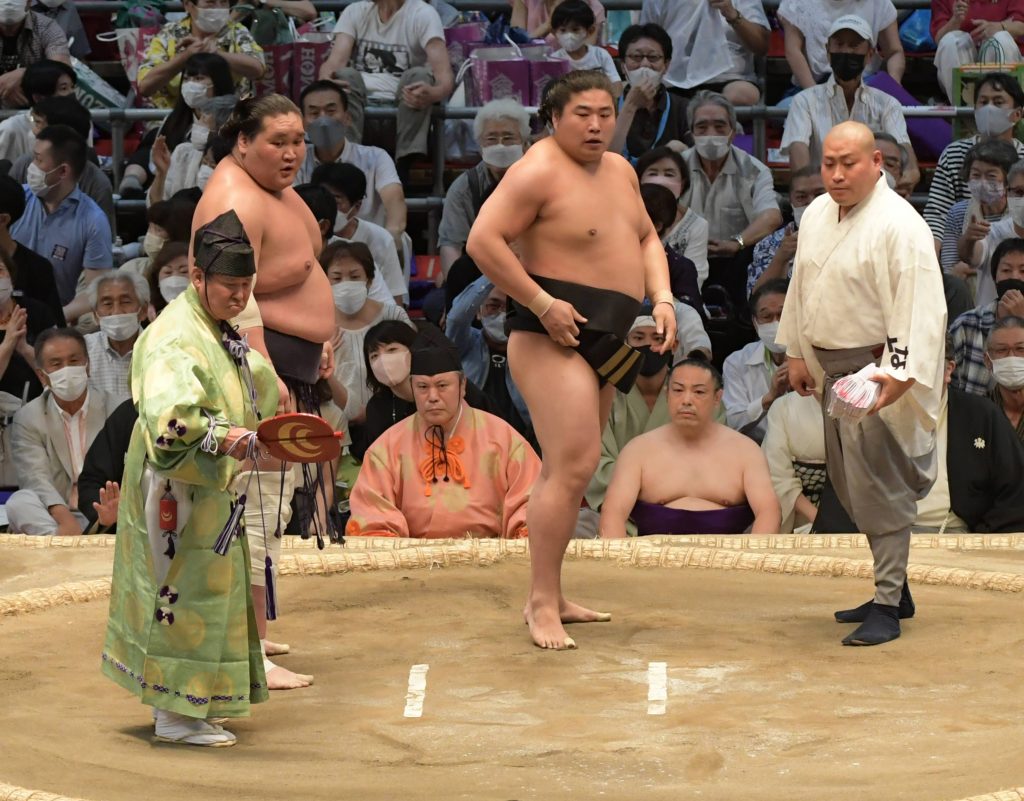 It was an odd scene that resulted in the day's bouts going over their regularly scheduled time allotment as the ringside judges attempted to restore some semblance of order.
The referee clearly stopped the bout prematurely.
Once the rematch finally did restart, Terunofuji used an underarm throw to defeat Wakamotoharu and move into a tie for the lead with five other wrestlers at 6-2.
Wakamotoharu gave Terunofuji all he could handle and appeared set for an upset victory until his mawashi came loose from the constant pulling by the grand champion.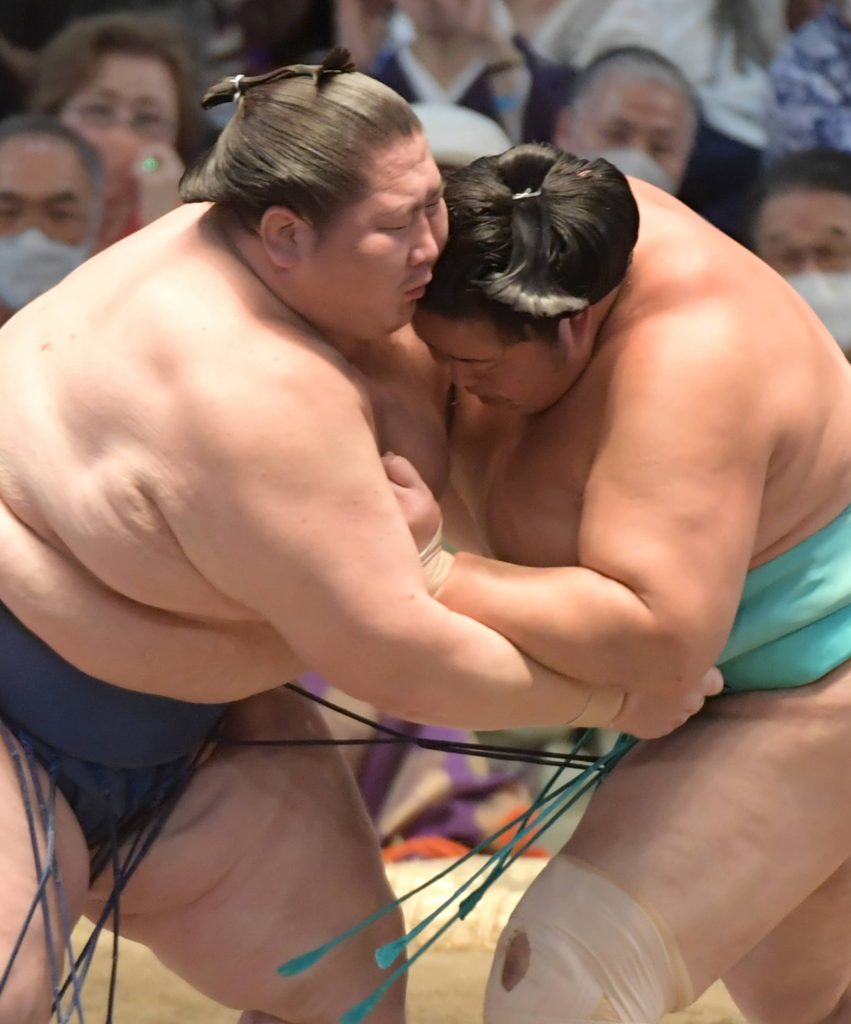 Ichinojo Suffers Second Straight Loss
In other major bouts, up-and-comer Kotonowaka defeated fellow No. 2 maegashira Ichinojo to knock the Mongolian out of the sole lead.
Ichinojo tried a face slap right after the face-off, but it didn't bother the young Kotonowaka, who quickly got a grip on the belt of Ichinojo, spun him around and forced him out to give both men a 6-2 record.
Ichinojo, who won his first six bouts and was in the lead up until Sunday, lost for the second straight day.


Tobizaru Remains in Contention
Sumo's Flying Monkey Tobizaru, a No. 6 maegashira, used a cheeky foot sweep to knock down Kotoeko and stay in the title chase with a record of 6-2. Ninth-ranked Kotoeko fell to 4-4.
Eighth-ranked maegashira Nishikigi used an arm throw at the edge of the ring to topple No. 11 Kotoshoho and join the pack at 6-2. Kotoshoho fell to 4-4.
Rank-and-filers Ichiyamamoto and Nishikifuji also improved to 6-2 with wins over Tsurugisho and Chiyoshoma, respectively.
Ozeki Takakeisho stayed one win back when he used a slap-down technique to defeat No. 5 maegashira Endo and improve to 5-3.
Endo, who dropped to 2-6, will fight Terunofuji on Day 9.
Shodai Prevails Against Tamawashi
Ozeki Shodai was pushed back to the edge by sumo's iron man Tamawashi, but got a left-hand inside on the No. 3 maegashira and drove him out to pull even at 4-4.
Shodai, who needs a winning record to maintain his ozeki status for the next tournament, won his third straight bout and got a huge ovation from the capacity crowd at Aichi Prefectural Gymnasium.
In an all-Mongolian showdown, komusubi Hoshoryu used a frontal crush-out move to defeat top maegashira Kiribayama (3-5) and improve to 4-4.
Sekiwake Abi used his trademark powerful arm thrusts to send Sadanoumi backpedaling out of the ring while improving to 5-3. Fifth-ranked maegashira Sadanoumi was handed his sixth loss against just two wins.


Resurgent Wakatakakage fought off a barrage of arm thrusts to the face and neck to shove out fellow sekiwake Daieisho (4-4) and improve to 5-3.
Wakatakakage, winner of the March tournament, lost three out of his first four bouts but has been on a roll since then, winning four straight.
Follow daily coverage of the ongoing Nagoya Grand Sumo Tournament here, on JAPAN Forward's dedicated sports website, SportsLook.


Author: Jim Armstrong
The author is a longtime journalist who has covered sports in Japan for more than 25 years. You can find his articles here.