There's More to the Pacific Aviation Museum than Pearl Harbor and World War II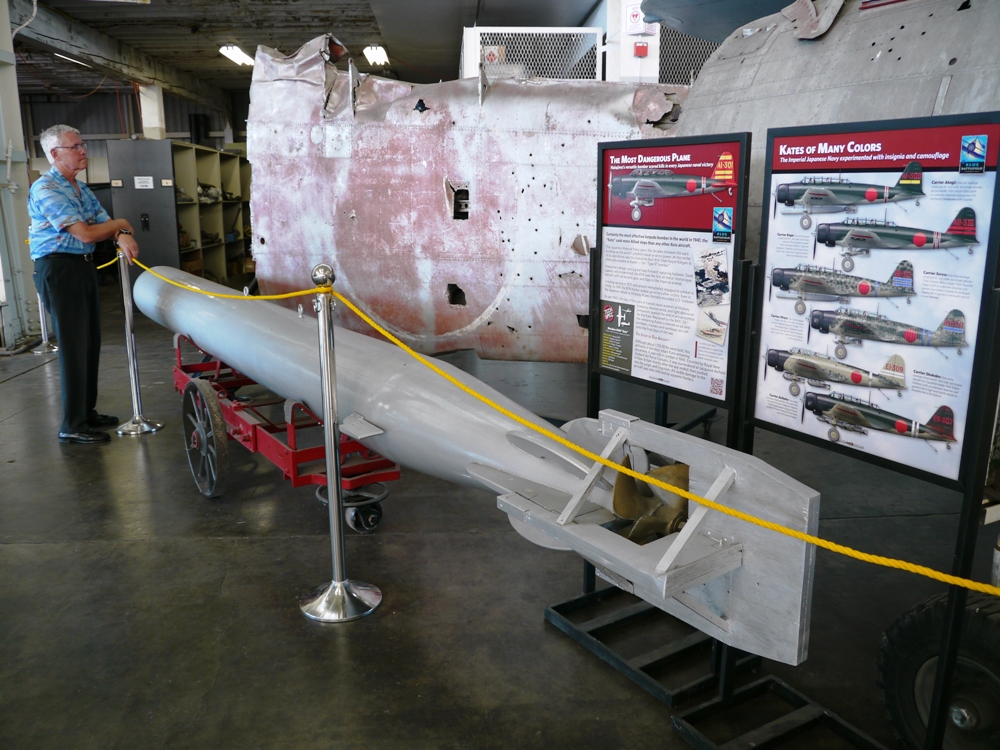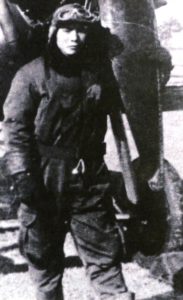 After the United States military had learned of the Nishikaichi incident, Army Lt. Jack Armstrong of the 740th Ordnance Company was sent to Niihau to dispose of the Zero fighter's unexploded bombs, as well as to provide Shigenori Nishikaichi with a funeral in accordance with military protocol. While tending to Nishikaichi's body, Armstrong recovered seven nafuda, or wooden slats inscribed with names, from a necklace worn around Nishikaichi's neck.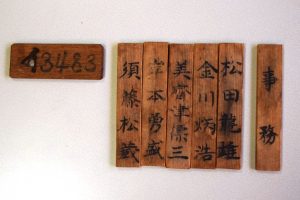 Seven Nafuda were recovered from a necklace worn around Nishikaichi's neck.
For decades, Armstrong attempted to return the nafuda to Nishikaichi's family. Unsuccessful, he eventually stored them with his other Army papers and memorabilia. Upon Armstrong's passing, his son, who inherited the nafuda, reached out to the Pacific Aviation Museum for help in finally restoring Nishikaichi's belongings to his next of kin.
In a twist of fate, a Los Angeles-based photographer, Mark Edward Harris, had met with and photographed Yoshitada Nishikaichi, the younger brother of Shigenori. Yoshitada remembers how, as a student in the sixth grade, his elder brother, transferring from his training base near Usa, Japan, flew over his school, circled, and dipped his wings in greeting. A letter arrived a few days later from Shigenori confirming that the plane flying over Yoshitada's school had, indeed, been piloted by Yoshitada's elder brother. It was the last Yoshitada ever heard from Shigenori, who was killed soon thereafter on Niihau. But Harris' photographs helped connect Yoshitada with the nafuda taken from his brother's lifeless body after his part in the Pearl Harbor attack ended in disaster.
In June of 2017, Ken DeHoff, in his capacity as director of the Pacific Aviation Museum, traveled to Shikoku, to the Nishikaichi home, to personally return the nafuda to Yoshitada Nishikaichi, the next of kin of Shigenori. Visibly moved, Yoshitada gratefully accepted the nafuda, and in turn pulled out a scrapbook filled with invaluable information about his brother's aviation career.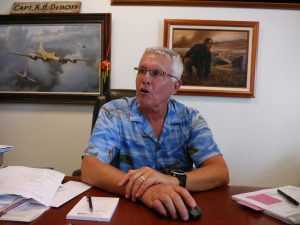 It was a key moment in the ongoing reconciliation between Japan and the United States after more than seven decades of hard feelings and bitter memories from December 1941. It is also a piece of history seemingly made for cinematic adaptation—currently in the works is a full-length motion picture, The Battle of Niihau, starring Zach McGowan and written by Gabriel Robertson and based on the strange events of Nishikaichi's abortive part in the Pearl Harbor raid.
Gateway to the Future of the Asia-Pacific
As prominent a position as the Niihau incident holds in the current iteration of the Pacific Aviation Museum, DeHoff points out that the museum is poised for significant growth, opening up entire new vistas in aviation history on Hawai'i and beyond. In one exciting project, museum crews are restoring a Nakajima "Kate" dive bomber, the only one left in the world. Crews are also working on a B17 "Swamp Ghost," downed in New Britain in February 1942, after a bombing raid over Rabaul.
Despite what DeHoff describes as the "dire economics of museums, especially aviation museums," the Pacific Aviation Museum is planning to add many more exhibits to its collection over the coming months and years. Right now, there are two hangars full of planes and helicopters in various states of restoration, and more acquisitions are being lined up. The Pacific Aviation Museum remains one of the most frequently-visited aviation museums in the world, behind such giants as the Smithsonian Air & Space Museum in Washington, DC, and the Imperial War Museum in Duxford, England.
It is likely that Pearl Harbor will always be remembered mainly as a naval event. As such, DeHoff admits that he must walk a fine line between distinguishing his museum's contributions from the seaborne tragedies of December 7th, and incorporating both aspects of the battle into one grand narrative.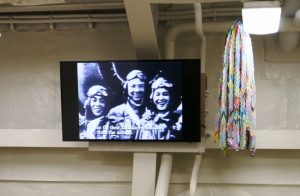 However, DeHoff's ultimate goal is to move the Pacific Aviation Museum far beyond the scope of late 1941. His eyes light up as he describes the rich history of aviation in Hawai'i: there is the runway where Amelia Earhart crashed while trying to take off in a tailwind; there is where Claire Chennault, later the leader of the Flying Tigers in Kunming, was based in Pearl Harbor in 1923 and 1924, teaching pursuit tactics to new recruits.
From the era of the Pan-Am clipper ships, which brought some of the first airborne tourists to Hawai'i, to the F-22s, which are now parked on tarmacs around Ford Island, the history of Pearl Harbor is at least as intimately related to the air as it is to the sea.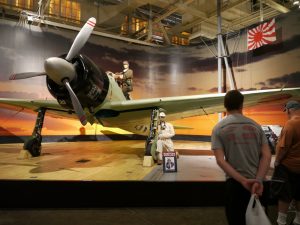 Read also:
Air War, the Forgotten Part of the Pearl Harbor Story
Jason Morgan is an assistant professor at Reitaku University in Chiba, Japan. He holds a PhD in Japanese legal history from the University of Wisconsin, and an MA in Asian Studies (China focus) from the University of Hawai'i. He has translated works by Mizoguchi Yuzo, Tanizaki Jun'ichiro, and Muro Saisei. In 2014-2015, Morgan was a Fulbright scholar researching Japanese law at Waseda University in Tokyo. His book, Why do Americans Look Down on Japan?, was published with Wani Books in 2016.