Tokyo During COVID-19: Green Space, Rise of Telework Bring New Lifestyle Opportunities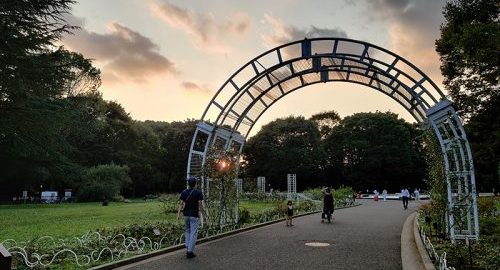 Even in Tokyo — a gigantic, densely populated, modern technological center — the COVID-19 pandemic has popularized telework beyond expectations and caused people to rediscover their local neighborhoods and parks.
Fortunately, the concept of telework and staggered working times was not new to Tokyo, even before COVID-19. The metropolitan government had encouraged the adoption of such measures in the lead up to the now-delayed Tokyo 2020 Olympic and Paralympic Games to avoid overcrowding and traffic jams.
Miyuki Karakawa, one of the officials in charge of encouraging companies to implement telework practices for the Tokyo metropolitan government, told us that the city had conducted a survey titled "Introduction Rates of Telework During the State of Emergency." The results were promising: out of the 394 surveyed companies approximately 62 percent introduced telework in April 2020, 2.6 times compared to March.
Rates became even higher as the results are broken down by company size. In companies with more than 300 employees, 79.4% used telework.
It was a big change too for professionals in Tokyo.
Jun Suzuki, a lawyer at a large IT company, and Keiko Kawase, who works in a cosmetics manufacturing company, started teleworking in March.
Both professionals had to overcome hurdles, such as setting up online library sharing, and developing effective communication while not being in the same workplace.
But since the beginning of the pandemic, both have since fully embraced working from home, to the point that Mr. Suzuki predicted telework will become a permanent feature of life going forward.
Ms. Kawase reflected on the psychology of the shift, explaining that presence in the office has become less essential as "We've become confident that we can all work from home."
The data and personal experiences suggests that attitudes towards work are changing, and that it's not about to go back to pre-COVID-19 days just yet.
The Tokyo metropolitan government representative talked about what lies ahead.
It's safe to say that telework is the current trend within companies, and we would like for them to continue until this situation [telework] becomes permanent.
Satellite Offices and Apps — New Tokyo Initiatives
To aid these efforts, the Tokyo metropolitan government is carrying out several initiatives to support individuals who wish or need to work outside their home, a trend that is picking up.
One such project includes setting up free satellite office space in Western Tokyo Tama areas such as Fuchu, Higashikurume and Kunitachi. The hope is that the initiative will increase the use of satellite offices for example by the private sector in the Tama area, and in general encourage the wider use of satellite offices.
In addition, the metropolitan government has developed an app that individuals can use to search for satellite offices, the Tokyo Telework App.
People who wish to use the app can search satellite offices locations, which include hotels and karaoke parlors available for use. This initiative, while encouraging telework practices, also comes as a form of welcome financial help to the profit of businesses that have been negatively affected since COVID-19.
Ways to Enjoy Our New 'Remote' Lifestyle
Both Mr. Suzuki and Ms. Kawase revealed that due to the pandemic, they were spending far more time in their neighborhoods and local parks.
COVID-19 has changed the way we interact with the city, in particular with its prolific green spaces.
Out of the over 11,000 parks in Tokyo, at JAPAN Forward we picked four parks from Tokyo Bay to the Western center of the metropolis to sense the flavor of the diverse greenspaces available in the city, as we are all adjusting to the "new normal" of COVID-19.
Hama Rikyu Garden: Step Into Another Era in Central Tokyo
For just 300 yen, step into a Tokugawa Shogun's garden of impeccable greens, flowering fields, a pond, and buzzing wildlife. The grounds provide a calming contrast with the surrounding bustling industrial centers around Tokyo Bay and the Rainbow Bridge.
The garden reflects many of the traditional aspects found in a Japanese garden, including an impeccably pruned pine tree thought to have a 300-year-old history, and strategically placed plants and flowers to enjoy in all the seasons.
When you're ready to move on, do it in style. Take the water bus that stops in the park for more urban vistas on the way to your next destination.
Hibiya Koen: A Urban Oasis in the Heart of the City
Heading a little further into the city, central Tokyo's Chiyoda ward offers a delightful greenspace conveniently situated across from the Imperial Palace: Hibiya Koen.
On weekdays, the quiet and soothing space in the center of the city becomes an oasis in the business district for lunch breaks and strolls.
Hibiya Park was born as Japan's first modern Western-style park, with a history of more than 110 years.
Creating an eclectic space seamlessly blending the Japanese and the Western, visitors can enjoy the scenery of Hibiya Mitsuke and Shinji Pond, where you can feel the remnants of the moat of Edo Castle, and the Western-style flowerbed that has been preserved since that time and is colored with seasonal flowers.
Yoyogi Koen: Huge, Hip and Welcoming
Moving further west, the popular youth-oriented Shibuya ward boasts the fifth largest park in Tokyo. Yoyogi Koen is a favorite haunt for those who would like a constellation of different outdoors pleasures in an urban setting, be it a jog or admiring autumn foliage.
Particularly friendly to cyclists, Yoyogi Koen is one of three Tokyo Metropolitan Government Parks that offer bicycle rental (the others are Koganei Park and Komazawa Olympic Park). It even features a separate area for kids to learn with training wheels. Naturally, in this time of COVID-19, organizers carefully disinfect each bicycle when returned.
In a small nearby ward park called Yoyogi Fukamachi Park be sure to check out the newest fusion of art and practicality: the colorful transparent toilets that turn opaque upon being locked exemplify Tokyo's special form of modern design.
Quite apart from these few examples, wherever you live, there is a Tokyo park nearby suited to your tastes and needs. We also love Inokashira Park, famous for its pond and greenery, and popular with a variety of age groups. An exhaustive list of all Tokyo parks can be found here.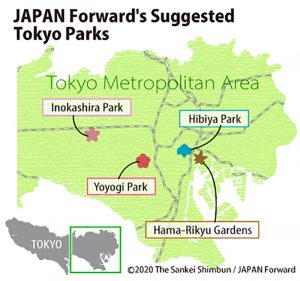 Stay healthy; get out and enjoy Tokyo's abundant greenspaces while you telework and explore the varied offerings of Japan's capital city.
(This article is published in cooperation with the TOKYO METROPOLITAN GOVERNMENT.)
Author: Arielle Busetto