[JAPAN SPORTS NOTEBOOK] Olympic Relay Torch Begins Local Tour of Tokyo Region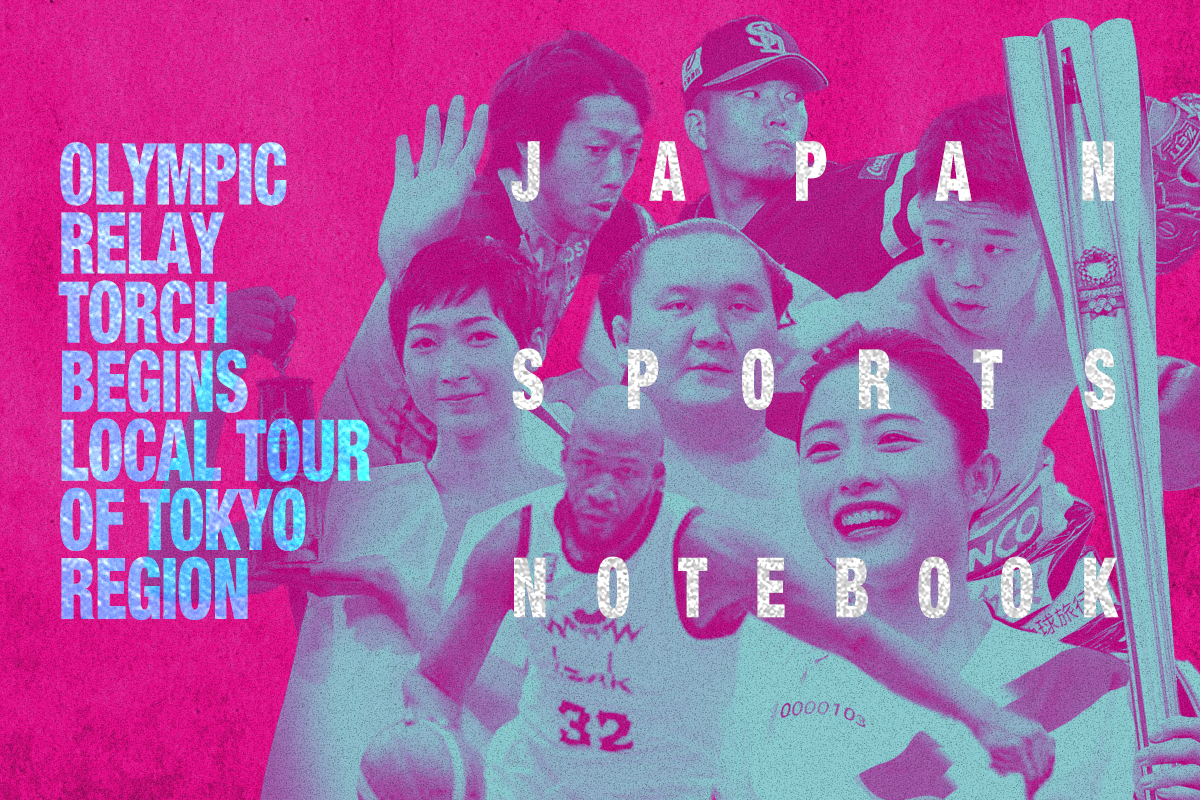 A pair of torches for the rescheduled 2020 Tokyo Olympic and Paralympic torch relays are scheduled to make the rounds throughout the nation's largest metropolis.
All in all, the Olympic and Paralympic torch will visit each of Tokyo's villages, towns, 23 wards and 26 cities.
The two torches began their journey throughout the region with a stop at the Tokyo Metropolitan Government building in the capital's Shinjuku Ward from November 2-10.
The torches are symbols of the Tokyo 2020 organizers' hopes of staging the two sports extravaganzas a year after the global pandemic forced their postponement.
In the summer of 2019, onlookers were permitted to hold the torches during a previous torch relay tour. Now, the general public is not permitted to touch the torches due to the COVID-19 pandemic.
The 71-cm long (about 28 inches) torch, which weighs roughly 1 kg (2.2 pounds), feature a cherry blossom motif.
Swimmer Satoko Tanaka, who placed fourth in both the women's 100-meter backstroke and 4x100-medley relay at the 1964 Tokyo Games, commented on the experience of being chosen as a torch relay runner on November 2 in Tokyo.
"It's so beautiful that I want to decorate it at home. I want to do my best to practice so that I can run with it," the 78-year-old Tanaka, who earned the 100-meter backstroke bronze at the 1960 Rome Olympics, told NHK broadcasting network. Tanaka was a 1991 inductee into the International Swimming Hall of Fame.


The Olympic flame and torch were put on display at the Tokyo Metropolitan Government building on November 2.
Next year, the rescheduled Olympic torch relay is set to kick off in Fukushima Prefecture on March 25, 2021. Its return leg of the tour in Tokyo is set for July 9-23, the day of the 2020 Olympic opening ceremony.
The Paralympic torch relay is scheduled to be held next August.
Baseball
Hawks' Senga Fastest Pitcher to 1,000 Strikeouts in PL History
Fukuoka SoftBank Hawks hurler Kodai Senga held the rival Chiba Lotte Marine to two hits in eight sharp innings on November 4 at Zozo Marine Stadium.
For the Pacific League champion Hawks, Senga played a pivotal role in their 2-0 triumph, striking out nine batters. And he picked up his 11th victory of the pandemic-shortened season, while also recording his 1,000th career strikeout.
In the third inning, the 27-year-old Senga fanned the Marines' Takashi Ogino for No. 1,000.
By doing so, Ogino got his milestone strikeout in 855 1/3 innings.
Kodai Senga, who led the Pacific League with 227 strikeouts last season, made his NPB debut in 2012.
The previous Pacific League record belonged to Kintetsu Buffaloes mound maestro Hideo Nomo, who picked up his 1,000th strikeout in 871 innings in 1993, and went on to play the majority of his career in the major leagues starting in 1995.
"When I heard about (the record), I was really happy. I'm grateful to the managers who've picked me and all the trainers who've worked with me," Senga who is 11-6 this season, was quoted as saying by Kyodo News after the game. "I'm happy to even be mentioned in the same breath as a legend (like Nomo)."
Senga is the 151st NPB pitcher to reach 1,000 strikeouts.
The quickest to do so? Kyuji Fujikawa of the Central League's Hanshin Tigers, who needed 771 2/3 innings to accomplish the feat.
Last season, Senga, an Aichi Prefecture native, led the PL in innings pitched (180 1/3) and strikeouts (227).
RELATED COVERAGE: BASEBALL | Nomomania: Former Dodgers Owner Peter O'Malley Reflects on Friendship with Trailblazing Pitcher
Sumo
Yokozuna Hakuho, Kakuryu to Skip November Basho
Injury-plagued yokozuna Hakuho and Kakuryu have pulled out of the upcoming November Grand Sumo Tournament.
The Mongolian-born wrestlers made separate announcements this week, with all-time tourney victory leader Hakuho revealing his plans on Friday, November 6. The 35-year-old Kakuryu, bothered by back problems, withdrew from the 15-day November Basho a day earlier.
Hakuho, 35, is recovering from knee surgery.
The November Basho gets underway on November 8 at Tokyo's Ryogoku Kokugikan.
Soccer
Levain Cup Final Postponed Because of COVID-19 Outbreak
The Levain Cup final to feature Kashiwa Reysol and FC Tokyo was postponed after Reysol's COVID-19 outbreak in recent days.
The J. League announced on Wednesday, November 4 that the tournament final, which was set to be held three days later at the New National Stadium, will now take place at a TBA date.
Reysol reported 13 positive tests among players and staff, including 10 new coronavirus cases on November 4, according to published reports. Kashiwa manager Nelsinho Baptista, 70, was among the new cases, and the Brazilian is recuperating at home.
J. League Chairman Mitsuru Murai addressed the COVID-19 breakout in an online news conference on the same day.
"We agreed that players would be facing increased risk in terms of health and safety if we held the Levain Cup final three days from today," Murai told reporters, according to Kyodo News.
The event, also known as the J. League Cup, has never been postponed before. Previously, the event, which was established in 1992, was known as the Nabisco Cup and J. League Yamazaki Nabisco Cup.
Frontale Veteran Nakamura to Retire At Season's End
Longtime Kawasaki Frontale midfielder Kengo Nakamura said on Sunday, November 1 that he will hang up his spikes after the 2020 J. League campaign.
"I've been able to hang in for the past five years because I had already decided to retire [at 40]. There wasn't a shadow of a doubt," Nakamura stated during a news conference, according to Kyodo News.
Nakamura turned 40 on October 31, the same day he scored a goal against FC Tokyo.
Frontale extended their winning streak to 12 matches with a 2-1 verdict against the visitors.
J1-leading Kawsaski dropped its next match 2-0 against Consadole Sapporo on Tuesday, November 3.
Kengo Nakamura is one of the premier Japanese players of his generation.
In 2003, Nakamura made his J. League debut with Frontale, served as team captain from 2012-17, and has played his entire career with the club. He has appeared in 533 J. League matches.
Nakamura, an eight-time J. League Best XI player, was named league MVP in 2016.
Yokohama FC's Saito to Play in Belgium Next Season
Teenage forward Koki Saito, who has competed for the Japan Under-19 national team, will join Belgian second-division team Lommel after the current J. League season ends, it was announced on Thursday, November 5.
Saito, 19, has played for Yokohama FC since July 2018.
Entering this weekend, Saito had played in 24 J. League matches this season and scored three goals.
Motor Sports
Ex-SMAP Member Mori Captures Elusive Motorcycle Speedway Title
Former SMAP member Katsuyuki Mori earned his first national title in the All-Japan Auto Race Championship at Kawaguchi Circuit in Saitama on Tuesday, November 3.
Though the name might seem misleading, the 5,100-meter race, along with Japan's other motorcycle speedway races, involves spectators wagering on competitors. Watch the race here.
Mori, 46, finished first in the 10-lap event with eight riders to attain a dream, which he has passionately pursued since stepping away from his successful music career with the popular J-pop band in 1996. He joined SMAP in 1988.
Katsuyuki Mori experienced a dream come true by winning the All-Japan Auto Race Championship on November 3.
What were his emotions after winning the race?
Gratitude and euphoria.
"I owe this to my friends and all my fans," Mori said, according to published reports. "I want to share [the joy] with my father, who has been my biggest supporter."
In an interview posted on the Auto Race Japan website, he added: "I've been working hard for more than 20 years and haven't reached the SG victory at all, so I'm really happy to win the title of the Japan Championship that I want to win the most."
In an Instagram group, former SMAP member Shingo Kotori wrote: "We shed tears for Mori again. We shed tears when he left us and shed tears three years ago when we reunited for the first time in 21 years. We shed tears for him again today as he becomes the best racer in Japan. Congratulations on being the best in Japan. Let's meet again."
Basketball
Toyama Becomes First B. League Club with 10 Wins This Season
With an 89-80 road victory over the Hiroshima Dragonflies on Friday, November 6, the Toyama Grouses improved to 10-2 on the season.
New Grouses bench boss Honoo Hamaguchi's team became the first of the B. League's 20 first-division teams to win 10 games in the 60-game season.
The Dragonflies slipped to 3-9 after their second loss in as many days to the Grouses.


Toyama and Hiroshima are the first team to play more than 10 games this season.
Toyama star Julian Mavunga finished with a triple-double (20 points, 11 rebounds, 10 assists) and three steals. Thomas Kennedy paced the Dragonflies, who had six double-digit scorers, with 14 points.
Boxing
Nakatani wins WBO flyweight crown
Junto Nakatani captured the World Boxing Organization (WBO) flyweight title with an eighth-round knockout of Giemel Magramo on Friday, November 6 at Korakeun Hall in Tokyo.
The new champion entered the scheduled 12-round bout as the WBO's third-ranked contender. Nakatani, 22, send his Filipino opponent sprawling to the canvas, then finished him off with several hard punches in the eighth round.
Nakatani improved to 21-0 (16 knockouts).
Magramo fell to 24-2.
Junto Nakatani raised his professional record to 21-0 with 16 knockouts.
"I landed some good punches in the first round," Nakatani told reporters, according to Kyodo News after the fight. "Magramo is a good fighter but I had a good approach today. He is really tough, but I was able to establish a good distance from him and in that sense I felt I boxed well tonight.
"Now that I'm a flyweight champ, I have to look toward other objectives, and one of those is to win a title unification fight."
Editor's note: Interested in submitting a news item for possible inclusion in the Japan Sports Notebook? Send an email with relevant information to e.odeven@japan-forward.com, or JAPAN Forward's comment's page or Facebook page and look for future editions of Japan Sports Notebook on our website.
Author: Ed Odeven
Follow Ed on JAPAN Forward's [Japan Sports Notebook] here on Sundays, in [Odds and Evens] here during the week, and Twitter @itsjapanforward., and subscribe to the Sports newsletter.