Tokyo's Ramen Fair Celebrates 10th Anniversary — with Steaming Bowls of Noodles, Of Course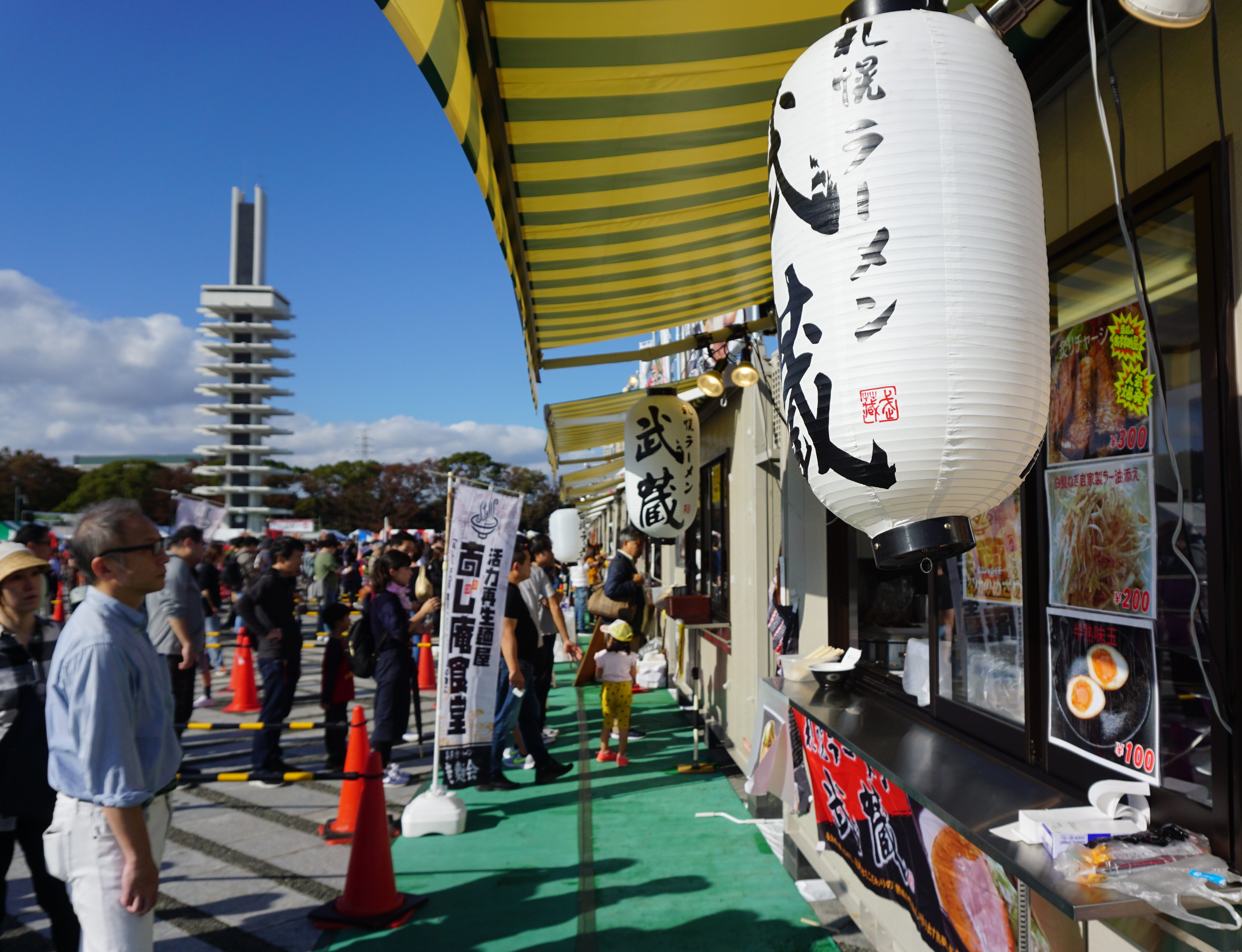 Tokyo Ramen Show 2018 might sound like a gourmet Broadway musical. In reality, we are talking of one of the biggest food fairs in Tokyo — centered, of course, around the all-time favorite: ramen.
The fair takes place in the spacious Komazawa Olympic Park, just a few train stops away from Shibuya. It runs from October 25 to November 4.
This food fair definitely caters to ramen-obsessed foodies all over the world.
Showcasing Ramen Diversity
On its 10th anniversary, organizers have gone above and beyond to offer the best ramen experience to visitors. According to Hiroshi Osaki, chairman of the organizing committee: "We have done more this year compared to the previous years because it's our 10th anniversary. Among the 333 stalls that participated over the last nine years, we conducted a popularity poll. Of the most popular ones, we invited ten this year."
In fact, the number of choices is staggering.
The show is divided into two parts: one going from October 25 to 30, the second going from October 31 to November 4. There are 18 stalls introduced during each period, adding up to 36 stalls over a period of eleven days.
As a friend of mine said when I told him, "That is a lot of ramen."
In typical Japanese fashion, the stalls are not happy with offering just the usual bowl of noodle soup.
According to Mr. Osaki: "This year, in particular, we also have gourmet ramen, with sea urchin, oysters, crab, clams. These are types of ramen which are quite difficult to find. So, I would say, in this sense it's pretty unusual that we are offering all of it here."
Of course, one can still find the typical bowl of pork stock (tonkotsu) ramen, beautifully greasy and making your cholesterol rise just by looking at the bowl.
But for people who can't eat pork, the stalls offered also beef- and chicken-based broth, thereby catering to different dietary needs.
Increase in Foreign Visitors
Looking around the wide venue, it's clear this food fair is gaining popularity among foreign visitors. In some ways it isn't surprising, given that it's featured on tourist-orientated websites, such as Tokyo Cheapo and Time Out.
The organizers have also noted the increase in foreign visitors. Mr. Osaki commented: "Last year, we printed 10,000 flyers in English and they were immediately gone. If you consider that a couple will take one flyer, I definitely get the impression that we have more foreigners coming to this event."
So, which ramen is liked by the most foreigners visiting Japan?
Osaka says, laughing, "It has to be tonkotsu ramen, whereas Japanese still like shoyu (soy sauce) and shio (salt-flavored) ramen."
Another favorite is miso ramen, made with fermented soybean paste. In fact, on the day JAPAN Forward went to the event, consistently the longest queue was for Sapporo Miso Ramen.
Quite apart from tourists coming to try the famed noodle soup, some people are here as regular customers.
Jeff and Nate flew all the way from New Orleans as part of what looks like a regular group of four friends sporting black t-shirts with the logo "Union Ramen." They came to Tokyo specifically for Ramen Show.
"We have a pop-up ramen store back in New Orleans. So far, where we are from there aren't many ramen shops, so we came here to research," said Jeff.
When asked which was their favorite, they replied in unison, "Definitely the sea urchin one."
The tonkotsu type of ramen has been popularized in manga and anime, and is therefore the staple among tourists visiting Japan.
Ramen, even beyond the usual tonkotsu type, seems to be surpassing borders and developing a strong following abroad. As Mr. Osaki noted: "Ramen used to be known as the food of the people. I have come to think that it has become a food of all the world."
A Comfort Food for Everyone
Whatever new trends there might be in the world of ramen, what is striking while walking around the sunny Komazawa Park is that ramen truly seems to have become a food for everyone.
From small children to 70 year-old men, from university friends to the ubiquitous salaryman, everyone is slurping away on the steaming soup, even on a warm October morning.
It really brings home the fact that it is a food which is not just popular abroad, it is first and foremost popular at home.
"Because the event goes every day until 9 P.M., we have workers who stop here after work just as the event is closing, just so that they can get their bowl of ramen," explained Mr Osaki.
He added, "Last year we had 300,000 visitors; this year we are aiming for 350,000."
If you happen to be in the area, we recommend you hit up this event for a taste of some of the most unusual ramen in Japan.
Entry to the park is free, but each bowl of Ramen costs JPY850 (without extra add-ons).
If you get tired of the noodle bonanza (how could you?), there is also gyoza, kakigori (shaved ice with flavored syrup), and drink stalls to add variety to your choices.
If all this wasn't enough, there is a main stage offering entertainment throughout the 11-day period. You can see activities ranging from pro wrestling and talk shows to live music.
For more information on the performances, check the full program here.
So grab a friend, and head out to this park to enjoy the sunshine, the autumn leaves, and a steaming hot bowl of ramen.