Tourists Come for the Monsters of Fukusaki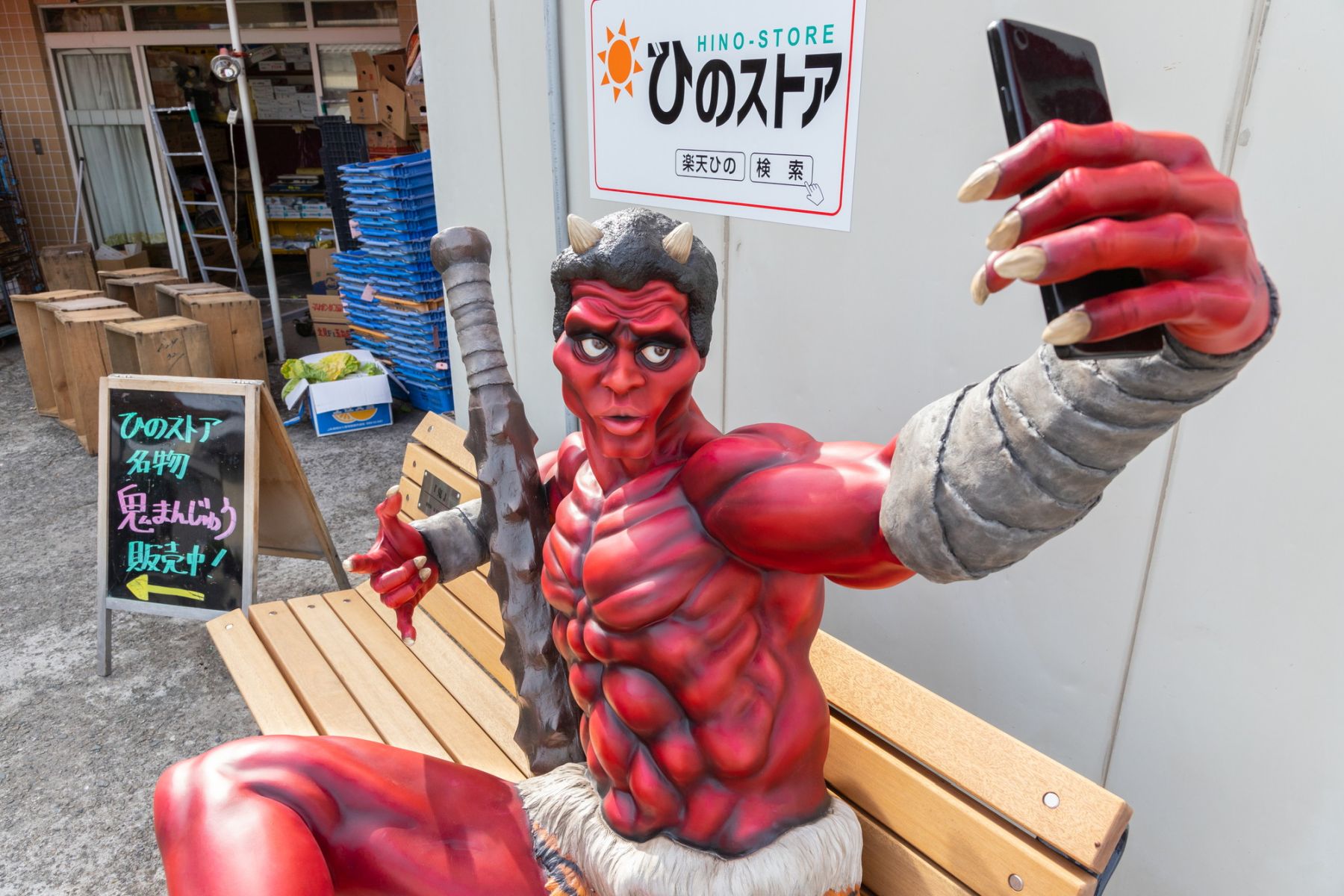 The town of Fukusaki in Hyogo Prefecture is using eerie mascots for their revitalization strategy, bringing back the heyday of the yuru-chara — mascots.
The town of merely 20,000 people is the birthplace of Kunio Yanagita, the father of Japanese folklore studies. Their realistic yokai (monsters) have left children in tears and generated a buzz around the town, attracting 1.7 times more tourists in 2018 compared to five years ago.
The most iconic of the towns using ghosts and monsters to develop the local economy is Sakaiminato in Tottori Prefecture, with its eerie Mizuki Shigeru Road.
Fukusaki promoters are confident, however, that the hype around their own town "will prove to be a match for Sakaiminato, because the yokai we are going to use will surprise even Professor Yanagita."
A 'Yokai' Emerges from a Murky Pond
In a corner of the town's Tsujikawayama Park, a 30-minute walk from JR Fukusaki Station, a crowd of tourists surrounds a murky pond, staring at its surface. Eventually, small bubbles begin to surface and two red kappa (amphibious yokai) appear — one big and one small.
"Look!" the children cheer.
The big kappa is called Gajiro, and it's a character based on a yokai that appears in Yanagita's works. It has a huge mouth lined with sharp teeth and coarse hair like a fallen warrior. Next to it is a child kappa.
In February 2014, when the town failed to clean the murky pond, it decided to take advantage of the situation by using the cloudy water to obscure the workings of a mechanical doll.
The mastermind of this strategy is Tomoo Ogawa, 45, who works for the town's regional development division. "There are plenty of cute mascots in Japan. I made sure that our sculptures were realistic enough to make children cry."
The park also features a statue of a tengu (a flying long-nosed demon), which was chosen for Best Sculpture at the National Yokai Sculpture Contest in 2014. Their creativity garnered praise and the number of tourists rocketed from 248,000 in 2013 to 410,000 in 2016 in response to installations like the tengu statues hanging upside down from wires.
'Yokai' Benches Take Over
The town's audacity shows no sign of stopping. In order to attract tourists to the town center, nine yokai benches have been installed in front of shops lining the street from Fukusaki Station to Tsujikawayama Park.
Gajiro the kappa ponders his next move as he sits with a shogi board in front of the station, while a tengu clad in a business suit taps away at his laptop keyboard. With the addition this March of yokai Aburabou (a type of will-o'-wisp) and Konaki-jijii (an old man yokai that cries like a baby), there are now 14 yokai benches in total.
Taking full advantage of their Insta-worthiness, the selling point of these benches is that visitors can sit with the yokai for selfies.
The town's regional development division continues to come up with new ideas, including "giving tourists yokai maps so that they can look for yokai benches throughout the town and spend money shopping along the way." The plan is to install a total of 50 benches in five years' time.
Businesses in the town also favor the yokai craze. A nekomata (two-tailed cat yokai) sits on a bench in front of Gourmet Meats Nishioka, a local butcher shop. Yamato Nishioka, 75, the CEO of the shop, commented: "I've been having more customers since the yokai bench was installed. They have become indispensable to the town's prosperity." He smiles. His original cat-face hamburger patties are proving to be popular.
Following the Path of Mizuki Shigeru
A successful example of regional revitalization using yokai is the city of Sakaiminato in Tottori Prefecture. The town is the birthplace of Mizuki Shigeru, the manga artist who created Gegege no Kitaro.
Bronze statues of classic yokai characters like Medama Oyaji (a yokai with an eyeball as its head), Nurikabe (a wall yokai), and Nekomusume (cat girl) line the 800-meter-long road named for the artist leading from JR Sakaiminato Station.There were 23 statues when the project began in 1993. Now there are 177.
In 2010, Sakaiminato became a major tourist spot with 3.7 million annual visitors — 100 times more than the city's population of roughly 34,000 — thanks to the impact of the NHK television series GeGeGe no Nyobo, among other factors.
The city also hosts a variety of annual events, like the Sakaiminato Yokai certification event and the Yokai Senryu comic poetry contest.
Sakaiminato's yokai road underwent a large-scale makeover last summer, widening the sidewalk, implementing a barrier-free design, and upgrading the nighttime lighting. There are also plans to unveil a new yokai shadow-projection feature, holding nothing back to generate repeat visitors. Sakaiminato Tourism Association's Go Furuhashi says, "I want to continue adding new tricks to maintain our reputation as a yokai sanctuary."
According to Masanobu Kagawa, director of the Hyogo Prefectural Museum of History who is knowledgeable about yokai research: "Yokai are from the Edo period and were originally regarded as sinister. But modern yokai have transformed into lovable creatures."
Following Sakaiminato's example, the town of Fukusaki is rapidly churning out new ideas to maintain the flow of visitors. There are picture books featuring Gajiro, plastic models, boil-in-the-bag food such as kappa curry with shirikodama, a mystical human organ. They have also come up with a Gajiro costume, which played a huge part in livening up the summer festival.
The town even plans to release a smartphone game app called "Yokai Mystery Photo Rally," which incorporates augmented reality (AR) technology. As players explore the town with their smartphones, they can catch yokai that appear on their screens by taking photos.
Now all eyes are on the town's eerie developments as promoters tout, "Visit Fukusaki if you want to meet lots of real yokoi!"
(Click here to read the original Sankei Shimbun article in Japanese.)
Author: Yoshikazu Ueki, The Sankei Shimbun