Toyota Merges with Mazda to Fight 'Uncharted Battle' in Electric Vehicle Market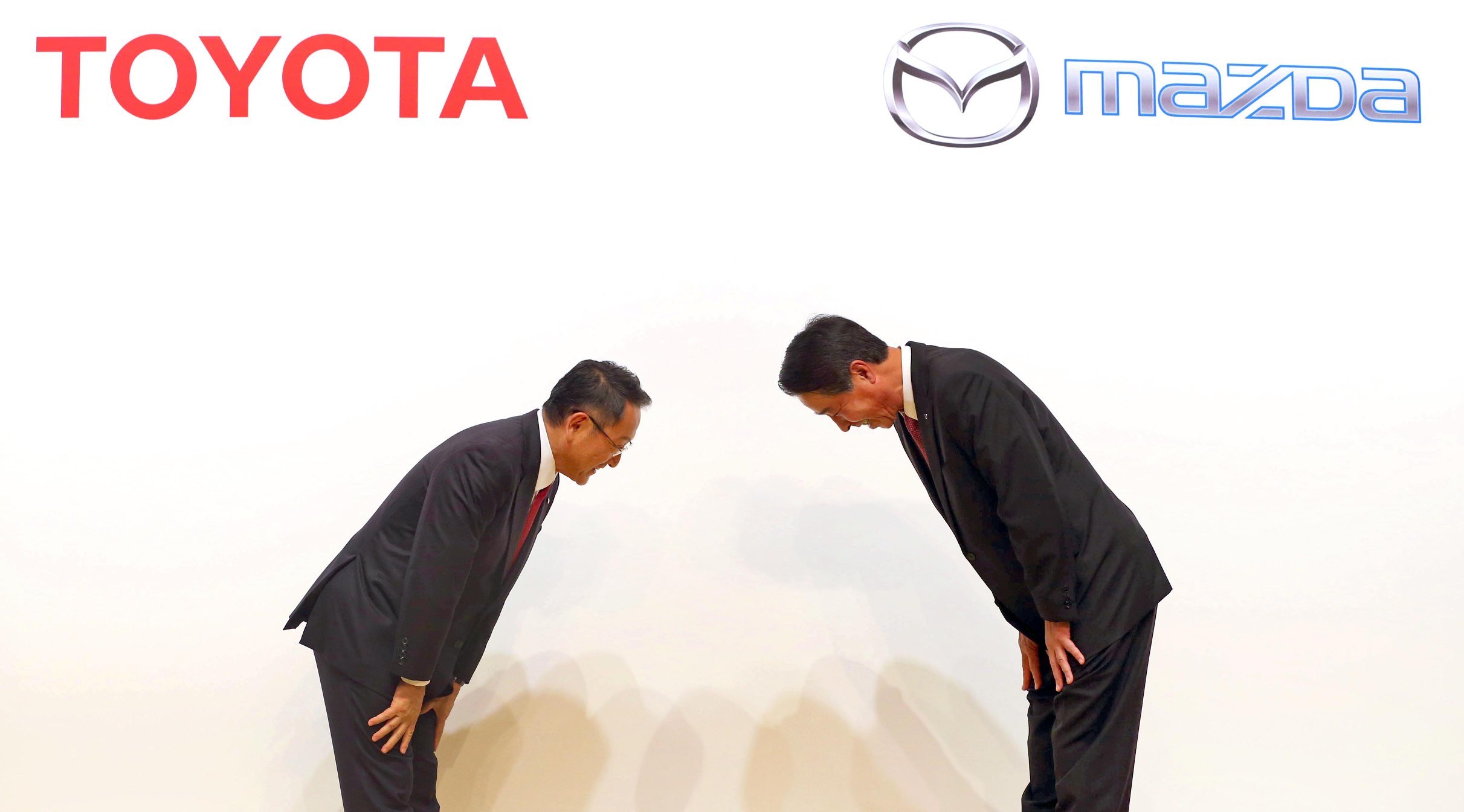 Toyota and Mazda announced on August 4th a joint investment agreement, citing plans to cooperate on electric vehicle (EV) development. The two companies have formed a joint capital investment company in the United States, going halves in a 170-billion-yen venture to open a new factory in 2021.

Toyota was motivated to merge with Mazda to expand their dealerships, and succeed in the fiercely competitive, leading edge areas of EV and automated driving. China is leading the way in EV, and the area of automated driving has seen entries from non-carmaker industries such as IT.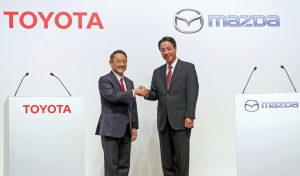 Even for world leader Toyota, mishandling their market response could well force them to topple from their superior position, and so were impelled to enter into the Mazda merger due to a strong sense of fear of the future.
***
Speaking at the August 4th press conference, Toyota Company president Akio Toyoda sounded a warning regarding the intensely competitive, leading edge areas. "An uncharted, unprecedented battle has begun," he said.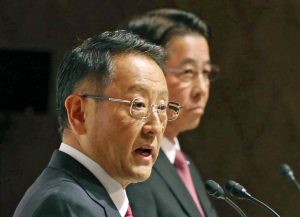 Even Toyota, with its overwhelmingly successful, environmentally-friendly hybrid vehicle (HV), has lagged behind Nissan and the US Tesla in terms of EV. This was because they focused their resources on fuel cell vehicles (FCV), which run on hydrogen, having decided that they were the quintessential eco-car.
Toyota's forecast was off-target, and EVs have rapidly become mainstream in the eco-car market. China and India have moved toward EV-promoting policies, while France and the United Kingdom have banned sales of gasoline vehicles from 2040, forging policies aiming to normalize EVs. For Toyota, strengthening their EV response is a pressing issue, and they must rapidly regain ground.
The situation with automated driving is similar. Toyota is hurrying to purchase venture businesses with superior technological capabilities. However, as president Toyoda points out, "US' Google is expanding into completely new industries."
In a fiercely competitive environment, which has changed the power balance between the old and the new, Toyota will be pursuing a strategy of "widely seeking new co-operative allies." They have invested in Subaru, and Daihatsu Motor Co. is already a wholly subsidiary company. A merger with Suzuki is also under consideration.
Meanwhile, Europe has begun to signal a clear message strengthening the position of EVs. In Europe, as allegations of cheating on emissions constraints among carmakers have increased, the market is moving away from diesel vehicles, and hurrying to change over to environmentally-friendly electric models.
Sweden's Volvo has announced that, from 2019, all models will be moving over to electric power. Germany's car manufacturing giant, BMW, has indicated that they will be preparing to offer electric vehicles for all models.
Domestic car manufacturers are also proceeding with the change to electric vehicles at an alarming rate. A completely overhauled new Nissan EV "Leaf" is also due to be released this autumn. With substantial design improvements and increased driving distance, Nissan is aiming to dominate the EV market.
Honda has also established a specialist electric division, and formed a company with the Hitachi group to develop an EV motor. The goal is for two-thirds of world sales to be electric models by 2030.
Behind the hurried response by makers to be EV-ready are the increasing fuel economy regulations in each country and the improved electrical capacity, which has increased the driving distance per recharge. According to Fuji Keizai, Marketing and Consulting Group, world EV sales in 2030 are predicted to be nine times that of 2016, reaching 4.07 million cars.
If Toyota can draw together the specialist technology of each company, it will be able to effectively strengthen leading edge technologies. Moreover, if they could add the specialist technology of each company to the jointly developed technology of environmentally-friendly cars and automated driving vehicles, the magnitude of the scale could lead to "actual standardization" of technology, and promote favorable competition. For those determined to succeed in the rapidly changing world of car manufacturing, the battle has just begun.
New Competitors: Apple and Google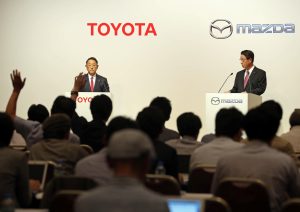 The main points from the press conference of Toyota Company president Akio Toyoda and Mazda president Masamichi Kogai are summarized below:
      ◇
What was the reasoning behind the merger?
Mr Toyoda: Our love of cars and the environment brought us together. While respecting our independence, we aim to diligently work toward forging a co-operative relationship.
Mr Kogai: "We must continue to make superior products for the love of driving. We judged that in the mid- to long-term, it was necessary to develop a continuing co-operative relationship."
Do you feel a sense of crisis regarding the increased regulation of diesel vehicles worldwide?
Toyoda: In preparation for AI and the different types of eco-cars, and so forth, there is an unprecedented battle on its way, with new competitors, such as Apple and Google, entering the market. We would like to start [to work] together with other companies which share the same ideals.
Kogai: Essentially we decided by considering how to create good products. We hope to hold earnest discussions.
What are the features and issues of the EV you are aiming to create?
Toyoda: Apart from reducing the costs of the batteries and so on, how to express the characteristics "taste" of the car, utilizing the technology of both companies, and how to brand the car is an issue.
Kogai: Essentially, we want to build a car that lets you experience the joy of driving.
After "two years of courtship," have you now reached "marriage"?
Toyoda: During the engagement period, one only sees the good side. However, we have felt the latent charm of Mazda. We think of the investment capital as "betrothal money."
Yuji Imai is a staff writer of the Sankei Shimbun Economic news department.
(Click here and here to read the original article in Japanese.)