U.S. Pacific Command Warns PRC Now Controls South China Sea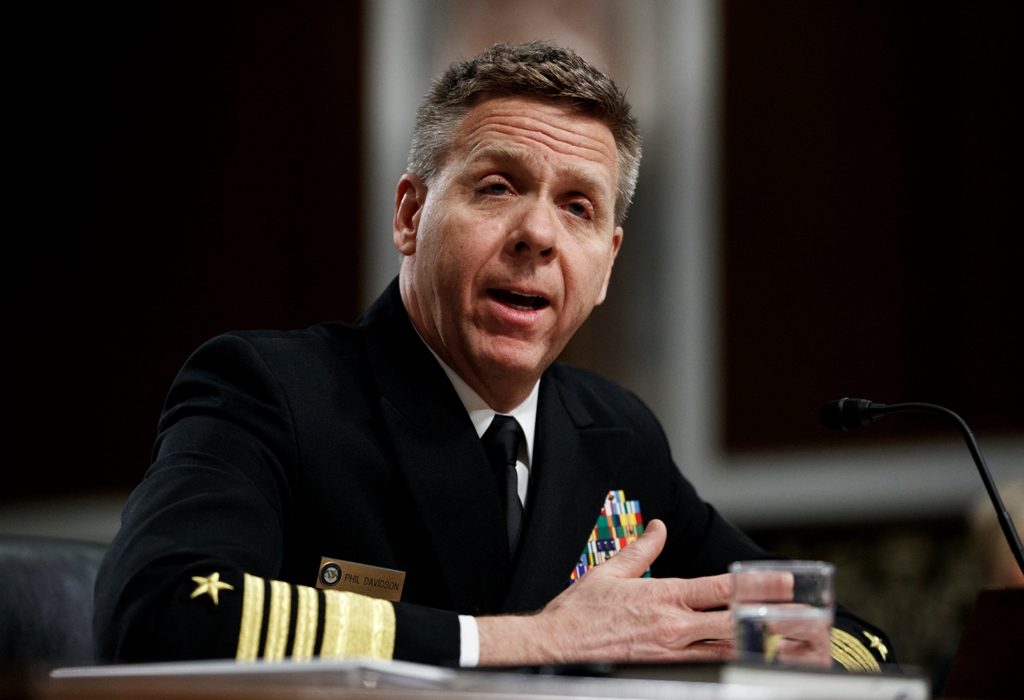 For years Japan has been sounding the alarm about Chinese aggression in the western Pacific and the South and East China Sea. Chinese-flagged vessels have been caught poaching coral, fish, and other maritime products inside Japan's territorial waters. Chinese vessels have veered dangerously close to Japanese ships, with one Chinese trawler, the Minjinyu 5179, even ramming a Japanese Coast Guard vessel in 2010.
While China has been reckless in its repeated standoffs with Japan, Chinese interference in the western Pacific is part of a much bigger and longer-term strategy to crowd out all other powers in the region.
In the 1960s and thereafter, China asserted claims to islands owned and controlled by other nations. In the 1960s, for example, China claimed the Spratly Islands from Vietnam. In the 1970s, China claimed the Senkaku Islands from Japan. China is also involved in island disputes with Brunei, the Philippines, Malaysia, and Indonesia. In addition, it claims full ownership of the entire island of Taiwan, as well as of Taiwan's smaller surrounding islets.
In the late 1980s, this island-snatching campaign took on a new dimension, as Beijing started dredging up sand and hauling in concrete to build up reefs and atolls into platforms for Chinese military hardware. In 1988, UNESCO asked China to build a maritime observation platform on Fiery Cross reef, an island in the Spratly chain owned by Vietnam. Despite Vietnamese opposition, China eventually created an artificial island atop Fiery Cross, moving hundreds of troops to the new platform which now features its own runway.
Diplomacy and Distraction
As with its ally North Korea, China has used diplomacy and lies to stall for time, reassuring the world that its armed encroachment into other nations' waters, as well as into international shipping lanes, posed no threat. In 2015, for example, President Xi Jinping traveled to Washington, DC. Meeting with then-President Barack Obama at the Rose Garden of the White House, President Xi stated unequivocally that "[Chinese construction] in the Nansha [Spratly] Islands does not target or impact any country and there is no intention to militarize."
Now, with the island-building phase of its mission nearly complete, Beijing is dispensing with the diplomatic subterfuge. Washington, for its part, is finally beginning to show signs that it understands the magnitude of the menace that China now presents to allies and quasi-allies, especially Taiwan, throughout the Asia-Pacific region and beyond.
Is War the Only Solution?
Perhaps the most forceful expression of the United States' newfound sobriety vis-à-vis the China problem came just recently. In a surprisingly blunt statement, Admiral Philip Davidson, the new appointee to head the United States Pacific Command (PACOM), spoke before the Senate Armed Services Committee on April 17.
In his prepared remarks, Admiral Davidson said that "the U.S.-Japan alliance has served as the cornerstone of peace, prosperity, and freedom in the Indo-Pacific region for over 70 years." He then laid out the Chinese threat, showing that China's militarization of islands, along with its ongoing program to steal technology from the U.S. and its allies, had enabled the People's Liberation Army to mount an existential challenge to peace in the region and freedom of navigation through the world's busiest shipping lanes.
"In short," Admiral Davidson said, "China is now capable of controlling the South China Sea in all scenarios short of war with the United States."
China's Intent is Crystal Clear
Admiral Davidson's warning echoes a similar set of remarks made in February by Admiral Harry Harris, who was leaving PACOM to take up a new post as ambassador to Australia. At that time, Admiral Harris—who, just two months before President Xi's 2015 falsehoods, observed that the hangars being built on Fiery Cross were probably for fighter jets—told the U.S. Congress:
China is leveraging military modernization, influence operations, and predatory economics to coerce neighboring countries to reorder the Indo-Pacific to their advantage. While some view China's actions in the East and South China Seas as opportunistic, I do not. I view them as coordinated, methodical, and strategic, using their military and economic power to erode the free and open international order.
China's impressive military buildup could soon challenge the U.S. across almost every domain. Key advancements include fielding significant improvements in missile systems, developing 5th generation fighter aircraft capabilities, and growing the size and capability of the Chinese navy, to include their first-ever overseas base in the port of Djibouti. They are also heavily investing into the next wave of military technologies, including hypersonic missiles, advanced space and cyber capabilities, and artificial intelligence. If the U.S. does not keep pace, PACOM will struggle to compete with the People's Liberation Army on future battlefields.
China's ongoing military buildup, advancement, and modernization are core elements of their strategy to supplant the U.S. as the security partner of choice for countries in the Indo-Pacific, but China also holds clear global ambitions. But don't take my word for it. Just listen to what China says itself: At the 19th Party Congress, President Xi stated he wanted China to develop a "world class" military and become a "global leader in terms of composite national strength and international influence." … Ladies and gentlemen, China's intent is crystal clear. We ignore it at our peril.
What is the endgame? Admiral Harris saw China's ambitions as nothing less than global domination.
Transparency or Force?
These blunt pronouncements from top-level American military commanders are buttressed by plain language from Japanese defense authorities. For example, Defense of Japan 2017, an official Japanese government publication, holds that "Chinese activities represent serious security concerns of the region encompassing Japan, and of the international community."
Indeed, as the official Japanese defense document makes clear, Japan is surrounded by hostile forces possessing overwhelming military strength. North Korea, for instance, has more than one million troops on the ready, and some 740 warships and other vessels available with which to launch an attack. The Russian Far East Command has 80,000 troops and nearly 400 military aircraft within striking distance of Japan. And the People's Republic of China has 1.15 million troops and more than 2,720 aircraft capable of going on the offensive.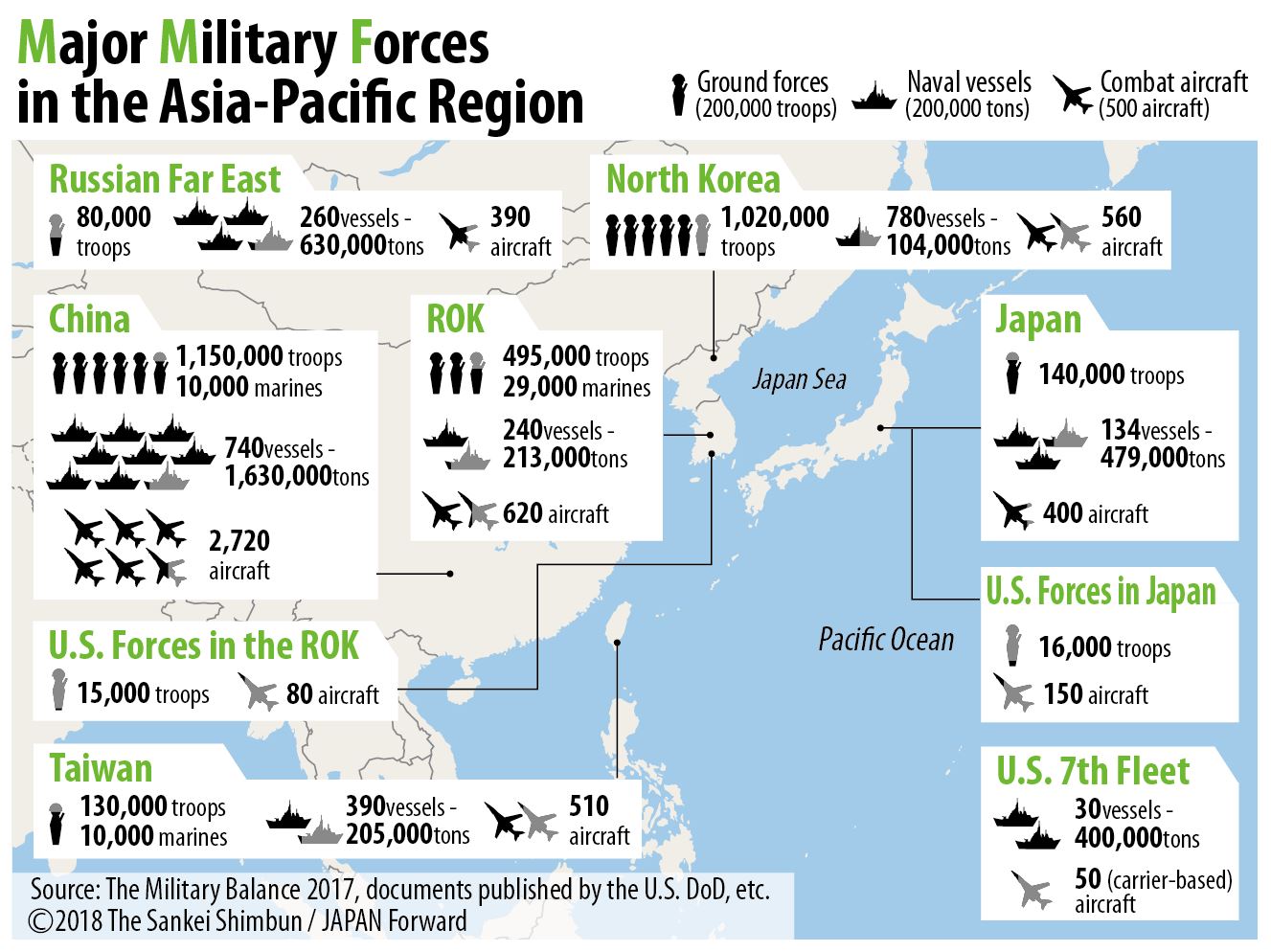 The Japanese government's position as outlined in the 2017 report is that "China is urged to further increase transparency regarding its military and enhance its compliance with international norms. It is a key task to further strengthen mutual understanding and trust by promoting dialogue and exchanges with China, and make further progress on measures to build trust, such as measures to avoid and prevent unintended consequences in the maritime domain."
However, the question remains whether China's "crystal clear" intent can be countered by mere transparency, or whether, at some point, alternative measures, perhaps even including armed intervention, must be found to counter its force.