We Want Decarbonization, But is it Helping Drive Up Inflation?
The COVID-19 pandemic is the biggest cause of inflation now, but "greenflation" in the shift toward carbon neutral is also a clear factor.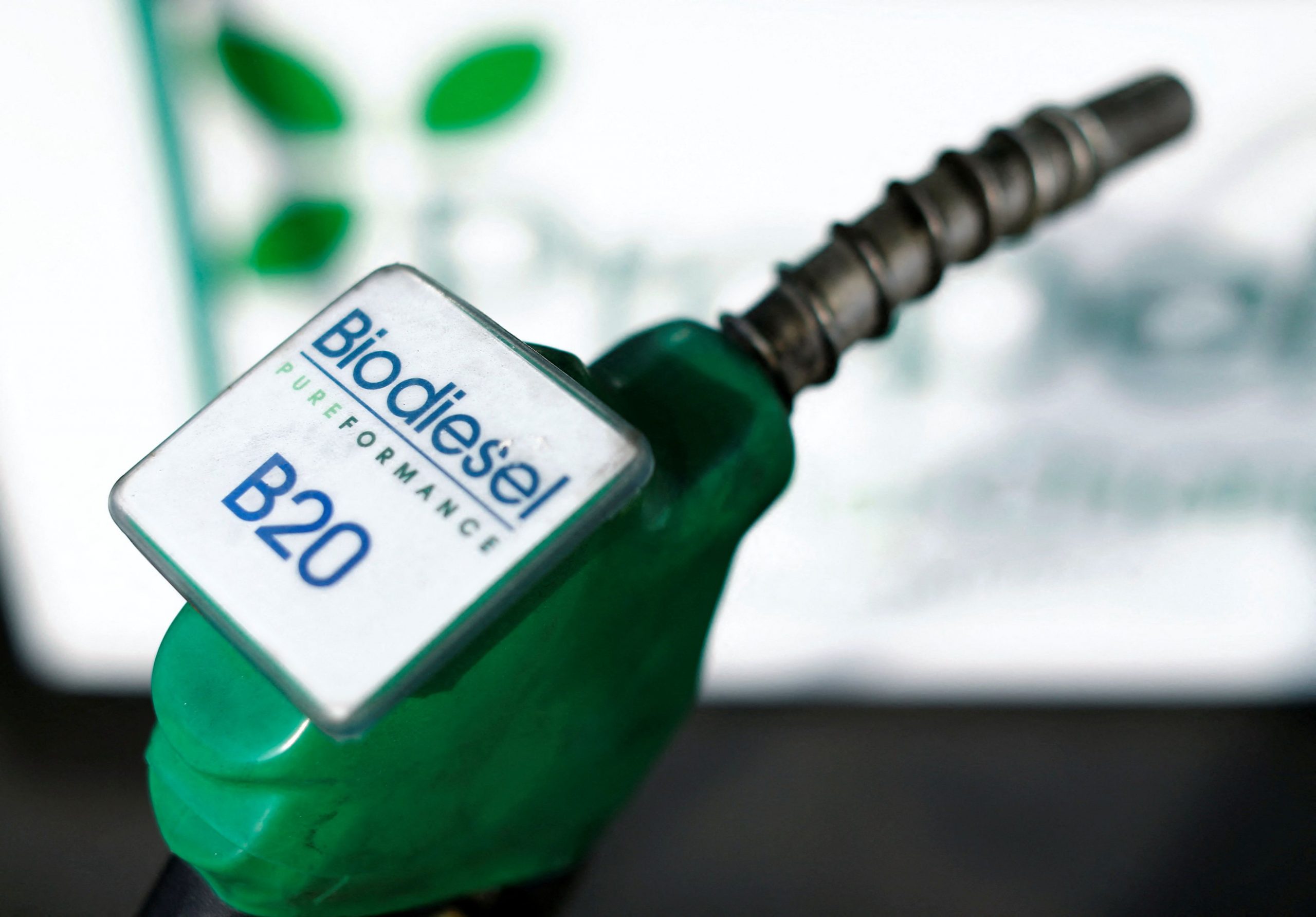 ~~
~
Concerns over inflation are growing around the globe as prices rise over a wide range of products. Driving this trend is the increasing cost of natural energy resources such as oil and natural gas.
The main cause of this increase has been the collapse of the supply-demand balance as the damaged economy rapidly rebounds from a period of constrained production activity due to the COVID-19 pandemic.
However, there are indications that another factor in the rise in prices is a phenomenon called "greenflation," in which the product costs are elevated as countries move towards decarbonization.  

Presidential Concern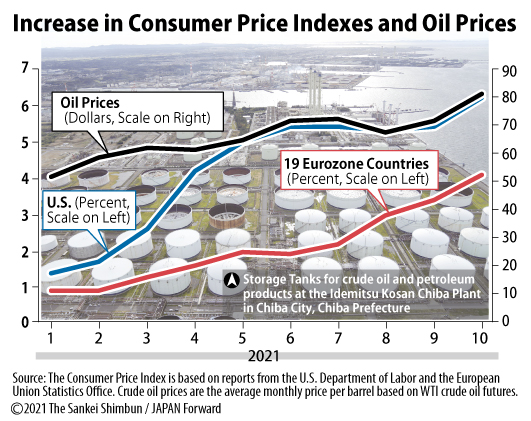 "Inflation hurts Americans' pocketbooks, and reversing this trend is a top priority for me," United States President Joe Biden said in a statement released on November 10.
The US Consumer Price Index (CPI) released that day showed a 6.2 percent rise in October from the same month last year. The rate of increase was the largest in 30 years and 11 months.
Moving forward, the US government aims to reduce prices through measures such as placing limits on energy costs.
The US is not alone facing the specter of rising prices. The Harmonized Index of Consumer Prices (HICP) of the 19 eurozone countries also rose by 4.1 percent in October compared to a year earlier, the first increase in 13 years and 3 months. This was driven by the high cost of natural resources.
West Texas Intermediate (WTI) crude oil futures, an indicator of crude oil prices, have soared since April of 2020. Despite a recent dip due to concerns of a new COVID-19 variant, prices have remained high.


Rising Resource Prices
Natural gas prices in Europe are also rising. The Dutch Title Transfer Facility (TTF) futures price, which was about €20 EUR ( $22.5 USD) per megawatt hour at the start of 2021, topped a record high of €150 EUR ($170 USD) in early October. Other resources such as copper and coal have also risen across the board.
Takashi Matsushita, vice president of Idemitsu Kosan Co. Ltd. and chairman of the Japan Petrochemical Industry Association, points out that greenflation has been a factor in the recent rise of natural resource prices.
"The biggest reason is the economic recovery from the COVID-19 pandemic, but efforts to achieve carbon neutrality (to eliminate greenhouse gas emissions) have also had an effect," he said.
Greenflation is a phrase that combines "green," meaning measures to offset climate change, with "inflation."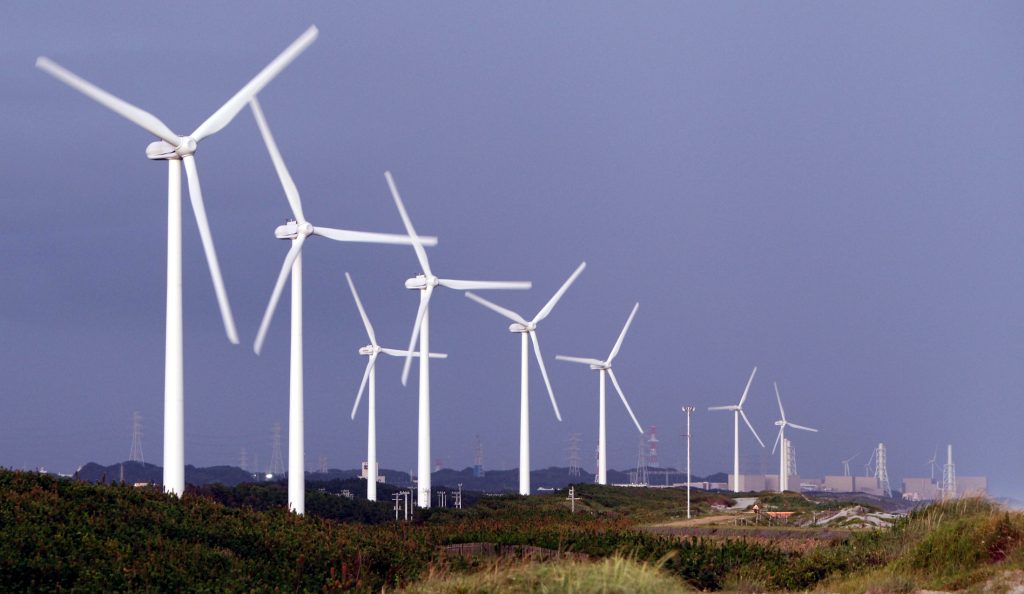 For instance, due to the suppression of investment in fossil fuels caused by international trends toward decarbonization, energy prices have been driven higher by constraints in supply and rising procurement costs for natural gas, which has lower carbon dioxide (CO2) emissions than coal and oil.
Another phenomenon labeled Greenflation is when the price of metals such as copper soar due to the expansion of solar and wind power generation plants, which require more wiring and cables than traditional thermal power generation.
Inflation can occur due to vigorous economic activity that causes demand to exceed supply, or to rising costs such as labor costs. If the economic recovery from the COVID-19 crisis is the reason behind current inflation, there is no need for a pessimistic outlook. Supply and demand will eventually balance out.
However, if the effects of decarbonization are too strong, there is a risk of "bad inflation" (cost-pushing inflation), which occurs without improvements in the underlying economy. On the other hand, there is also the undeniable possibility that the economy will enter "stagflation," in which both economic stagnation and inflation coexist. This is what occurred just after the oil crisis in the 1970s.
Japan's inflation rate so far has remained almost unchanged, with the CPI (excluding fresh food) growing by 0.1 percent in October from the same month last year.
However, the Domestic Corporate Goods Price Index, which reflects trading trends between companies, rose 8.0 percent in October, marking its first increase in 40 years and nine months. The impact of the high cost of resources due to Japan's reliance on imports has become apparent, which does not allow for an optimistic outlook.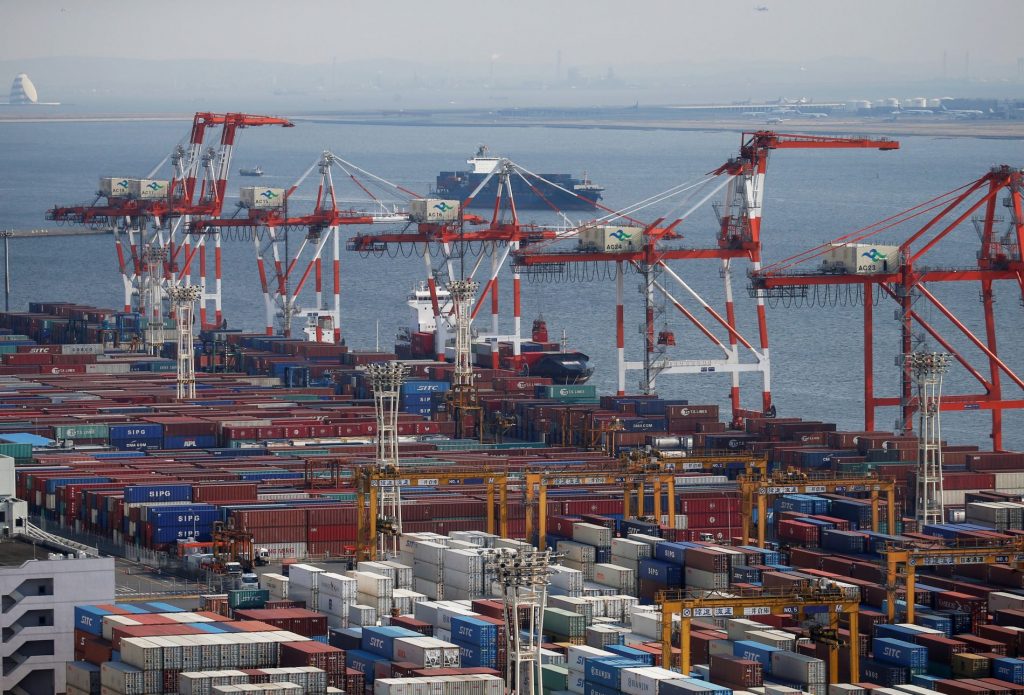 Concerns About Yen Depreciation
It is also necessary to pay close attention to the depreciation of the yen. The yen fell to the 115 JPY level against the US dollar on November 23, its lowest point in four years and eight months.
This was driven by the trend toward selling Japanese yen with its low interest rates, and buying the US dollar based on the recovering economy and rise in accompanying interest rates. Although the depreciation of the yen boosts the profits of exporters, the benefits are limited as companies increasingly base their production overseas. Rather, adverse effects from the increase in raw material import costs are a concern.
In Japan, firms have refrained from imposing price increases on consumers, despite the rising cost of raw materials, as weak consumption continues due to stagnant income.
However, as greenflation is caused by decarbonization, which is said to be a socio-economic shift on a scale not seen since the Industrial Revolution, there will be limits to cost absorption through corporate efforts. If greenflation intensifies and firms start to pass on costs through price increases in the future, the burden will fall on households.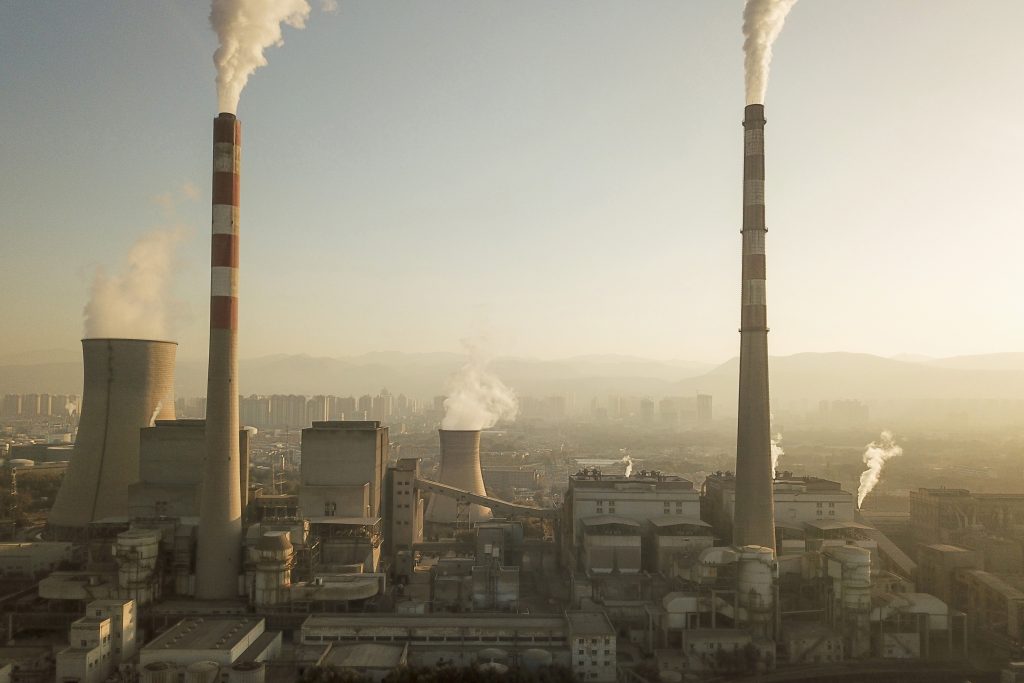 High Prices to Continue Beyond Next Year
Regarding recent developments in resource prices, Akihiro Nikkaku, President of Toray Industries, said, "I think the current situation (of high prices) will continue for a few years." His outlook is that the upward pressure on prices will continue due to greenflation.
Oil-producing countries, including the OPEC member countries, are cautious that demand will taper off as decarbonization drives the use of fossil fuels lower, even if the economic recovery from the COVID-19 pandemic continues in Europe and the US. They are postponing production increases and limiting development investment.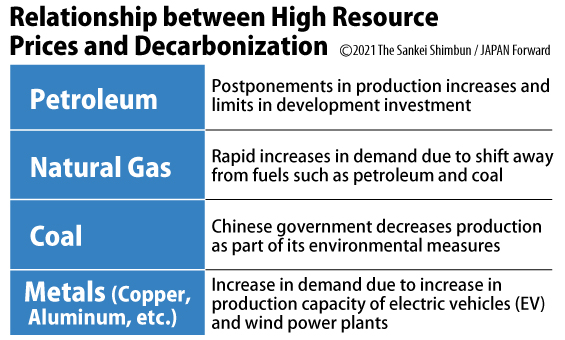 On the other hand, China, a major resource-consuming power, has moved to narrow coal production to reduce carbon dioxide (CO2) emissions. Its transition to natural gas from oil and coal has also boosted energy prices.
In addition, the demand for metals such as copper and aluminum is increasing, not only due to solar and wind power generation, but also because of electric vehicles (EVs), which are supported by major countries through purchase subsidies.
The supply and demand situation may tighten further due to the expansion of the EV market, which is also fueled by decarbonization.


(Read the Sankei Shimbun report in Japanese at this link.)


Author: Michito Ida