Yoshihide Suga Calls For 'A Quiet Year's End' As COVID-19 Cases in Japan Cause Alarm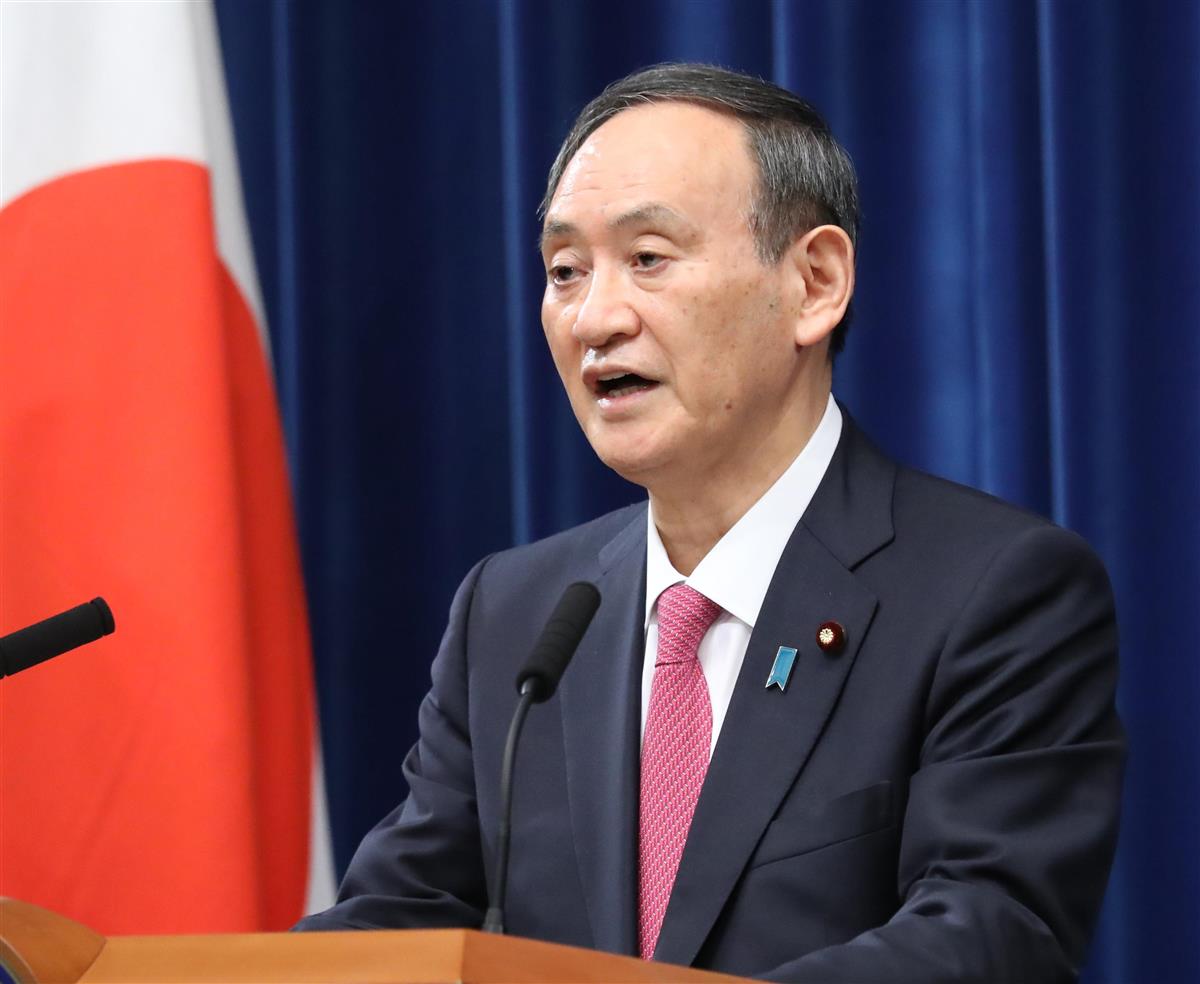 On the evening of December 25, Prime Minister Yoshihide Suga sent the people of Japan a clear message on how to spend the upcoming end of year holidays.
Speaking to a nationwide audience in a live broadcast press conference, the Prime Minister of Japan kept his message simple, explaining that concerns were rising as cases skyrocketed, and it was necessary to ask for people's cooperation.
"I would like to ask everyone to spend a quiet end of year, and avoid getting together with others as much as possible. I understand it's a time to meet family, but I would like to ask for people's cooperation."
This comes as nationwide cases on December 25 hit a new high at 3,792, with Tokyo alone registering 888 new daily infections. Nationwide cases have been hovering over the 3,000 per day mark since December 12.
Earlier in the day, Tokyo Governor Yuriko Koike also called upon Tokyo citizens to avoid going out wherever possible, as "The end of year holidays are a key period" in fighting the spread of the virus.

Refocus Holiday Activities: Think Small
To further convince citizens of the importance of refraining from usual celebrations, PM Suga pointed to the current burden experienced by hospitals all over the country, which tends to worsen during the holiday period:
"It's also a time to think about our medical facilities, in order to not increase the burden on hospitals. We need the collaboration of everyone."
"This way we can protect everyone's family, and the people you hold dear, until we have a vaccine next year," concluded Suga.
The prime minister has been under fire from local media for having participated in a dinner with eight people in mid-December, while he was supposedly requesting the public to avoid gatherings of more than five people.
Regarding this point, the prime minister took the time to apologize once more, saying:
"While being in the position of having asked everyone to avoid large groups, I myself did (have a dinner with more than five people). I deeply regret this and I would like to apologize."
Suga also apologized for causing the perception the government response too slow, for which he has been called out by some commentators, especially given that the holiday period for many starts on December 26:
"There is the fact that I personally haven't been adequately explaining COVID-19 policy to the Japanese people. From now on, I would like to communicate effectively with citizens."

Financial Help to Medical Institutions
Suga also explained that the government had come up with further measures to support hospitals and medical personnel during this crisis.
"We have decided to double the financial support for medical staff treating these cases. For doctors ¥15,000 JPY ($145 USD) per hour, while for nurses ¥5,500 JPY ($53,16 USD) per hour."
The PM also said that the government had approved an emergency fund to support hospitals taking in COVID-19 patients. The fund is equivalent to ¥270 billion JPY ($2.6 billion USD) applicable to 28,000 hospitals. Each hospital can apply for a maximum of ¥15 million JPY (approximately $145,000 USD).


Further Measures in Store
Regarding the government's priority regarding changes to daily behavior, Mr. Suga explained that according to the opinion of experts, the most important thing was to address the rise of infections in restaurants, noting that, "In Tokyo, 60 percent of cases are thought to derive from eating out."
To that end, Mr. Suga pointed out that experts agreed that the most effective way was to ask businesses to shorten their opening hours.
This comes at a time when many businesses have been struggling because of COVID measures. In the Tokyo area, especially, Tokyo Governor Yuriko Koike expressed concerns on December 24 that requesting restaurants to close early "was only partially effective", as there would be the risk of not cooperating.
Related to her concern, the prime minister explained in his press conference that the government was deliberating an amendment to the current law on infectious disease prevention. The amendment would provide for new financial incentives and, if necessary, sanctions for businesses that don't comply with requests for reduced working hours.
Mr. Suga added, "While in the opinion of some experts we should impose sanctions on businesses that don't comply, there are concerns regarding the protection of individual rights. Therefore I would like to see this debate proceed as quickly as possible."
Finally, PM Suga explained the government's immigration measures to stop the spread of the mutated virus in the U.K., on top of the already existing restrictions for all incoming visitors without Japanese citizenship to enter from the UK, that South Africa would be added to the list as well.
PM Suga reassured that the government was monitoring the situation closely, and was ready to add other countries on the list if necessary.


State of Emergency Not Necessary
Professor Shigeru Omi, who was also present at the press conference, and is head of the government subcommittee for COVID-19 explained why Japan was not calling a state of emergency.
Japan had declared a state of emergency in early April, which gave local governments the power to publish the names of businesses that didn't comply with requested restrictions, and ask people to avoid 80 percent of their normal outings.
"At the time, we called for very wide ranging policies. But as time passed and we understood better what was going on, we understood that we might have called for policies which were too strict. This time, we are trying to focus only on the main causes…That is why we are not calling for declaration of a state of emergency."
However, Dr. Omi also pointed out the need to target the places where infections were emerging.
He specifically called upon everyone to avoid going out to eat out, and to spend time with as few people as possibleーpreferable four or fewer. Finally, he called on government leaders to send a clear message to the citizens so that everyone could "become one" and fight the spread of infection together.
"I think that if we follow these steps during the next few days, we can stop the spread of infection", he concluded.


Light at the End of the Tunnel: The Vaccine
The prime minister explained the current state of affairs regarding a vaccine to the nation.
"On December 18, Pfizer applied for approval of its vaccine [with the Ministry of Health]. We are expecting the first data in February. On the basis of the data we receive from that, we plan to verify the safety of the vaccine, and then when it's approved, to administer the vaccine first to those who most need it."
Explaining the priorities, he said medical workers, the elderly and then those with pre-existing conditions would be given priority.
Finally, regarding the worry of many that the Pfizer vaccine needs to be stored at minus 70 degrees celsius, PM Suga said that the government was preparing so that the vaccine rollout would go smoothly on that front.
Author: Arielle Busetto