Yuga Kawada Rides Ushba Tesoro to Victory in the Dubai World Cup
Ushba Tesoro became the first Japanese thoroughbred to win the prestigious international race since Sunday Silence descendant Victoire Pisa in 2011.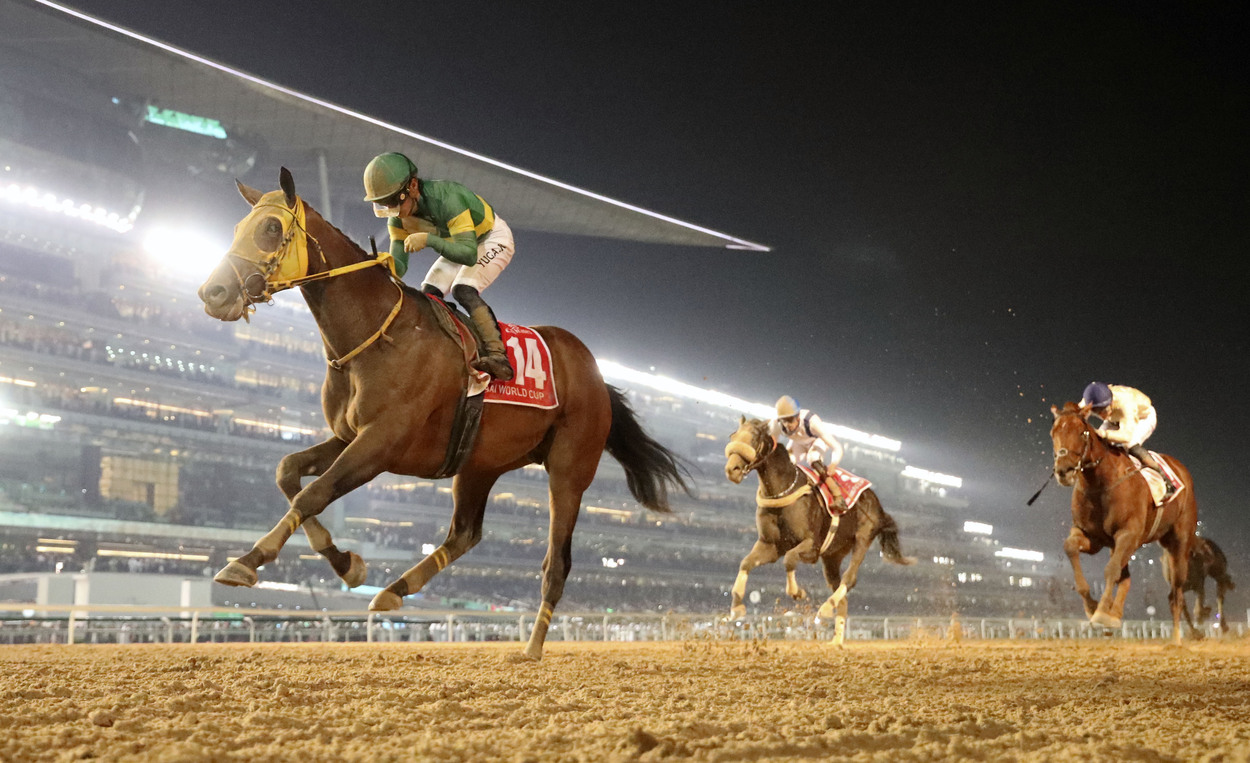 Ushba Tesoro has competed exclusively on dirt in his past seven races. And the switch from turf to dirt in the spring of 2022 has paid off in a big way for Ushba Tesoro: six wins and a third-place finish.
The 6-year-old Orfevre-sired thoroughbred won the 27th Dubai World Cup on Saturday night, March 25 in the United Arab Emirates, holding off Algiers (James Doyle's ride) by 2¼ lengths.
For 37-year-old jockey Yuga Kawada, who has competed in more than 11,700 races in his career as a professional jockey, riding Ushba Tesoro to victory meant a lot to him.

"I'm very proud of my horse and myself for winning the greatest race in the world," Kawada told reporters at Meydan Racecourse.
Ushba Tesoro was clocked in 2 minutes, 3.25 seconds and became the first Japanese horse to win the Dubai World Cup since Victoire Pisa (Italian jockey Mirco Demuro's ride) in 2011.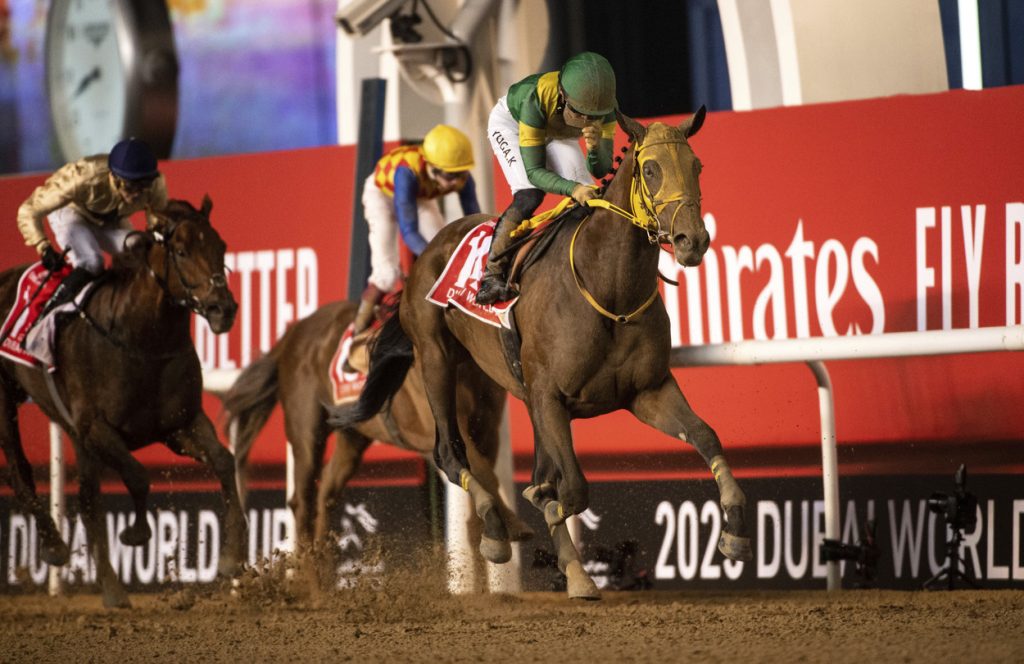 Ushba Tesoro Rises to the Occasion
Kawada and Ushba Tesoro displayed patience and poise. They ran a smart race.
Nearly a minute into the race, Ushba Tesoro was in last place among the 15 entrants. But a gradual increase in speed proved to be a wise tactic as highlighted on the race video. Ushba Tesoro stormed to the front with a burst of speed to move past Algiers a few seconds before the race concluded.
In the euphoric moments after the $12 million USD (¥1.56 billion JPY), 2,000-meter race, Noboru Takagi, Ushba Tesoro's trainer, looked back on how the action unfolded, especially in the decisive final stretch.
"I thought he would be in with a chance at the 100-meter mark," Takagi said of Ushba Tesoro, according to BBC.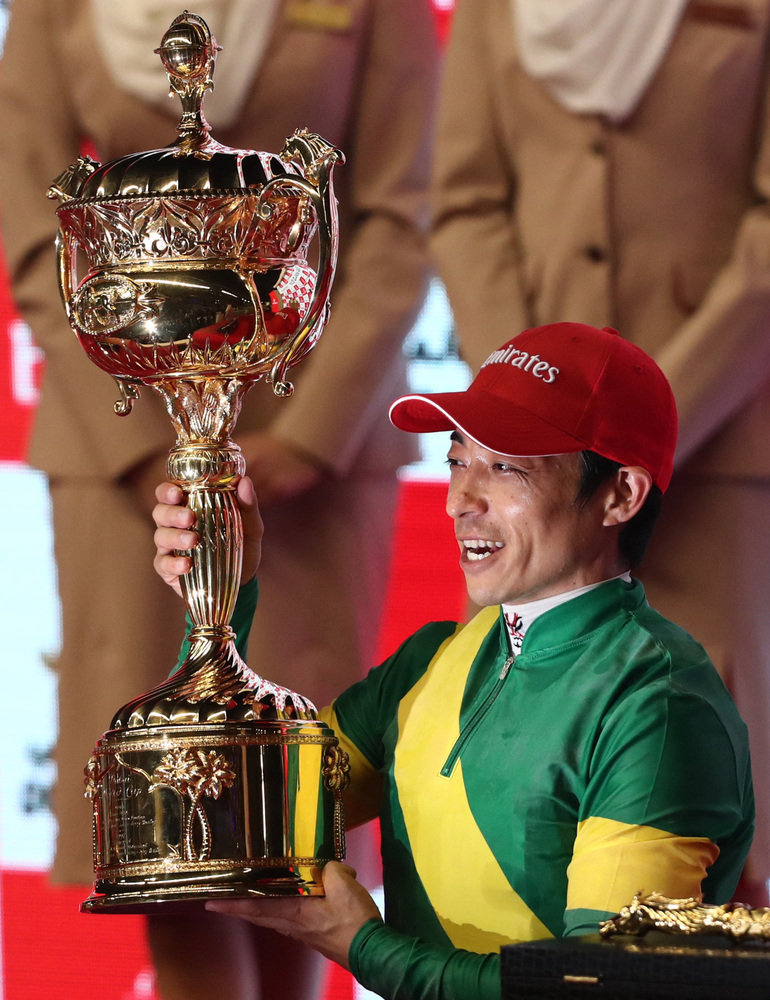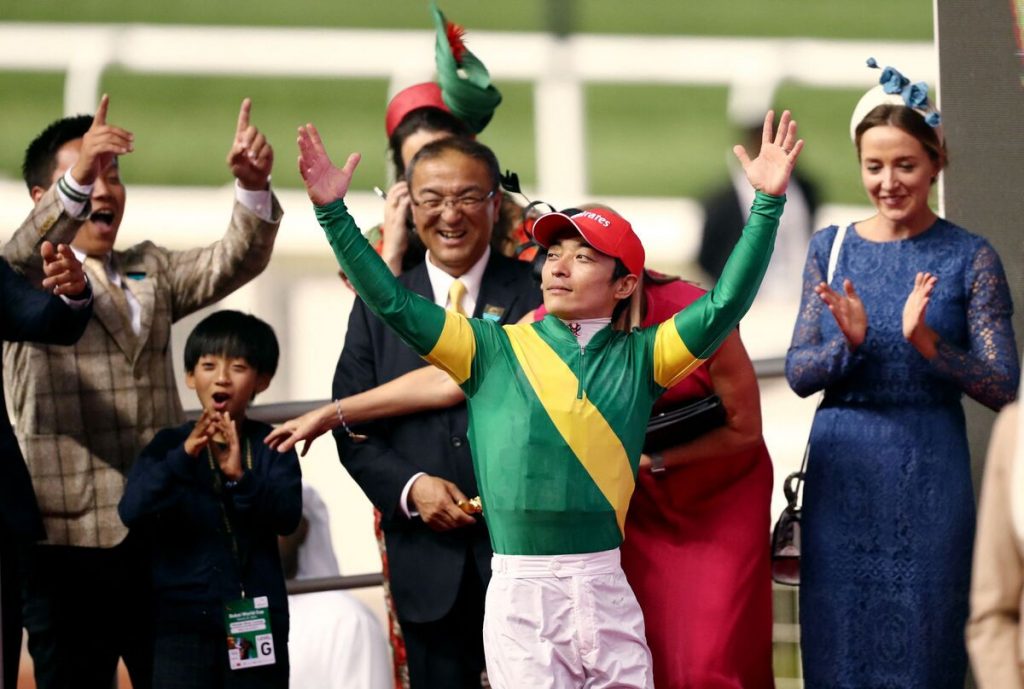 'An Amazing Feeling'
Takagi also paid tribute to Kawada.
"Yuga is one of the best riders in Japan, so it was a no-brainer to go with him today," Takagi remarked. "It is an amazing feeling to have won a race like this.
"We will talk to the owners and decide on his future going forward. After his last race, the Dubai World Cup was always in our sights."
Country Grammer, the 2022 Dubai World Cup champion, placed seventh, with four-time race winner Frankie Dettori handling the reins.
Winning Streak Stretches to Five
Ushba Tesoro entered the Dubai World Cup with a four-race winning streak that started in the 2,100-meter Brazil Cup on October 23, 2022, at Tokyo Racecourse. And he arrived in Dubai after triumphing in his most recent race, the National Association of Racing's G1 Kawasaki Kinen on February 1.
Other Japanese Horses in the Dubai World Cup
In addition to Ushba Tesoro, Japanese horses TO Keynes (fourth), Crown Pride (fifth), Panthalassa (10th), Geoglyph (11th), Cafe Pharoah (12th), Vela Azul (13th) and Jun Light Bolt (15th) also competed.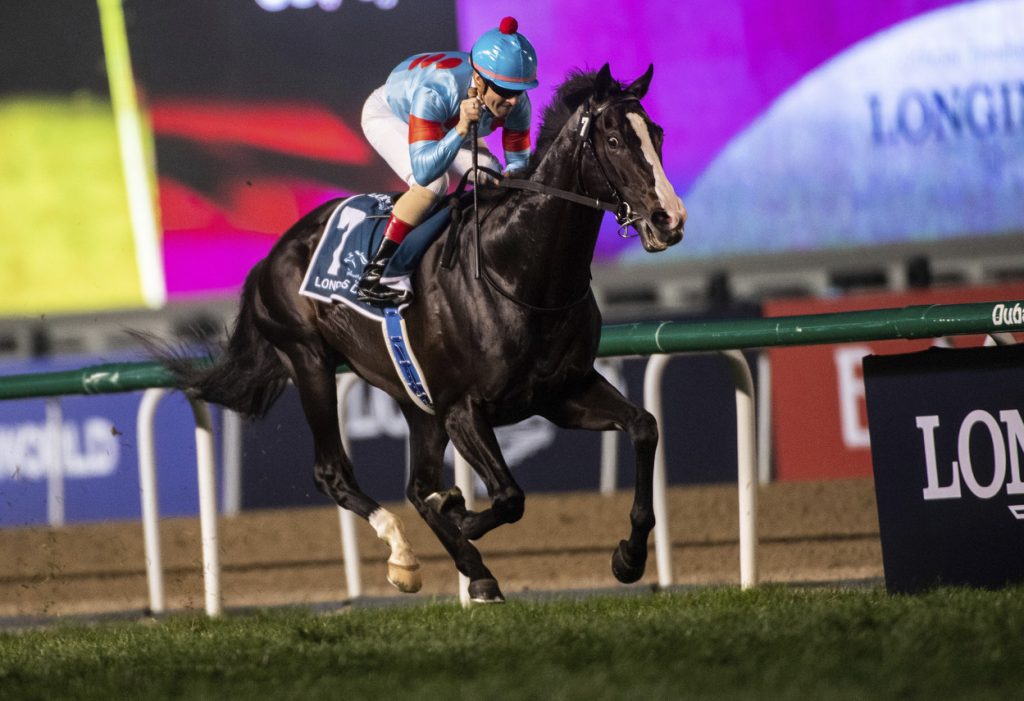 Lemaire, Equinox Excel in Dubai Sheema Classic
French jockey Christophe Lemaire, who has enjoyed abundant success on the Japan Racing Association circuit in recent years, earned a pair of victories on Saturday in Dubai.

Lemaire rode Equinox to a 3½-length victory over Westover (Ryan Moore's ride) in the 2,410-meter Dubai Sheema Classic. Equinox broke the track record with a time of 2:25.65 at that distance en route to victory.
Equinox's ability to run away from the field was never in doubt, according to Lemaire, as shown in this video of the race.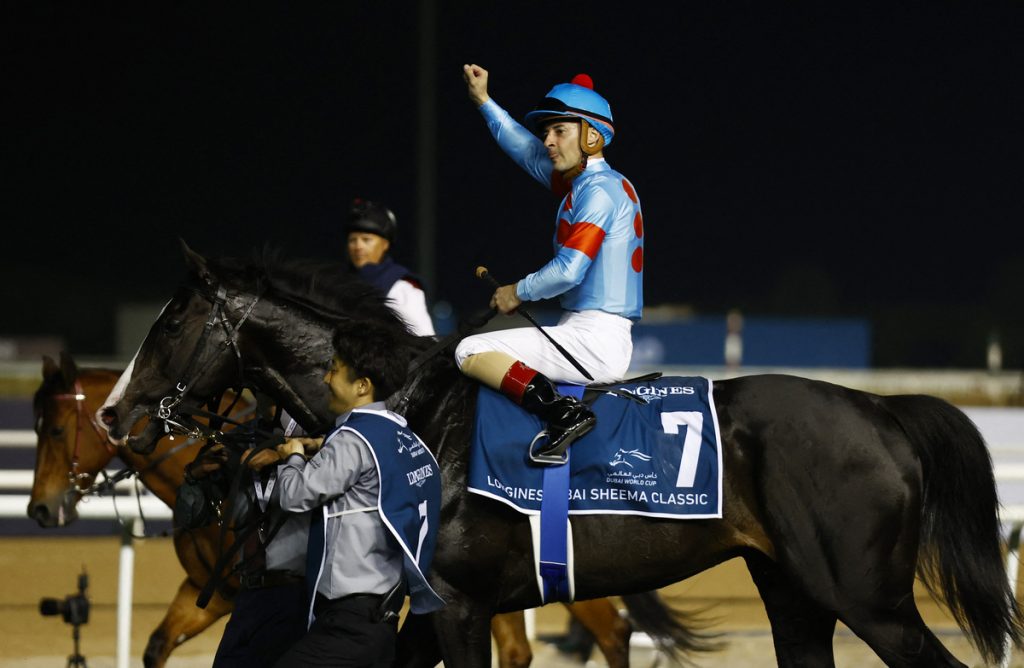 "I rode the best horse and I had no fear to make the pace," he said afterward.
It was the next-to-last race on the day's schedule and a convincing result that prompted many of the leading racing authorities to declare that Equinox, a son of Kitasan Black, is the world's premier turf horse.
"I have never seen such a strong horse and I am surprised as well," commented Tetsuya Kimura, Equinox's trainer, according to the BBC's recap of the event.
Kimura added, "I didn't think about the tactics. My concern was just to get my horse in the best condition."
Japanese horses Shahryar (Cristian Demuro), the race's 2022 winner, and Win Marilyn (Damian Lane) finished fifth and sixth, respectively, in the Dubai Sheema Classic.
Lemaire's Second Dubai Sheema Classic Win
Lemaire won this race for the first time in 2006 aboard Heart's Cry, a beloved Japanese horse who died on March 9.
"I am so happy for connections," Lemaire stated, according to Racing TV. "It has been a long time since I won the Sheema Classic. The last time was with Heart's Cry and he passed away two weeks ago, so I am very grateful to this horse. Today, it is a nice tribute to him."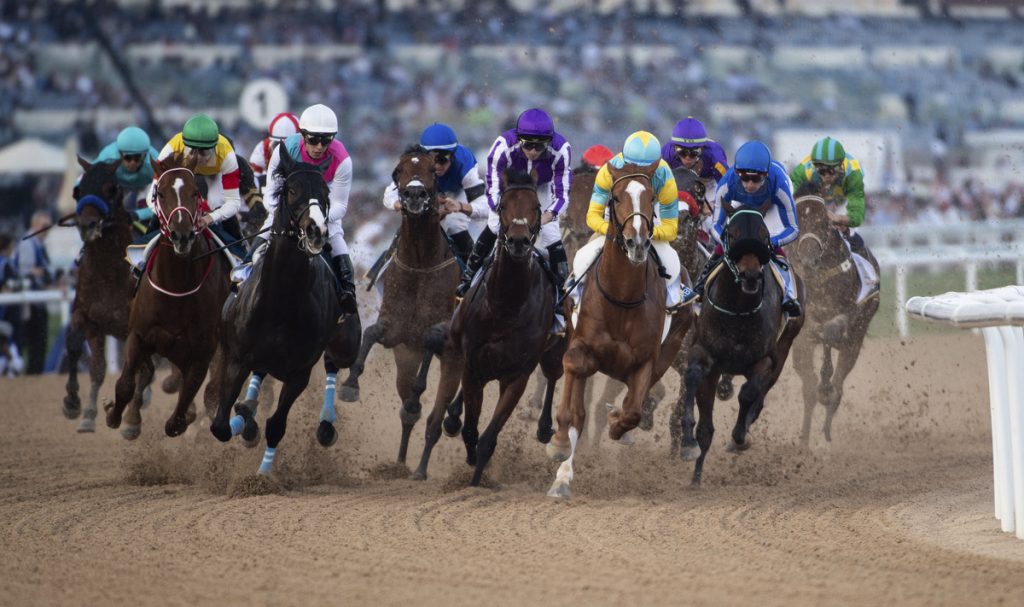 Impressive Win for Derma Sotogake
In an earlier race, Lemaire steered Derma Sotogake to a 5½-length win in the UAE Derby Sprint, a 1,900-meter G2 event on dirt.
Trainer Manabu Ikezoe's entrant Dura Erede, ridden by Cristian Demuro, was the runner-up.

Continuar (Ryusei Sakai) and Perriere (Oisin Murphy) placed third and fourth to complete a 1-2-3-4 finish for Japan.

"The Japanese horses in that race are really good," Lemaire stated in a post-race interview. "It really means something when you win a Derby by 5 ½ lengths."
Additional Races in Dubai
Also Saturday, Danon Beluga, trained by Noriyuki Hori, was the runner-up in the 1,800-meter Dubai Turf, three-quarter lengths behind Lord North (Dettori).

In the Dubai Golden Shaheen, contested over 1,200 meters on dirt, legendary jockey Yutaka Take, who rode Remake, was the top Japanese finisher, placing fifth. Sibelius (Moore) won by a nose over Switzerland (Tadhg O'Shea).

Bathrat Leon (Sakai) placed fourth in the G2 Godolphin Mile on turf. Isolate (Tyler Gaffalione) romped to a 5-½ length victory.
Japanese racing was well-represented in Dubai on the busy day of competition, with 26 horses participating in six races.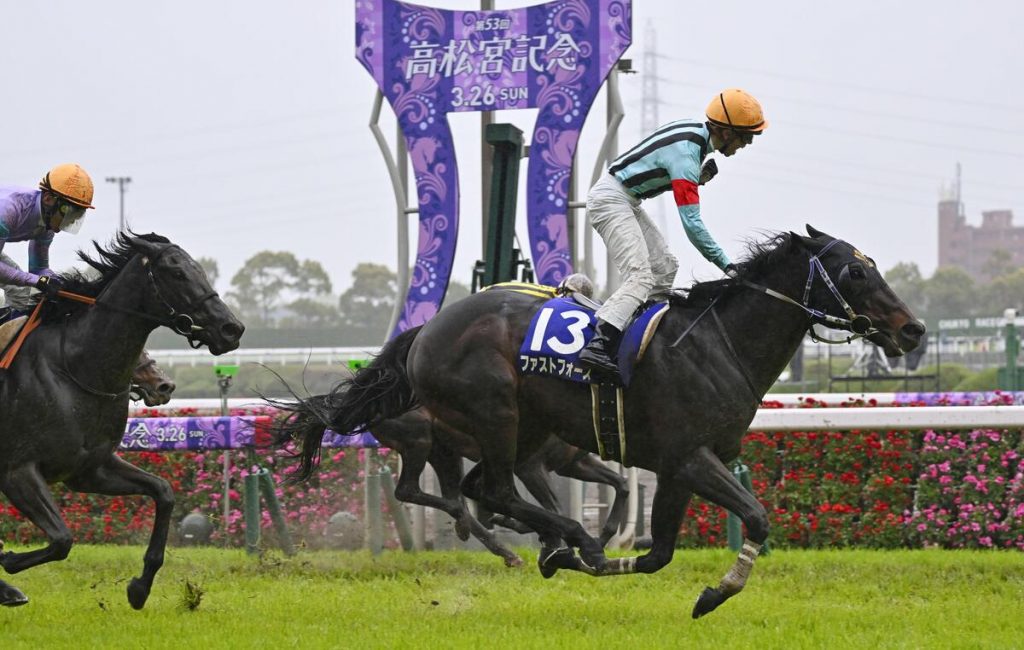 First Force Triumphs in Takamatsunomiya Kinen
Lord Kanaloa-sired First Force won the 53rd Takamatsunomiya Kinen by one length over Namura Clair at Chukyo Racecourse in Japan on Sunday, March 26.
The 1,200-meter event, held in Toyoake, Aichi Prefecture, was the JRA's first G1 race of the spring, on Sunday, March 26 in Toyoake, Aichi Prefecture.
Winning jockey Taisei Danno, 22, collected his first career G1 victory, and it was also the first for triumphant trainer Masayuki Nishimura.
Travesura, guided by Yuji Tannai, finished a half-length behind the runner-up (Suguru Hamanaka's ride) as a drizzle impacted racing conditions for the 18-horse field.
Reigning champion Naran Huleg (Kyosuke Maruta) was fourth.
First Force was assigned the No 13 post position. It proved to be an ideal position to start the race, Danno said.
"I thought our gate number turned out for the better as the track today seemed to work better for those on the outside," Danno said. "The trip went smoothly for us, much better than I had expected. I was able to give him a short breather before the fourth corner and he responded well at the homestretch."
Follow horse racing coverage throughout the year on SportsLook, JAPAN Forward's dedicated sports website.

Author: Ed Odeven
Find Ed on JAPAN Forward's dedicated website, SportsLook. Follow his [Japan Sports Notebook] on Sundays, [Odds and Evens] during the week, and Twitter @ed_odeven.