'Hāfu2Hāfu': Mixed-Raced Japanese Ponder Identity in Book of Portraits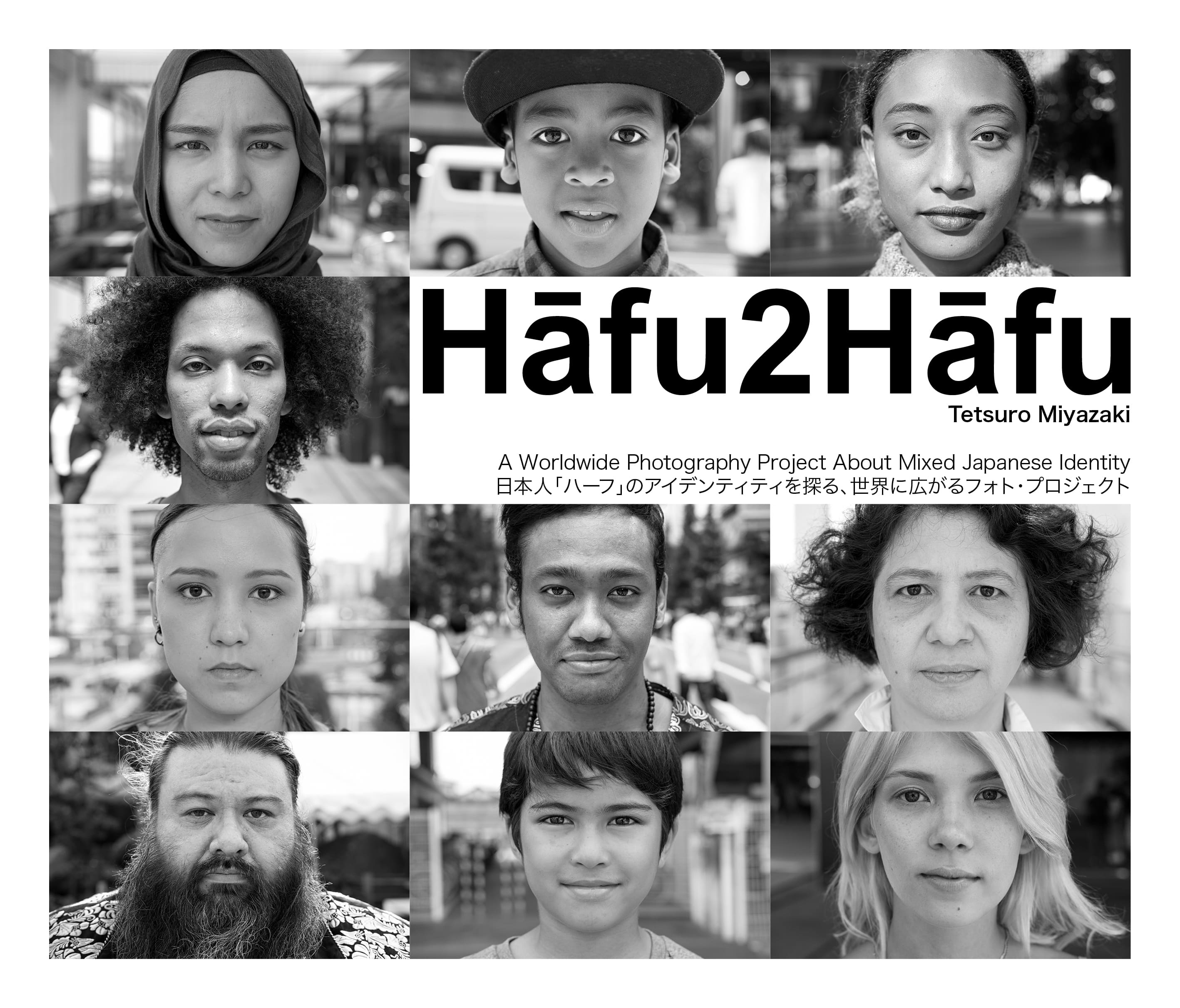 Often in Europe, watching football is associated with nostalgic and fuzzy memories of going to the bar with friends and cheering the national team — an unquestionable ritual.
So imagine the slight confusion of Tetsuro Miyazaki, of Japanese and Belgian heritage, when the FIFA World Cup rolled up in 1986 and he was asked for the first time, "Wait, but which country are you going to support, Belgium or Japan?"
Belgium ended up fourth and Japan didn't participate. But the point is the unquestionable was suddenly questioned. Unexpectedly he was asked, "Which side are you on?"
The question started a journey of self-exploration, and years later, in April 2019, Tetsuro Miyazaki is publishing a portrait photo book, Hāfu2Hāfu: A Word Photography Project About Mixed Japanese Identity. There are 120 pictures of people from 98 country combinations with one connecting thread: they are all of Japanese heritage. Or, as they are often called in Japan, hafu.
The Concept
Born in 1978 to a Japanese father and Belgian mother, Miyazaki is part of the category of people with Japanese heritage who are exposed to different cultures growing up. In his household, his mother spoke Flemish, his father Japanese, and the two spoke English and French to each other.
Unsurprisingly, when he himself became a father in 2016, he was asked, "Are you going to give her a Japanese name? What language are you going to speak to her?" Suddenly, the question of heritage was again relevant to him, this time as a parent.
As a photographer, Miyazaki chose to investigate what it means to have Japanese heritage by photographing people and interviewing them. Starting with hafu friends he knew through kendo in the Netherlands, where he lived then, he would swap stories and discuss identity.
The project then grew bigger and bigger. As the photographer explains, the defining moment came in 2017: "It was only after talking to Ghanaian, Senegalese, and Venezuelan Japanese hafu that I realized there was a huge diversity within our hafu community, and that it was important to include their experiences. I decided to photograph hafu from as many different combinations of nationalities as possible."
What has derived from it is Hāfu2Hāfu: A Word Photography Project About Mixed Japanese Identity (hāfu2hāfu.org, 2019). The project is completely crowd-funded in an attempt, as Miyazaki explains, to do some market research and find out if making a book was something people were willing to pay for.
The book structure chosen by Miyazaki is simple: bilingual English and Japanese, with 120 black-and-white photographs and a single identity-related question posed from the photographed to the viewer.
Miyazaki came up with the idea at the beginning of his journey: "I had prepared a set of questions and ended each session by asking, 'What would you like to ask the next person?' The idea was to enrich the set of questions, but it turned out that the questions themselves were very interesting. It only took about three interviews to realize these questions were what I wanted to keep."
The piercing, poignant looks of those who were photographed, coupled with soul-searching questions, make for a powerful combination that almost stumps the reader.
There are questions people of mixed heritage might want to ask each other, such as, "How has your biracial heritage influenced your career choice?" But, more broadly, there are also questions such as, "Why do people find it easy to embrace foreign food but not the people from the same country?"
The subjects vary in age, gender, marital status, occupation, and religion, bringing the viewer to an awareness that there is no standard cultural mold and that identity is a journey. Miyazaki reflects: "Questions are more timeless than answers. Because how you answer one question today is different than how you would answer tomorrow."
The Personal Angle
I am also half-Japanese. My mother is Japanese, my father is Italian. I grew up in Italy, and some of the nostalgic memories I have as a kid are coming to Japan in winter, going to onsens, and hating sushi rice. After finishing my education in Europe and finding myself in the limbo-like life of a neo-graduate, I decided to use the opportunity to move to Japan. For years I had been itching to go, but always found excuses to put it off.
Looking at Miyazaki's book, I was surprised at how touched I was. I found myself searching for commonalities in physical features and wondering if these people had experiences similar to mine when coming to Japan or explaining their background in their "other" country.
The feeling of finding your crowd is one which can deeply shape how we perceive ourselves. Nina Cataldo, in her introduction, described an episode when a mixed-Japanese student met people with a background similar to hers for the first time: "As Tetsuro and other hafu welcomed and spoke with her, I saw tears flood her eyes. It was as if years of uncertainty and isolation fell away, replaced by security and belonging; like she had finally found home."
Debates on 'Hafu'
One might dismiss this reaction as an isolated case. However, today more people come from different backgrounds, and the issue of how people identify themselves is popping up more frequently. With it comes the question of how one negotiates the fact of being between different countries and cultures.
Perhaps the fact that the label exists at all makes it easier for people to relate to it. But, Miyazaki explains, there is a tendency to create communities surrounding the word hafu. "There are very large Facebook groups for hafu Japanese. Hafu Japanese, Planet Haafu, or ハーフあるある," he notes. Yet, there seems to be almost no groups of the "other" half, like Miyazaki's Belgian half or my own Italian half. Might there be something unique by identifying as hafu?
The choice of the book's title itself — Hafu2Hafu — is a statement, because the label hafu has differing connotations, depending on whom you ask. People who have experienced bullying in school may prefer not to identity with the label as it implies that you are not whole. To deal with the problem, some have started using the expression "double," or other descriptions such as biracial or bicultural.
But these labels are not always inclusive for everyone who has one Japanese parent. For example, double implies the same as bicultural, or a perfect knowledge of two cultures. If you grow up with a single parent, you might not feel that way. And are you biracial if you're Chinese-Japanese? Also, parents often do not embrace the label hafu because they don't want their children to be seen as less than whole.
Miyazaki explains how he personally doesn't have strong feelings about the word these days. "The reason why some people don't like the word hafu is often because they associate this with negative experiences from the past. But it's not like using 'double' is going to make you fit in more. The problem is not the word, but rather the attitude behind the word."
Going Beyond 'Hafu'
With parents from different countries, a hafu also faces the question of what it means from a legal standpoint. In fact, some of the questions with the portraits in Miyazaki's book are about dual citizenship. Inevitably, when you are asked to pick one passport, people sometimes associate it with additional questions of what it means to belong to that country. However, this is just not the case with people from Japan.
In popular culture and more broadly speaking, more people are asking themselves, how they identify. The recent blockbuster Crazy Rich Asians is about different perceptions of what it means to be "Asian." Also, a Facebook group called "Subtle Asian Traits" was started by a group of Asian-Australians in Melbourne in September 2018 and now has more than a million followers.
So, to answer the famous question, "So what?" Miyazaki ultimately argues: "Identity matters to us because it matters to others. I think you don't have to be half-Japanese to enjoy the project and to use it to reflect on who you are. You can replace the country names, the religions, or even the word hafu by any other label, like "woman" or "elderly."
Books can be pre-ordered through the webshop with a pre-launch discount, for the price of € 29.50 EUR (approximately $33 USD), with shipment starting from April 2019.
Author: Arielle Busetto