Samurai Blue Hoping to Exceed Expectations at World Cup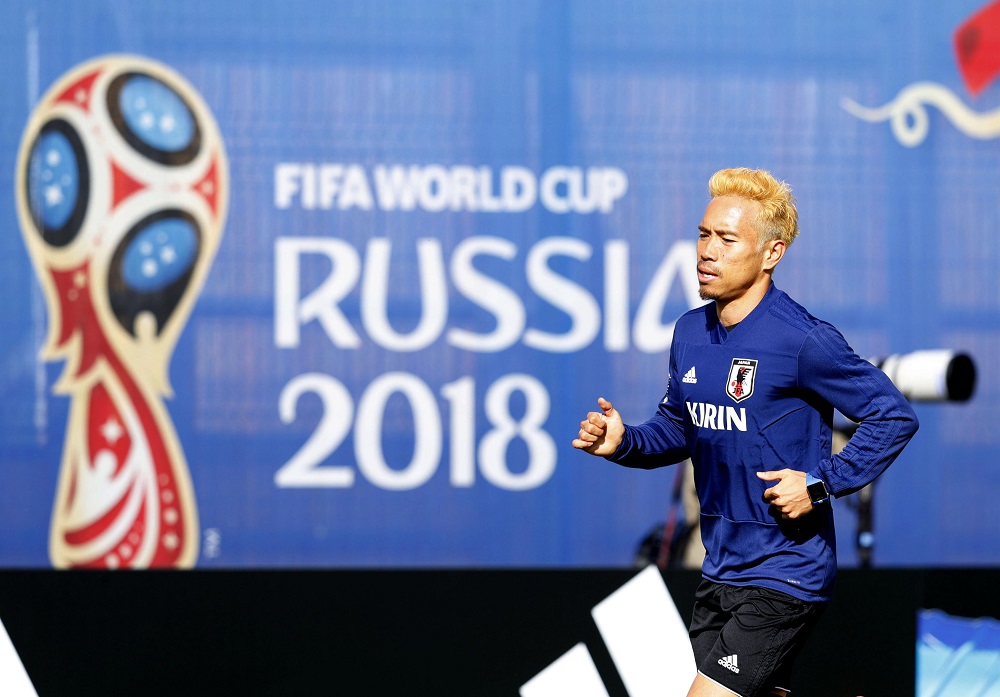 By Sean Carroll
DATELINE: TOKYO, Japan
One way or another, Japan's endeavors at the 2018 World Cup will be defined by the Japan Football Association's decision to fire Vahid Halilhodzic just two months before the tournament.
The Bosnian had been in charge of the Samurai Blue for just over three years. After successfully guiding them to a sixth consecutive World Cup last summer – stamping the side's ticket with an impressive 2-0 win over Australia with a youthful and energetic selection in Saitama – his plans were well underway for Russia. Then, on April 9, the rug was pulled from beneath him by JFA president Kozo Tashima, who cited "communication" issues.
Recent form hadn't been good, and poor results against Mali (1-1) and Ukraine (1-2) in March were the straws that broke the camel's back. Still, the timing was widely criticized and the fallout was messy. First, Halilhodzic held a press conference to contest the reasons behind his firing and then he announced he would be suing his previous employers – demanding a public apology from Tashima and a symbolic one yen in damages on account of "harm done to his honor and reputation".
While all this was rumbling along, the JFA replaced Halilhodzic with technical director Akira Nishino. The timing gave the former Gamba Osaka manager just 70 days to prepare the Samurai Blue to improve on their dismal showing in Brazil four years ago, when they picked up only a solitary point and exited at the group stage.
Nishino has attempted to make the process as smooth as possible by choosing a safe, experienced, and fairly unadventurous 23-man squad for the finals, and the players have tried to put brave faces on the last minute change.
"In the seven years I was at Inter Milan, I think I played under 14 or 15 managers – one year I think we had three or four – so in that respect I guess you could say I have a kind of immunity to coaching changes," defender Yuto Nagatomo said at the team's pre-World Cup training camp in Chiba.
"However, it would be a lie to say there isn't any sense of unrest or anxiety at all, and we just have to make sure we don't let that knock us off course."
Fellow veteran and goalkeeper Eiji Kawashima, set for his third World Cup, made sure to read from the same script, insisting that the team's foundations remain intact.
"Of course, each coach has a different way of doing things, but from the point of view of a player the fundamental aspect of having to try and play at a world-class level doesn't change," the 35-year-old said.
"We have to keep progressing with that in mind. That will provide the base and then we will supplement that with the new things the coach wants us to add."
Time, however, has been against them.
The team's first match with Nishino in charge was also its last in Japan before setting off for its final preparations, and it ended in a dismal 2-0 defeat to a second-string Ghana team in the pouring rain in Yokohama on May 30.
"This was the final game at home before the World Cup, and seeing as there has recently been a slightly negative atmosphere and some poor results, we really wanted to win and put in a good performance," Tomoaki Makino, whose clumsy foul gifted Ghana the free-kick from which they opened the scoring, said after that loss.
"At the current time we are facing a new challenge and discovering a lot of issues. I think we found out a lot from this game. I know that in the competition proper I cannot make fouls of the kind I did today. I have to use my head a little more and not lose my focus."
In a sense the Urawa Reds' center-back was right to remain positive, and it is always better to get these things out of the system before the big kick-off. His coach was keen to adopt a similar line of longer-term thinking.
"We have the games coming up against Switzerland and Paraguay, and I want to use them as a way to get everything in order for the Colombia match," Nishino said with regards to the Samurai Blue's final preparatory games ahead of their World Cup opener on June 19.
"Today was also a chance to try some things in that regard, and I want to think of it as part of the preparation for the first match."
Four second-half goals to secure a 4-2 win over Paraguay on June 12 will have provided a timely tonic, but their opponents – who won't be at the World Cup – didn't offer much resistance. And, there was little in the first half of that match – or the 2-0 loss to Switzerland on June 8 – to suggest Japan is ready to do battle on the biggest stage.
Pre-tournament form doesn't always offer the best indication of how a team will fare once the real business begins, though, suggesting all is not lost.
Japan was unbeaten for six games heading into the 2014 finals, for instance – a run that included a victory over Belgium and a draw with the Netherlands – before crashing out in the first round of the World Cup without a win. Conversely, there was plenty of doom and gloom ahead of the 2010 edition in South Africa before head coach Takeshi Okada reshuffled his pack on the eve of the competition, installed Keisuke Honda as his joker, and delivered a first-ever appearance in the Round of 16 on foreign soil.
Honda is primed for a central role again this time, and made it clear after the Ghana game that he sees everything but the 270 minutes of football lined up in Russia as superfluous.
"It's not the case that we have to achieve results in the next two games (against Switzerland and Paraguay); if it was then last time everything would have gone perfectly," the Pachuca midfielder said. "The last three games are everything. That's the resolution I have."
The JFA made a similar all-or-nothing bet in April, and if Nishino and his veteran squad manage to find a way beyond Colombia, Senegal, and Poland, then all will be forgiven. If not, then the specter of Halilhodzic and what could have been will forever loom large over Japan's 2018 campaign.