JAPAN Forward Celebrates 1st Anniversary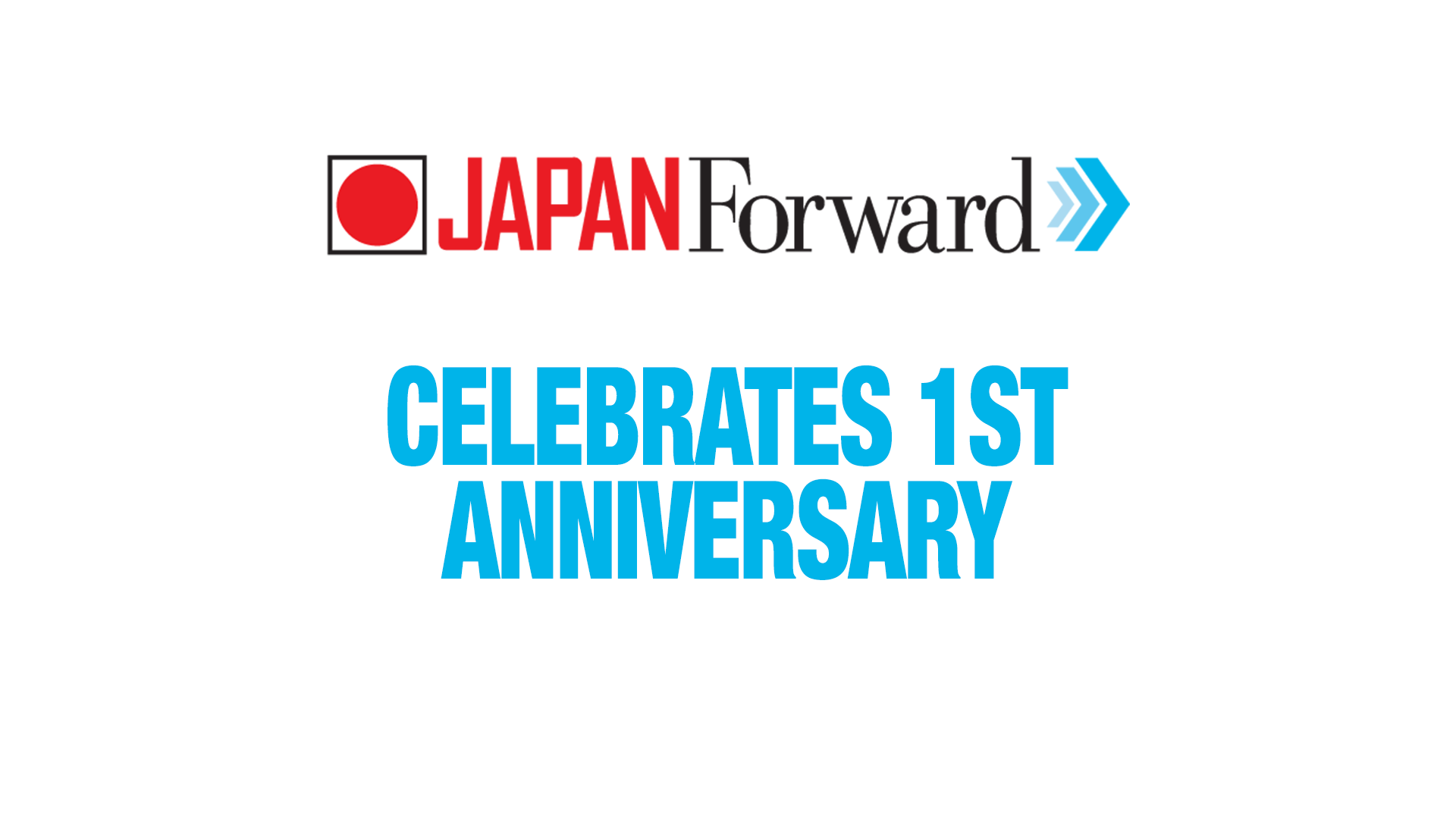 We officially launched japan-forward.com on June 1, 2017, with the goal of delivering Japan-related news, features, analyses, and commentaries to reveal the real face of Japan to non-Japanese speakers.
JAPAN Forward would like to extend our gratitude and appreciation to our supporters and contributors throughout this first year. Especially, we thank all our readers who make JAPAN Forward a special platform for discussing real news, informative features, and informed opinion pieces with their own networks.
Milestones
★ Our Facebook Page reached 200,000 likes within a year. Thumbs up to everyone! Our Instagram is on the way! Follow us on @japanforward
★ We received a lot of attention on our YouTube channel when we published Tomioka high school dance club's 'Bubbly' performance. Many people commented and expressed their confusion as to why they only got second place. The video is due to reach 1 million views in the next couple of weeks.
★ Our Twitter continues to grow as we've reached 6,500 followers. Thank you for retweeting and liking our tweets. This tweet has over 500 retweets! Stay up to date and follow @itsjapanforward.
★ We did a fun Sakura photo submission contest and attracted participation from over 400 people who submitted their best sakura shots. The response was so great we had to break up the photos into periodical galleries. Check them out on our Sakura portal page.
★ With our Facebook community growing so quickly, we wanted to extend our gratitude to our readers by running two giveaways to exhibitions happening in Japan. We will continue to have them in the future, so make sure to bookmark the Giveaway page.
★ Readers can now receive a weekly digest of JAPAN Forward news in their inboxes, including the Editor's pick and updates on our growing blog section. Join the list by signing up.
★ A total of 523 stories were published over the year. Do you have an inside scoop or story? Would you like your opinion shared to the rest of the world? Contact us at info@japan-forward.com or complete the form here to become a contributor.
Top 10 Read Articles
Defense Minister Itsunori Onodera officially announced plans to seek funding for the procurement of a long-range cruise missile system for fighter aircraft in the 2018 draft budget.
Japan is stepping up disaster prevention initiatives after government scientists recently made a forecast that a Magnitude 9 earthquake, which carries a risk of 20-plus-meter-high tsunami, is highly probable in the Kuril Trench.
Despite a rare snowfall in Tokyo in late January, the Meteorological Society declared the start of cherry blossom season on Saturday, March 17, 5 days earlier than 2017.
On February 9th, Japan's Imperial Household Agency announced that the wedding of Princess Mako of Akishino, to her classmate Kei Komuro would be postponed. It is now thought that the wedding will happen in 2020.
A female statue in Manila symbolizing "comfort women" during Japanese occupation (1942-1945) of the Philippines during World War II was removed, with President Rodrigo Duterte saying the government would "honor it" if it were erected on private property. So what's gonna happen to the statue?
"The Japanese military forcibly kidnapped Korean women in order to use them as comfort women?" That's such a stupid thing to say.
Content partners, The Japanese Sword – In September 2016, Russian President Vladimir Putin presented Japanese Prime Minister Shinzo Abe with a Japanese sword. Abe also presented Putin with an antique samurai helmet.
Over 700 photos were shared by JAPAN Forward readers through our submission page, and amassing 403 comments on our Facebook post.
Content partners, The Japanese Sword – An important 12th century Japanese sword that was discovered hidden in the ceiling in 1939 during refurbishment of the treasure house at Kasuga Taisha will be put on display.
The comprehensive guide was updated regularly when new sakura bloom information became available.
Message from Contributors
Dr. Monika Chansoria
In the contemporary context of a broader Asia that is fast transcending geographical boundaries, the onus lies upon regional players to reach out and take the lead in the emerging scenario. In this emerging democratic order and cohesiveness, Japan holds increasing significance and responsibility. Japan Forward has achieved a key milestone in the past one year of connecting Japan's voice with the world and vice-versa.
Articles by Dr. Monika Chansoria
Dr. Ph.D Rieko Hayakawa
It was a great opportunity to write about Pacific business in English from a Japanese perspective. My article was well received by many policy makers such as the current PALM8 in Japan which was co-chaired by PM Abe and representatives from the Pacific. JF definitely changing the history of India-Pacific.
Articles by Dr. Ph.D Rieko Hayakawa
Greg Atkinson
JAPAN Forward provides readers with insights into Japan without following a narrative or adjusting events to suit a pre-defined narratives.
Articles by Greg Atkinson
Yumiko Yamamoto
My heartiest congratulations and best wishes to Japan Forward team on the 1st birthday!
Articles by Yumiko Yamamoto
Akiko Macdonald
Many congratulations on the first anniversary of JAPAN Forward online news site. I am delighted to send the happiest message to share this significant achievement for JAPAN Forward's editor, founder, and Sankei Newspaper. I am very honored to contribute to columns from UK, where I have lived for over 30 years and send my views on issues relating to UK and Japanese general affairs. The Japanese are usually passive listeners, and they neither express their true feelings nor opinions that may upset others. Well, JAPAN Forward is certainly providing a wonderful platform for those unexpressed opinions and standpoints that the international community needs to know. Many readers from the world, I am sure, are looking forward to celebrate JAPAN Forward's next 10th, 20th, and many more anniversaries.
Articles by Akiko Macdonald
Duncan Bartlett
In an era of fake news and press censorship in Asia, Japan Forward helps to shed light on the region. My focus is on Shinzo Abe, one of Japan's most confident and controversial leaders. I take stock of the progress of Abenomics in transforming the economy and look at the crucial relationships between Prime Minister Abe, President Donald Trump and President Xi Jinping.
Articles by Duncan Bartlett
Dr Rupakjyoti Borah
Many congratulations to Japan Forward on its maiden anniversary. It marks an eventful first year of bringing a new face of Japan to the wider world and shows that 'Japan is back'
Articles by Dr. Rupakjyoti Borah
Random Yoko
Happy 1st year anniversary! Japan Forward is the best media to check for Japanese perspective/information in English! I support Japan Forward, and I'd love to keep contributing!
Videos by Random Yoko