14-Year-Old Boy Ushers Golden Age of Shogi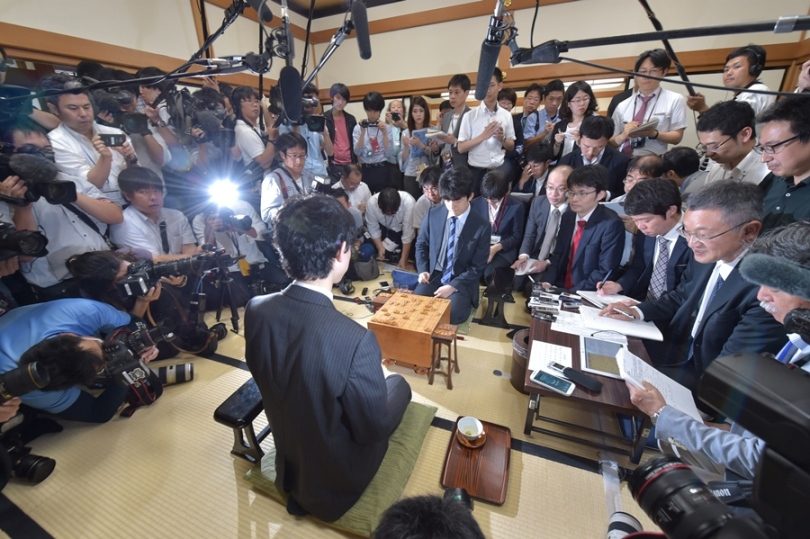 All of Japan is currently captivated by the 14-year-old Souta Fujii. Undefeated since his debut match last December, the youngest ever professional shogi (or Japanese chess) player (or kishi) has extended his winning streak to equal the longest official undefeated streak of 28 games on June 21.
Artificial intelligence (AI) has played a background role in the strength of 4th-Dan Fujii, who is also the first 21 Century-born kishi. He has his next match on June 26. The whole of Japan is watching with bated breath to see just how far the winning streak of the so-called "Poster-child of the AI Era" will last.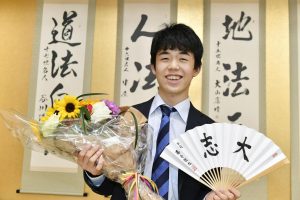 "I want to work diligently to become even stronger," said the 14-year-old boy, as he stood in front of reporters, smiling innocently amid camera flashes after his 28th consecutive win on June 21 in Osaka.
4th-Dan Fujii is so competitive that he bursts into tears when he loses. Yet, even in matches where defeat is considered inevitable, he is a shrewd player, adroitly exploiting any opportunity. Moreover, Lady Luck seems to smile on him.
He is such a prodigy, that there are even tales of him as a small child sobbing, and clutching onto the shogi board after being defeated, that his mother had to physically pick him up to remove him. According to 7th-Dan Master, Masataka Sugimoto, the secret of his strength is that, "[He has] a fighting spirit. He has grown by taking the frustration of defeat and using it as motivation in the next match."
Also a Genius of Shogi Problems
During his time in the Professional Shogi Players organization, "Shoreikai," his strength seemed to be in the power of his finishing moves. For several years, the rumor of a boy genius from Aichi Prefecture, who could solve the hardest shogi problems with lightning speed, had spread among the esteemed pro players of Yoshiharu Habu and the like.
In fact, for the past three years, since he was in 6th grade at school, 4th-Dan Fujii has won successive victories in the Shogi-problem National Competition, which counts professionals among its competitors.
In addition to the power of his finishing moves, he has utilized AI-powered shogi software to improve his opening moves, making him even more formidable. It is said that from his time as a Shoreikai 3rd-dan, he has used AI to analyze shogi problems of interest to discover accurate tactical decisions, the best hand and so forth, applying this knowledge in matches.
According to the young player, 6th-Dan Shota Senda, who was defeated in Fujii's 13th consecutive win, "One can see 4th-Dan Fujii's moves have been heavily influenced by AI. His strength is due to the effective utilization of AI, atop his already superior shogi skills."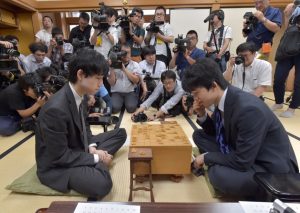 As many shogi players point out, recently 4th-dan Fujii's game is characterized by "the speed of his attack." Uninfluenced by traditional moves, he relentlessly moves knights and silvers out to the frontline and so on, taking action early to set the pace, and then continues on to win.
According to former House representative and current Doshisha University professor, Masatoshi Murakami, who informed on current shogi matters: "One of the major characteristics of AI is that it keeps the King's protection to a minimum, and opens with an attack. Unlike human beings, since it does not harbor a fear of the king being captured, AI employs typically cool-headed tactics, and this is something that 4th-dan Fujii has managed to absorb into his own style."
7th-Dan Master, Masataka Sugimoto, 48, says, "Originally, the opening and middle-game were his weaknesses, but (by using AI) I never thought he would be able to work on his weak points and become stronger, this quickly."
Mr. Murakami says, "Born into the digital generation, 4th-Dan Fujii is part of a generation that thinks it's only natural to combine shogi and AI, as such he is taking full advantage of AI for use in his own game."
In the future, as matches between the giants increase, the attention is focused on seeing just how far 21st century shogi will go.
A Perfect Opportunity
4th-Dan Fujii continues his winning streak. Along with his popularity, there are signs of "the Fujii Effect" being felt else ware.
According to the Japan Shogi Association, the number of members in "Children's Shogi Schools" operating in Tokyo in May of last year was 366. This year, membership numbers have increased to 502. Even in the Kansai Area (Western Japan), new members are on the increase.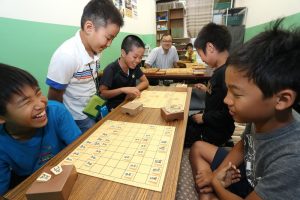 According to education commentator, Mr. Yukio Ishikawa, "In the eyes of parents, the language and manners of 4th-Dan Fujii set him apart from other middle school students, so Shogi has an appeal not offered by other hobbies."
Even the toys 4th-Dan Fujii played with are experiencing a rush of orders. Orders are also pouring in for toys which lead him to take up shogi. Industry officials have said that "It's an opportunity to increase reach."
According to Emeritus Professor of Kansai University, Katsuhiro Miyamoto (Economic Theory), "Despite producing such amazing results at the age of 14, he is a humble person. He combines popularity-promoting elements, such as freshness and sweetness."
He added: "Shogi fans will increase, it's a great opportunity to increase reach. I think there must be a way to further capitalize on the popularity of 4th-Dan Fujii."
There is already a shogi-themed movie available, March Lion, and a quiet Shogi boom has already begun.
Perhaps the Golden Age of Shogi will dawn.
(Click here and here to read the article in Japanese)