2019 Cherry Blossom Viewing Guide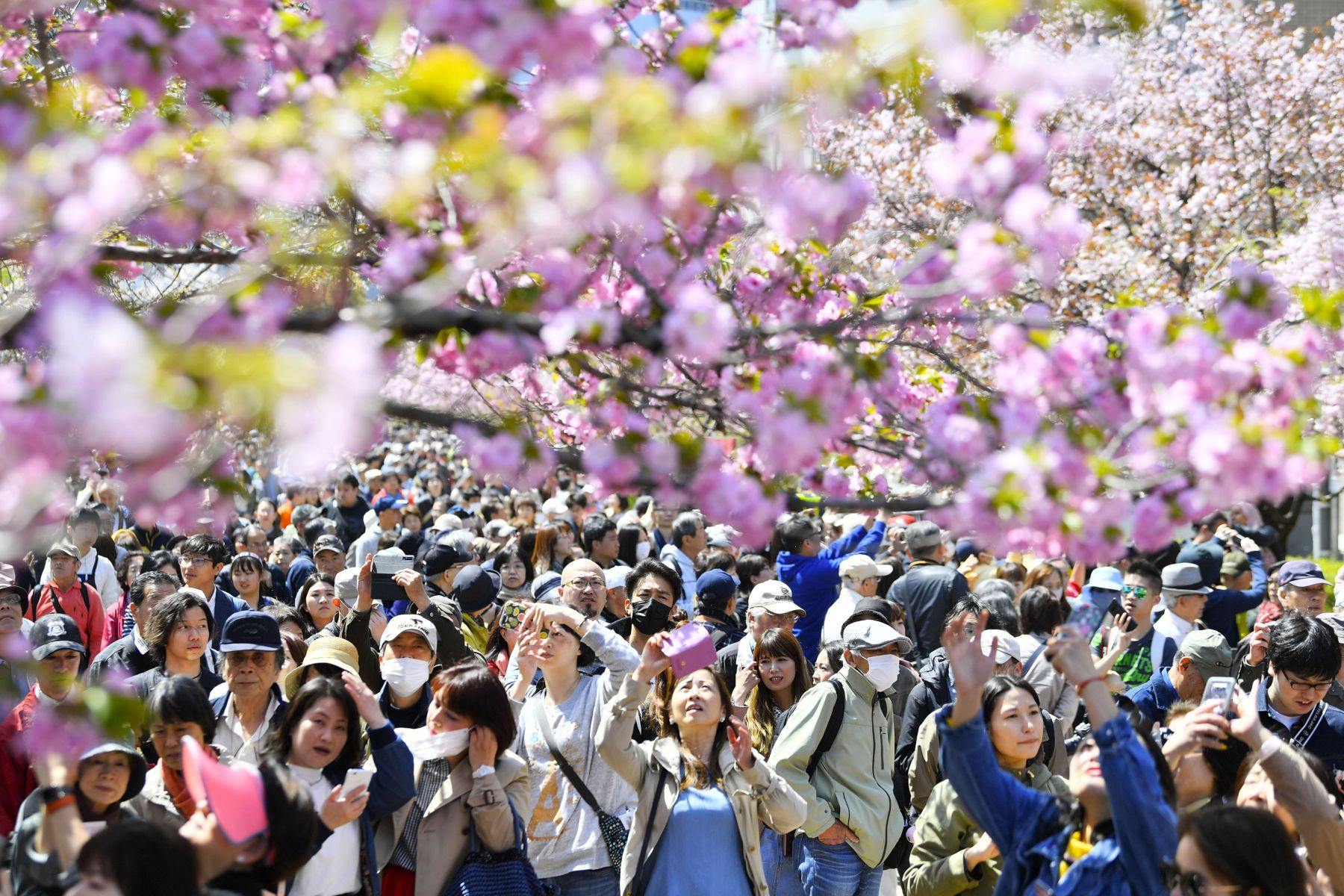 With the slight chill which has come following the full bloom on April 7, the cherry blossom season is set to last a little longer this year. Hanami season, the ritual of admiring the beautiful snow-like quality of sakura flower petals in spring with family and friends, is a period which all Japanese look forward to, and one which many travel around the world to see.
JAPAN Forward has created its own list of suggested sakura viewing sites, where both visitors and locals can partake in the viewing, commonly known as o-hanami, of this iconic symbol of spring. We are updating this page as new forecasts are made throughout the cherry blossom season, so please, check back when planning your travels.
Okinawa
The earliest cherry blossom viewing happens in the sub-tropical archipelago of Okinawa. In contrast with Honshu, which often experiences cold weather and snowfall during January, Okinawa has a balmy weather that allows for an early bloom especially when compared to Japan's national average. This year's cherry blossoms according to the Japan Meteorological agency are predicted to bloom around January 25.
However, the cherry blossoms of Okinawa are noticeably different from those found on the mainland. They often are dark pink with a reddish hue, blooming continuously along the branches of cherry blossom trees. The flower is also smaller when compared to more well-recognized Somei Yoshino trees, whose pale blossoms appear in March or April. This particular kind of cherry blossom tree doesn't fare well in Okinawa's humid climate; rather, the Kanhi-Zakura (or Hikan Zakura) tree is perfectly suited for this environment—similar to southern China or Taiwan, from where this variety is native.
Requiring some cold weather to bloom, Okinawa's cherry blossoms actually start appearing in the north and then begin spreading southwards. The Motobu Yaedake Cherry Blossom Festival (January 19 to February 3) offers the very first bloom in all of Japan. Here, visitors can view thousands of bright pink cherry blossoms, which paint the hillsides of Mount Yaedake.
If seeing picturesque mountains covered in these flowers isn't your thing, Okinawa boasts the Nakijin Castle Ruins, a UNESCO World Heritage Site, which also has its own cherry blossom festival. Running from January 26 to February 11, this stunning location offers the possibility to tour the castle grounds, while admiring the cherry blossoms which are beautifully illuminated in the evenings. Okinawa has plenty of locations to participate in o-hanami, while never straying too far away from those famous beaches and other sites Japan's southernmost prefecture is known for.
Fukuoka
The southwestern island of Kyushu offers unparalleled locations for viewing Japan's cherry blossoms — especially in the port city of Fukuoka. Situated along the island's northern shore, Fukuoka is perhaps best known for Hakata (also called Tonkotsu) ramen. This local favorite with its rich, oily pork broth can take several hours to prepare. However, aside from satisfying foodies, Fukuoka also boasts popular spots for o-hanami.
The Somei Yoshino tree is more prevalent on Kyushu. The flower of this common tree has five petals, which often appear white — although, a faint pinkish hue can sometimes be seen as well. Often blooming suddenly, the Somei Yoshino trees quickly resemble billowing clouds.
Chosen as the only place in Fukuoka among Japan's top 100 places to view cherry blossoms, Nishi Park in Fukuoka has about 1,300 trees and quickly becomes filled with visitors in early April. The park is quite hilly, which allows for a beautiful view that includes Hakata Bay, alongside Nokonoshima and Shikanoshima islands.
Also located in Fukuoka's downtown area, Maizuru Park hosts a cherry blossom festival, which attracts over 300,000 visitors between March 24 and April 8. Food stalls can be found in the eastern section of the park, while the ruins of Fukuoka Castle are illuminated in the evening.
For those willing to hike, Atago Shrine is another popular spot for viewing cherry blossoms.
If traveling in Kyushu, you should also consider Nagasaki and Kumamoto.
Kansai Region
The already impressive Kansai region becomes even more dazzling as its scenery is enveloped in cherry blossoms during late March. This year Kyoto and Osaka announced the beginning of their blooms on March 27.
Kyoto
Often referred to as "Japan's cultural heartland," the former capital of Kyoto has literally dozens of scenic locations to partake in o-hanami. While visitors flock to well-known tourist sites, including Kinkaku-ji and the Gion district — hoping to catch a glimpse of a geisha, locally referred known as geiko — particular areas in the city offer unrivaled opportunities to view the true beauty of these flowers.
Daigo-ji Temple, for instance, boasts nearly 1,000 cherry blossom trees. Aside from the common Somei Yoshino with its delicate white flowers, the grounds include both Yama-Zakura and Shidare-Zakura (or weeping cherry blossoms) with drooping branches covered in vibrant pink, five-petal flowers.
For those wandering Gion, Maruyama Park has a famous large, 80-plus-year-old weeping cherry blossom tree, which is lit up during the night for a unique viewing experience. There are plenty of food stalls to keep you satisfied while you admire the flowers.
Heian-Jingu Shrine, built in 1895, has over 300 cherry blossom and 20 different varieties. These include Beni-Shidare-Zakura, a variety of weeping cherry blossom with a distinct reddish color that, in contrast with the colorful shrine itself, creates beautifully picturesque scenery.
Visitors can also sip green tea or listen to a concert among the cherry blossoms during early spring.
Osaka
Kansai region's economic hub, Osaka, has plenty of great places for viewing cherry blossoms. You also can visit Don Quijote's renovated Ferris Wheel that goes 77 meters above the popular Dotonbori shopping district. Be sure not to miss the iconic Osaka Castle, which in late March, is lit up during the evenings — along with several hundred cherry blossom trees found within the castle grounds.
During the day, visitors can discover the museum inside the castle or take a stroll through Nishinomaru Garden.
Perhaps the most well-known site for viewing cherry blossoms in Osaka, however, is Kema Sakuranomiya Park, a beautiful riverside park that boasts nearly 5,000 cherry blossom trees. Located on the banks of the Okawa River, this popular spot attracts thousands of visitors annually.
Other popular spots for viewing Osaka's cherry blossoms include Expo 70 Commemorative Park, the Osaka Mint, and Tsurumi Ryokuchi Park — a great location for picnickers.
Nara
For those venturing through Kansai, no visit is complete without a trip to Nara. Once the capital of Japan during the Nara period (c. AD 710-784), the city is rich with history, culture, and natural splendor.
For those willing to hike, Mt. Yoshino is unparalleled in the region. The contrast between green pine trees and delicate, pink cherry blossoms creates a dream-like scene in April.
Within the city, Nara Park, with its approximately 1,200 deer, offers a unique o-hanami experience.
Behind the park, Mt. Wakakusa is a popular spot for taking photos of cherry blossoms with the city as a backdrop.
Shizuoka
In the shadow of Mt. Fuji, which features prominently on the prefecture's flag, and only a Shinkansen ride away from Tokyo (about three hours), Shizuoka offers some memorable spots for cherry blossom viewing.
The small town of Kawazu is renowned for an early bloom, usually occurring in February, which attracts millions of visitors. Here, a particular variety of cherry blossom tree known as the Kawazu-Zakura is the main feature. Blooming earlier than other trees such as the Somei Yoshino and Yama-Zakura, which can also be found throughout Shizuoka, the Kawazu-Zakura is found primarily around Kawazu on the Izu Peninsula. It has a large, five-petal flower with a pink (almost magenta) color. First classified in the 1950s, approximately 8,000 Kawazu-Zakura trees can be viewed in their full glory during March, although many begin to bloom earlier.
Perhaps the most popular o-hanami activity in Shizuoka, unsurprisingly then, is the Kawazu Cherry Blossom Festival, which is typically held from February 10 until March 10. Here, visitors can walk along the Kawazu River while also enjoying a local onsen or footbath, ending their journey near the famous Kawazu Nanadaru — a collection of seven waterfalls deeply woven into the culture of the area.
Located nearby, the town of Atami is another, less crowded spot for o-hanami, with Atami Castle — standing 120 meters above sea level — providing an excellent backdrop.
Finally, there is Fuji Park Cemetery. Boasting nearly 8,000 cherry blossoms and, weather permitting, a view of iconic Mt. Fuji, this park is often considered one of Japan's top 100 spots for viewing cherry blossoms — despite a late bloom (mid-April) occurring because of the higher altitude.
Tokyo
You don't have to venture of outside Japan's capital to see cherry blossoms. In fact, Tokyo has more than its own share of spectacular o-hanami spots. A mixture of traditional and futuristic, Tokyo can be overwhelming — especially when considering the sheer amount of memorable places available to visitors, from Shibuya Crossing at Shibuya station, the Meiji Shrine and Takeshita Street in Harajuku to Asakusa and other well-known local sights. However, within this concrete jungle, green spaces do exist and these offer unforgettable opportunities for cherry blossom viewings.
Perhaps the most famous of Tokyo's cherry blossom spots, Shinjuku Gyoen features about 1,300 trees and over a dozen varieties, which bloom at different stages. The park has large, open lawns and walking paths, making it a great choice for picnickers or those wanting to spend a few hours underneath colorful sakura. Entrance to Shinjuku Gyoen is ¥ 200 JPY.
Equally as popular, but insanely crowded is Ueno Park. Blooming earlier than other places, an estimated 800 to 1,000 cherry blossom trees line the central path of this accessible park. Boats are usually available for rental and the park is lit up during the night.
Heading south, Yoyogi Park is a smaller location but just as raucous an affair for cherry blossom viewing with about 600 trees and even food stalls during the height of the season. Additionally, both Ueno and Yoyogi parks are free to enter, and so are particular popular spots in the evening. The parks gradually fill with fun-loving groups enjoying the cherry blossoms under the moon-lit sky, while having a picnic with their family and friends.
Perhaps it goes without saying, but Koukyo (or the Imperial Palace) located in Chiyoda is yet another memorable location for cherry blossom viewing. Although not usually open for public viewing — a rare exception being 2014 — the East Garden of the Imperial Palace is yet another popular o-hanami spot. Spacious lawns, interspersed with delicate cherry blossoms contrast with Tokyo's Marunouchi business district, just beyond the palace grounds.
While not overwhelmingly large, Meguro River is a popular yozakura (night cherry blossom viewing) spot. Beautiful in daylight hours, the area is transformed when over 800 cherry blossom trees are illuminated. Narrow paths and food stalls along the river make for an intimate experience, popular with couples. However, a night cruise is another possibility.
If visiting Japan's capital, you should also consider Chidorigafuchi — where hundreds of trees surround the moats of the former Edo Castle — Sumida Park by the towering Skytree, or Inokashira Park located in the trendy neighborhood of Kichijoji.
Of course, these suggestions are only a few locations for viewing cherry blossoms in the Tokyo area.
Aomori
In the northern reaches of Japan's main island, Honshu, lies the beautiful, though under-visited, prefecture of Aomori. Perhaps best known for its Nebuta festival held in August, this interestingly-shaped prefecture is growing in popularity as a stopover for visitors heading to Hokkaido. Even so, Aomori has remarkably few tourists and maintains a sleepy feel most of the year. From the Osore-zan volcanoes — a site of religious pilgrimage — to Hakkoda's mountains, Towada-ko's beaches, and Hirosaki's emerging food culture, Aomori has plenty of attractions, including some amazing locations for cherry blossom viewing.
Starting in late April, Hirosaki Park becomes pink as nearly 2,600 trees of 50-plus different varieties bloom. Considered one of Japan's Top 100 Cherry Blossom Viewing Sites, the park holds an annual cherry blossom festival between April 23 and May 5. Falling normally during Golden Week, a national holiday in Japan, it's a time when people all over the country travel to see the cherry blossoms.
Renowned for being the largest-scaled in Japan, the cherry blossoms of Hirosaki Park were originally acquired from Kyoto in 1715. It boasts more than 50 types of sakura and the park's unique pruning technique results in its cherry blossom trees having five to seven floral buds, when compared to the average three to four. This results in a thickness, which causes the branches to hang down because of the increased weight.
The park has boat rentals for visitors near Hirosaki Castle — from which you can enjoy an incredible view of nearby Mt. Iwaki. Following the bloom, the park is known for a rather unique phenomena called the "cherry blossom carpet." This occurs when the petals of trees near the castle's moat fall, covering the surface and turning it pink for several days in May.
If you don't fancy the park, make sure you pass by the road on the southern foot of Mt. Iwaki. With 6500 trees lining the road for nearly 20 km, it makes for a dreamy drive with the backdrop of the mountain in the background.
Those willing to travel further in Aomori can visit the Hirosaki Tenmangu Shrine, which boasts what is considered the oldest cherry blossom tree in the prefecture, reportedly some 700-800 years old.
Other spots for viewing cherry blossoms in Aomori include Ashino Park in Goshogawara City and Kanchogai-dori (sometimes called Komakaido) in Towada City.
Hokkaido
Japan's northernmost island is a place for nature lovers. From its wild landscape dotted with primeval forests, vivid blue lakes, and (in spring) colorful alpine flowers, Hokkaido is a renowned location for both Japanese and foreign travelers.
During winter, the island transforms into a paradise for winter sports enthusiasts with ski resorts in Furano and Niseko. An internationally recognized snow festival is held annually in the prefecture's capital, Sapporo — a city also know for incredible food and local craft beers.
Perhaps unsurprisingly then, Hokkaido is a popular travel destination for cherry blossom viewing. The colder environment, however, means a later bloom — typically occurring in April or May.
Located on the southern tip of the Oshima Peninsula, the small town of Matsumae historically served as the de facto capital of Hokkaido during the Edo Period, when the Matsumae clan ruled over much of the island on behest of the Shogunate. Although it was later eclipsed by neighboring Hakodate in the 20th century, Matsumae is now a popular tourist destination. Selected as one of Japan's Top 100 Cherry Blossom Spots, the gardens around Matsumae Castle boast some 10,000 trees. Additionally, in late April, a cherry blossom festival is held on the castle grounds, where visitors can sample Hokkaido's well-known local seafood while being surrounded by delicate sakura.
The previously mentioned Hakodate is yet another spot for o-hanami. Those visiting Goryokaku—a well-known, five-pointed star fort — can see thousands of cherry blossoms encircling the military fortification. This includes nearly 1,600 Somei Yoshino trees, which are considered rare on the island, along with Oyama-Zakura (sometimes also referred to as Sargent's Cherry Tree), a particular type of cherry blossom prevalent in Hokkaido. Contrasting with the white flowers of the Somei Yoshino, the Oyama-Zakura's flower is a darker pink. Locals often gather around Goryokaku to have barbeques (usually jingisukan, a Hokkaido specialty that's named after the Mongolian warlord, Genghis Khan) and view the fleeting beauty of Hakodate's cherry blossoms.
Of course, Hokkaido's modern capital of Sapporo is not without its popular cherry blossom viewing spots. Perhaps the most well-known is Maruyama Park, which draws large crowds because of its convenient location.
Nakajima Park is another option. Having many different varieties of cherry blossom trees — including Somei Yoshi, Oyama-Zakura, Shidare-Zakura, and others — the park offers a long period of time for viewers to catch a glimpse during the island's brief spring.
Hokkaido has many other spots for viewing cherry blossoms, including Noboribetsu Onsen Flower Tunnel, Shizunai Nijukken Road — another of Japan's Top 100 Cherry Blossom Spots — in Shinhidaka, Asahiyama Park, and Seiryuki Temple in Nemuro.
Share with us how your sakura viewing goes. You can post photos on Twitter and tag @itsjapanforward, or you can blog about your experience and email your piece to us at info@japan-forward.com