Beyond Kyoto and Osaka: Kansai Tourism Bureau Unveils Information Website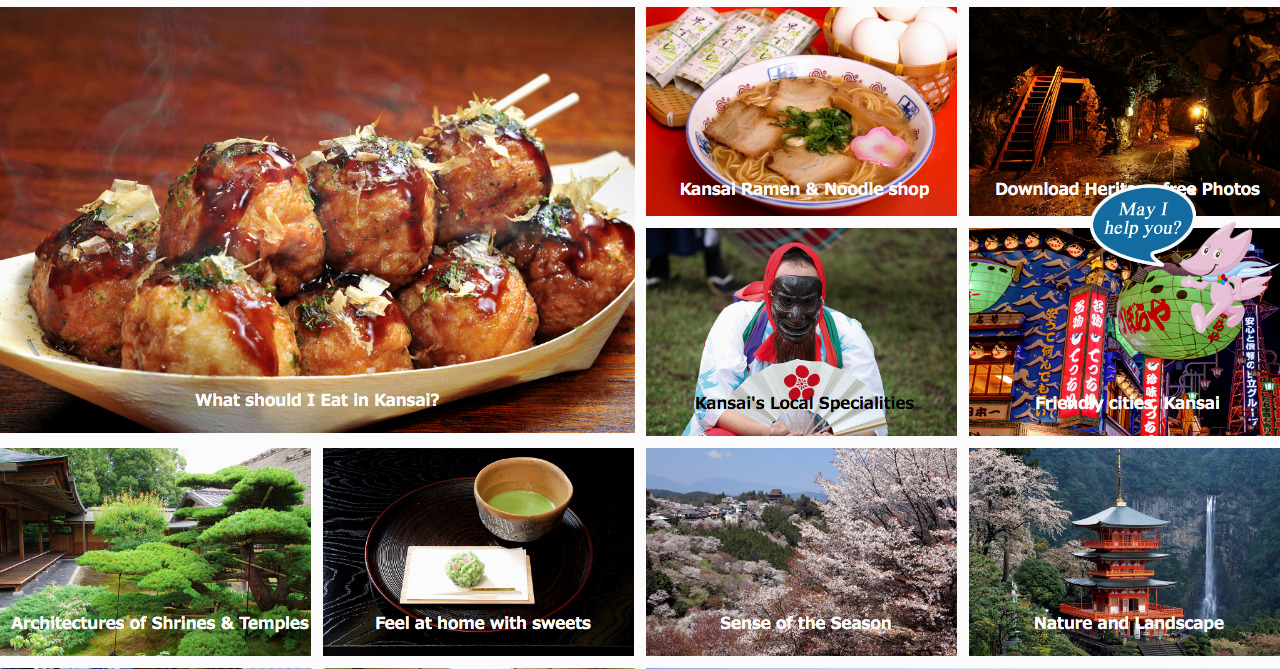 On March 29, the Kansai Tourism Bureau unveiled its new tourist information website aimed at helping the growing number of visitors coming to Japan. With more than 30 million tourists reaching the Japanese archipelago in 2018, the website responds to demands for useful information to foreign visitors.
Major events are lined up in the Kansai region's calendar, such as the Rugby World Cup in 2019, the World Masters Game in 2021, and the Osaka Expo in 2025. With this in mind, the tourism bureau is leveling up its services for inbound tourists with the new website, aptly called The Kansai Guide: Exciting Journey.
The content is specifically tailored to helping the foreigners bound for the region. It was developed based on interviews with approximately 3,000 people from different countries — including Canada, the United States, France, and Germany — to make it user-friendly and appealing to foreign visitors.
To entice people visually, Kansai has enlisted the help of award-winning Japanese movie director Yuki Eikawa. Eikawa produced an 8K video, which includes footage from all of the 8 prefectures which make up the region, showing off the beauty of Kansai's natural wonders, historic cities, and renowned cuisine, all peppered with stunning hyperlapse footage.
The combination of the awe-inspiring locations and Eikawa's video taking skills has made the clip extremely popular. Although the video was only released on March 22, as of April 4 it already had more than 4.3 million views.
The website also shows off its content in an inviting way. An example? Just under the video directed by Eikawa, there is a mouth-watering picture of takoyaki (grilled octopus) with the heading, "What should I eat in Kansai?" If one opens the page, restaurants in the region are conveniently searchable by category and location.
The website includes an AI chat feature to aid people who are looking for specific information, and a helpful video guide series to introduce people to the basics of Japanese culture.
Ever wondered what is the etiquette in a hot spring? Kansai's tourist information website has you covered. The website itself, as well as its related Facebook and Instagram pages, were designed with clear and understandable headings as well.
The Kansai Tourism Bureau hopes the campaign will encourage visitors from all over the world to travel beyond its two most famous cities, Kyoto and Osaka, and enjoy the region's great variety of rich beauty, history, and charm.
When planning your trip, make sure you check the Kansai Tourism Bureau to find the best information about what there is to see and do in the Kansai Region.
Click here to check out the Kansai Tourism Bureau's new website, Facebook and Instagram pages.
(This article was written in collaboration with the Kansai Tourism Bureau.)
Author: JAPAN Forward