'50 Years of Go Nagai' Exhibit Coming to the Ueno Royal Museum in September 2019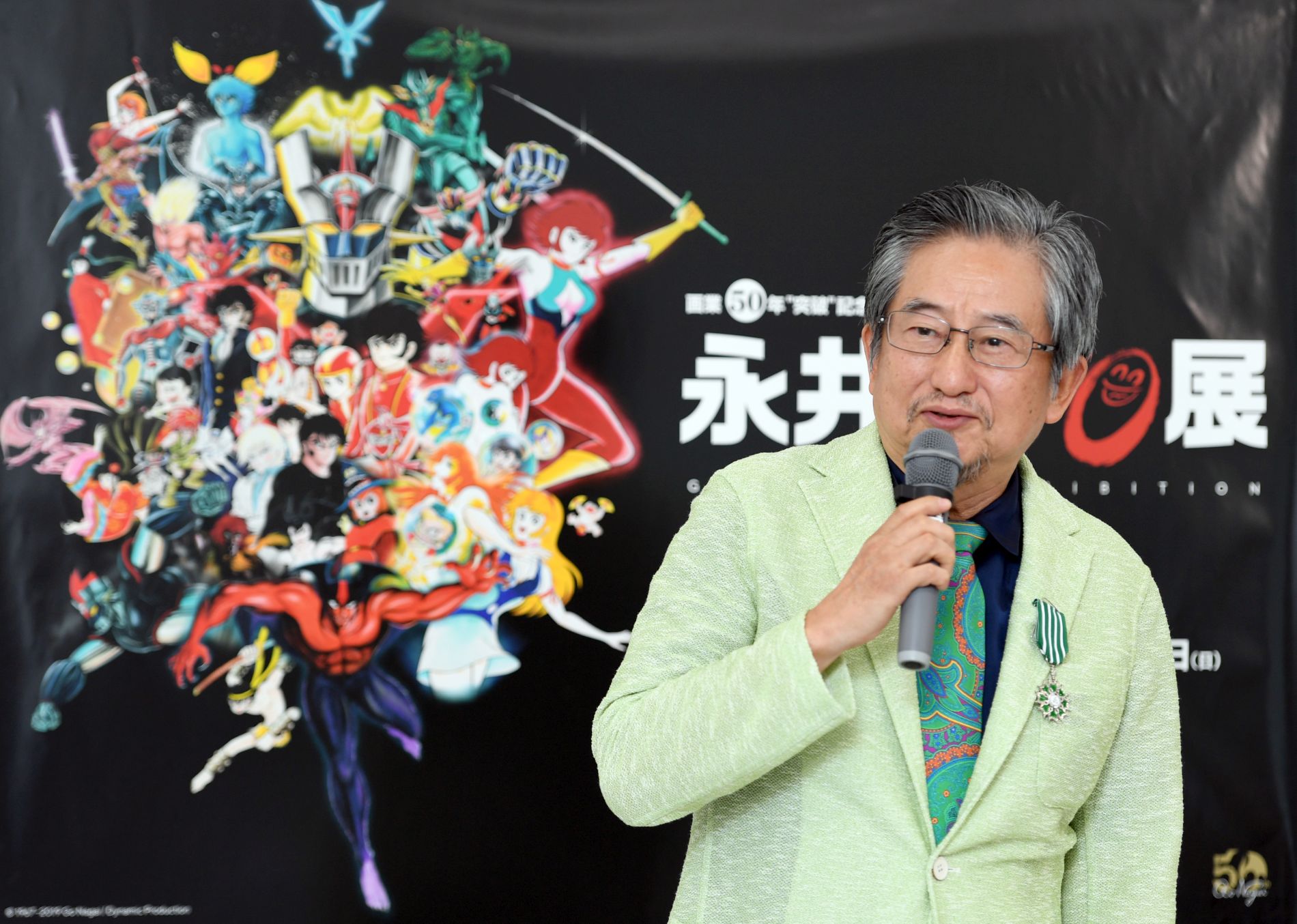 The 50 Years of Go Nagai exhibit celebrating half a century's work by Japanese manga artist Go Nagai, 73, will open on September 14 at the Ueno Royal Museum in Tokyo.
The exhibit, cosponsored by The Sankei Shimbun and the Go Nagai Exhibition Executive Committee, runs through September 29.
"I feel like I've just been doing the work at hand, trying to meet deadlines, and somehow 50 years have passed," Nagai said during the July 30 press conference at the Sankei Shimbun headquarters to announce the upcoming Tokyo exhibition.
The exhibition is making rounds and is currently on display at the Ishikawa Prefectural Museum of History in Kanazawa through August 25. An exhibition was held in Osaka in 2018.
The Tokyo exhibition will feature over 600 items, ranging from original manuscripts to color illustrations from Nagai's more than 350 works. Debut GO 2, a sequel to the autobiographical manga Debut GO that attracted much attention from fans around the time of Nagai's debut as an artist, will be shown for the first time and added to his list of works.
At the press conference, Nagai invited the public to see the exhibit: "It seems I was always fighting against time. But even though I had to cut corners at times, there were also works that I dedicated a lot of time to. In that sense, these works show the real me that I welcome everyone to experience at the exhibit."
Soaking Up Experiences to Create New Works
From his early works — including Harenchi Gakuen (Shameless School) with its erotic jokes, to Mazinger Z, his monumental robot anime, and the hard action Devilman — Nagai's multifarious styles have charmed fans for years. He currently works on a serial publication.
When asked how he comes up with ideas, Nagai explained: "My ideas surface all of a sudden when I get ready to draw. If I have blank paper in front of me, some sort of idea will surface."
Nagai revealed his secret to working as a successful manga artist over such a long period of time: "I've always tried to soak up everything happening around me and experience everything I can. Although I have frequent ups and downs, I've always taken care to try to make the good times last up to a deadline. There were times when my readers lost interest. That's when I created new things to bring them back into the fold and pulled through tough times."
He continued, "Everything I greedily sucked in got mixed up inside my head and became my works."
Depicting Both the Erotic and the Violent
Harenchi Gakuen (Shameless School) was criticized by parent teacher association (PTA) groups when it first came out 50 years ago, raising a problem in society.
"I came under the biggest attacks when I was 23. Editors were always finding fault with my work, and I often fought with the chief editor. But in manga for youth, I always drew a line at what could be expressed. When it comes to sex, there are many kinds, and human interest in the opposite sex is a given. You can't depict human society without depicting sex. Accurate depiction of violence and the erotic create good drama."
Nagai contends that successful artists in the manga world are always honest in their work.
50 Years of Go Nagai
at the Ueno Royal Museum in Tokyo.
The Tokyo exhibition is open daily until 5 p.m. from September 14 through September 29 (last entry 30 minutes before closing).
Advance tickets are 1,400 for adults and university students, 800 yen for junior high and high school students, and free for primary school students.
For tickets purchased at the door, 200 yen is added to the price.
(Click here to read the original article in Japanese.)
Author: The Sankei Shimbun