A Big Turning Point in China's Fiscal Bankruptcy
Even official figures indicate that China's fiscal revenue is facing a severe, long-lasting decline, with the real estate crisis having a significant impact.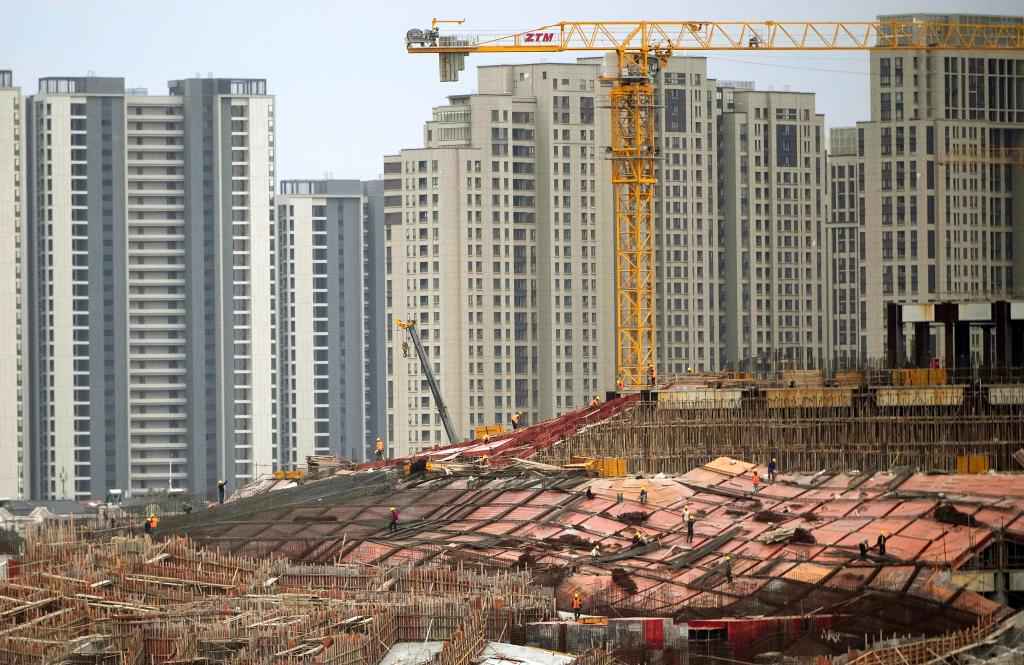 Everybody knows that China's economy is in serious trouble. But how serious is the problem? When will the tipping point be reached? What could Xi Jinping do after a full financial collapse across the People's Republic of China (PRC)? The latest fiscal data offers us some insights.
Sharp Revenue Drop in August
In August, China's economy hit a critical point. The government's monthly budget income took a sharp drop.
Let us compare China's public budget income from January to August 2022 and the same period in 2023, as summarized by a Chinese economist named Lao Man.
These are official numbers and so may not be entirely reliable. However, we can still find some trends.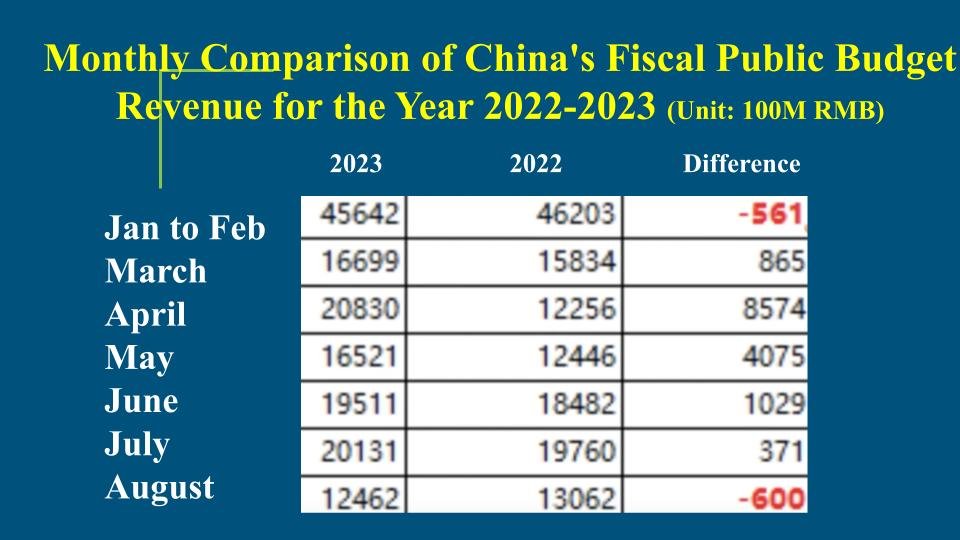 In January and February 2023, most industries and government departments were either closed or half-closed. This was due to the sudden lifting of COVID-19 lockdowns and the long Chinese New Year holiday. As a result, the income for these two months combined was ¥56.1 billion CNY (around $7.68 billion USD) less than the same period in 2022. Afterward, China's economy had a brief recovery.
At the same time, 2022's deferred value-added tax was paid in 2023, boosting tax revenue. So, in March and April of 2023, China's financial data looked very impressive. Each month had significant increases, especially April, with an astonishing ¥857.4 billion CNY ($117 billion USD) added.
However, starting in May, with the weakening of China's economy, almost all other tax revenues began to shrink significantly. This was despite the deferred value-added tax payment having been added in. Monthly budget income quickly faltered. The revenue difference dropped to ¥400 billion CNY ($54.7 billion USD) in May, ¥110 billion CNY ($15 billion USD) in June, and just over ¥30 billion CNY ($4.1 billion USD) in July. In August, the difference became negative.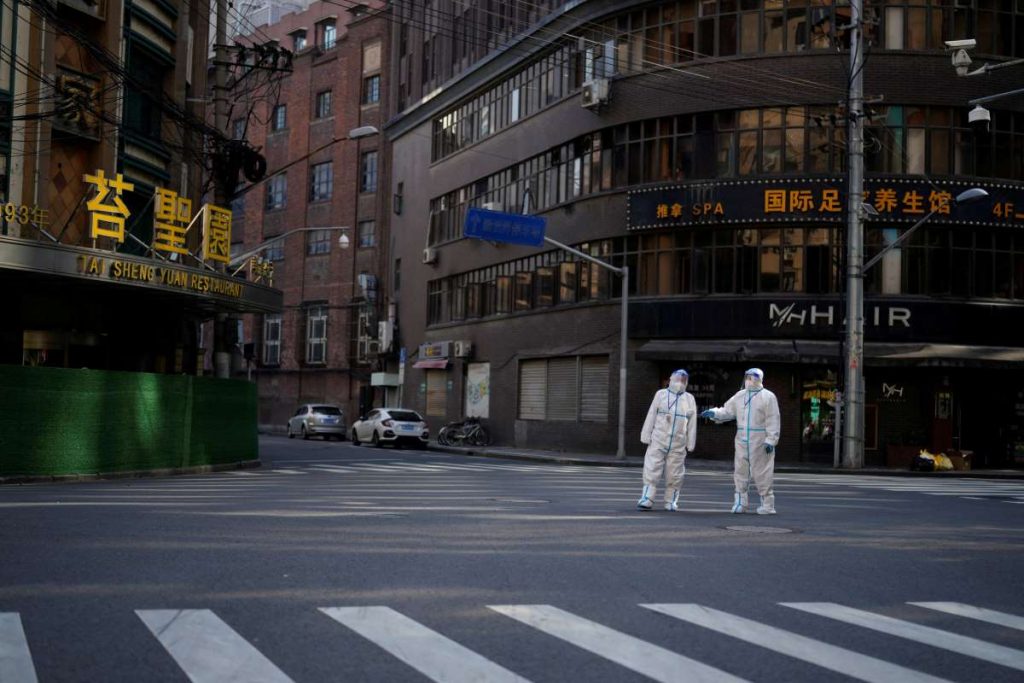 Individual Incomes Are Dropping
Compared to August 2022, income was down by ¥60 billion CNY ($8.2 billion USD) in August of 2023. This made August of 2023 a turning point for China's fiscal revenue.
Consider some specifics. Apart from the value-added tax, most items have shrunk dramatically. From January to August 2023, non-tax revenue decreased by 3.6%. The "non-tax revenue" includes fines, meaning the economy is so bad now that even fining people is difficult.
Consumption tax fell by 9%, showing the real state of consumption. People aren't spending as much. Corporate income tax fell by 7.6%, meaning companies aren't making as much profit as before.
Individual income tax fell by 0.1%. This is not a huge drop, but it does signify a historical moment. The decreased value for individual income tax means that ordinary people's incomes are dropping. This marks the first time this has happened since China joined the World Trade Organization (WTO) in 2001.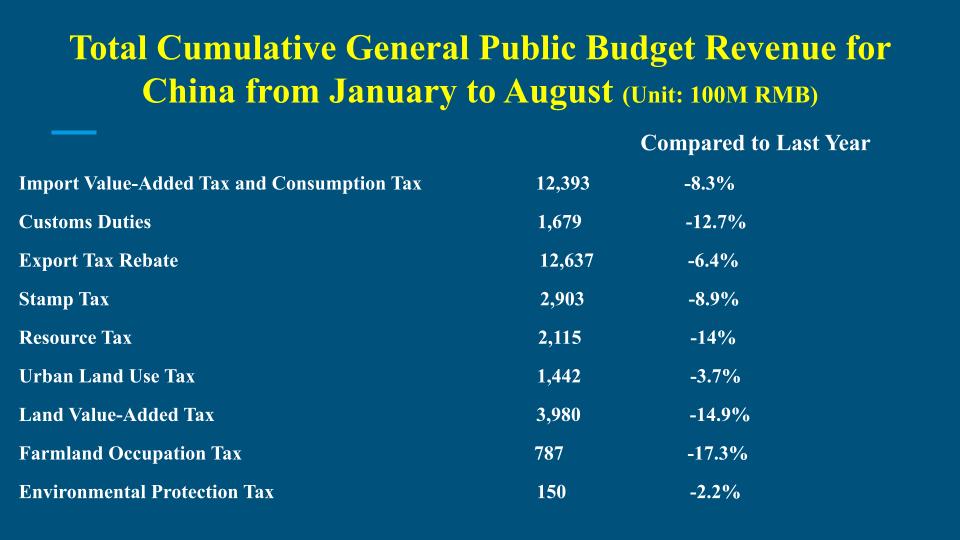 China's Economic Numbers Are Down Across the Board
As the Total Cumulative General Public Budget Revenue graphic shows, import value-added tax, consumption tax, and export tax rebates all decreased from January to August 2023. These three sets of data complement each other, showing that China's exports are losing momentum.
The stamp tax decreased by 8.9%. Although not shown in the graphic, there was a 29% drop in securities transactions as well. The stamp tax decrease is a direct result of decreased financial activity.
The resource tax declined by 14%, indicating a clear downward trend in commodity prices. This also signals an economic decline.
The environmental protection tax decreased by 2.2%. This translates to reduced economic and operational activities and decreased waste emissions.
Looking at these trends, it's clear that the rigid decline in public budget income, mainly from tax revenues, will persist for a long time and won't reverse in the short term.
Real Estate Is Suffering Especially Badly
Another major source of fiscal revenue, income from the sale of land use rights, is also experiencing severe contraction. In 2022, land use rights sales income decreased by 23.3%. From January to August 2023, it decreased by 19.6%.
In addition, the urban land use tax, land value-added tax, and land occupation tax decreased simultaneously. These numbers also reflect the downturn in the real estate market.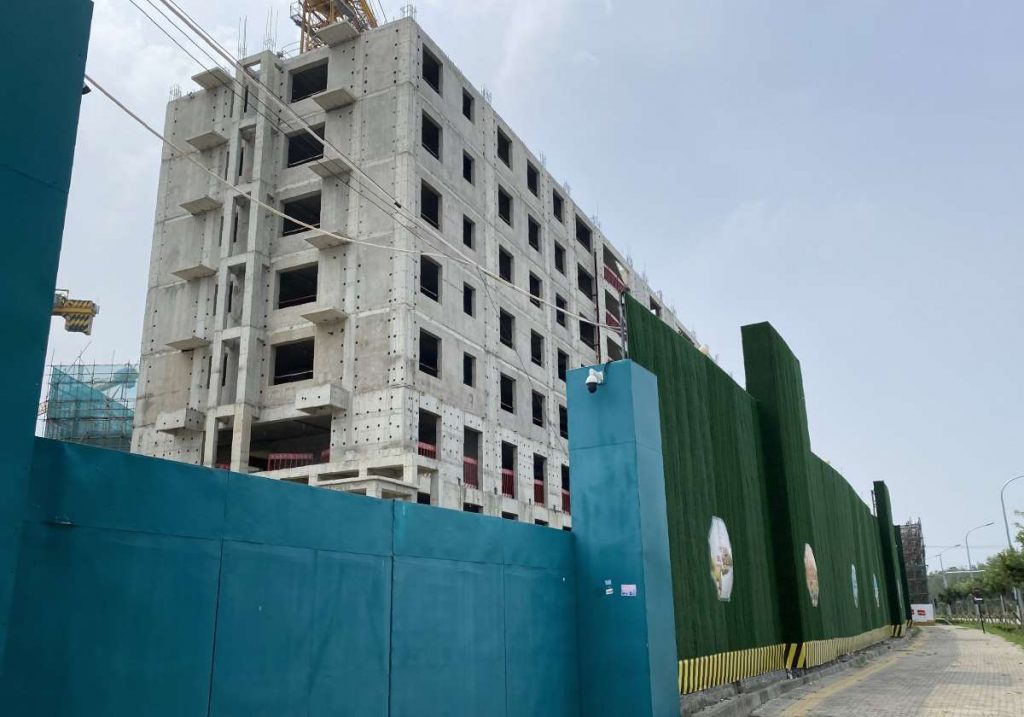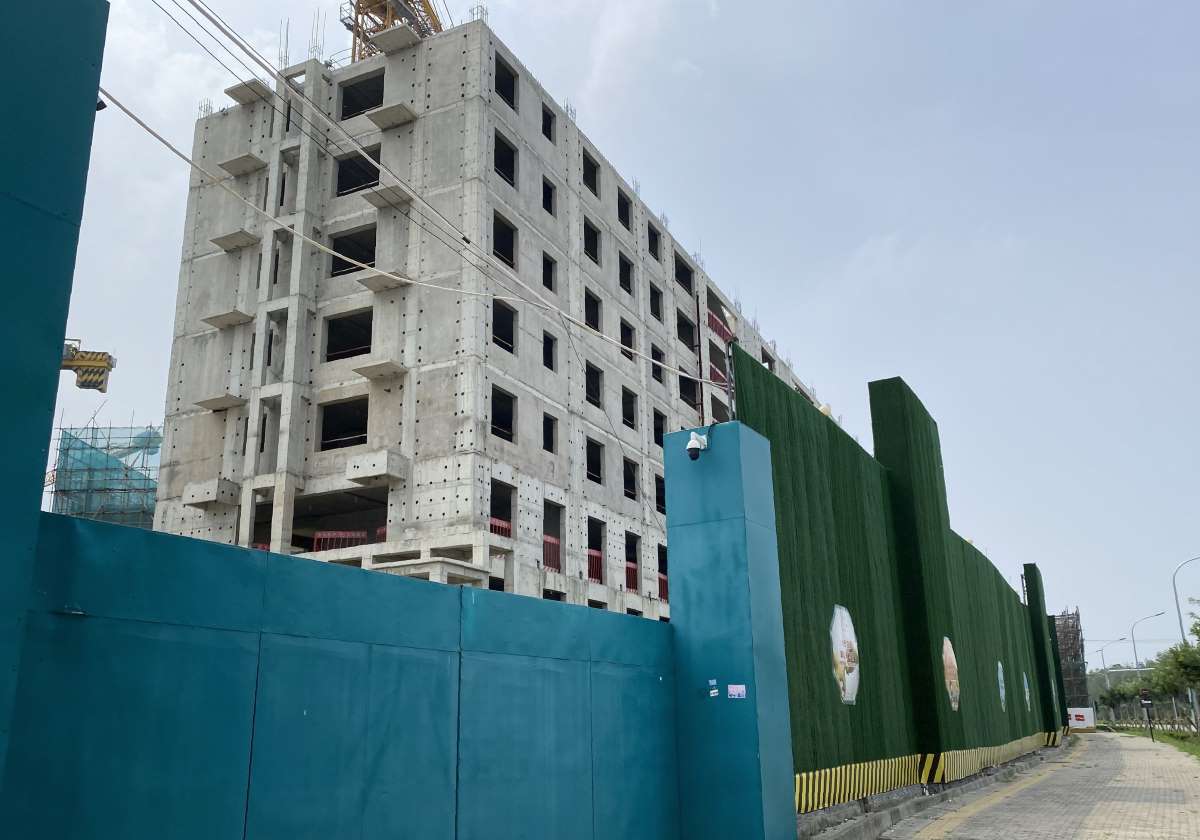 Considering the current situation of the real estate market in China, the decrease in sales income from land use rights is likely to continue in the long term.
Tax revenues and land use rights sales income are decreasing in tandem. The negative impact this is having on China's fiscal revenue is enormous, and will be impossible to overcome.
Economist Lao Man believes that starting in August, China's fiscal revenue will inevitably enter a phase of long-term contraction. The impact of fiscal revenue contraction on the Chinese economy will certainly surpass the contraction in all other industries.
Huge Debts
As the tax figures above clearly indicate, the Chinese government's cash flow is shrinking. Consider some numbers from the past thirteen years.
In the three years from 2020 to 2022, the cumulative fiscal deficit reached ¥23.6 trillion CNY ($3.22 trillion USD). This exceeds the previous ten years when the cumulative fiscal deficit was ¥19.5 trillion CNY ($2.66 trillion USD).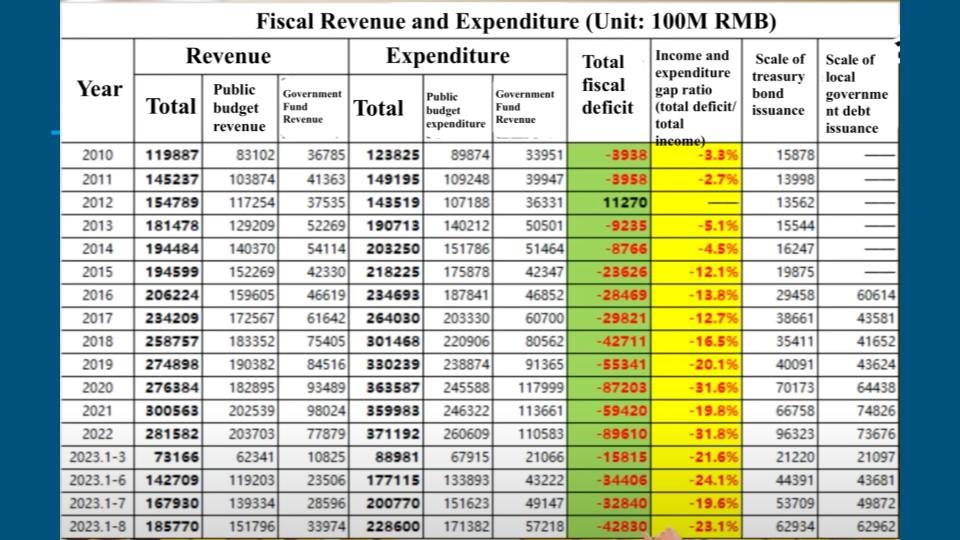 The fiscal deficit scale for January to August 2023 is ¥4.3 trillion CNY ($580 billion USD) and is expected to exceed ¥7 trillion CNY ($975 billion USD) for the whole year.
The Fiscal Revenue and Expenditure table also shows that the total deficit has been expanding continuously. The fiscal deficit-to-revenue ratio, which is the total deficit divided by total revenue, has also been on the rise for over a decade.
To cover the deficit, Chinese Communist Party (CCP) authorities have continually adopted a frantic borrowing model. As a result, the combined balance of national bonds and local government bonds now exceeds ¥65 trillion CNY ($8.9 trillion USD).
When the city investment bonds and the operational debt of public institutions are factored in, the total debt scale has surpassed ¥100 trillion CNY ($13.70 trillion USD).
The above information, by the way, is based on official macroeconomic data.
RELATED:
Author: Jennifer Zeng