A Discussion on Japan's Place in the World: 'Japan Needs to Wake Up'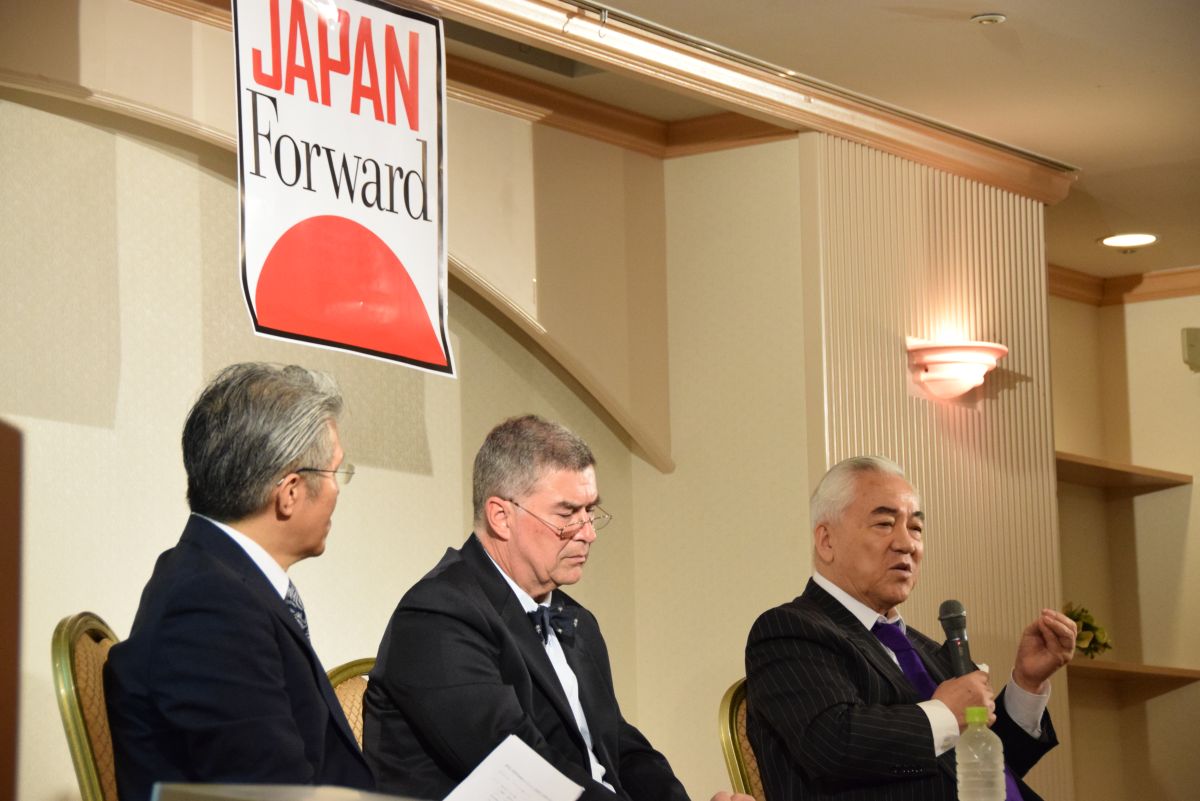 Japan should take hold of its narrative and wake up to take its place in the world. That was the take away from the JAPAN Forward forum, "Broadcasting Japan to the World: The Road Ahead in the Reiwa Era," on the evening of June 26.
The forum was a full house held at Ivy Hall, a Shinonome Venue on the edge of Aoyama Gakuin University's campus in Tokyo. The forum turned into a lively event, hosted by JAPAN Forward's Editor-in-Chief Yasuo Naito.
Using a Q&A format, the forum featured two well known speakers, Toshio Nishi, a research fellow in international relations at Stanford University's Hoover Institute, and Andrew Thomson, an Australian international lawyer and former lawmaker. The two led the audience - and each other - in a lively discussion.
The evening sought to bring out how the speakers and the audience see Japan's place in the world, the challenges it faces and what should be done moving forward. The themes touched upon were varied in breadth and depth. Starting with the G20 and international trade issues, it grew and evolved to include a discussion of Japanese agriculture, cultural arts, aging, immigration, technology and the role of AI.
For example, both speakers agreed that for the future education was something Japan needs to invest in. Thompson argued, "The future is the next generation, I don't know about the current generation of politicians, but I think we need to rely on the next generation for what is going to happen."
Professor Nishi, recounting his experience in the U.S. and the weight that was put into education, encouraged Japan to do the same. He also encouraged Japanese to look at their country from different perspectives rather than stay comfortable and complacent with what they think now. "Japan needs to wake up," he exclaimed passionately.
Responding to a question from the audience about the role of AI in Japan's future, Professor Nishi argued "If we invest in AI, we can solve the aging population problem in one go".
Professor Nishi boldly provoked the audience with his insider/outsider perspectives. Mr. Thompson, on the other hand, came at the issues with pondering balance and sardonic comments, pushing the audience to reflect on different aspects of current affairs in Japan.
The audience of just over 60 people found plenty of moments for light hearted laughter. As the evening closed, the audience and speakers seemed to come to a consensus that Japanese need to take their future into their own hands and demonstrate self confidence as they chart the way forward in this Reiwa era.
Coming in the opening months of the Reiwa era and days ahead of the G20 summit, and with the Olympics round the corner, this won't be the end of the discussion of what path Japan should take in this ever changing world.
(Click here to read the article in Japanese.)
Author: Arielle Busetto