[A Photographer's Notes] In Search of Omoide Yokocho's 'Corner of Memories'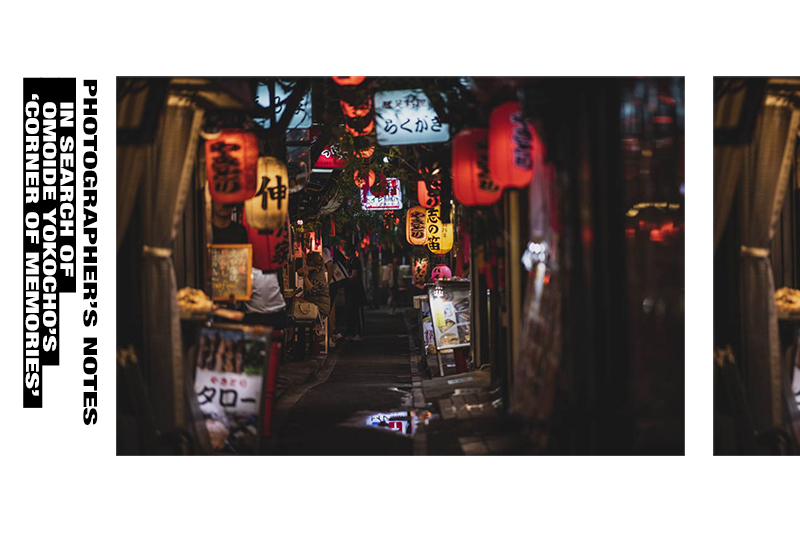 With its roots going back to the 1940's, the modern day Omoide Yokocho area has been an ever evolving fixture of Tokyo's west Shinjuku district. Once home to over 300 various shops covering several city blocks, the area has shrunk down in size to roughly one block, with about 80 bars and restaurants packed together to create a unique atmosphere enjoyable to locals and tourists alike.
Although some shops are open during the day, I highly recommend visiting the area at night, as that is when it comes alive with the sites and sounds, and smells, of all the people and different shops available.
Also, as a photographer, I would say a nighttime visit is best as this is when all the shop lights and paper lanterns (chochin) along the street come on, giving the narrow alleyways the unique atmosphere of a bygone area.
For my shoot I didn't want the area to be too crowded, like it can get on a Friday or Saturday night. So I arrived in the early evening on a Thursday, just as it was getting dark.
When standing at the narrow entrance to the alleyway you can see quite far down the street. The view gives you a great photo opportunity if you use a zoom lens and compress all the lights and people into a nice tight shot.
From there as you walk down the street, what you see and experience will almost certainly be unique for you at that moment. Every time I have visited Omoide Yokocho I have seen different one of a kind characters and sites, and I am sure you will have your own distinctive experience when you go.
Thoughts on Photo Opportunities
Saying that, there are a couple things I can recommend to photographers visiting the area.
First, use prime lenses if you can. For my shooting I took a Nikon 24mm/1.4, a Nikon 50mm/1.4 and a Nikon 105mm/1.4 lens and shot all of my images at an aperture of f/1.4. The alleyway is narrow and rather dark, so if you want to get the cleanest images possible while keeping a high enough shutter speed to avoid any blurring, I recommend shooting wide open.
Second, do not take a tripod. Even just stopping to the side or crouching down for a quick shot I often felt like I was taking up too much space and was in the way of people passing through the area, so a tripod would just take up basically the whole alley.
If you REALLY need some support a monopod could be useful if you like slow shutter shooting. Otherwise, plan to shoot handheld.
Third, if you want to get people in your shots, I recommend a longer focal length, if possible. Many of the closer up shots you see here are with my Nikon 105mm prime lens. This is because I prefer to stay back from people I am shooting and try not to have them even know I am taking their picture.
Although photography is allowed, it is important to remember these people are just out for a fun time, and some might not want to have their picture taken. So to avoid complications by their involvement in the shoot, it's best to use a bit of a longer lens, and give the regular customers room to enjoy their night.
Lastly, if you are not feeling adventurous about trying one of the sit down bars, but still want to eat something, I can recommend the soba/udon restaurant "Kameya". It is quick, very cheap, and a great meal to enjoy after a night of street shooting.
Naturally, if you are feeling adventurous and want to try a local shop, go for it! I hear the oden is really good.
Author: Jason Halayko