[A Photographer's Notes] 'The Tokyo Toilet' Project's Urban Invitation
Thanks to the unique designs, colors, and materials used, each Tokyo toilet is its own stand-alone architectural creation worth a day of fun urban photography.
I often hear two specific complaints from people who are visiting Tokyo for the first time: there are no trash cans on the street, and there are very few clean and easily accessible public toilets. For the trash complaint, all I can say is expect to carry your trash with you while traveling in Japan. Maybe bring a little plastic bag with you if you can. But for the toilets at least it would seem the government of Tokyo has heard your cries. And in the last couple of years, it has implemented "The Tokyo Toilet" project.
The Tokyo Toilet project consists of 17 different toilets designed by 16 different designers and built in various locations around Tokyo. For example, you can find them in Ebisu, Yoyogi, and even Shibuya.
Thanks to the unique designs, colors, and materials used, each toilet is its own stand-alone architectural creation. And each one not only has the utilitarian features of a usable toilet, but is also aesthetically pleasing, and interesting for anyone who chooses to use it.
After seeing someone's Instagram post showing one of the toilets in Ebisu I was intrigued by the project. And I thought it would give me a good excuse to get out and explore some new parts of Tokyo I may have not seen yet.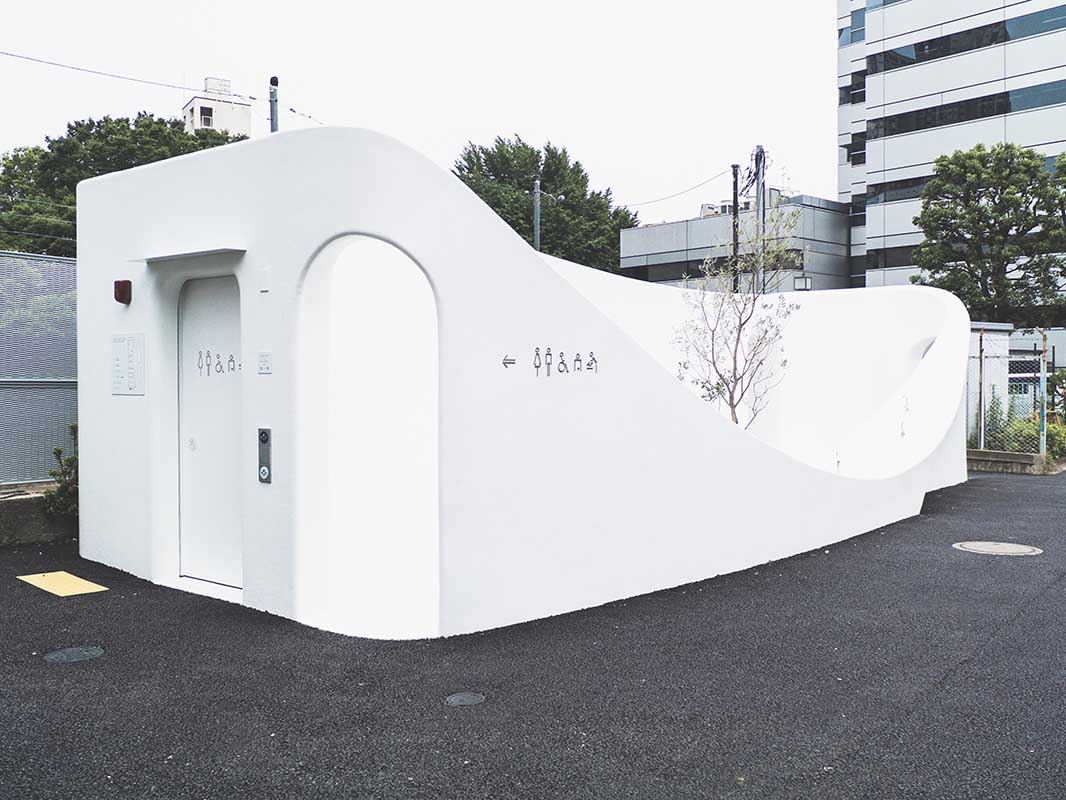 Getting Started
For more information, I visited the project's website and was surprised to see that it was actually very informative. It offered descriptions of each designer and toilet. And it even had the locations of each toilet conveniently marked on a map, with external links to google maps as well!
Looking at the map I quickly realized it would be impossible for me to visit all 17 toilets in one day. So I created a route that would allow me to see the 5 or 6 toilets that I most wanted to try and photograph and could walk to within a few hours. And off I went!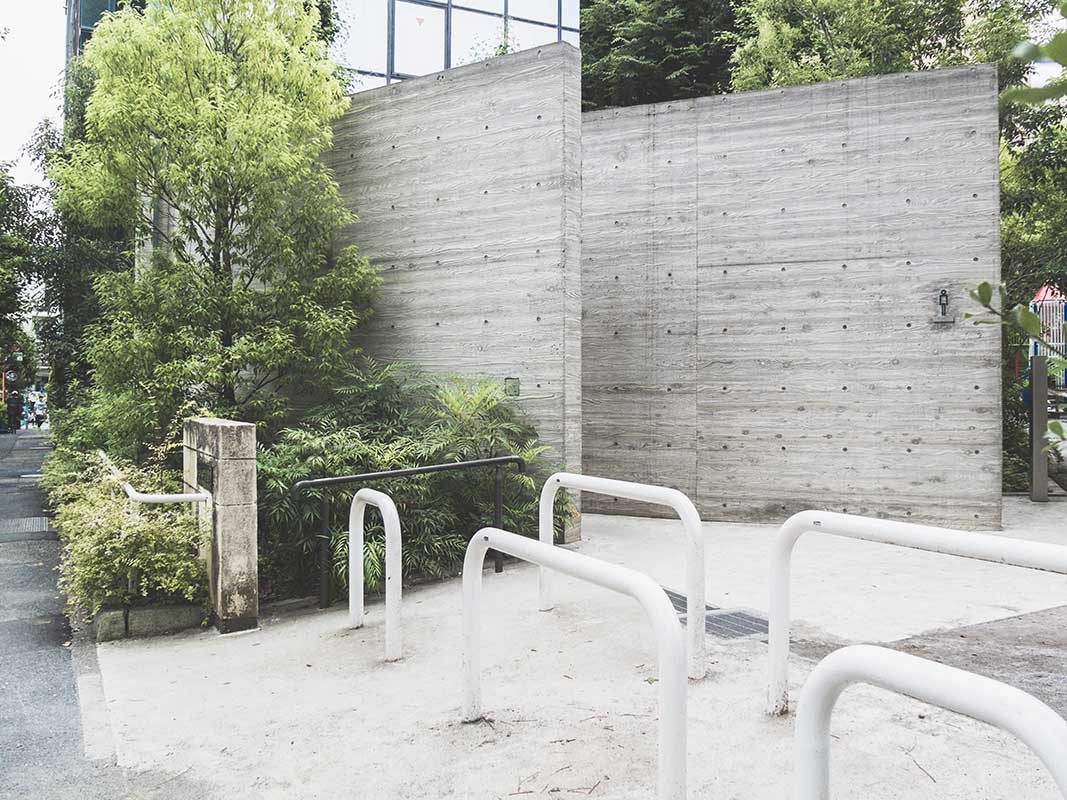 Ebisu Park
My first stop was a toilet in Ebisu Park designed by interior designer Masamichi Katayama. Titled "Modern Kawaya," the toilet was designed to blend in with the surrounding park and playground located nearby. ("Kawaya, or 川屋 is a term for a shack or hut that was placed over the river and used as a toilet in ancient times.)
I really like how although the toilet is constructed out of 15 concrete walls. There is a wood grain look to these walls that allows them to further blend in with the natural surroundings and not seem so clinical and utilitarian like a plain concrete wall might.
Furthermore, the strategic placing of greenery around the toilet (small trees and grasses) further helps the toilet to blend into its surroundings. I think if you were to walk by the park you might not even notice the building. That is thanks to the muted colors of the concrete combined with the foliage of the surrounding trees.
I really enjoyed photographing this collaboration of concrete and nature. And I decided to eat my lunch here before heading out to the next toilet.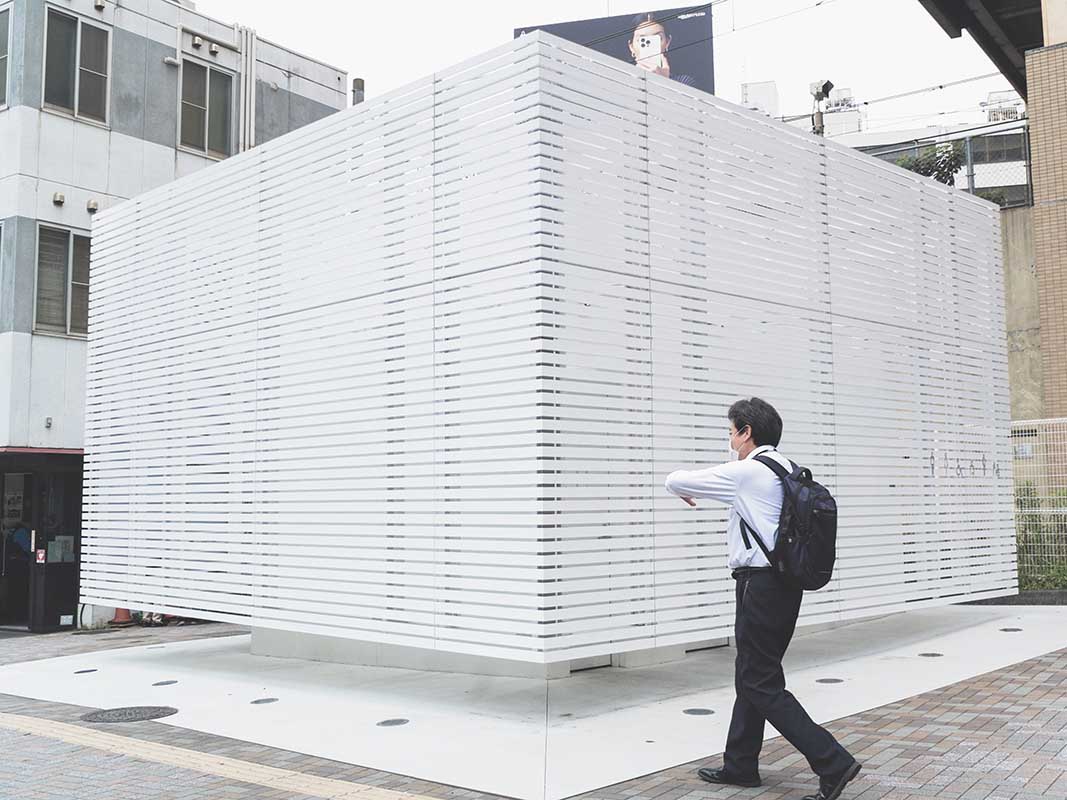 Ebisu Station, West Exit
From Ebisu Park, it was only about a 3-minute walk to my next toilet, which was located just outside the west exit of Ebisu Station. Upon my arrival, I realized that over the last few months, I had actually walked by this toilet many times while traveling for work. But I had never noticed it was a toilet in the past, haha.
Designed by creative director Kashiwa Sato, this toilet has the simple name "white." With the concept of "clean and safe," the exterior of the toilet is basically a giant white cube. It is located directly beside the local koban (local police office).
In general, this area is quite dull and gray. So although it is hard to tell it is a toilet when you see it from afar, the pure white walls and cubic shape help it to stand out from its local surroundings.
While photographing the toilet I noticed the stark contrast between its white walls and the dark suits of the many working Japanese people going to and from the busy Ebisu Station. It was fun to allow people to walk into my frame while shooting as the round lines of their bodies and dark colors of their suits jumped out so much from the straight and bright white lines of the toilet.
Doing some slow shutter photos and blurring the motion of the people in such a hurry would have been fun too. But I was traveling without a tripod, so maybe I will try that next time I am in the area.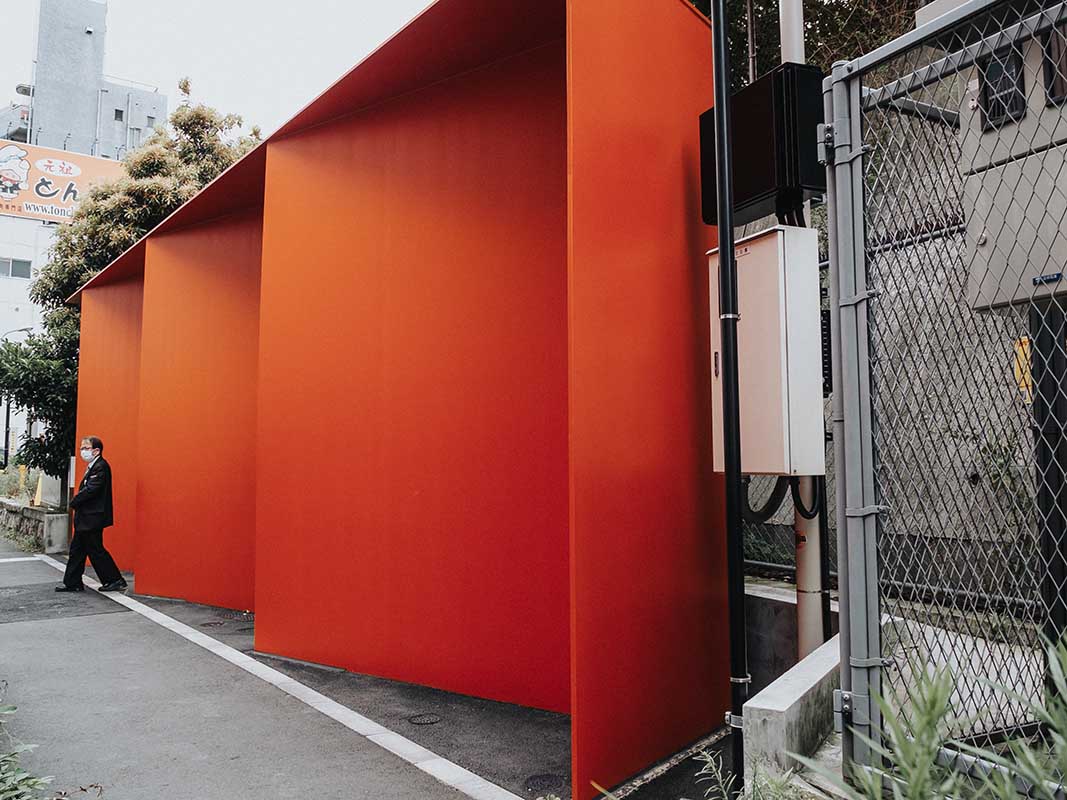 Higashi Sanchome
From Ebisu Station, it was another quick 3-minute walk to my next destination. This one was located along the raised train tracks of Higashi Sanchome.
Designed by product designer Nao Tamura using the idea of "origata" (a traditional Japanese wrapping method), the first thing that really jumped out to me when I saw the toilet was its bright reddish-orange color. This color really reminded me of the color of Japanese Torii (the arches you see in Japanese shrines). And it is a color I personally enjoy quite a lot. This color is also a very stark contrast to the drab grays and other muted colors you normally see used in Japanese architecture.
Another aspect of this toilet I found interesting was the ability to use such a small land space while still providing an interesting shape and design to the toilet. The triangle shape of the building utilizes every square millimeter of available space. It provides a compact design while still allowing for a full-sized and uncompromising user experience when using the toilet.
Using the brightly colored walls as a backdrop for my street shooting was fun. I waited for people to walk by, and as this is Tokyo I never waited more than 30 seconds. Then I aligned so they would be centered along one wall and stand out thanks to the color contrast I just mentioned.
A quick note here. Using my FujiFilm X10, it is hard to separate my subject from some backgrounds as the camera doesn't produce much bookeh. But by using the brightly colored wall as a backdrop I am easily able to let my subject pop out in the picture. Using this technique I was able to get several images I like, even though it was quite a busy area of the city.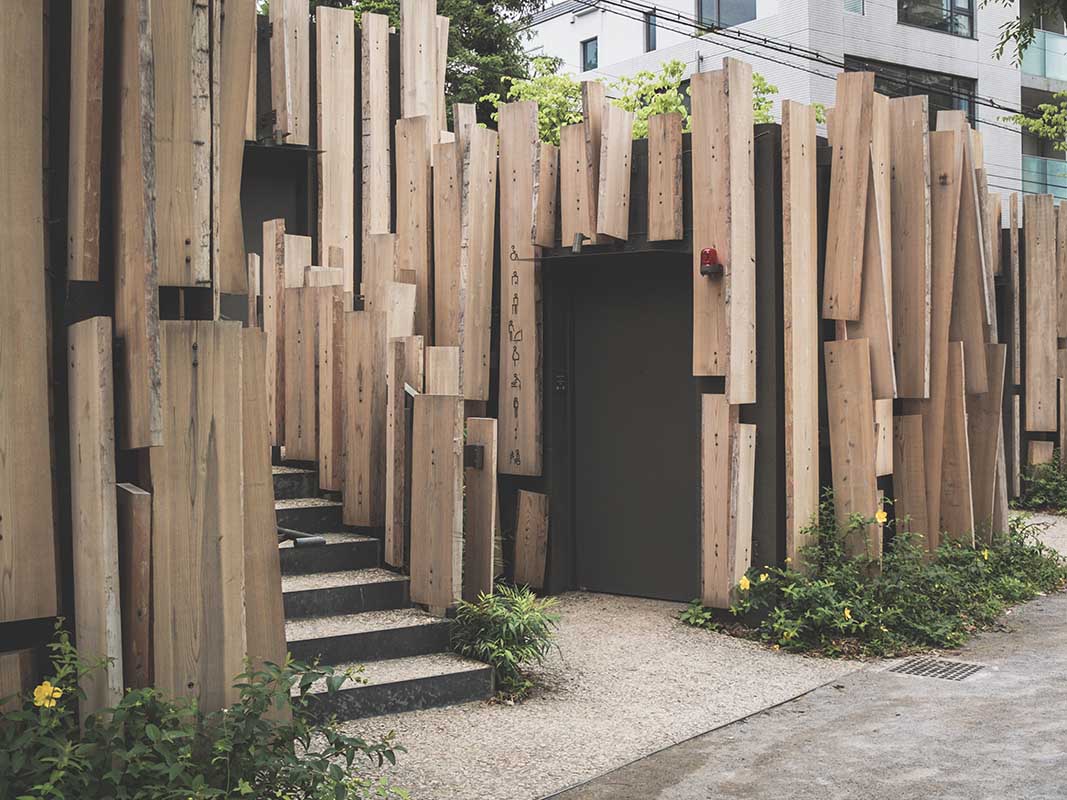 Nabeshima Shoto Park
Those first three toilets were located relatively close to each other. So up to that point, I had not done too much walking. But from here to my next toilet turned out to be a 32 minute walk away…wow.
This is why I only wanted to see about 6 toilets. Walking to them all would take waaaay too long, haha. The great part about these longer walks is that I could explore the city more than I expected. I even enjoyed taking a few "non-toilet" street photos along the way.
Finally arriving at Nabeshima Shoto Park, I quickly found the next toilet. Designed by architect Kengo Kuma, this toilet had the name "A Walk in the Woods." It was designed with the idea of a "public toilet village" that had the different toilets set out as individual huts and you could walk through the "village" to find the appropriate toilet for yourself.
I really loved the cedar boards used on the outside of the huts as they gave the whole "village" a natural feel. Meanwhile, it still provided a distinctive modern design. The layout of the huts also allows visitors to travel through the installation like they were walking through a small village which was quite different from the other toilets designed for the project.
Capturing Your Best Shot
Photographing this toilet was actually a little challenging as there was some kind of yellow and black tape used on one section for one reason or another. I really didn't want this tape in any of my shots so I needed to move around a lot and find angles that were interesting while hiding the tape.
This happens a lot in street photography and event photography where there is something near or around your subject that you don't want in your photos. So you have to get creative with your angles.
In the end, I found that by backing up and using a tree located in the park to block the area of the tape I was able to get a wider shot of the toilets while also showing the wider environment of the park as well.
Yoyogi Fukamachi Mini Park
From Nabeshima Shoto Park, I had a "shorter '' 18 min walk to the next toilet. but again I really enjoyed wandering through a part of Tokyo I have never visited before. Riding the trains around Tokyo is great, but I highly recommend you try walking as much as you can to really explore the city's small ins and outs.
The next toilet on my list was located in the Yoyogi Fukamachi Mini Park and was designed by architect Shigeru Ban. This was the one toilet I was most excited to visit as it was designed with new technology that allows the glass walls of the toilet to be see-through when the toilet is unlocked, but turn opaque once a user enters and locks the door.
I have seen this technology on the Internet and TV. But I had never seen it in person so I was excited to see it in use. Unfortunately, it seems that due to the cold weather of last winter, the toilet walls no longer change, and are now permanently opaque. Tooo bad!
Because of this I ended up skipping photographing this toilet and moved on to the last toilet on my list. Please be aware that although the walls no longer go from clear to opaque, it still functions as a public toilet and is open to use.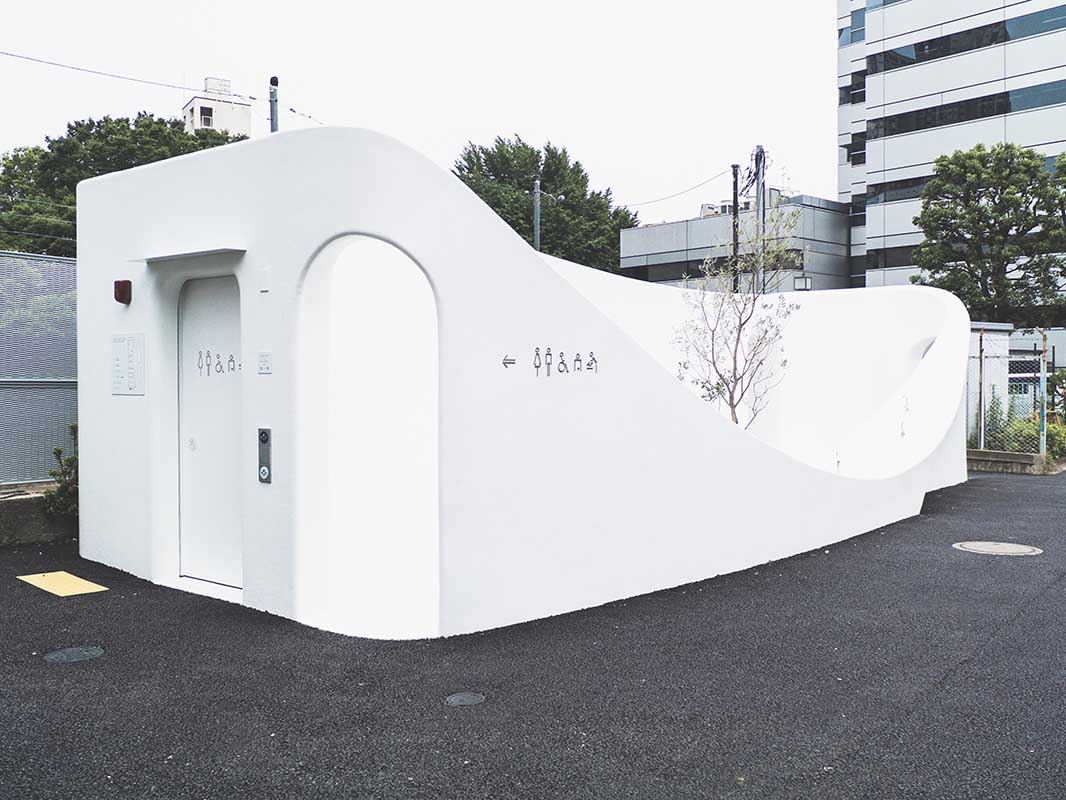 Nishisando
After another 20 min or so walk I arrived at my last toilet, in Nishisando. Designed by architect Sou Fujimoto, this toilet was titled "Vessels and Fountains." It is all white like the toilet outside Ebisu Station. But unlike that one, this toilet is shaped like a large boat or "vessel." Moreover, it seems to have very few straight edges.
One unique aspect of the design of this toilet is that there are several areas for hand washing outside the main toilet area. The water taps here are also placed at various heights so they can be used not only by adults but by children as well. It seems the designer wanted to create an "urban watering place, a fountain in the city" with the design.
Up until now all the toilets I had visited were very straight in their design. But this toilet had many long sweeping curves and rounded edges, giving it a very unique look within the project as a whole.
Furthermore, the location of this toilet was directly beside a very busy road and raised highway. Also, it had an open lot behind it and rather ugly fencing around it as well. The contrast between the ugliness of the area and the sweeping beauty of the toilet's design and bright white color really made it stand out as a unique piece of architecture in an otherwise unexciting area. In that sense, it was much like the reddish-orange toilet in Higashi Sanchome.
Getting the Exposure Right
The bright-white color that made this toilet stand out so much also made it quite challenging to photograph. When shooting in environments that are very white, like on a ski slope in the winter on an overcast day, your camera can easily get the exposure wrong and underexpose your images. At first, I noticed my FujiFilm X10 was having similar problems while shooting on aperture priority. So to fix the issue I changed to manual.
Then I set the camera to shoot the correct exposure. This time, though, I noticed the images were brighter. But if I made them too bright, I would lose some of the subtle details of the architecture by blowing out (over-exposing) some of the whites. It took a while, but in the end, my trial and error worked out and I got the shots I was hoping for.
Another quick tip in these situations. It is actually better to shoot a little underexposed than blow out your whites. Because when you blow out the whites your camera actually loses all that information and it is very difficult to bring it back in post-processing. So when in doubt, underexpose.
In the end, I visited 6 different toilets and walked about 13,000 steps over the day. As each toilet was so different from the next I really enjoyed trying to capture their individualism and uniqueness with my camera.
Although I am not an architectural photographer by any means, it can be a great learning process to step out of our comfort zones and experiment with new types of photography. I really enjoyed this experiment and hope I can do more like it in the future.
The Tokyo Toilet Project
A note about the project itself. While photographing the toilets, there was one thing that really stood out. These toilets were not only amazingly designed and beautiful examples of a variety of architectural styles. They were also frequently used by many people while I was there.
Not having enough clean public toilets in a city can be a very real problem. And I think to solve this many countries would simply install simple and utilitarian porta potties around the city.
But not Japan! Not only did they install 17 new toilets around the city, but they also made these toilets attractive and even the centerpiece of their communities.
Nice work Japan. Let's hope more countries around the world follow your example.
RELATED:
Author: Jason Halayko
Jason Halayko is a professional photographer specializing in action sports and portrait photography. Find his column, "A Photographer's Notes" on JAPAN Forward. And follow him on Twitter (@jason_halayko) and Instagram (@jason_halayko).