Abe and Trump: A Good Start, but a Long Road Ahead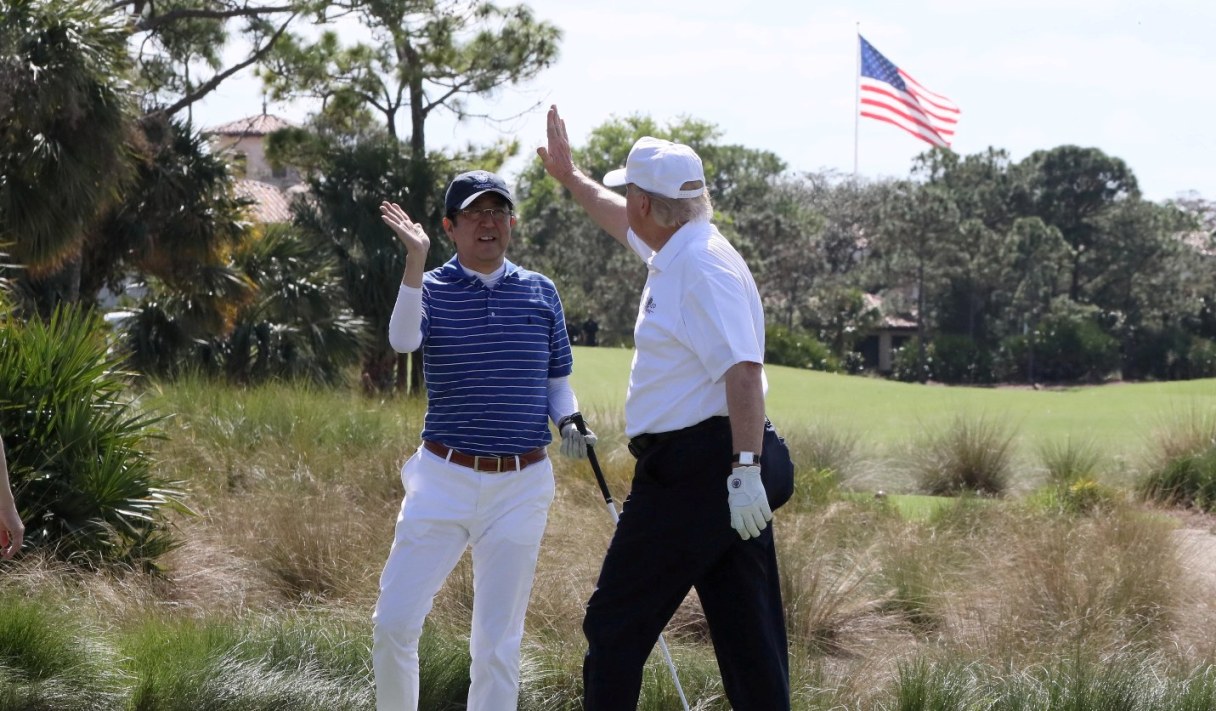 Prime Minister Shinzo Abe's summit and golf outing with Donald Trump on February 10 and 11 could not have realistically gone much better. Expectations were admittedly low, but for good reason—Trump's early relations with U.S. allies have gone poorly, like when he hung up early on the Australian prime minister after berating him about the refugee resettlement plan reached under the Obama administration, or by threatening to send the U.S. military into Mexico if the drug cartels could not be brought to heel.
In contrast, Trump greeted Abe with bear hugs, back-slaps, high-fives, rounds of golf, dinner at Trump's resort with the owner of the Super Bowl Champion New England Patriots, and unequivocal public statements that the United States supports Japan "100 percent." North Korea even gifted them an opportunity to demonstrate that solidarity with the test of an intercontinental ballistic missile that both leaders condemned in a brief press statement.
Last week was Trump's first test in Applied Asian Diplomacy Between the summit with Abe, the North Korean missile test, and the phone call with Chinese President Xi Jinping, and he passed. Trump affirmed the "One China" policy after saying the United States should not be bound by it, responded to North Korea's test with measured tones and didn't overreact on Twitter, and reaffirmed the U.S. alliance with Japan after attacking them on the campaign trail. Given Defense Secretary James Mattis's successful visit to South Korea and Japan the week before, the Trump administration's Asia policy appears fairly conventional and consistent with past U.S. policy.
Abe's decision to build a personal relationship with Trump is proving to be a smart one. While Trump did not promise to return the United States to the Trans-Pacific Partnership, the United States and Japan will form an economic dialogue that may set the stage for a possible bilateral free trade agreement. Interestingly, the U.S. side will be led by Mike Pence, whose home state of Indiana is the beneficiary of Toyota's recently-announced plan to invest $10 billion in its Indiana plant and add 400 jobs while Japanese automakers Subaru and Honda also have facilities in Indiana—it will be hard for him to take a hard line on negotiations knowing that his counterparts are so deeply invested in his home state.
Maybe more importantly, building a strong personal relationship with Trump gives Abe a consistent and powerful advocate in a White House that is being torn apart by staff wars and internal divisions. On the weekend of Abe's visit, revelations that National Security Advisor Michael Flynn, who is well-regarded by Japanese officials, had discussed easing sanctions with the Russian ambassador to the United States sparked rumors of his imminent dismissal (which would make him the second shortest-tenured National Security Advisor). Despite the credibility-restoring statements by Secretary of State Rex Tillerson and Secretary Mattis, ideological extremists like Steven Bannon and Stephen Miller also play an outsize role in the Trump administration's thinking and they may become more ascendant depending on who replaces Flynn. By keeping a good relationship with the man at the top, Abe assures himself of an advocate in the internal administration battles.
And Abe will need an advocate, because the differences on policy are still acute and not easily solved. The mercantilist philosophy of Peter Navarro, chairman of the National Trade Council, and his determination to close the U.S. trade deficit will ensure that bilateral economic issues do not always go smoothly—Japan just announced its first trade surplus in six years in January and Japanese companies, rather than the prime minister, make the decision about where to invest. Currency manipulation may remain an outstanding issue and market access for automobiles will be a challenge for bilateral trade discussions.
On top of that, the test that Trump needed to pass was only entry-level—don't unnecessarily antagonize China, assuage Japan, and condemn North Korea when it acts out. That passing such a simple test elicits sighs of relief speaks to the concern that Trump's administration creates in governments and observers (and he also didn't even get perfect marks after he failed to mention South Korea in his press statement). Trump still has access to Twitter, there is no indication that Bannon thinks there's won't be a war in the South China Sea (or elsewhere), and it's still unclear how much Secretaries Tillerson and Mattis speak for the White House. After all, with not even a month into Trump's presidency there is still time for things to get worse. They almost certainly will.
Abe will have to make it clear that there are some lines Japan won't cross, such as reiterating Defense Minister Tomomi Inada's statement that Japan will not participate in South China Sea exercises, and that Japan has no appetite for a war, trade or otherwise, with China, but Abe laid the foundations to do that. Though the hard policy questions will remain a challenge, maybe even an intractable one, and Trump is still an erratic leader, Abe has inoculated Japan from Trump's worst attacks—no small feat. He and his team deserve credit.
Paul Nadeau is a private secretary with the Japanese Diet