After Abdication, Will Emperor Akihito Overshadow Crown Prince? 'Impossible," Says Prince Akishino
Prince Akishino turned 52 on the 30th of November. At a press conference with Princess Kiko at the royal residence in Moto-Asakusa in Tokyo in conjunction with his birthday, the Prince stated that he was relieved that the special law enabling the abdication of the Emperor was enacted in June. At the same time, he noted the concern expressed by some observers about "overlapping authority" between the new Emperor and Joko, the retired emperor, and explicitly stated that would be "impossible."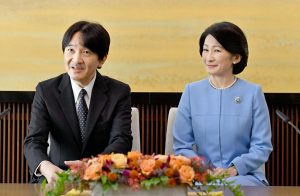 The press conference took place before the Imperial Household Council made its decision on December 1 on the Emperor's abdication date. The Prince was replying to questions submitted by the Imperial Household Reporters. Below are excerpts of the interview.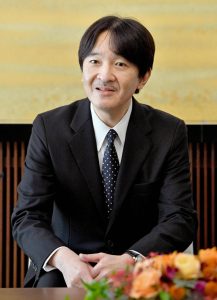 In June "The Special Law Providing for the Abdication of the Emperor" was passed. Some observers are raising the issue of "dual authority." What are your thoughts on the future of the monarchy?
As a family we were all relieved [by the passage of the law]. It is my hope that after he passes on the throne His Majesty will be able to spend as much time as possible relaxing. It was his thought from the beginning that when he passed on the throne, he would pass on all public duties to the next emperor, beginning with state functions. I can state explicitly that if the term "dual authority" is applicable in this case, and even if there is concern or an inclination towards a direction that causes unease, it is not going to happen.
As for the future of the monarchy, at the same time while there are things that will continue as in the past, I also think there are things that will require change from time to time. I think this is something that always needs to be kept in mind.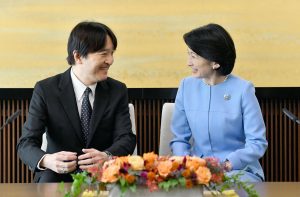 When the Crown Prince succeeds to the throne, Your Highness will be first in the line of succession. You will take on the public duties of the Crown Prince. What are your thoughts about the sharing of official duties?
There are quite a number of things that I have not yet really thought through. I think that it will be a matter of trial and error when I come to the stage where I am starting to do things. I think that the division will have to be determined by talking with the Crown Prince. I am thinking that I would like to take on as much as possible. At the same time, there are the [official] things I have been doing heretofore as well heading various organizations and serving as an honorary chairman. Just what is physically possible is something that I will have to think through. Further, there are things that I have been doing that can be passed on. I hope this will be discussed among the princes.
What is your impression of Kei Komuro to whom Princess Mako is engaged? What kind of family would you like to see them create?
My first impression was that he is a very serious person. That impression remains unchanged even after numerous meetings. I think he well understands my daughter and her position. If theirs is a happy family, that is enough.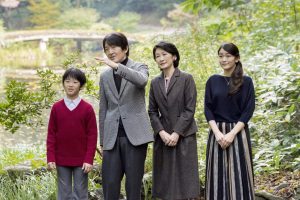 How is your daughter Kako getting along during her short-term study trip to Britain? What sort of experiences do you hope your son Hisahito will have, and how do you hope he will grow up?
An e-mail came from her in Britain just the other day. Just judging from that, she seems to be getting along fine. As for my son, I want him to go and see different places in Japan, to see with his own eyes regional culture and lifestyles. I want him to deepen his understanding by listening to what local people have to say.
(Click here to read the original article in Japanese.)