All-Season Glamping Resort Offers the Allure of the Great Outdoors
Nestled in the mountains of Nagano, GLAMPROOK Iizuna Kogen offers upscale glamping and is working with the town to reinvent the tourism industry using the SDGs.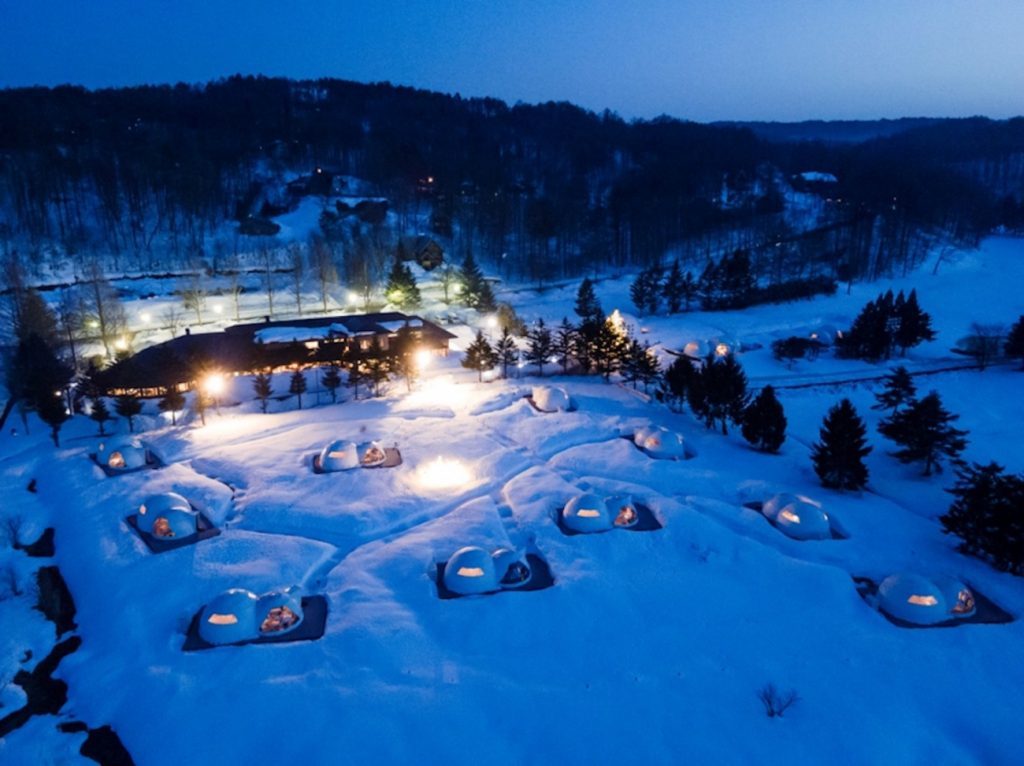 Iizuna Higashi Kogen, a highland area in Iizuna Town of Nagano Prefecture surrounded by high mountains, now boasts a glamping resort. Once a popular skiing spot, the resort town suffered a financial crisis after skiers declined in number alongside diversification of leisure activities.
The town then decided to abolish its system of outsourcing management of the resort and privatize it completely. Now a private company has taken on the challenge. It transformed the resort's former golf course into a glamping facility and is working to make the resort environmentally friendly.
Glamping with Easy Access by Train
Iizuna Higashi Kogen in northern Nagano Prefecture is about a 30-minute drive from the Hokuriku Shinkansen's Nagano Station. Upon approach, one is greeted by a landscape dotted with pure white domes. The domed tents set up on the green grass stand in striking contrast with the blue sky. The name of the resort is GLAMPROOK Iizuna Kogen.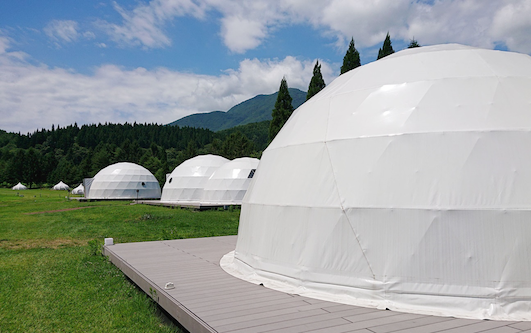 The resort was created based on the concept of "spending an elegant moment in the great outdoors." With no need to bring camping equipment, guests can enjoy their time in furnished tents situated amidst the scenic nature, just as if they were staying at a comfortable luxury hotel.
The twin-dome tents provided by Glamping Japan, a nationwide glamping operator, are 42 square meters in size. They have a bedroom and living room and offer views of Lake Reisenji and the Five Mountains of Northern Shinshu (Mt. Myoko, Mt. Madarao, Mt. Kurohime, Mt. Togakushi, and Mt. lizuna) from their windows.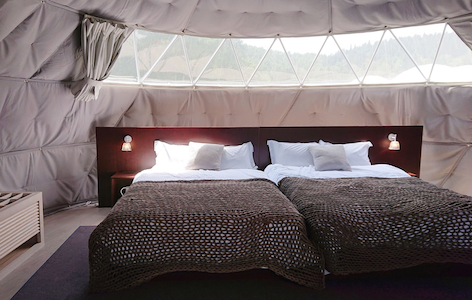 "Our tents are fully air-conditioned. Guests can enjoy an extraordinary experience away from the city in comfort and with no need to bring anything with them. Since there are no lights around, they can also appreciate a star-filled sky at night," says Ayako Murata, PR & Advertising Team Manager of Silverbacks Principal Inc., the company that manages GLAMPROOK Iizuna Kogen.
You can also hear birds chirping. When this author visited in August 2022, the weather was beautiful and clear. Particularly enticing during the summer season was the chance to encounter rhinoceros beetles up close.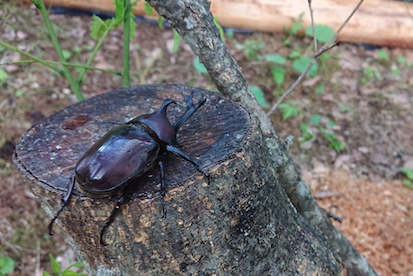 Continue reading the full story on Japan 2 Earth.
And find more great articles on the environment and the challenges of achieving the SDGs on our new website Japan 2 Earth (J2E), sparking a transition to the future.
(Read the article in Japanese.)

RELATED:
Author: Mika Sugiura