An Interview With Kikkoman: How the Japanese Soy Sauce Became A Global Seasoning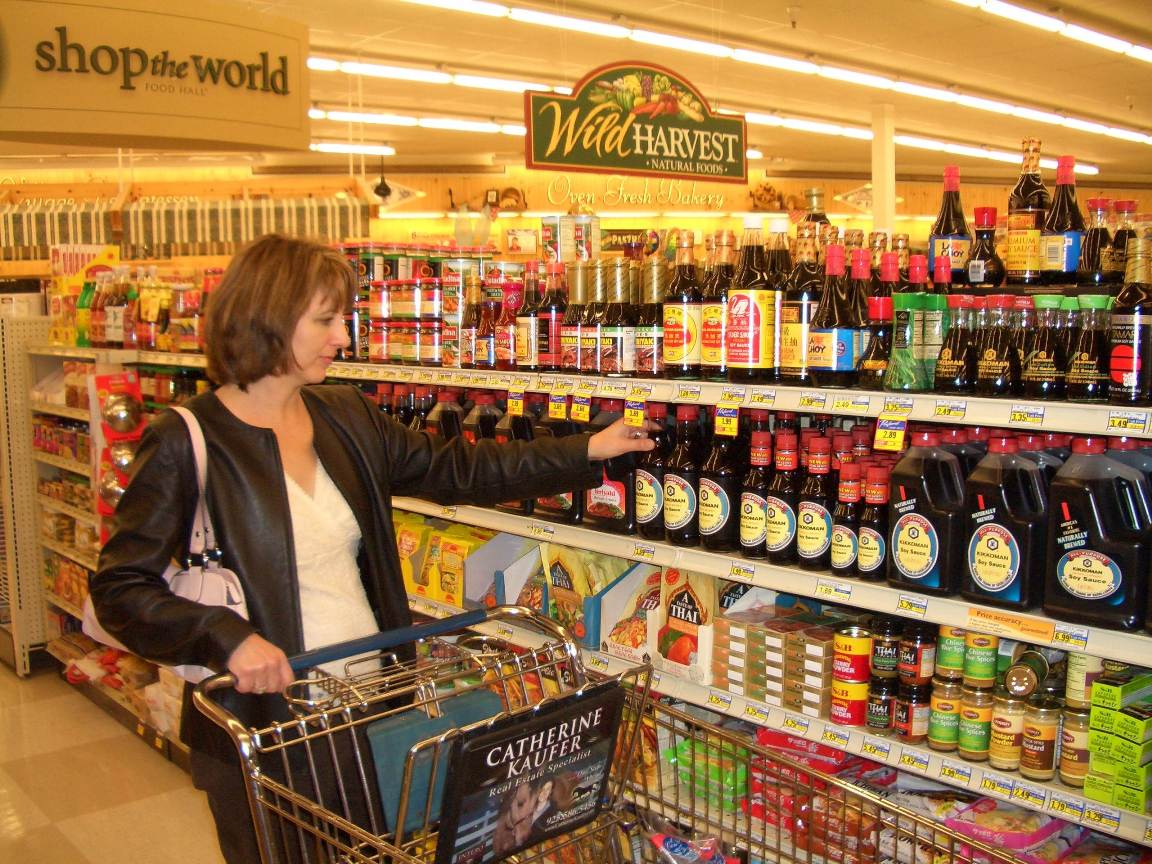 Kikkoman is a leading soy sauce manufacturer with a history spanning more than 350 years. This year, however, Kikkoman celebrates the 100th anniversary of the company's incorporation in Japan and its 60th in the United States. Kikkoman has sold and promoted its soy sauce—a seasoning that was once known only in certain Asian countries—tenaciously overseas. In 2016, Kikkoman's foreign sales reached 57% of its total sales. Additionally, 72% of its operating income was earned overseas, with sales in the US a driving force behind this financial success.
Yuzaburo Mogi, 82, the honorary CEO and chairman of the Board of Directors Kikkoman, has always advocated for overseas business—including his proposal to construct factories in the US. In an interview with Sankei Shimbun's Takashi Hirao recently, he asserted that "global expansion creates a chance for companies to 'grow out of its old skin.'" His business mantra is that Japanese companies must find solutions overseas as the domestic market shrinks.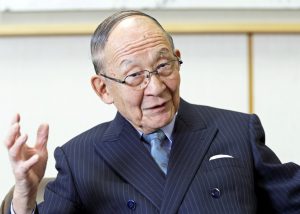 I was surprised that the highest number of sales were made overseas.
In 1955, when the sales of soy sauce began to stagnate, it was decided that selling in the US was an effective growth strategy. Sales were initially very high after the war. The more we made, the more we sold. But, after five or six years, growth started to decline rapidly. Although Japan was experiencing double-digit growth because of initiatives, such as Prime Minister Hayato Ikeda's "Income Doubling Plan," the amount of soy sauce usage per household wasn't changing. The growth in the demand for soy sauce was solely determined by the increase in population, but the management team didn't intend to let it stay that way.
Was starting sales in the US the solution?
Growth strategies can be categorized into two broad groups: diversification and internationalization. For diversification, we established Nippon Del Monte Corporation (which sells ketchup) and Manns Wines (which handles wine), while also selling enzymes that were produced using soy sauce fermentation techniques as a health product. For internationalization, we started exporting soy sauce to the US. We were confident that soy sauce would become popular. After the war, many Americans came to Japan. They interacted with the people and learned how soy sauce was used in Japanese cuisine. They also found out that soy sauce went amazingly well with meat dishes, which meant that soy sauce could also be used in Western cuisine. In 1957, we established a sales company on the West Coast and officially started exporting. We were targeting the American consumers—not simply Japanese immigrants.
Did the Americans respond well to the soy sauce?
In the US, we emphasized that soy sauce paired well with meat dishes. Until then, only salt and pepper were used to flavor steak. When customers tried this combination in the stores during product demonstrations, they were delighted by the discovery and bought our soy sauce. This led to an increase in exports, but we still weren't profiting. Our overseas business was constantly in deficit because the product price was low and we had to pay shipping costs to deliver the product from Japan.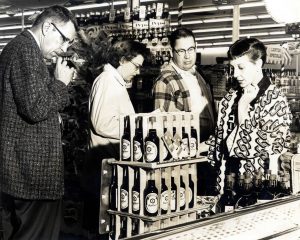 So local production would be more cost-efficient than exporting.
Soy sauce is made by fermenting the ingredients using microorganisms, which requires a huge capital investment. This meant we could only start making a profit if we sold a certain amount of soy sauce. In 1965, I was in charge of implementing long-term management plans. I proposed to senior staff that we should build a factory in the US for sustainable, long-term growth. The management team debated this, but eventually the plan was deemed too premature. No Japanese company had an official production site in the US and the necessary investment was huge—not mentioning the fixed exchange rate back then, which was 1 USD to 360 JPY. Instead, we decided to bottle the soy sauce in the US to reduce overseas costs. It was more efficient to transport the soy sauce in a tank container and bottle it in the US than to transport the product from Japan using a freighter. We contracted with a company on the West Coast in 1967 and started outsourcing shortly afterwards.
Did the company's revenue increase?
We managed to break even, however, demand in the US increased. This meant that we really needed to start producing locally. When I was in my late 30s, during the beginning of February 1971, I proposed a draft plan to construct a factory in the US. However, the plan was put on hold for the next two board meetings in February.
What happened at the end?
It isn't surprising that a company with a share capital of ¥3.6 billion didn't readily agree to make a foreign investment of ¥4 billion. But there were suggestions at the board meeting to consult with our main bank. We immediately brought our documents over to the bank to explain our situation and received a cautious response from the bank following a couple of days. We had to change the factory's production capacity to 80% of what we had initially planned. However, the bank didn't reject the plan itself, which became a decisive factor. Back then, other companies such as Sony were also considering overseas production and this appeared to have influenced the bank's decision. The plan for the US factory was later approved at the following board meeting.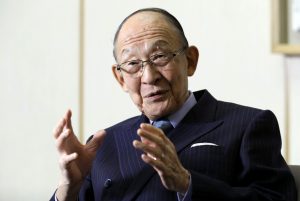 I'm sure you faced many obstacles, especially because no Japanese company was producing overseas at the time.
At first, we couldn't decide whether to build the factory in Central US, Eastern US, or on the West Coast. Initially, the West Coast was a popular option, but I couldn't agree. Of course, convenient transportation was a major consideration because we were going to compete in the US with only one factory. But constructing a factory on the West Coast, where many Japanese immigrants resided, meant that we were staying within our comfort zone. What was the point of staying on the West Coast if we wanted the Americans to love our soy sauce? Eventually, these potential locations were narrowed down to Wisconsin in Central US. The final stage was choosing from six locations. After completing the on-site investigation, each team member wrote down a location on a piece of paper. After the pieces were gathered, I was deeply moved to find that everyone had written "Walworth County" when I opened each sheet.
Did the construction go smoothly after that?
There were protests in the local area when the construction process was scheduled to begin. The factory would be constructed on agricultural land, therefore, the local government needed to approve an application for a change in land usage. Additionally, there were concerns about pollution, destroying the area's peaceful environment, and concerns about possible increases in local property taxes caused by an increase in land value once the factory was built. Soy sauce, however, is made from agricultural products—like soybeans—so it does not pollute the environment. Soy sauce production can peacefully coexist with agriculture. In the end, the local government approved when it was explained the factory would increase their tax revenue.
The US factory became the cornerstone of Kikkoman's overseas business.
The factory began operations in 1973 and we started making a profit in 1975. I believe in fulfilling the company's duty as a corporate citizen is of utmost importance. We try to recruit locals to the best of our abilities. Even when we assign engineers from Japan, we encourage them to live apart from each other and interact with the local people. We need to constantly remind ourselves about integration. Our experience constructing the US factory became a business model for our expansion in Europe and Asia. We established a sales company in Europe in 1979 and later constructed a factory in Netherlands in 1997. Our business has since expanded to a hundred countries.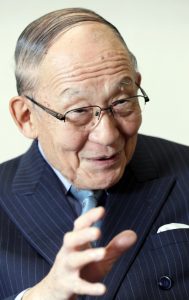 What is the secret to a successful overseas business?
We succeeded because we took the challenges one step at a time and never gave up. Because soy sauce was not well-known overseas, we first needed to develop ways to spread awareness. These included product demonstrations and appointing home economists to develop recipes that made use of soy sauce. Management sometimes involves sprinting and taking leaps, but it's mostly about small steps. As the steps become bigger, it's important for the company to build strength and endurance that match those steps.
Recently, the failure of overseas acquisitions and business by Japanese companies has been in the spotlight.
Companies cannot recklessly decide to act or make an investment on mere opinion. They must be confident that the plan will work. Also, it is difficult for companies of Kikkoman's size to locally recruit skilled managers for overseas subsidiaries. That means skilled people must be nurtured in Japan, then sent overseas as top-level managers. The key here is to appoint a top consultant. My consultant friend contributed greatly to the construction of our US-based factory.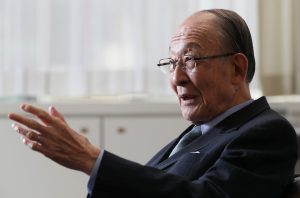 Should Japanese companies aim for overseas expansion?
The risks of overseas expansion are often exaggerated. Businesses cannot grow in Japan where the population is declining. Global expansion creates a chance for companies to "grow out of its old skin."
Takashi Hirao is a staff writer of the Sankei Shimbun Economic News Department.
Yuzaburo Mogi
Honorary CEO and Chairman of the Board of Directors Kikkoman Corporation. After graduating from the Keio University Law School, he completed his MBA at the Graduate Business School of Columbia University. He joined Noda Soy Sauce, now Kikkoman, in 1958. After becoming vice president, he served as president and chairman between 1995 and 2011. He has been honorary chairman and the chairman of the board since 2011. He is from Chiba Prefecture.

Kikkoman
Established in 1917, it mainly produces food seasoning. Its headquarters are registered in Noda, Chiba Prefecture, where the company was founded. However, the Tokyo office (Minato, Tokyo) currently functions as its headquarters. The president and CEO is Noriaki Horikiri. In 1957, Kikkoman established a sales company in San Francisco, California, in the United States, and started local production in 1973. It currently has seven production sites across the US, Europe, and Asia. Its soy sauce is loved by over 100 countries. Net sales were at ¥402,100 million and operating income was at ¥32,800 million as of March 2017 (consolidated).
(Click here to read the original article in Japanese.)