Arts Laureates in Japan to Celebrate 2018 Praemium Imperiale and Its 'Message of Peace'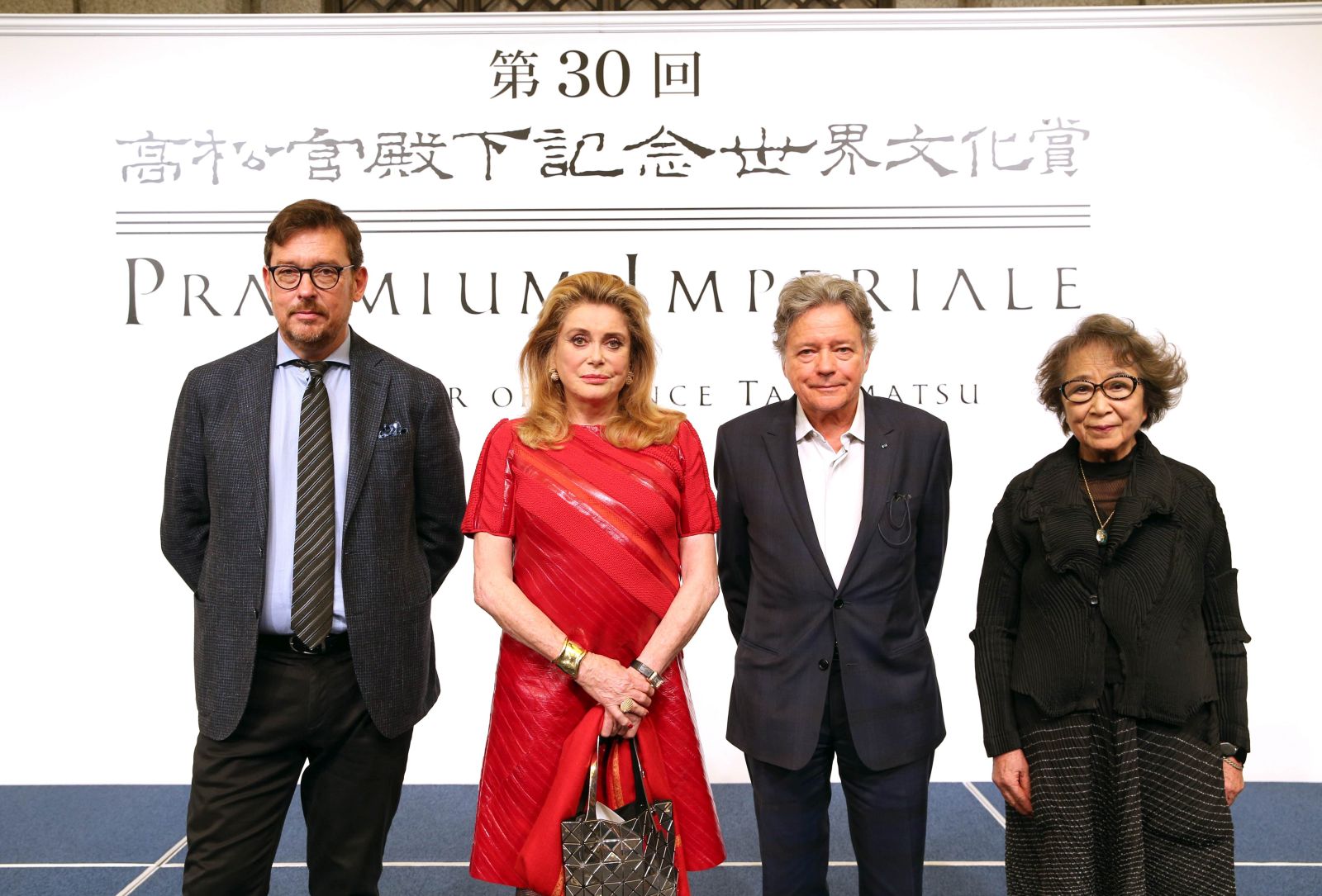 On its 30th year, the Praemium Imperiale further sealed its reputation not only as a prestigious international arts awards but as what Japan Art Association chairman Hiyashi Hieda calls "a project which exceeds national borders."
The Japan Art Association, with support from the Japanese Imperial Household, presented three of this year's awardees in a press conference at the Okura Hotel in Tokyo on Monday, October 22.
The 2018 Praemium Imperiale laureates will be formally receiving the prize on Tuesday, October 23.
They bring to more than 150 the number of people, from 38 countries, who have received the commendations since the award was established in 1988.
The three laureates who graced the press conference shared their thoughts on the significance of the award.
Christian de Portzamparc
Architecture
Christian de Portzamparc stressed his admiration for Japanese architecture and how much he was influenced by Japan:
It's a profound honor for me to receive the Praemium Imperiale as it crowns years of passionate work, but also the battles that were fought for achieving what we did.
It energizes me to know that there is recognition for architecture and urban planning.
When I started working as a young architect, the center of architecture in the world was Japan. It was here that the most important publications were published. My first project in fact took place in Japan, and not in France.
I think Japan and France share this history of culture and tradition, which includes having an appetite for modern creativity.
Fujiko Nakaya
Art/Sculpture
Fujiko Nakaya very humbly thanked everyone for supporting her: "I am very grateful to be presented with this prestigious award. I was very surprised but I am very pleased. On the occasion of receiving this award, I once again realize how many people have been supporting me and I am filled with gratitude."
She gave special thanks to the main subject of her art, nature: "I want to thank nature. Fog has no shape so it is the natural environmental that gives shape to fog."
Nakaya also explained the concept of fog art:
It uses atmosphere in reading the flow of wind, and on a real time basis changes gradually — negative-positive. And when natural conditions change, fog disappears and goes back to the atmosphere.
This is called environmental art. It is a sculpture which you can go in and enjoy, you can feel it with all parts of your body, so it's very popular among children and dogs.
They like and go in and go out of the fog and they clearly enjoy going beyond the boundaries. I am an artist who is most popular among children and dogs.
Catherine Deneuve
Theater/Film
Catherine Deneuve commented on her current collaboration with Hirokazu Koreda, who won the Cannes Film Festival for his film Shoplifters.
I have just a white paper. I am an actress. Usually in the press conference I am in a position to answer questions by journalists. I am an actress, I interpret roles and am not a creator.
In any case, I am very pleased to be here today, and I am honored.
I have come many times to Japan, but every time I come to Japan, I stay a short time. I love Asia and I love Japanese films. This time I am fortunate to work with Mr. Koreda, whom I admire very much, in Japan. And because of that, I have some time here.
Pierre Alechinsky, who received the prize for Painting, wasn't able to attend the press conference for health reasons. Michel Draguet, director of the Royal Museum of Fine Arts of Belgium, attended on his behalf.
Riccardo Muti, also a laureate, arrived in Japan later on Monday, and was therefore unavailable at the time of the press conference.
A Call to Peace and Cooperation
Like many cultural awards around the world, Praemium Imperiale stressed that this event stretches beyond borders and enriches the world.
Christopher Batten, honorary chancellor of Oxford University, commented: "The artists brighten and enliven our world. The awards are a simple recognition of what we owe to these arts, so I am delighted that four of them will be able to be with us at the ceremony tomorrow."
Finally, Jean Pierre Raffarin of the French Nomination Committee pointed out the greater mission that the prize has achieved.
"We belong to the same continent of culture," he said. "In this age, the world is particularly dangerous, more so than in previous years, so the message of peace sent out by Praemium Imperiale and Prince Takamatsu is of great importance."
Author: Arielle Busetto