[Asia's Next Page] A Moving Partnership of Consequential Democracies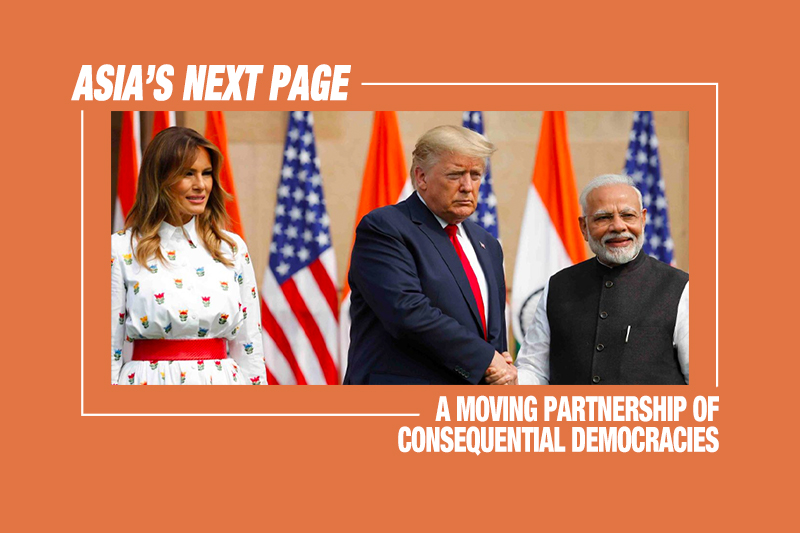 Under the leadership of Indian Prime Minister Narendra Modi and American President Donald Trump, India-U.S. ties have had a real boost with high-profile bilateral visits (Howdy Modi and Namaste Trump). India has quickly emerged as one of the United States' primary partners in its attempt to balance China's rise.
Building on this momentum, India and the U.S. held a virtual bilateral 2+2 Inter-sessional meeting at the Joint Secretary level on September 11, 2020. The consultation included discussions on regional developments, combating COVID-19, India's recent UNSC non-permanent membership and their shared goal of shaping a "free and open Indo-Pacific" as both sides reviewed progress made in defense and foreign policy areas and reiterated their commitment to deepening bilateral ties further.
Here, it is vital to examine what short-term developments can be expected in India-U.S. ties that could shape their long-term future and bring added synergy?
Strengthening the India, U.S., Japan and Australia Quad
India's post-Galwan foreign policy directive is shaping into a unique "pointed alignment" strategy wherein focus on stronger military ties with Quadrilateral partners — U.S., Australia and Japan — has become a priority. On the other hand, U.S.ーChina ties have almost irreparably digressed, while IndiaーChina ties post-Galwan have lost much of their developmental partnership construct.
This latest official meeting between the U.S. and India, notably held on a date of extreme political relevance to Washington, is a nod towards the growing bilateral momentum between the two Indo-Pacific partners, as well as a continuation of their attempt to strengthen regional security ambitions via a stronger Quad.
At the same time, the signing of India and Japan's much-awaited Acquisition and Cross-Servicing Agreement (ACSA) amidst India's rising hostilities with China and Tokyo's domestic political changes reflects the critical importance of their bilateral defense ties.
In fact, India is the first non-Western nation with whom Japan shares a logistical agreement of this nature. Now, with Japan and India both participating in similar pacts with the U.S. and Australia, there exists perfect synergy for a four-way cooperation and interoperability between military forces under the aegis of the Quad.
Foreign Policy: Moving Towards 'Pointed Alignment'
While Indian Foreign Minister Dr. Jaishankar has reiterated that "India will never be part of an alliance structure," the subtle nuances shaping India's post-Galwan outreach are being driven along lines of alignment-building and a renewed emphasis on Quad structures.
Importantly, India is also trying to finalize a fourth foundational military pact with the U.S., known as the Basic Exchange and Cooperation Agreement (BECA). With the upcoming U.S. presidential elections, President Trump has been keen on signing BECA sooner rather than later in an attempt to strengthen national security narratives.
For India, the agreement will set the stage for future security cooperation between India and the Quad, allowing for deeper alignment within specific pointed goals pertaining to security, economy and defense.
Shifting Asia Outlook of the U.S. With an India Focus
The United States outlook towards Asia has been largely 'China centric' in nature over the past two decades. This has shaped the depth and focus of Washington's outreach with Asian powers like India. Moreover, since Obama's 'pivot to Asia', America's economic power and Cold War era commitments have transformed into a broader China containment arc, which has only grown stronger under Trump. This has limited the policy expansion of American partnerships with many nations.
It should be noted that Washington's take on China as a national security threat and a 'revisionist' power is a bi-partisan one, meaning that a change in leadership is unlikely to impact the nation's strong anti-China push. Joe Biden's "new China policy" is likely to look a lot like that of Trump's. Biden has engaged with Chinese president Xi Jinping for over a decade now, since the time both were vice presidents of their respective nations. Moreover, Biden's involvement in Obama's 'pivot to Asia' strategy implies that he was a part of shaping the early stages of U.S. 21st century China policy.
On a similar note, Biden's possible victory is unlikely to offset the growth in India-U.S. ties over the past decade. In an interview in 2006, Biden expressed hope that the U.S. and India would be the two closest nations in the world by 2020.
Of late, although he has been critical of certain Indian policies — particularly the Citizenship Amendment Act, the National Register of Citizens (NRC) in Assam and the revoking of Article 370 in Kashmir. These are issues where both sides could work together without setting back overall political and military ties.
Rather, in the face of a belligerent China that is looking to challenge America's purported leadership of the liberal international order, both countries will only seek to maximize cooperative efforts. In fact, the end of Trump's 'America First' outlook could not only open doors for deeper U.S.-India economic synergy but at the same time restore U.S. influence as a global leader in multilateral frameworks such as the Paris Agreement. For India, Biden's promise to meet the Dalai Lama and appoint a special coordinator for U.S. interests in Tibet offers hope of an expansion of U.S.-Asia and Indo-Pacific presence.
Essentially, regardless of who occupies the Oval after the election, India-U.S. ties are well-institutionalized and only bound to grow amid the emerging international political and security climate. With conditions leading to what many see as a new Cold War, the U.S. will need strong partners in the Asian region that are not only committed to liberal ideals of a rules-based order, but also capable of withstanding China's might and pursuing a power-parity relationship with Washington under tense regional circumstances.
India is poised to be such a strategic ally. Yet, for their ties to prosper, India and the U.S. must overcome obstacles and be guided by mutual respect and a genuine drive to fulfill shared ambitions on the global stage, rather than a mere distrust of China.
India-U.S. Ties: The Immediate Future
A strong India-U.S. partnership is undoubtedly one of Beijing's key concerns. It would mean a stronger and militarily more capable India at its border, thereby creating a real chance of defeat at the hands of a power Beijing considers far inferior. For Xi, a face loss, if not a military loss, in the border dispute could potentially weaken his leadership stature, and in the long-term the Chinese Communist Party's (CCP) domestic hold. Therefore, China will do all that it can to keep both consequential democracies strategically apart from each other – likely through its own brand of coercion.
Under such conditions, India and the U.S. must necessarily look towards ways of embedding their ties through bilateral treaties and agreements and institute effective mechanisms for enhancing multilateral cooperation.
Moreover, it is important that bilateral contracts reflect an equal partnership without applying unequal demands. One aspect of this could be the BECA agreement. New Delhi must renew its focus on this geo-spatial pact and be more proactive with the aim of finalizing the accord urgently if it wants to proceed with its pointed alignment strategy.
Leaving its conclusion to post-U.S. elections would only delay matters further, given the political maneuvering that is likely to take place with a new leadership.
Both countries should also explore opportunities for bilateral defense commerce, co-production, research and development, intelligence sharing and cyber security. The U.S. and India hold some pacts in the above-stated arenas, yet they are limited and there exists a need for greater collaborations under the new emerging security scenario.
At the same time, India and the U.S. must also seek ways to strengthen their Indo-Pacific conceptualization by reinforcing the Quad narrative. Extending an invitation to Australia to join the MALABAR exercises would be a step in the right direction.
Furthering the Quad (Australia-India-Japan-U.S.) process to a 'Quad Plus' process with stronger ties with Japan and Australia will obviously strengthen the regional partnership. More importantly, strengthening the India-Japan-U.S. trilateral will act as a harbinger to India-U.S. cooperation. In addition, cooperation on platforms like the UN Security Council and potentially even with the Five Eyes intelligence-sharing alliance could strengthen security ties.
Both the U.S. and India are the world's worst affected COVID-19 countries, and both thus face a long road to recovery. Here, stronger cooperation in health connectivity and vaccine studies can offer an immediate area for deepening ties and building mutual confidence. All in all, stronger India-U.S. security, defense, political and social (particularly public health) synergy can send a powerful message to China, who already fears a robust alliance.
Dr. Jagannath Panda
Dr. Jagannath Panda is a Research Fellow and Centre Coordinator for Manohar Parrikar Institute for Defence Studies and Analyses, New Delhi. He is the Series Editor for "Routledge Studies on Think Asia". Find him on Twitter @jppjagannath1