[Asia's Next Page] India, Japan Must Shift Strategies to Get U.N. Security Council Seat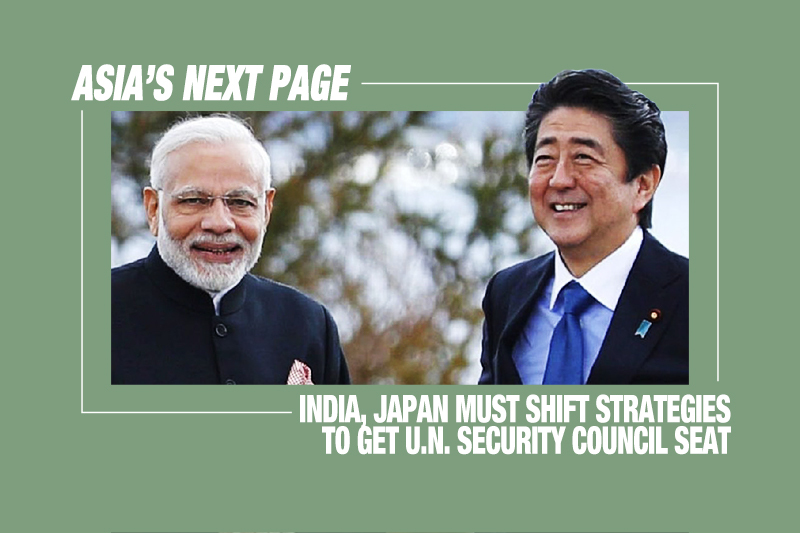 With the COVID-19 pandemic questioning the legitimacy of global regimes and institutions, this needs to be asked: Is it not time to reform the United Nations Security Council (UNSC) vis-à-vis its permanent membership, as the world deserves a more equitable representation?
UNSC permanent members have time and again used the platform to deflect any matter that tries to hold them accountable for global security issues, and used the veto to keep themselves immune. This was visible during the rapid spread of the coronavirus disease when China, presiding over UNSC for the month of March, used its influence to avoid any concrete measures or debates to be discussed to deal with the pandemic.
As China is likely to face credibility issues, and the United States under Donald Trump is no longer willing to take the lead to protect the global regimes, institutions, or norms, it is time for middle powers, such as India and Japan, to think innovatively. These middle powers need to initiate a more judicious attempt to reform the UNSC, advocating for greater equitable representation.
Need for a Fresh Asian Perspective in the UNSC
To this extent, India and Japan, along with Brazil and Germany, in 2005 formed the Group of Four (G-4), with a primary objective of supporting each other's bid for permanent membership in the UNSC. However, to the disadvantage of the G-4, a strong opposition by the Uniting for Consensus (or the "Coffee Club") movement has gained prominence since its founding in the 1990s. The Coffee Club is led by Italy, which has been scuttling the prospects of Germany, while China, heralded as the "guardian" of this Coffee Club, has jointly worked with Pakistan against Japan and India.
In such a background, a revision in strategy is needed for India and Japan, perhaps to gather a bilateral momentum to advance their bid at the UNSC, moving somewhat away from the G-4 grouping.
An India-Japan bilateral bid for UNSC membership, with a serious policy orientation, can prove to be far stronger in present times than a joint G-4 strategy. This is mainly due to the fact that both nations share a "Special Strategic and Global Partnership," have found common grievances against China, and have built important strategic partnerships with the U.S. in the Indo-Pacific. An asymmetric bilateral alignment, which builds on the strengths of both powers, can pave the way for them to represent a fresh Asian perspective in the UNSC in a post-COVID-19 period.
As the United Nations move toward its 75th anniversary in 2020, both India and Japan must adopt a united perspective on UNSC reform.
Japan's Contributions and Obstacles
Japanese diplomacy in the United Nations has often reiterated its ambitions to go far beyond its recurrent non-permanent membership in the council. Tokyo's approach signifies its dissatisfaction regarding the UNSC for not reflecting the emergent global realities of the 21st century. This comes at the backdrop of Japan being elected to the council as early as 1958 and acquiring many more years of experience than any other non-permanent member-state. Its diplomacy speaks volumes of its spirit of determination, willingness, and responsibility to closely cooperate with member-states for international peace and security.
In fact, Japan has chaired the Peacebuilding Commission (PBC) and Security Council Working Group on Peacekeeping Operations. At the same time, Tokyo has been proactively engaging in arms control and disarmament, considering it a moral responsibility in the backdrop of being the only country to have experienced devastation by nuclear consequences.
Further, its financial contributions to the United Nations should not be discounted. Japan remains the third highest contributor to the U.N., only to fall from the second place in 2018, as China takes the lead. However, Beijing has repeatedly reaffirmed Japan's atrocities during World War II and stated that financial contribution to the U.N. cannot be considered a factor for the UNSC permanent berth. On its part, Tokyo has failed to highlight China's deteriorating human rights record and ill-treatment to the Xinjiang and Tibetan communities at global platforms.
India's Merits and Roadblocks
Likewise, China's opposition to India's desire for an increased UNSC role has been one of the strongest deterrents of New Delhi's veto-power bid. A challenging factor here is India's association with the normative aspects of UNSC issues, like those of inter-state conflict. The UNSC is responsible for maintaining international peace and security. It requires permanent members that have proven their resolve to deeply engage and take lead in conflict zones to upheld peace and stability.
While India has shown this resolve in the Bangladesh Liberation War, Korean War, and in many other historical circumstances, the UNSC or its current P5 (five permanent members) have held little value to such Indian records. In its UNSC bid, India places an over-reliance on its claim to veto power based on entitlement and merit; however, a tough and uncompromising realpolitik haggle is needed instead that would require intense diplomatic lobbying or campaigning, and, more importantly, a judicious approach to claim for such a bid.
Further, Beijing would continue to create hurdles for a prospective Indian entry to the UNSC. Even if China were to, hypothetically, approve of India's joining, the same goodwill is unlikely from Islamabad. India needs to continuously counter the intense Pakistan lobbying that has always arrived as a greater hindrance, especially on matters pertaining to Jammu and Kashmir.
Asymmetric Alignment for Balanced Structural Reform
Notwithstanding their respective approach, both India and Japan need to address the technical or legal aspects for UNSC reform. For any reform of the U.N. mandate, a revision of the U.N. Charter becomes imperative for which the support of at least two-thirds of member-states are required.
Considerably, out of 193 U.N. member-states, the countries of Africa constitute a major voting bloc. This bloc remains substantially influenced by China's political clout in the African region and poses a major challenge to the G-4 proposal to attain permanency. China, in the last three decades, has attained immense recognition in the region for its economic and humanitarian assistance and collaboration. Beijing's outreach in Africa has enhanced considerably, despite instances of debt diplomacy, with two-way trade worth $208 billion with Africa in 2019. Further, China's economic influence has only been strengthened by its Belt and Road Initiative infrastructural projects in the region.
While India and Japan have expanded their influences in Africa through the India-Africa Forum and the Tokyo International Conference on African Development (TICAD), respectively, both countries must enhance their business partnerships in Africa and balance out China's strong foothold. This has already been envisioned through the "Platform for Japan-India Business Cooperation in Asia-Africa Region." However, a strengthened push could bolster their influence with African member-states to garner a greater support in multilateral institutions.
Thus, reform of the UNSC structure might not be immediately imminent. Yet, aspiring powers such as India and Japan should have a long-term approach and a master plan to create international awareness and prepare to overcome the strategic and legal barriers.
An asymmetric alignment, while representing a lack of symmetry, must not be taken to mean a lack of balance. Combining the best of their strengths, a united India-Japan bid for permanent membership will gain broader support by powers like the U.S. for whom both nations are key Indo-Pacific partners. Also, together the two powers and their economies will be hard for China to reject if it wishes to rebuild its economic strength in a post-COVID period. Japan's financial clout at the U.N., coupled with India's peacebuilding and humanitarian aid records, can be merged to create a strong bilateral pitch.
The post-COVID period will lead to increased shifts and challenges in various global institutions and structures, including the U.N. and its affiliated bodies. It is time for India and Japan to decide if the G-4 association is to their advantage, or if a bilateral conjoined strategy to back their case will be more effective.
Author: Jagannath Panda
Dr. Jagannath Panda is a research fellow and center coordinator for East Asia at the Manohar Parrikar Institute for Defence Studies and Analyses in New Delhi. He is also the series editor for Routledge Studies on Think Asia. Dr. Panda's most recent publications include India and China in Asia: Between Equilibrium and Equations (Routledge, 2019) and Scaling India-Japan Cooperation in Indo-Pacific and Beyond 2025: Corridors, Connectivity and Contours (KW Publisher, 2020). Follow him on Twitter (@jppjagannath1 ).