Assessing North Korea's Nuclear Resolve in the Times of COVID-19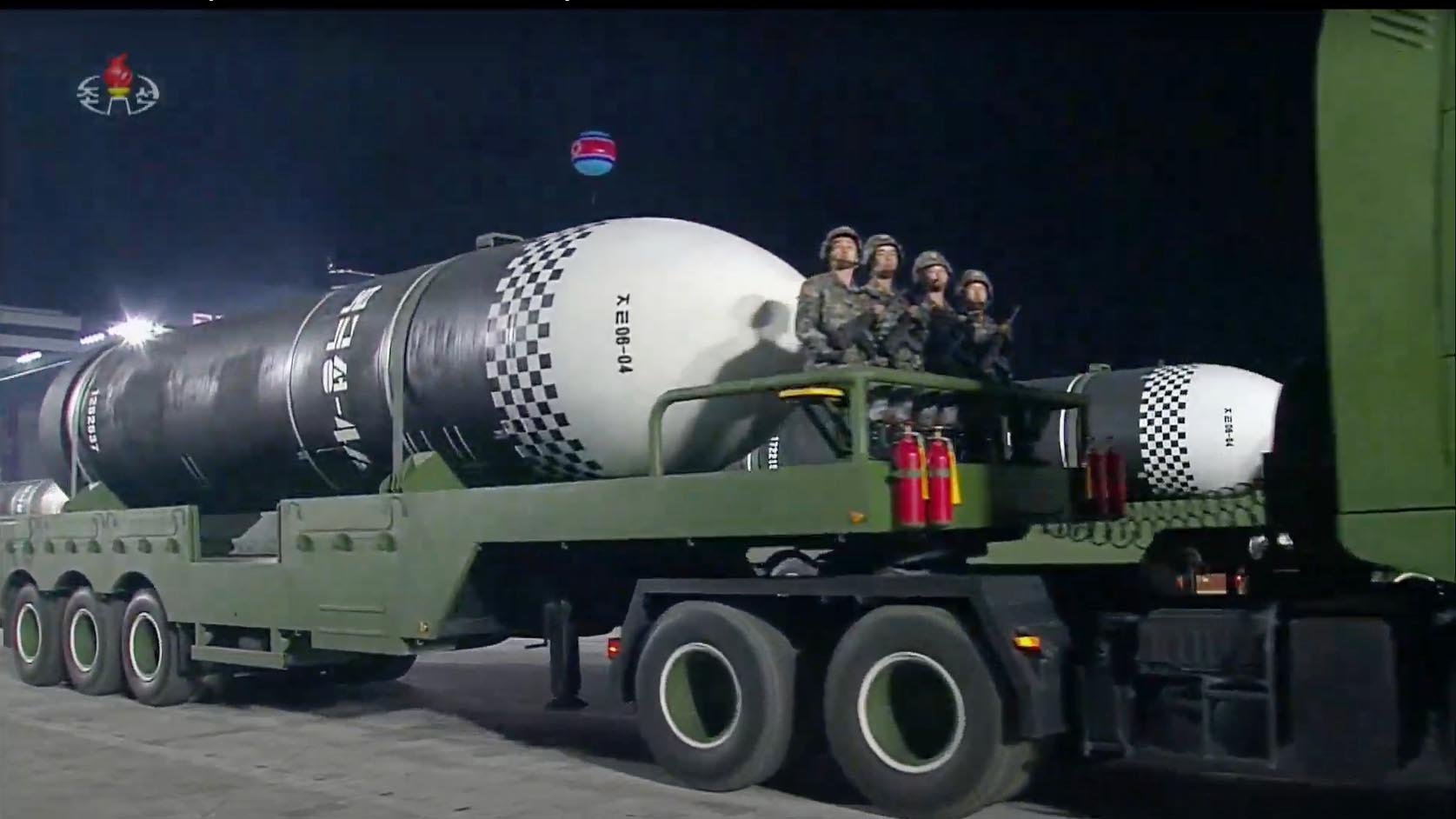 Above: North Korea put its missile development on display during a pre-dawn October 10, 2020 military parade in honor of Party Foundation Day.
Has COVID-19 deterred North Korea's nuclear resolve? The short answer to this would be No. In fact, after the recent October 10 pre-dawn military parade that unveiled a new ICBM, the North Korean message is clear: Pyongyang intends to advance its nuclear/missile capabilities in the face of sanctions pressure.
The recent show of strength by North Korea is not a surprise if one observes its nuclear posturing from January-August 2020. While the COVID-19 pandemic has presented itself as a security challenge on both traditional as well as non-traditional fronts, North Korea has projected its indifference towards this unprecedented threat by downplaying the pandemic and not letting it affect the country's nuclear posturing.
As the world continues to absorb and normalize the shock of COVID-19, flatten the infection curve, and move forward toward a post COVID era, North Korea has taken a different approach.
First, Pyongyang has attempted to project successful containment of the pandemic and that it is COVID-19 free. Second, Pyongyang has attempted to convey nuclear deterrence and resolve to the world, and especially to the U.S., through images of progress in its nuclear weapons capability.
Effects of COVID-19 on Global Security Priorities
The novel coronavirus has affected state security in both traditional and non-traditional ways. Traditionally, the pandemic has done so by making one of the primary elements of state power- the population, physically vulnerable. In the non-traditional sense, it has crossed the boundaries of health, economy and politics to gravely impact the psychological and economic dimensions of affected countries and regions.
This black swan event has further challenged orthodoxies related to operation of the daily affairs of the world. In the domain of foreign policy it has pushed diplomacy to a virtual mode, albeit temporarily. And it has reshaped national security conversations by rightfully elevating the prominence of health and economy in the discussions.
Contrast: North Korean Priorities
During all these months, North Korea's focus on projecting its intention to advance the country's nuclear capability has remained evident. Specifically, on three occasions the Kim Jong regime has made it clear that their nuclear capability is here to stay and any future negotiations on denuclearization would likely be a non-starter unless their conditions on U.S. agreement to 'corresponding measures' are met.
Most recently, during the May meeting of the Central Military Commission, the supreme leader "…vowed to increase country's nuclear deterrence…". Additionally on two other occasions, North Korean officials including Kim Kye Gwan and Ju Yong Chol have rejected any potential talks with the U.S.
It is to be noted that, in the month of March, North Korea conducted the most missile tests in a single month since the 2017 nuclear crisis. This is of great significance as it also demonstrated North Korea's withdrawal from the voluntary moratorium on nuclear testing for the second time. The first time was in 2019.
Some North Korea watchers had already predicted last year that Pyongyang would most likely invest in improving its nuclear and ballistic missile capabilities in the coming year (2020). Indeed, this was demonstrated by Pyongyang. It is noteworthy that since January 2020, Pyongyang has continued development of its ballistic missile program at a rapid pace, and the intervals between missile launches have also been reduced.
All of the missiles tested by North Korea during the pandemic have been small, short-range weapons. Furthermore, experts believe that albeit small, "…these short-range tests provide strong evidence that North Korea is making consistent improvements…". In addition, a United Nations report covering the period February 8 to August 3, 2020, has reiterated the same. As per the media reports citing the recently released UN report, "…North Korea can now miniaturize its nuclear weapons sufficiently to put them on missiles…" It must be reckoned that these small developments have taken place while North Korea remained under stringent sanctions.
October 10 Party Foundation Day Parade
It is noteworthy that speculation about the possible test of an ICBM or SLBM before the October 10 parade had gained prominence since last year. It was expected that North Korea would showcase its nuclear or missile capability close to the event marking the 75th anniversary of the Workers Party of Korea, specifically "the Pukgugksong-3 submarine-launched ballistic missile (SLBM) or reveal indigenously-produced ICBM transporter-erector-launchers (TELs), and/or a new ICBM".
Interestingly, during its October 10 parade North Korea unveiled a never before seen ICBM and an 11-axle missile launcher, in addition to the expected Hawsaong-15 missile.
While North Korea has used anniversary days to showcase its military strength in the past, this event remains significant for two reasons. First, it is a signal to the upcoming administration in the U.S. to take note of an unresolved nuclear conundrum. And second, it is a signal to the international community that Pyongyang's nuclear resolve stands robust amidst the COVID-19 pandemic.
Slim Prospects for Progress
In any case, the North Korean nuclear issue remains significant for the upcoming U.S. Administration. Since the Hanoi talks failed, much time seems to have been lost that could have been used to revive U.S.-North Korean nuclear diplomacy. In contrast, the Trump Administration's approach to nuclear diplomacy vis-a-vis North Korea centered on personalizing the issue.
However, the chances of any chemistry between the two heads of state can be effectively ruled out if the Biden-Harris team wins the election, as Biden himself has referred to such meetings as a "vanity project". Once again, some delay can be expected in resumption of the U.S.-North Korea dialogue.
Even if it is willing to engage with North Korea, a new U.S. administration would have to reassess its approach. However, based on presidential candidate Biden's statements, direct engagement appears somewhat less likely as his aides have said that Biden "would not meet with Kim unless unspecified preconditions are met".
Additionally for Japan, resolution of the nuclear conundrum has remained an important issue as it figures directly into the Japanese threat perception. The larger goal of denuclearization thus favors Japan's objective of regional stability. Mitigation (if not complete removal) of the nuclear irritant by a possible freeze on nuclear-missile tests by North Korea would add to the prospects of normalization of their bilateral relations.
In-fact the normalization of bilateral relations with North Korea has been an unchanging goal for Japan, as former PM Shinzo Abe reiterated while addressing the 74th UNGA meeting in 2019. It was Abe, who called out for a 'new start' and even indicated his willingness to meet with the North Korean leader directly. This opportunity exists for the Suga Administration too, as he has said he intends to make a "breakthrough over the long-standing abduction issue". However, it remains to be seen whether such a prospect can take place in the absence of U.S.-North Korean diplomacy in the next Administration.
The future of US-North Korea nuclear diplomacy thus appears likely to return to the slow and challenging approach of the pre-Trump era if Biden is elected president.
Author: Dr. Hina Pandey
Dr. Pandey is Associate Fellow with the Centre for Air Power Studies, a New Delhi based think-tank. Her research areas include nuclear non-proliferation, security, strategy and energy issues. She can be found on Twitter, @HinaPande. The opinions and analysis expressed herein are her own and do not reflect on any organization or institution with which she is associated.