AUTO RACING | Takuma Sato Wins Indy 500 for Second Time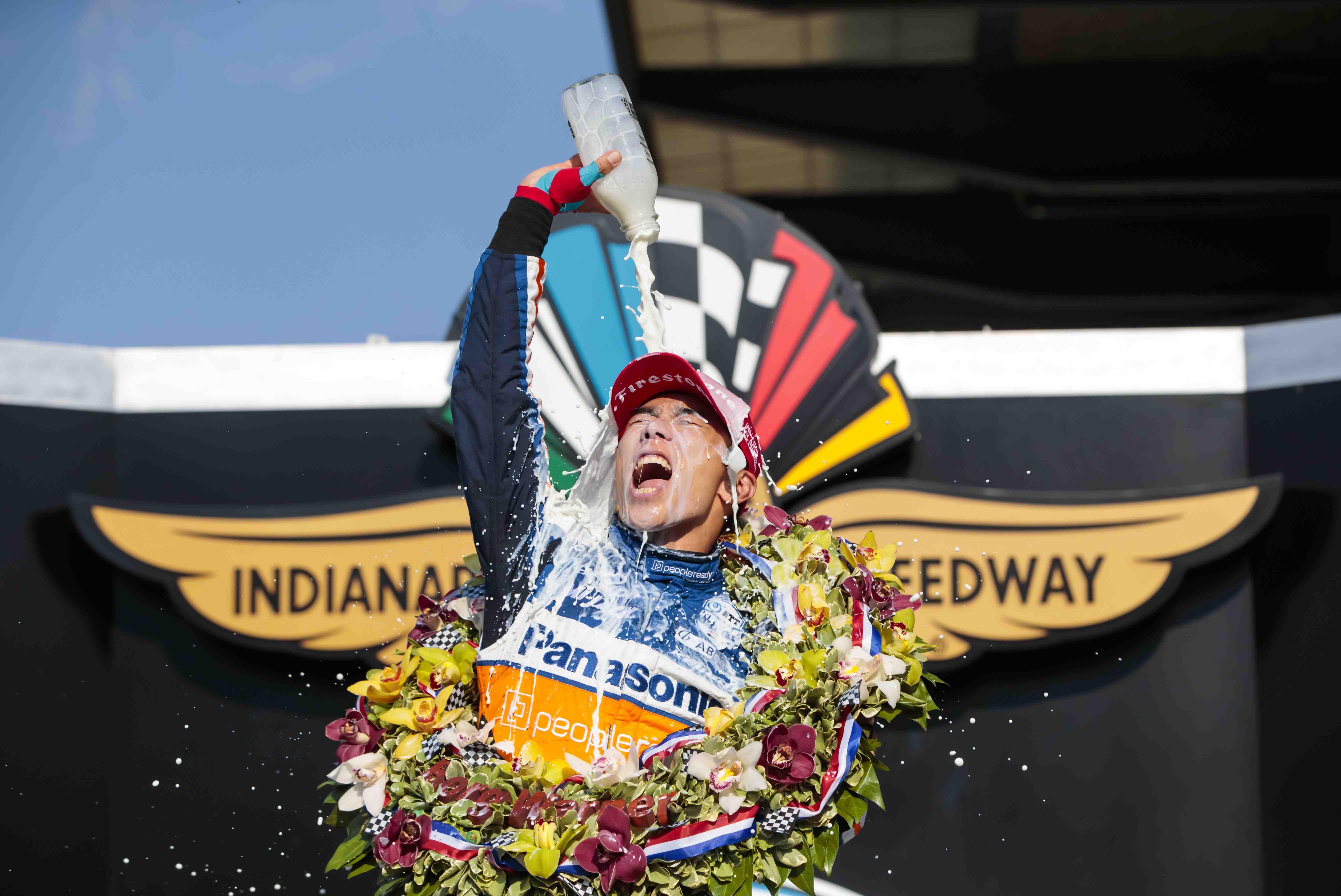 The 104th running of the Indy 500 will be remembered decades from now for several reasons, not the least of which was Takuma Sato's second career victory in America's most prestigious car race.
For starters, the race date was moved from Memorial Day weekend in May to late August due to the COVID-19 pandemic. It was also held without spectators at the Indianapolis Motor Speedway for the first time.
In addition, a driver from one of racing's most famous families (Marco Andretti) won pole position for the race held on Sunday, August 23.
Scott Dixon, who steered the No. 9 car, led for the majority of the race (111 of 200 laps). Graham Rahal finished in third place, followed by Santino Ferrucci and Josef Newgarden, while Pato O'Ward, James Hinchcliffe, Colton Herta, Jack Harvey, and Ryan Hunter-Reay completed the top 10. Andretti placed 13th overall.
But Sato passed Dixon on Lap 157, seizing a golden opportunity.
After his final pit stop on Lap 168, the Tokyo native, at the wheel of his Honda-powered No. 30 car, made his move and took the lead in the pivotal moment of the race. Dixon, the 2008 Indy 500 winner, took his final pit stop one lap after Sato's.
With five laps to go, Spencer Pigot crashed violently in Turn 4.
As a result, the yellow caution flag was observed the rest of the way, and Sato eased his way to the finish line first.
It was a pressure-fueled race to the finish, with Sato acknowledging that fuel was a real cause for concern.
"The fuel strategy was a bit tight," Sato told reporters after the race. "I saw Scott was coming right through out of Turn 4, and he was screaming coming at me. And I just held him off."
Sato is the 20th driver to win the Indy 500 on multiple occasions.
"This is unbelievable. Thank you so much. I can't find the words, can't find the words," Sato declared in Victory Lane. "Scott was coming right around out of [Turn] 4, just screaming, coming, and I held him off. This is unbelievable."
Competing for Rahal Letterman Lanigan Racing, Sato became the first person to win the race twice since Juan Pablo Montoya accomplished the feat in 2015. The 43-year-old Sato had qualified third with a four-lap average of 230.725 mph (371.316 kph), and was positioned in the first row alongside Andretti and Dixon. Sato led for 27 laps.
"Huge congrats to Sato," Dixon said of the two-time champion and third-place finisher in 2019. "He drove his pants off today."
Reacting to the final outcome, Dixon added: "This is a hard one to swallow. On fuel mileage, I really [couldn't] see how they were going to make it. We pitted a lap later, and the numbers they had to get, it was going to be very difficult."
Sato finished first in the Greatest Spectacle in Racing in 2017, when he was employed by Andretti Autosport. With that victory, he became the first Japanese to win the Indy 500.
In explaining its decision to run the rest of the race under caution instead of issuing a red flag, IndyCar issued a statement: "IndyCar makes every effort to end races under green, but in this case following the assessment of the incident, there were too few laps remaining to gather the field behind the pace car, issue a red flag and then restart for a green-flag finish."
The 2013 edition of the race was the most recent to be completed under caution, meaning the last few laps were completed with cars not traveling at full speed after a restart. Or as ESPN's Ryan McGee wrote, "[Sato] cruised down the frontstretch at well less than half the velocity he used to earn his starting spot in the field one week earlier. "
Racing During a Global Pandemic
In response to a question about competing and winning a race held without spectators while COVID-19 is affecting all facets of life around the world, Sato spoke about this year's race and this moment in time.
"It's tough on everyone, not only for us, everyone fighting with COVID-19," Sato said in a post-race news conference. "It was just fortunate, so fortunate, to be able to perform as a sport, be able to show millions of people watching TV today at home, get some energy [from] it.
"I think I'm very proud to be a part of it. Obviously to get motivation out, there's no question, I mean, it is the Indy 500. Yes, there's no spectators. If you go through Gasoline Alley each morning, there's no energy on it. It was a little sad. But we all understood. Also this wasn't the first race we had no spectators. We have been [with] no spectators the entire season, which we never want to get used to, but something that we have to do. There is no question."
Sato, of course, is enamored with the atmosphere at Indianapolis Motor Speedway, but kept the same approach this year.
"I love the atmosphere with 300,000 people, the energy, how can I say, the power, the voice, that's amazing, which we don't have today," he revealed. "But we still head down, do our job, know millions of people are watching on TV. ... Once again, we raced for the fans, we raced for the team. For that moment, I have no question, I know I can give 100% commitment."
For Sato, his glorious achievement in Indianapolis was the polar opposite of his start to the 2020 IndyCar series. Sato crashed in qualifying on June 6 and couldn't compete in the season-opening Genesys 300 at Texas Motor Speedway.
Kudos for Sato
The reality of what happened on August 23 set in quickly for those surrounding Sato. With cameras and microphones on the scene, Sato's team glowed in the spotlight, too.
"Takuma ran hard all day long," team co-owner Bobby Rahal said. "In the end, I was really worried, up against that traffic.
"Things were bunching up, but Takuma got through pretty good, Scott got through pretty good, but there was just enough of a gap, and that's all it took. Who knows what would have happened those last five laps."
American TV personality and Rahal Letterman Lanigan Racing co-owner David Letterman, the longtime former host of Late Show with David Letterman, was equally excited as the thrill of victory captivated him.
"God bless you my friend," Letterman was quoted as saying to Sato, according to The Associated Press. "Thank you very much. Hell of a job."
Letterman, with a face mask and a Santa Claus-esque white beard, and Sato, wearing his customary driver's uniform, made for a striking contrast in Victory Lane as they embraced after the race.
A Race Held Without Spectators
Asked about the atmosphere at the famed brickyard during the post-race news conference, Bobby Rahal said he didn't focus on it throughout the 200-lap extravaganza.
"It may sound odd, but frankly, I didn't notice there weren't people in the grandstands the last few laps. I was pretty intent on the racing," Rahal insisted.
"In all seriousness, we've said this time and time again, it's eerie, it's weird. Nobody likes it. Feel bad. I hope our fans that watched it on TV really enjoyed the race. Yeah, I know it's not the same thing as being there, but I think everybody understands the situation that exists. We all have to make the best of it. I hope everybody enjoyed the race."
'A Deserving Winner'
Bobby Rahal also spoke with eloquence about his winning driver and the significance of Sato's second Indy 500 title.
"Obviously I'm really pleased he won a 500 with us," he said. "Previous team obviously was Andretti. But for Takuma, my God, I can't imagine what they're doing in Japan right now. I mean, he's a rock star there. Of course, to win the 500 again is just huge.
"Of course, we're so pleased for our partners at Honda. We have a number of Japanese-based companies that support our team, so really pleased for them. It's a big deal for Takuma.
"I've always said this about Takuma: he shows up and is ready to go. There's no 80%, 85%, 90%; it's 100% every time he gets in the car. That's what I love about him. He's a very simple guy to understand. He just wants to go out and do the best job he possibly can.
"He did a really good job today. All day long he was in the top two or three pretty much. Really a threat to win at any stage of the race. A deserving winner."
Author: Ed Odeven
Follow Ed on JAPAN Forward's [Japan Sports Notebook] here on Sundays, in [Odds and Evens] here during the week, and Twitter @itsjapanforward.